Last Updated: December 14, 2020
We recently put together a guide to buying a POS system, but we still had many questions surrounding the best point of sale hardware for small businesses. And for good reason – not all POS hardware was created equal. Nearly every system on the market can accept credit cards and perform basic transactional operations, but many of them fall short of what your point of sale hardware should accomplish: create a better customer experience and increase business efficiency and profits.
A modern POS solution must effectively combine advanced software with great point of sale hardware. The functionalities that your software offers can only be realized with powerful, high-performing hardware. So let's consider some of the differences in types of POS equipment in this small business POS hardware guide.
What Pieces of POS Hardware Does Your Store Need?
Though not every retailer needs each and every of these equipment items, most do. High-quality solutions will last longer and give you fewer problems, making the checkout process easier and faster. The 6 POS hardware items listed below are the most common, though some niche SMBs might consider getting customer signature screen captures, scales, or label printers.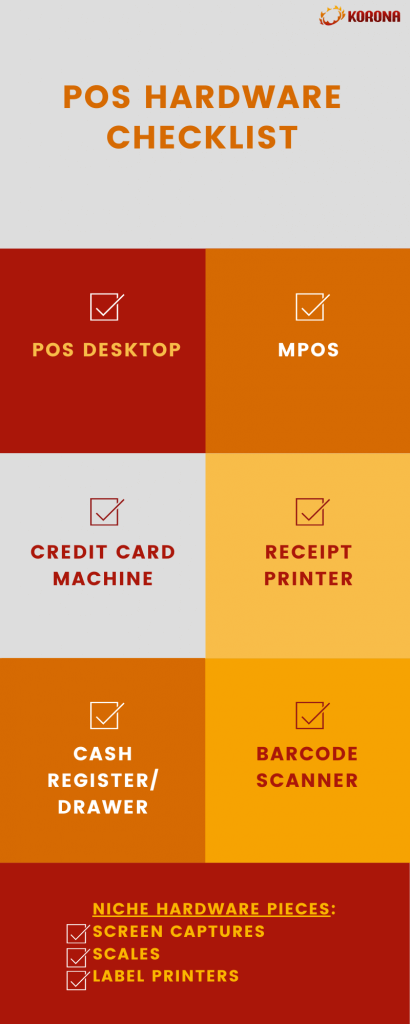 1. POS Desktop
A desktop terminal is the most powerful solution for retailers. The processing power is greater and transaction speeds will be quicker. For some SMBs, having a stable unit in place is beneficial. It creates a clearly defined cash wrap or checkout area. Desktops are also nearly impossible to steal. Top of the line solutions also come with customer-facing displays and touchscreens, improving the retail checkout experience.
Desktops, however, come with a few downsides: they are more expensive and take up more space. For small retailers with limited space, a desktop might not be worth the real estate.
2. mPOS
But you still have an option to get a mobile POS system! Tablets are a great alternative or addition to desktops. They are sleek, lightweight, and versatile. One of the biggest benefits of mPOS systems is the flexibility it provides. During busy periods you can open up a new line within seconds. Associates can also accept payment on the retail floor if they are helping out a shopper. Tablets are also remarkably inexpensive, and only require a credit card reader to attach and allow payment processing.
Tablets are much less powerful than desktops and more prone to software lag. Transaction speeds will be slower, only if slightly. For businesses with constant lines, like coffee shops or popular apparel stores, tablets might keep your lines moving too slowly.
3. Credit Card Machine
Credit card machines are, of course, a necessity for nearly every business. A Brooklyn speakeasy can still get away with being cash only, but most customers expect to have the convenience of paying with a card.
At this point, you must also need to accept both debit and credit transactions. Any credit transactions must be run through an EMV chip reader rather than swiped. Though POS debit transactions can still be swiped, it's important that your credit card machine comes equipped with a chip reader.
Though not as critical, it's probably also worth investing in a payment terminal that accepts mobile and contactless payments. Half of Americans used mobile payments in 2020, with the global mobile wallets industry expected to surpass $2 trillion in 2021 amid the COVID-19 pandemic, so small businesses might as well be ready now.
4. Receipt Printer
Don't skimp on your receipt printer. Its job is simple, but malfunctions can be remarkably frustrating. Old ribbon printers jam or print with poor visibility all the time. It's worth buying a modern receipt printer that automatically prints each receipt with a laser instantaneously upon a completed transaction.
5. Cash Register/Drawer
Selecting your retail cash drawer will be the easiest part of the process. These are typically all reliable and functional. The most important thing is to be sure that it only unlocks with the proper commands and can't easily be broken into.
6. Barcode Scanner
The barcode was one of the most important retail inventions of the past century. It's been so good that it has only slightly evolved since its inception. For most shops, each product is labeled and cataloged by its barcode. On the front end of retail operations, this makes the checkout process quick and easy. A barcode scanner simply reads the barcode and the product is recorded in the point of sale. The scanner also ensures more accuracy. Numbers are never punched in incorrectly or missed entirely.
Additionally, point of sale scanners are useful for inventory. Scanning all product inventory into a database is much more efficient than hard counts. And again, more accurate.
How Much Does POS Hardware Cost Small Businesses?
This is a tough question to answer because it can vary so greatly based on a business owner's needs. The budget for POS hardware is obviously going to be a lot greater for a liquor store chain with 25 locations and 6 terminals per store than a boutique shop that needs a single tablet.
But, in general, a desktop or PC POS system will be between $1200 and $1500, but high-end solutions can be several thousand. Like normal computers, there is a wide range of pricing based on processing power and functionality.
As you might imagine, point of sale tablets or mPOS systems are much more inexpensive. Most tablets will cost a few hundred dollars and provide high-functioning systems. Your POS software must integrate with whatever tablet you choose.
Peripherals can also range in price, but less so than desktops. Receipt printers and basic credit card machines typically run $100-300. Cash drawers can be as inexpensive as $50, though more secure registers will be a few hundred. Barcode scanners have the widest range of prices – basic scanners are $20, while more versatile tools that can be used for stocking and inventory can run as high as $1000.
See also: Understanding POS Hardware Bundles: Streamlining Retail Operations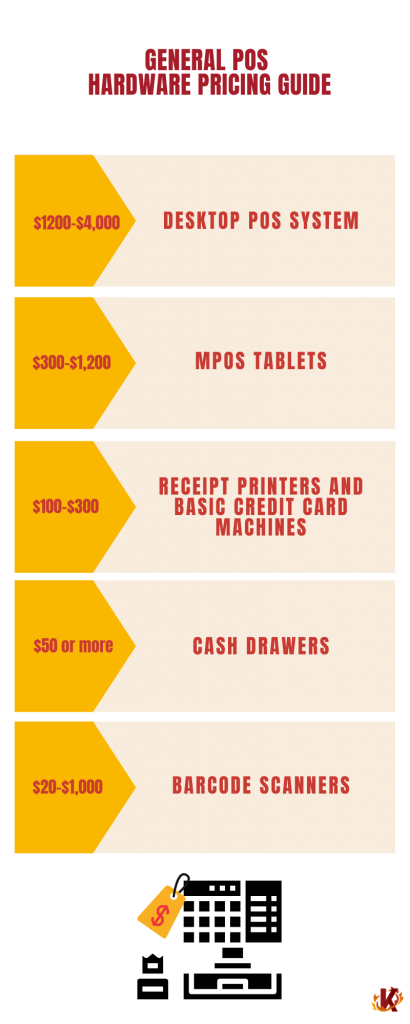 A Guide to POS Hardware with KORONA POS
If you need answers to more questions on your POS solution and your hardware options, give us a call at KORONA, or sign up for our free trial. We'll walk you through all of your options and the pricing of each. To make it easier, our software services are as simple as can be: a flat monthly rate with no contracts, no merchant service commitments, no hidden fees, no installation costs, and no charge for tech support. Save money with a fast and reliable point of sale.
Get Started with KORONA POS today!
Tell us a little bit about your business and explore all features that KORONA POS has to offer. And there's no commitment or credit card required.