Last Updated: March 25, 2021
Most retail stores have a point of sale system that is meant to enhance business operations. Among many other uses, such a system monitors stock levels and improves customer service, which core aspects of businesses such as museums, retail stores, wineries/vineyards, and amusement parks. Each can realize increased productivity sales with a great small business POS system. There are some specific features that most businesses should look for when shopping for a new point of sale solution.
The 7 Biggest Reasons to a Get a POS System for a Small Business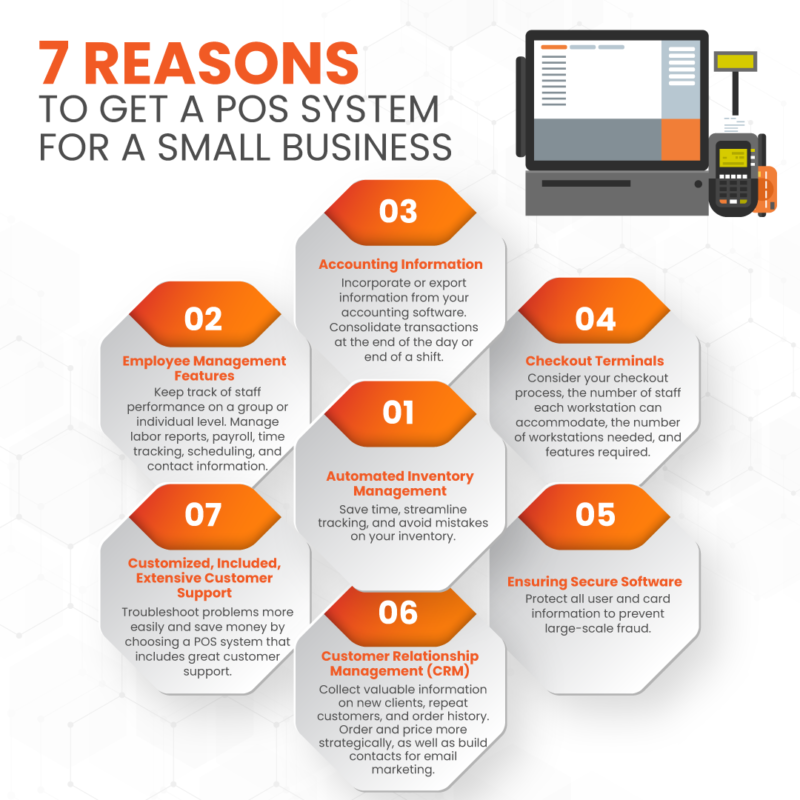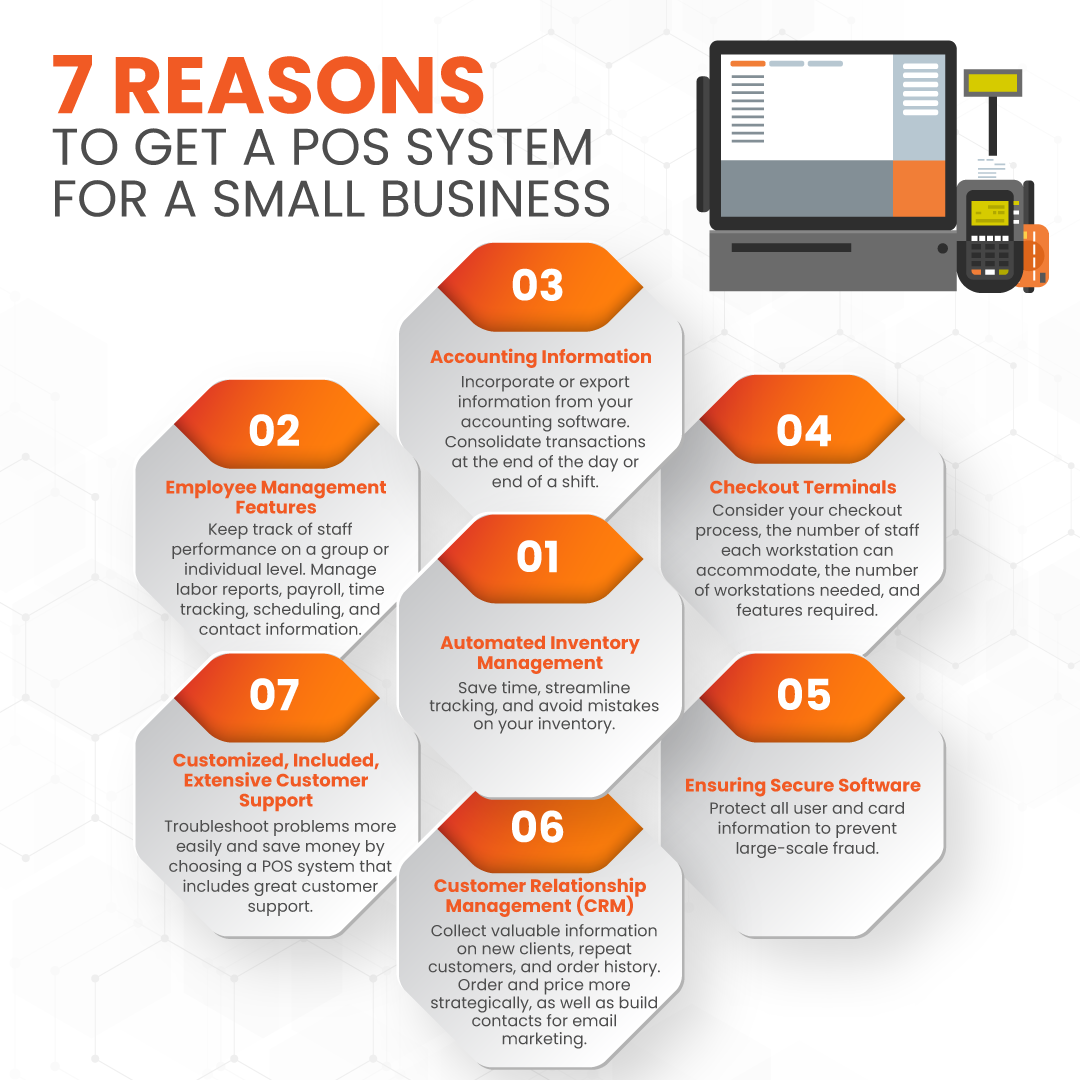 1. Automated Inventory Management
Any business will have some inventory to manage, some far bigger than others. No matter how big your inventory is, automating as much as possible is key. It saves you time and prevents mistakes. As you shop for a new POS system for your small business, consider if the system can streamline tracking of your inventory and make your life a little bit easier. The most advanced software can track inventory live or even send warnings for low stock and automatically order new stock without being asked. Features such as these are not necessary for many small businesses but can be extremely helpful if you have a larger inventory.
2. Employee Management Features
Every company has a unique approach in the way it manages its employees. Having POS software that can help manage employees will end up saving owners and managers time. Your point of sale software can keep track of staff performance on a group or individual level. Rather than having to observe and make an educated guess, your POS can tell you exactly how each associate is performing. It can also assist in labor reports, payroll, time tracking, scheduling, and contact information for your staff. Advanced cashier permissions also allow owners and managers to limit access in various ways. These features help prevent theft or cashier mistakes that can cost you a pretty penny.
3. Accounting Integration
At risk of stating the obvious, proper management of funds is the most important factor in creating a profitable and sustainable business. As you shop for a new POS system, you need to consider its ability to incorporate or export information from the accounting software you may be using currently. You must also consider how you track your accounts now, and whether you want your system to consolidate transactions at the end of a shift or end of the day. If you like the accounting software you're using, be sure to check with your new POS company about compatibility.
4. Checkout Terminals
In most retail spaces, the checkout point is the final stage of interaction with your customer. At this point, there is staff to help with the process of payment through the POS system. One of the important things to consider in this case are the steps that will be involved in the checkout process, the number of staff that each workstation will accommodate, the number of workstations needed, as well as dine-in or delivery features for systems used in the food industry. Be aware that some point of sale operations will charge you more for adding users to terminals.
5. Ensuring Secure Software
For the safety of both you and your customers, it is vital that your point of sale protects all user and card information. Large-scale fraud is all too common. Learn about data security for your small business. Don't let yourself be the next victim.
6. Customer Relationship Management (CRM)
Creating customer rapport and a useful customer database are major factors in its eventual success. In fact, research by IBM found that 65% of businesses increased their sales quota by using CRM software. Therefore, your point of sale system should recommend getting information on new clients, understand who your repeat customers are, and inform you of any order history. The POS must be the heart of your customer relationship management and loyalty. CRM will help you identify sales trends of your products, allowing you to order and price more strategically.
Additionally, this is an easy way to build contacts for an email marketing campaign, one of the cheapest and most effective methods of raising brand awareness and getting clients back into your retail store. Feel free to refer to our email marketing tips for some ideas on the types of campaigns you can run.
7. Customized, Included, Extensive Customer Support
Customer support systems within your point of sale solution are often one of the most overlooked features. Whether your system is brand new or you've had it for a decade, problems will arise. Making sure an adequate support system is included in your POS subscription will save you time, money, and headaches. Many POS solutions charge extra for support calls or have limited hours of operation. KORONA POS offers 24/7 support by phone, chat, or email, all from our on-site team. We also walk you through the setup and trial run of your new system before you go live.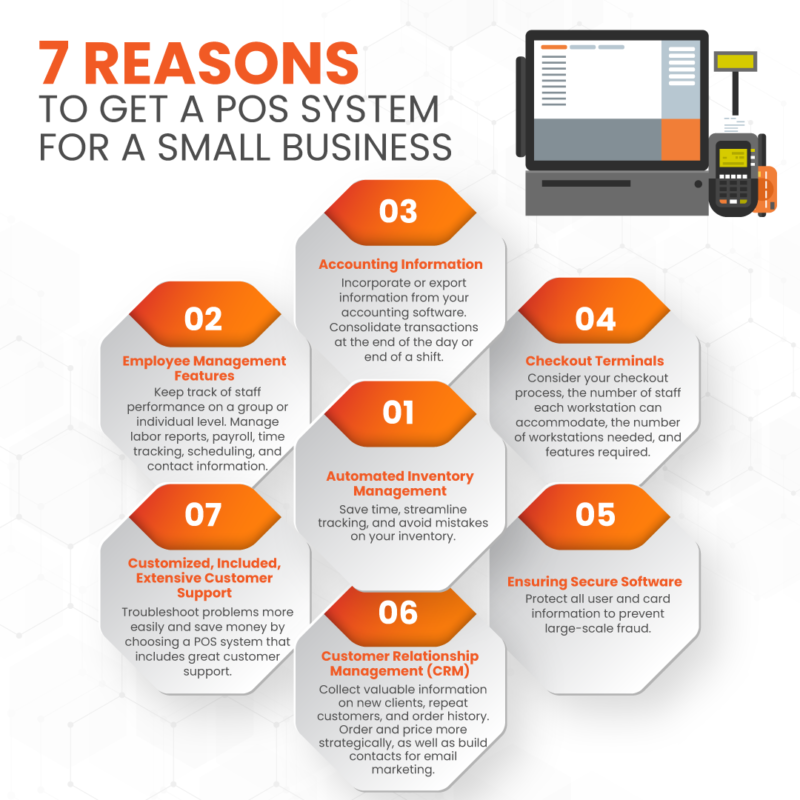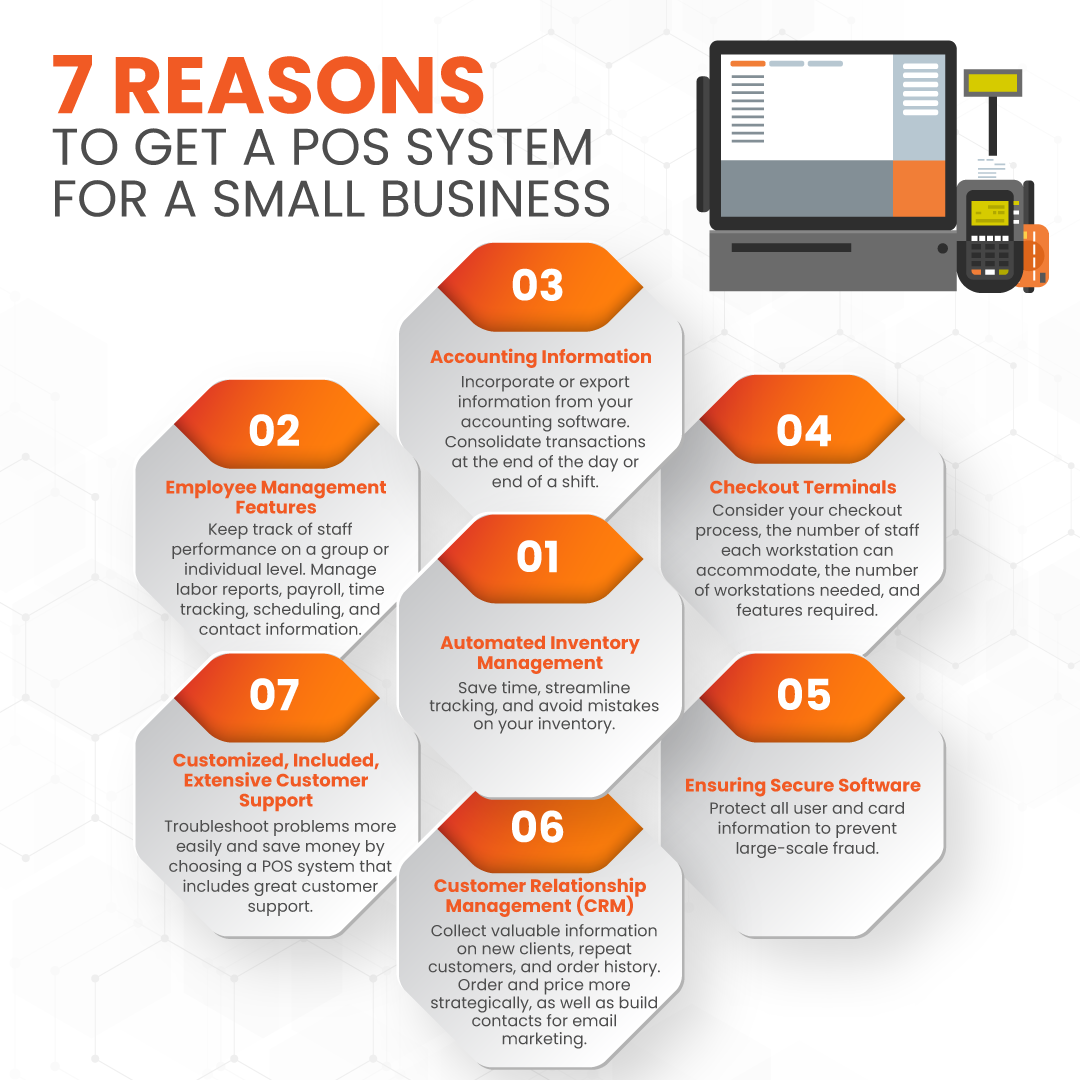 Any Other Benefits of a POS System for a Small Business?
What else do you look for in your point of sale system? Let us know. We love talking about this stuff. And if you're in the market for a new POS, check out KORONA. Click below to register for a free trial!