Last Updated: February 3, 2021
Quick serve restaurants constitute a huge corner of America's food and beverage market. In fact, many of the country's top 100 retailers are QSRs. Because of the money to be had, it's a competitive market. More and more small business QSRs open every year. And some of them grow incredibly fast; they are easy to replicate and scale.
So how does the average quick-service business stand out from the pack? Becoming the next McDonald's is a tall task, but creating a successful quick service restaurant is manageable. Utilize a mix of digital tools and some traditional tactics and the difference you can make may surprise you. Consider these 5 tips to improve your QSR business.
1. Take Advantage of Social Media
Social media is the most common form of advertising for QSRs. It's comparitively cheap, reaches a huge customer base, and offers various avenues and strategies for your online presence. It also is a great resource to use for your eCommerce growth. Link frequently to your website or web store.
Choose your top social media platforms. For instance, Facebook is great for larger, more generic QSR operations, while Instagram is better for niche or boutique quick serve restaurants. You also must consider your target demographic. Narrowing down the type of shopper you're trying to reach will be more cost effective and increase your conversions.
Consider, too, using a social media management resource. Creating photo carousels and quick, catchy videos are perfect for Facebook, but the creative might need to be outsourced. These campaigns create more engagement with your brand, something that is crucial for a successful social media post or ad.
Speaking of user engagement, use simple strategies to encourage more discussion from your followers. You can incentivize this with coupons or gifts for your most active users or host a photo/video contest.
Finally, whatever strategy you use on social media, keep track of individual posts or ad performance. Measure your foot traffic following a new product promo or popular video. Try out different tones and messaging and see what works best for certain products.
2. Enhance the In-Store Experience
Many QSRs are investing a lot of money into making their in-store experience much more notable. Great on-site experiences builds brand awareness and affinity, increasing rates of repeat shoppers. It also leaves the average shopper more satisfied when they leave the store, which means they will be more likely to mention your quick service restaurant to friends and family.
McDonald's started their branded TV service recently and has seen it take off. The world's most profitable QSR realized that their dine-in guests were an active, yet untapped audience. They decided to launch a television station that can be geared to local audiences. Rather than feature advertising in the traditional sense, the goal of McDonald's TV is to entertain first and foremost. Their thinking is that the branding will follow on the coattails of successful entertainment.
Ultimately, the customer has a more pleasurable experience, and one that makes a large international chain feel more local and personalized. It keeps the shopper in the store for a longer period of time, encouraging last-minute purchases. Finally, a more positive experience increases the rate of customer retention.
While McDonald's has the marketing budget to create their own television channel, most QSRs don't. But that shouldn't stop you from coming up with other ways of improving the customer experience. Look at other quick-serve restaurants that brand themselves through a unique experience, like Sonic's drive-up service or Chicago's The Weiner's Circle and their uncouth staff. There are endless ways to get creative and turn a routine outing into something memorable.
See Related: QR Codes for Retailers and QSRs: Leverage QR Codes for Menus and More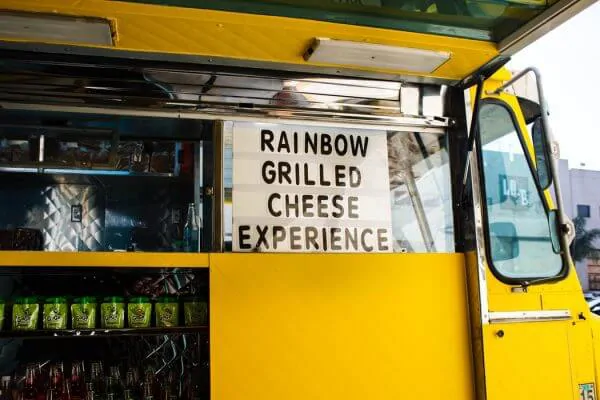 3. Mobile Loyalty Rewards & Interactive Branded Apps
Creating a branded app is a lot more accessible than most retailers think. And it can go a long way toward building your advertising to overall improve your QSR business. Combine it with mobile rewards and you've got a winning formula.
In addition to this, a loyalty program built into both customer phones and your QSR POS system allows you to easily add valuable data to your customer resource management (CRM).
Starbucks has perhaps the most successful branded app program in the country. In fact, 24% of Starbucks's sales come through their app. 24%. There are three major reasons that this has been a success for them and could be for you:
They track rewards automatically – Rewards programs can often be confusing or frustrating. The points system makes no sense, you lose punch card, redeeming the prize is awkward. But when it's all done in an app, the customer has nothing to worry about. Link a credit card to the app, pay with a tap, and the rewards are applied.
Starbucks has also built in various tiers to their rewards program and people have responded. Building in goals and milestones is a great way to make the program even more interactive. And, in turn, promote more spending.
Finally, the app also allows pre-ordering and payment. A customer can order their coffee before leaving the house and have it waiting for pickup as soon as they arrive at the store. This saves them time and adds convenience, while also minimizing long lines.
Overall, Starbucks loyalty program is a great example of how to incentivize spending without simply offering discounts or promotions. They've revolutionized the quick service restaurant industry by addressing customer demands and creating a solution that is beneficial to both customer and retailer.
More and more QSRs are pushing their interactive loyalty program. For small businesses, this doesn't mean you have to come up a game-changing app. Think about smaller ways you could build your customer base and through loyalty rewards.
4. Use Location-Based Marketing Tools
Similar to the previous two strategies is the use of proximity marketing (also referred to as beacon marketing). Arguably a bit on the creepy side, GPS tracking and RFID technology allow retailers to know exactly where their shoppers are.
See Also: Contactless and Mobile Payment Guide for Retailers: Common FAQs
This technology is particularly valuable to QSRs because the industry thrives off of impulse purchases. And proximity marketing is meant to encourage those.
This can be used in many ways. A store could trigger a notification when a customer nears a sale or promotion area. If it knows about previous purchases a customer has made it can suggest similar items and highlight location and prices. It can also serve as an in-store navigation tool, perhaps a more palatable way to encourage shopper interaction with the new technology.
Ideally, beacon marketing will be yet another tool to increase customer engagement through a more personalized QSR advertising approach. In turn, it will improve your QSR business by converting more sales and providing more insight into shopper profiles.
5. Try Some Traditional Quick Serve Restaurant Advertising
The example discussed so far are all more or less in their infancy. And more traditional advertising for QSRs is still a great way to go.
See Also: Retail Marketing Strategies: Online and In-Store Merchandising to Grow Business
Come up with a novelty product – Don't shy away from the gimmicky items that can put a small business on the map or help define a season. Don't lie, we're all suckers for Shamrock Shakes. And I suppose, there are a handful of you out there that can't keep their hands off Unicorn Fraps.
Try a food challenge – Pie eating contests are always a crowd pleaser. In Las Vegas, the Heart Attack Grill skips the whole challenge step and markets to those who have already won plenty of eating contests – 350+ lbs and you eat for free. Who knows, you might even get Man v. Food to stop by.
Engage bloggers and influencers – Food and drink blogs are more popular than ever, and Instagram marketing is more necessary than ever. Find authors and users that find your QSR brand and encourage them to come by your store.
Set up a basic loyalty program – As discussed above, even if it's simple punch cards, some loyalty rewards are a must. It incentivizes repeat shopping and makes your regular customers feel more special.
Sign up with delivery services – Partnering with DoorDash, GrubHub, Uber Eats, Seamless, etc. will guarantee more sales. You're already a quick serve restaurant, getting set up to handle deliveries shouldn't be too big of a leap.
See Related: 10 Quick Service and Convenience Store Marketing Ideas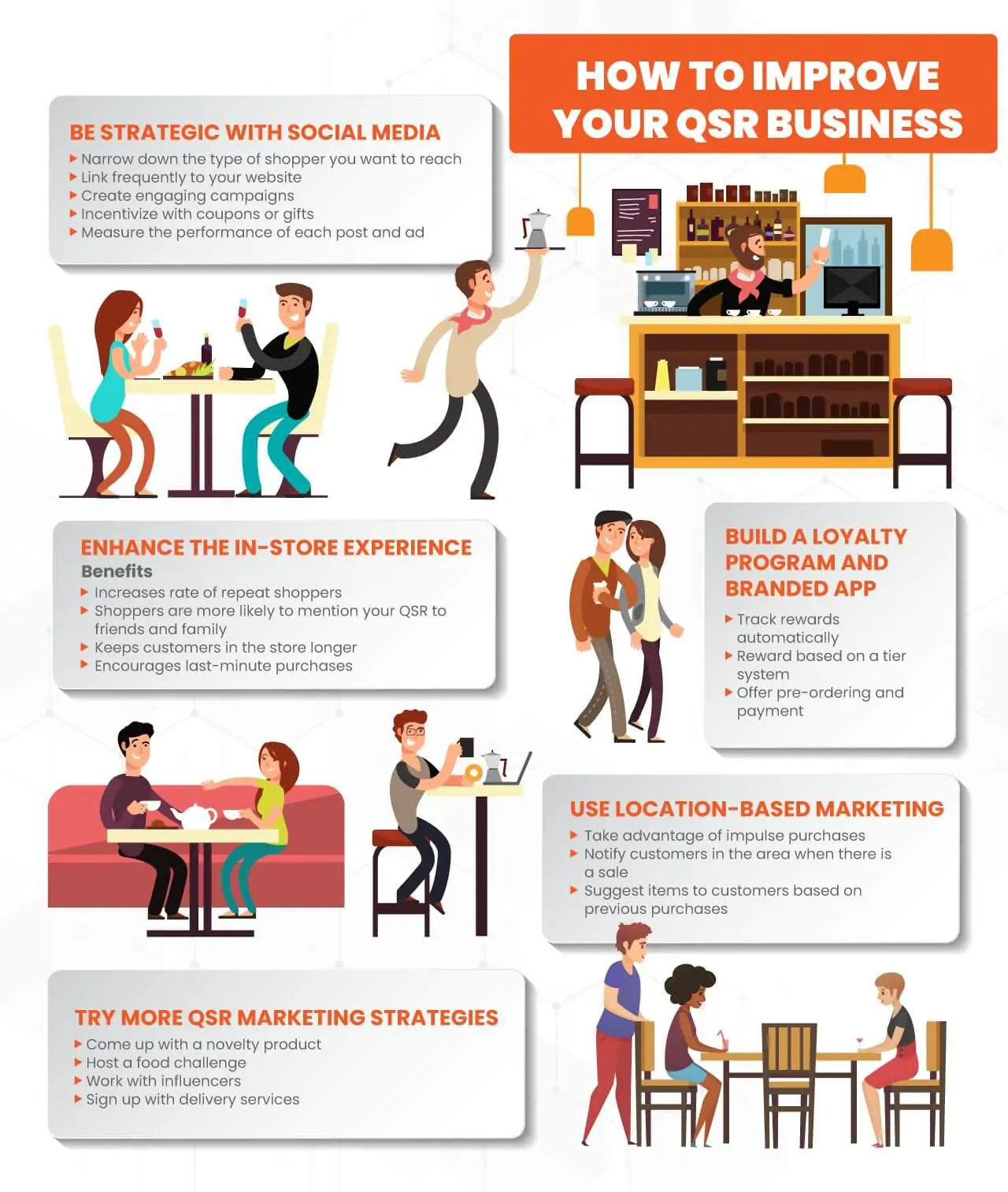 Improve Your QSR Business with Your Quick Service POS System
As important as all of these tools are, it's equally critical that all data and reporting can be integrated and processed through your point of sale system. Whether it's an advanced loyalty program or your CRM tool, make sure your point of sale solution can scale with your business and has all the QSR POS features to support your needs. For more info on how KORONA POS can help, click below!
Get Started with KORONA POS today!
Tell us a little bit about your business and explore all features that KORONA POS has to offer. And there's no commitment or credit card required.