Fast-casual or quick-service restaurants are popular types of businesses for budding entrepreneurs. Often, they are members of a franchise, making them appealingly proven business opportunities. And while the upfront costs may be substantial, it's likely to bring a solid return on investment.
But how to open a quick-service restaurant business? There are some general issues to consider that will apply to any business owner. But there are also some specifics that fast-casual owners must especially consider.
What Is a Quick-Service Restaurant?
Also known as a QSR or fast-casual restaurant, a quick-service restaurant is any place that serves food and/or drinks in a short time period. 
QSRs are also often large chains or franchises. The relatively simple business model makes it easy to duplicate and scale. Many of the most popular brands are QSRs, from pizza and burgers to boba and burritos. 
While QSRs do offer some flexibility in what you serve, they must maintain a certain simplicity in operation, allowing the food to be prepared and served promptly.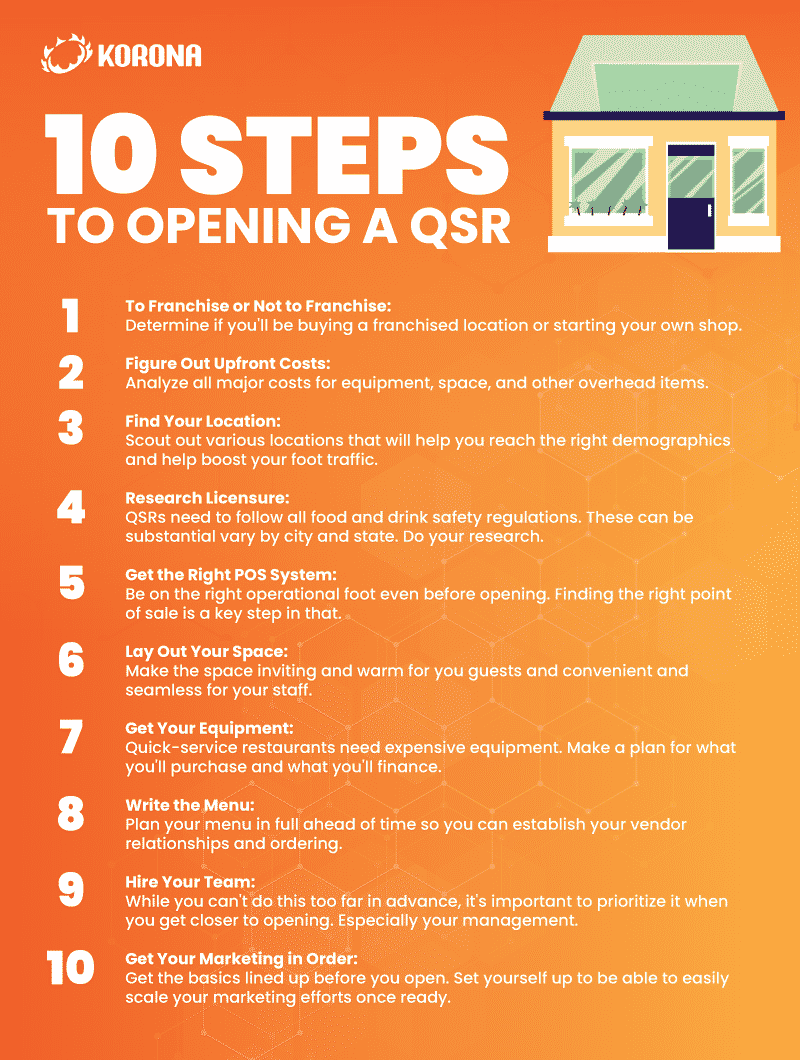 1. Determine If You'll Buy a Fast-Casual Franchise
First and foremost, entrepreneurs must do their research beforehand. It's important to determine if you'll be starting your own business or purchasing a franchise location.
For many looking to get into the QSR business, buying a franchise is the easiest way to get started. Franchises come with a variety of resources and procedures in place, like a franchise POS system and marketing materials, that will minimize the growing pains of any new business.
But others that are seeking more autonomy and creative freedom will find starting your own independent business a better fit. It may require more work but it will allow you to pursue a more unique establishment. 
Check out this blog for more tips on opening a franchise location.
2. Calculate Upfront Costs
Like any new business, it will be critical that you compose a coherent business plan with a breakdown of expected costs and revenue once you're open, including an emergency fund if things don't go quite as planned.
For QSR owners looking to join a franchise, determine your management plan and any additional marketing that you'll employ once operating.
If you're starting your own business, you'll need to focus more on what defines your brand, who your target audience is, and what your products are. Here, it will be important to differentiate yourself from your competitors and stand out.
3. Scout Out a Location
When it comes to fast-casual restaurants, location is everything. You'll likely be counting on a high transaction volume so you'll need it to be convenient for your customers. This might also involve a drive-thru or pickup window. Look for spots that will allow you to run a smooth and efficient operation.
Additionally, your location should bring in new shoppers by foot. Getting your QSR in an area that has high foot traffic will help you introduce your brand to new consumers and grow your customer base more quickly. 
The decision for your location will also be driven by your product. Depending on what types of food and drink you offer, you'll likely find yourself targeting specific demographics. Of course, you must consider this when making your location decision, too.
4. Get All Licenses
Food and drink establishments face some of the strictest health and sanitation regulations of any type of business. It's absolutely vital for QSR business owners to be fully compliant and up-to-date with all licensing requirements, insurance, permits, and health/sanitation standards.
For those businesses that also serve alcohol, the regulations will be even more substantial. You'll need a liquor license and, in many states, individual certification for each of your employees.
Check with your local city hall to determine exactly which licenses and permits your business will need once operating.
5. Purchase a QSR POS System
Every new business must find the right operational software prior to opening. QSRs are no exception.
Start with your QSR POS. This tool serves as the hub of all business operations, from your ordering and inventory to your transactions and customer loyalty program. A lot of new business owners don't spend enough time considering their point of sale and fail to understand what a critical piece it is for your long-term success.
For franchises, the point of sale software is even more important. You'll need it to communicate with all other locations to help calculate royalty payments, optimize ordering, run sales reports, and more.
To learn more about how a quick-service POS works, check out our buyer's guide or click the button at the end of the blog to get a free product demo.
6. Plan Your Quick-Service Restaurant Space
Planning your floor space is another critical step that must be considered prior to opening your doors. If you're in a popular area, and especially one with lots of foot traffic, it's almost guaranteed that business real estate is quite expensive. For most businesses, it's a high priority to make efficient use of your space and minimize your lease or mortgage costs.
First and foremost, make sure the space in your quick-serve restaurant caters to a fluid operation behind the counter. You need it to be conveniently operational for your team so that they can promptly and effectively serve your customers. Take all major equipment into account when planning this, too.
But you'll also need to plan the other side of the counter. Determine how many guests you can serve at once and plan your seating area. Most QSRs still have a dine-in seating area, though more are moving to the take-out/delivery model exclusively.
7. Buy Your Equipment
Equipment will be a major decision and cost of starting up a new fast casual establishment. Plan for exactly what you'll need ahead of time. 
Dishwasher

Stove top/grill

Hood/vent

Oven/speed oven

Low-boy refrigerators

Walk-in refrigerator

Storage
Some more niche QSRs will need additional equipment, of course, but this list covers some of the basics. Know what you'll be buying ahead of time and think about ways to finance equipment that you don't have the capital for.
8. Create a Menu
Next, plan your menu. If you're opening a franchise location, this is the easiest part of this list. If you're opening your own new quick-service spot, this is probably the hardest part of this list. 
For the latter folks, it's likely that you already have a concept and general idea of your menu from the time you submitted your business plan. But once it gets closer to your grand opening it's of course imperative that you have your menu ready, vendors picked out, inventory managed, and orders in place.
Don't find yourself ill-prepared last-minute on this one.
9. Staff Your QSR
Another later step is the hiring process. It's impossible to hire too far in advance, especially in the service industry, because employees need to have a reliable paycheck. But starting a month or two out is a good idea. This way new team members can give proper notice with their past jobs and get trained up for their new one.
Spend time looking for the best job candidates. This involves preliminary research and planning as well as taking the job interview process seriously. With workers demanding higher wages and the labor shortage (as of 2021), it's important to give this aspect some extra time and thought.
10. Begin Preliminary Marketing
Finally, start your marketing plan. You already know your location and target audience. Now it's time to implement some basic marketing strategies to start getting your name and brand out there.
Set up a

Google My Business

page and all relevant social media accounts.

Look into advertising through

Yelp

, Google, Bing, and any review sites.

Create free profiles wherever you can.

Build and maintain a fast and sleek website.

Dive into local advertising opportunities to reach the relevant audience.
Remember, start small with each and see what works. You can also ramp up the time and money you spend down the road.
Continue Learning: Improve Your QSR Business: 5 Tips for Quick Service Restaurants