Starting a thrift store can certainly be a lucrative business as the thrift industry continues to boom. According to market analyst IBISWorld, the size of the thrift store market is expected to grow by 2.4% in 2022.
Between 2017 and 2022 the market size in the U.S. as a whole has grown 0.9% per year on average, and it's younger consumers who are driving the growth of the market – over 40% of resale apparel buyers are Gen Zers and millennials.
Companies like Poshmark and ThredUp, for instance, are experiencing tremendous growth by buying and reselling high-end fashion items. Such an opportunity is unprecedented and offers an excellent way for an ambitious entrepreneur to launch an online thrift store without a physical store's startup costs and overhead.
You can make a profit by starting your own thrift store, whether you decide to focus on vintage clothing, furniture, or any other variety of items. However, opening a thrift store can be nerve-wracking, especially if you don't know where to start. But don't worry, we're here to help! This ultimate guide will walk you through the information you need to know on how to start a thrift store business from scratch.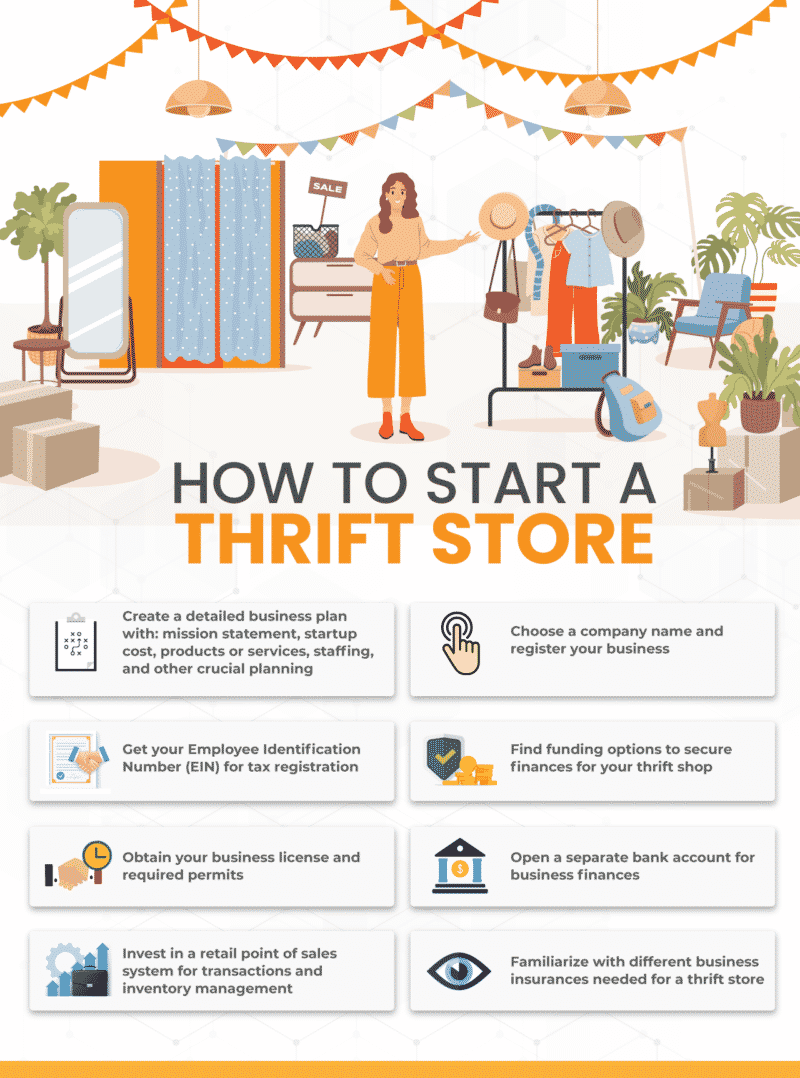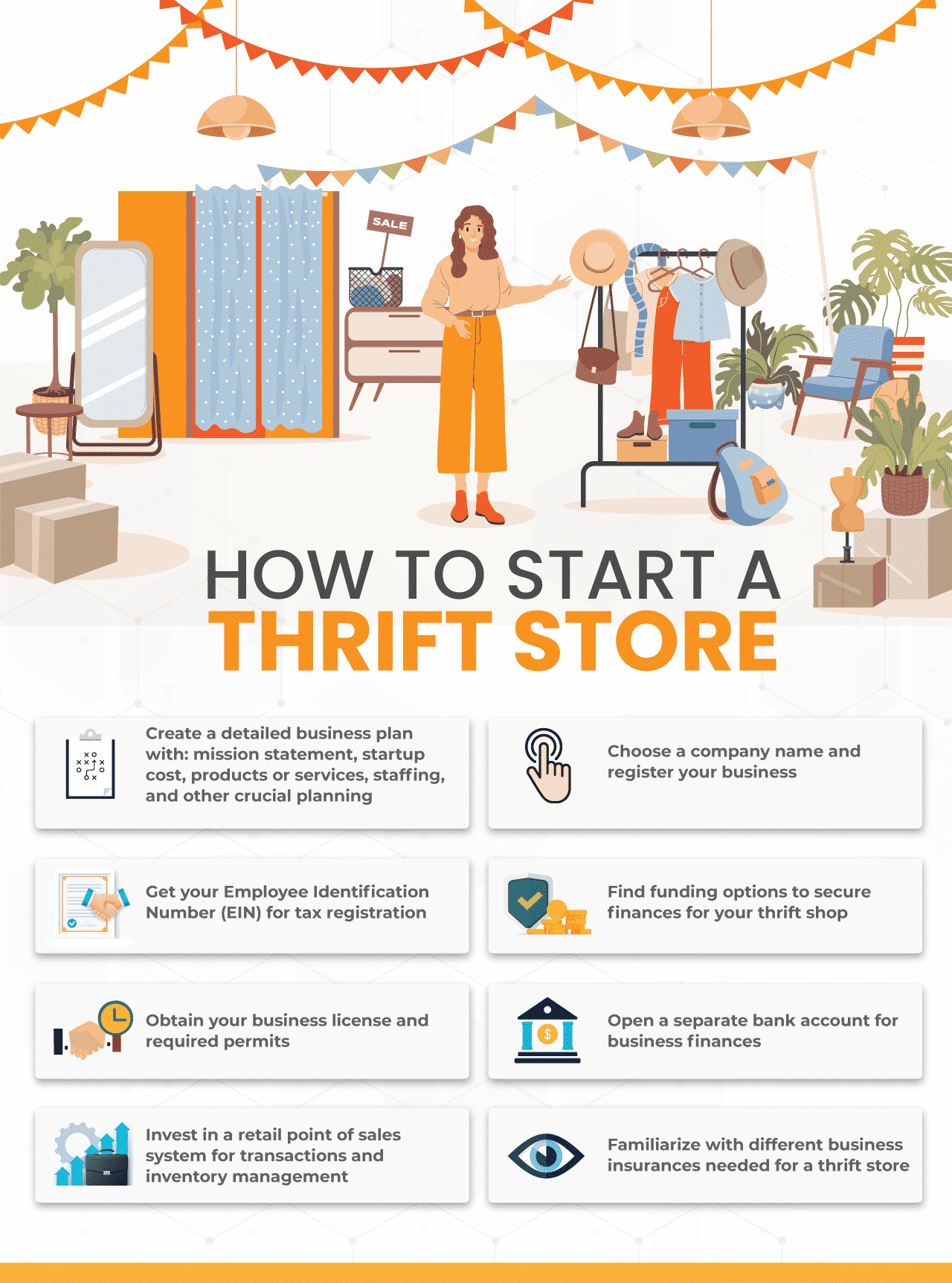 What Are The Steps to Starting a Thrift Store?
Before opening a thrift store, you, of course, must first do some preparatory work to set your business up for success. Here are the steps to follow before opening a retail thrift store.
Step 8: Get Business Insurance
One of the aspects often overlooked when starting a business is the business insurance side. To be fully covered, a thrift store will need to purchase several types of insurance, including the following:
1. General liability insurance
This covers certain expenses such as medical bills or legal expenses in the event of a customer injury on the business premises.
2. Commercial property insurance
This covers items such as the cost of the building and the value of inventory in case of a fire or natural disaster damages the store.
3. Workers' compensation insurance
This covers the business if an employee is injured on the job. It can cover expenses such as lost wages or medical expenses.
4. Business Property
It provides coverage for your equipment and supplies.
Next Read: How To Run a Thrift Store Business? The Go-to Guide For Retail Thrift Store Owners
You Might Also Want To Read: What Is Consignment in Retail? The Pros and Cons of Consignment
Check out our other How-To guides here:
Frequently Asked Questions About The Thrift Store Business
1. Can you make money having a thrift store?
Yes, it is possible to make money by opening a thrift store. Some online thrift store companies make a high-profit margin of 80%. 
2. How much does it cost to start a thrift store?
The start-up costs to open a small thrift store can range from $20,000 to $30,000. Typical start-up costs include inventory, building renovation costs, employee salaries, furniture and fixtures such as shelving, counters, point of sale software, marketing budget, licenses, permits, etc. 
3. Do I need a license to have an online thrift store?
Yes, as with any business, you must obtain state and local licenses and permits to operate. As long as you are operating in a state, you will need a seller's permit, for example. Check with your local government offices for requirements for further information. 
4. How can I get merchandise for my thrift store?
Thrift store suppliers include online sources, wholesalers, and thrift store communities. You can get your merchandise from online thrift store suppliers. You can also get them from yard sales, estate sales, and moving sales.