Starting a thrift store can be lucrative as the thrift industry continues to boom. According to market analyst IBISWorld, the thrift store market grew by 2.4% in 2022.
Between 2017 and 2022 the market size in the U.S. has grown 0.9% per year on average, and younger consumers are driving the market growth – over 40% of resale apparel buyers are Gen Zers and millennials.
For instance, companies like Poshmark and ThredUp are experiencing tremendous growth by buying and reselling high-end fashion items. Such an unprecedented opportunity offers an excellent way for an ambitious entrepreneur to launch an online thrift store without a physical store's startup costs and overhead.
You can profit by starting your thrift store, whether you focus on vintage clothing, furniture, or other items. However, opening a thrift store can be nerve-wracking, especially if you don't know where to start. But don't worry, we're here to help! This ultimate guide will walk you through the information you need to know on how to start a thrift store business from scratch.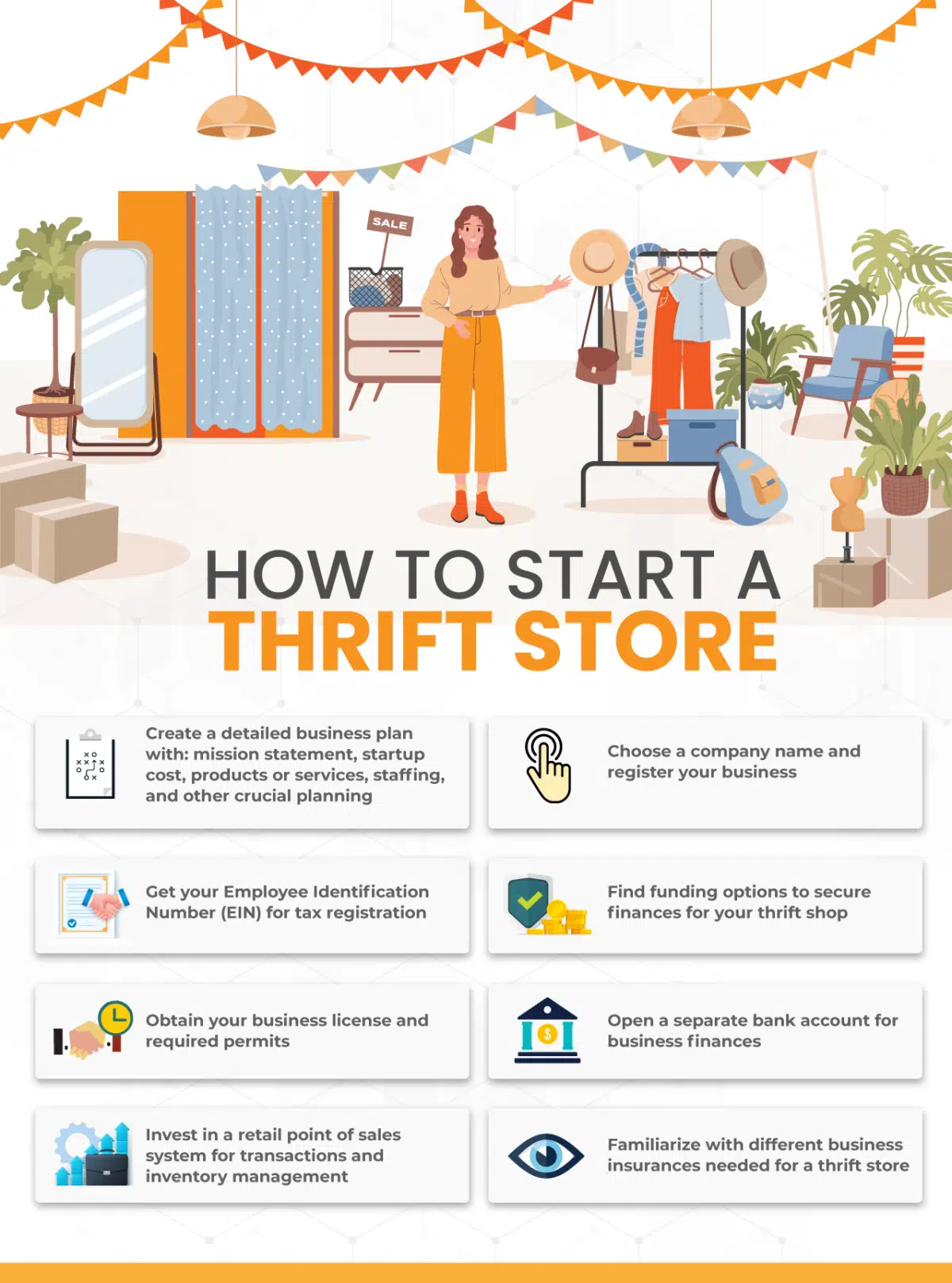 What Are The Steps to Starting a Thrift Store?
Before opening a thrift store, you, of course, must first do some preparatory work to set your business up for success. Here are the steps to follow before opening a retail thrift store.
Step 1: Create a Thrift Store Business Plan
As with any other business, the first thing to do before starting a thrift store is to create a business plan, including all the details and decisions about collecting your product, how many employees you will need, the most appropriate location, your marketing strategies, etc.
A business plan also helps potential partners and investors better understand your business and its vision. Since you may be starting this business without experience, you will need help writing a professional business plan. Be sure to include in it the following points:
Executive summary
Mission statement

Vision statement

Sales forecasts

5-year profit forecast

Potential expansion plan
Company summary
Business structure

Startup summary

Startup cost
Products and services
Inventory planning
Supplier analysis
Market analysis
Market trends

Target market

Marketing segmentation
Strategy & implementation
s
Sales strategy

Marketing objectives

Advertising strategy

Pricing strategy
Staff plan
Average salary of employees

Number of staff needed
Benefits and bonuses
Financial plan
Important assumptions

Break-even analysis

Projected profit and loss

Annual profit

Annual gross margin

Projected cash flow

Projected balance sheet

Business ration
Before writing your business plan, make sure you have chosen your niche so that you can write the elements of the plan accordingly and have a focused but broad enough target market.
Step 2: Register Your Business
Registering your business is an essential step in the process of opening a thrift store. It is a prerequisite for raising capital from investors, paying taxes, opening a bank account, or establishing your company's business structure. Follow these steps to get started. And don't forget to consult your local city hall, too:
Choose a business name and trademark it
Starting any business begins with the name. This is the most immediate thing that will set your thrift store apart from others. Make sure you choose a name that represents the identity of your business but is also memorable. After picking a name, you should trademark it to avoid any legal disputes down the road.
To make sure the name you choose is not already in use by another company, consult the United States Patent and Trademark Office. You can trademark any intellectual property associated with your brand, not just the name.
See related: How To Legally Trademark Your Business Name?
Get your EIN
Also known as a Federal Tax Identification Number, EIN stands for Employee Identification Number and is used to identify a business entity. You will need it to open a merchant account, but also to proceed with other administrative procedures. You can obtain the EIN online on the IRS website.
Choose your thrift shop business structure
There are several types of business entities, each with its advantages and disadvantages. The type of business structure you choose will determine your taxes, personal liability, and business registration requirements. Here are some of the types of business entities you can choose:
1. Sole proprietorship
This is the most common type of business entity. It makes no legal distinction between the business and its owner. In this type of structure, the owner is responsible for all income, debts, or liabilities incurred by the business. The owner pays taxes on the business income on their income tax return. However, keep in mind that you will have difficulty accessing bank loans or capital from other investors if you register your business as a sole proprietorship.
See related: What Is a Sole Proprietorship?
2. Partnership
A partnership is a business structure similar to a sole proprietorship but for two or more people. As with a sole proprietorship, the owners own the profits and are responsible for any losses. In addition, each partner pays taxes on their share of business income on their income tax returns.

3. Limited Liability Company (LLC)
Unlike a partnership or sole proprietorship, a limited liability company is a business structure that protects its owners from personal liability for its debts or liabilities. Their profits and losses are passed on to the members, who report their tax returns. The regulation of LLCs varies from state to state. Most thrift stores will fall under this category.

4. Corporation
A corporation is a legal entity that is separate from its owners. Under the law, corporations have many rights and responsibilities as individuals. They can sign contracts, lend and borrow money, sue and be sued, hire employees, own property, and pay taxes.
Step 3: Register for Taxes
Before paying taxes, you must obtain your Employer Identification Number or EIN. As aforementioned, this number will be helpful when filing other essential documents.
Once you have your EIN, you must choose your tax year. From a financial standpoint, your thrift store business will operate on a calendar year (January-December) or a fiscal year, meaning a 12-month period that can begin any month. This selected period will end your tax cycle, while your business structure will determine the taxes you pay.
The IRS website also has a taxpayer checklist, and taxes can be filed online. It is advisable to consult with an accountant or other professional to help you with your taxes to ensure that you file correctly.
Step 4: Fund Your Thrift Shop
Knowing how to start a thrift store also means figuring out how to finance the projects listed in your business plan. Securing financing for your business is paramount, and there are several ways to raise capital:
Bank loans
Bank loans are the most common form of financing for small and medium-sized enterprises. Bank loans are frequently used to finance start-up capital and also for larger, long-term purchases.
The loan is not flexible and may not be the best capital for businesses with fluctuating financial needs. And loan defaults can result in lower credit ratings, higher interest rates on existing and future loans, foreclosure of collateral, and legal proceedings against the company. The structure of the loan can also lead to long-term issues.
Sole proprietorships must be especially wary of large bank loans since your personal assets aren't protected in the event of bankruptcy.
Business credit cards
Much like personal credit cards, business credit cards offer the ability to borrow up to a predetermined credit limit. At the end of each month, you must pay off the stated minimum balance, and any unpaid balance will begin to incur interest until it is paid off in its entirety. So you can avoid interest if you pay off your balance in full each month.
Unlike business loans, credit card providers generally use your income and personal credit score to extend credit, making it a viable option for businesses with little or no cash flow. This means you won't have to provide your monthly or annual business income documentation. For most business credit cards, the minimum personal credit score is 670. However, a higher score will get you the best terms.
This route is also very risky and will come with very high interest rates.
Business Loans
It is usually difficult to obtain a traditional business loan, as many lenders require potential borrowers to have a minimum annual income to qualify for a loan. However, some lenders are willing to provide loans to start-ups without significant revenue.
In the case of a new thrift store that does not yet have proof of annual revenue, commercial lenders may likely require additional documentation. In this situation, you are usually required to provide financial projections and a detailed business plan to illustrate your ability to repay your debts.
Among the institutions that grant loans to start a thrift store business is the Small Business Administration (SBA), which acts as a guarantor, helping entrepreneurs obtain bank approval for a loan. The SBA has several types of loans depending on your budget, your needs, and your company's size.
Learn more here: 8 Alternative Financing Options for Business
Step 5: Get Your Licenses/ Permits
No matter what business you start, there are permits or licenses that you must have in order to practice your profession or run your business without getting into trouble with authorities. If you want to open a thrift store, it is essential to know the licenses or permits that will be required:
1. General business license
A general business license is a license required before operating a business in almost every state in the United States. It is usually issued by the Department of Revenues and the Secretary of State, depending on the office responsible for business registration. Thrift shops, like any other, will require this.
2. Sales permits
A vendor permit, sometimes called a sales tax permit or sales and use tax permit, is a business license that allows you to collect sales tax on taxable goods and services. Your business's responsibility is to send the collected tax to your state taxing authority.
3. Zoning permit
A zoning permit is a type of permit you need to have before operating your physical store. Since the thrift store business is a retail business, choosing the right location is critical to the success of your business. It should be your number one priority. However, if you want to build a retail store or lease a location for your business, obtaining a zoning permit is the first step.
4. Sign permit
A sign permit is another key item for many thrift shops. You can't open a brick-and-mortar store without putting a sign on the storefront. However, any information about your business that needs to be displayed must be done lawfully. This information can be in the form of words, signs, symbols, or pictures to promote your business.
5. Wholesale license
As a retailer, you will often purchase your products in bulk from your suppliers. Wholesale licenses allow you to purchase items at wholesale prices and give you more credibility. You get specific discounts and other related benefits. Since business owners are exempt from paying tax on items purchased for resale, suppliers require you to show a wholesale license, hence the need to have one. Thrift store owners, however, may not have a need for this.
Most aforementioned licenses are the most obvious. Depending on your state, you may be required to obtain additional licenses or permits. Contact an attorney to assist you in the process.
See related: Types of Business Licenses for Small Businesses
Step 6: Open a Business Bank Account
Before you start earning money, you'll need a place to keep it, which requires opening a bank account. Having your business finances separate from your personal account makes it easier to file taxes and track your business income.
Opening a business bank account is very simple, just like opening a personal account. Just ask your favorite bank about their rates and features. They also offer accounts tailored to businesses.
There are several banks that offer different options, so it's a good idea to review your options and select the best plan for you. Once you've chosen a bank, all you need to do is bring the necessary documents to open a new account.
You Might Also Want To Read: How Much Does It Cost To Open a Retail Store?
Step 7: Invest in Technology
Technology is at the heart of effective retail management. And one of the essential tools in the industry is a thrift store POS system. Choosing the best retail POS system for your business allows you to handle transactions within your store better control inventory management to avoid stockouts or excess inventory. It is advisable to opt for a cloud-based POS system that integrates inventory management software and tracks all operations taking place in your thrift store in real-time. Apart from the POS system, you should also have cameras in case of theft.
See Related: How to Start an Online Thrift Store in 2022- The Ultimate Guide
Step 8: Get Business Insurance
One of the aspects often overlooked when starting a business is the business insurance side. To be fully covered, a thrift store will need to purchase several types of insurance, including the following:
1. General liability insurance
This covers certain expenses such as medical bills or legal expenses in the event of a customer injury on the business premises.
2. Commercial property insurance
This covers items such as the cost of the building and the value of inventory in case of a fire or natural disaster damages the store.
3. Workers' compensation insurance
This covers the business if an employee is injured on the job. It can cover expenses such as lost wages or medical expenses.
4. Business Property
It provides coverage for your equipment and supplies.
Next Read: How To Run a Thrift Store Business? The Go-to Guide For Retail Thrift Store Owners
You Might Also Want To Read: What Is Consignment in Retail? The Pros and Cons of Consignment
Check out our other How-To guides here:
Get Started with KORONA POS today!
Tell us a little bit about your business and explore all features that KORONA POS has to offer. And there's no commitment or credit card required.
FAQs: The Thrift Store Business
1. Can you make money having a thrift store?
Yes, it is possible to make money by opening a thrift store. Some online thrift store companies make a high-profit margin of 80%. 
2. How much does it cost to start a thrift store?
The start-up costs to open a small thrift store can range from $20,000 to $30,000. Typical start-up costs include inventory, building renovation costs, employee salaries, furniture and fixtures such as shelving, counters, point of sale software, marketing budget, licenses, permits, etc. 
3. Do I need a license to have an online thrift store?
Yes, as with any business, you must obtain state and local licenses and permits to operate. As long as you are operating in a state, you will need a seller's permit, for example. Check with your local government offices for requirements for further information. 
4. How can I get merchandise for my thrift store?
Thrift store suppliers include online sources, wholesalers, and thrift store communities. You can get your merchandise from online thrift store suppliers. You can also get them from yard sales, estate sales, and moving sales.