There has never been a better time to consider opening a furniture store than the present. Many people would assume that a global pandemic would have caused a set back to the industry, but it's actually been quite the opposite. In fact, industry reports suggest that the compound annual growth rate for the furniture industry will increase by 5% in the years 2021-2026.
Did the Pandemic Really Crush the Furniture Market?
Although the pandemic did not necessarily have a negative effect on the furniture market, the industry was shaken up a bit. It took a hit in 2020 (as did most industries); however, 2021 is predicted to be a great year for the market. Furniture Today has estimated that the home furnishings industry will grow by 4% in 2021, reaching nearly $120 billion. Stay-at-home orders across the globe actually boosted the demand for furniture orders for retailers. While most people were stuck at home, it presented an opportune time to finally accomplish those home renovations that somehow get put off for months or years.
But, while demand for furniture stores increased, many stores were forced to close in the height of the pandemic as furniture stores were not deemed as essential retailers.
In short: demand for furniture skyrocketed, while supply plummeted. As things are beginning to level out again and supply chains are becoming more regulated, there is a vast consumer market that is still on the hunt to enhance their homes, offices, and retail spaces. Plus, since several industries have permanently switched to work-from-home options since the onset pandemic, the demand is not going anywhere anytime soon. Consumers are spending much more time at home, and they want to feel happy with the state of their households.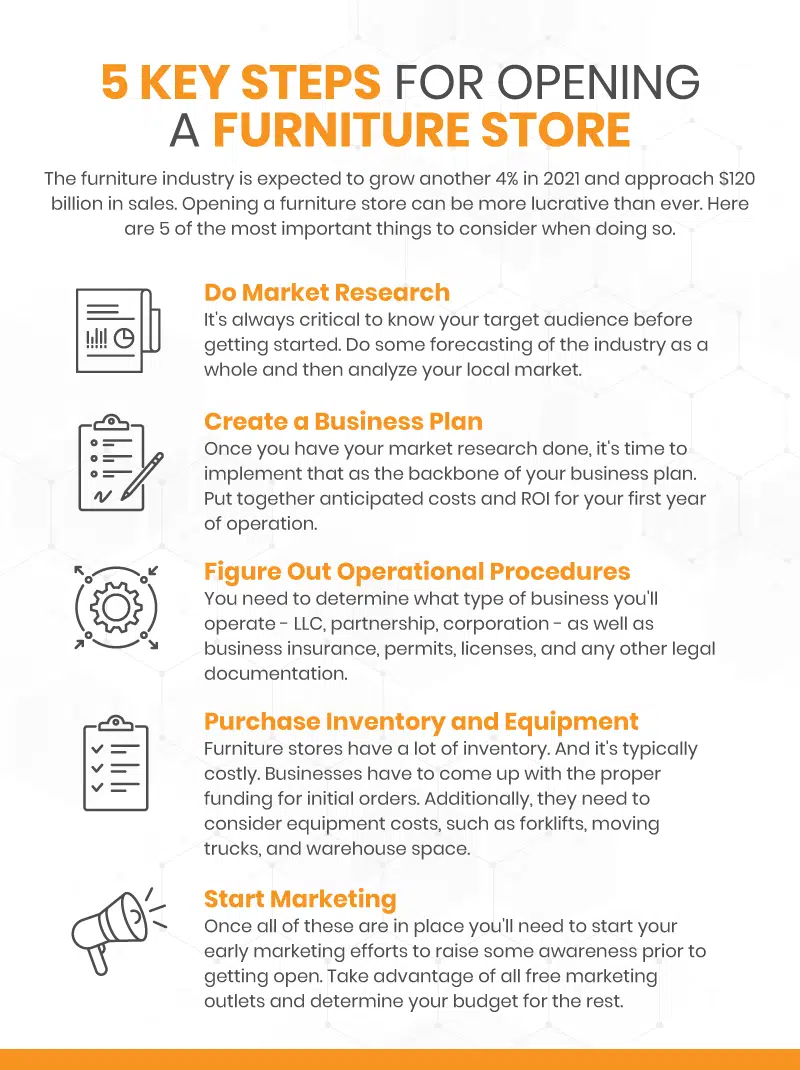 A 5 Step How-To Guide for Opening a Furniture Store
If you think that opening a furniture store is the right step for you, there are 5 simple steps for you to consider.
Step 1: Perform Market and Industry Research 
First and foremost, there are several aspects of the local market and overall industry research that need to be considered when you are starting the process of opening your own furniture store.
Industry Forecasting
To determine whether or not the furniture industry is a good fit for you, it's always a good idea to educate yourself on the forecasts for the market. Here are some quick facts about the state of the furniture world that indicate a bright and growing future market:
The recent and developing relevance of telework is increasing the demand for furniture, both office and home – all styles. Consumers are more interested now than ever in revamping their homes and workspaces.

Online furniture stores are NOT eradicating brick-and-mortar locations. What the industry is currently seeing is a hybrid of in-store and online presence. Furniture store owners should keep a constant eye on the digital demand for their products and adjust accordingly.

The housing market is booming – and it's only getting better. A report released by the

National Association of Realtors stated

that home sales reached a 14-year industry high point last year. As home sales continue to increase, the need for furniture stores will continue to trend forward.

Consumer confidence is increasing. During the height of the pandemic, consumer confidence fell to an all-time low. However, as relief packages have rolled out and the pandemic outlook begins to improve, consumers are feeling more confident again and making purchases for their homes.
Find Your Local Market Niche
There are several niches in the furniture market industry. Are you interested in opening a store geared toward specifically home furniture? Office furniture? What style of furniture should your store focus on? Contemporary and sleek? Antique? Industrial?
The first consideration when deciding on a niche for your potential store is to identify your own personal passions. When you set aside the reports and logistics, what area of the furniture industry are you most excited about? If possible, start there.
In order to settle on a niche for your specific store, you'll also likely need to do some more specific research on the furniture market in your local area. For example, if you open an antique furniture store in an area where there are already several other antique furniture stores available, it may be difficult to thrive because of an oversaturated market. Be sure to research the local market around you to ensure that there is a viable consumer market for the type of furniture that you are wanting to sell.
Step 2: Construct A Solid Business Plan
There are many aspects to consider when developing your business plan. Once you have performed the necessary market and industry research and nailed down your niche, it's time to get the ball rolling and put a plan into action.
Cost Involvement: Start-Up & Recurring Expenses and Profit 
As you can imagine, starting up a furniture store is not a small expense. The average size of a furniture store's brick-and-mortar location is 46,100 square feet. The pricing of this type of commercial real estate will vary widely based on your geographic area. And remember, most furniture store owners will need two separate retail locations: one for your store-front showroom, and one for your warehouse.
Showroom and Warehouse Spaces
Your showroom location will be where you house displays for consumers to come in and view. Your warehouse will store all of your inventory to be delivered to clients. If you are not able to find a commercial location large enough to have your showroom and warehouse in one combined space, it's important to have your warehouse located close to your showroom. Consumers who visit your furniture store are likely local, so the closer the warehouse, the sooner you will be able to make deliveries to your customers.
Employees and Marketing
Recurring expenses for a furniture store are relatively standard compared to other retail industries, but they should still be considered when making your business plan. Employee payroll will be a large expense. This is a good point to decide how many employees you will need to open your store. Be sure to reflect on the different areas that you will need help in, like a sales/storefront team, advertising, design, delivery, etc. This is also a great point to make a decision on whether you will be the sole furniture store owner, or if you will serve a dual role as owner and manager. If not, be sure to take a manager's salary into account when writing the financial aspects of your business plan.
Furniture Store Inventory
Another aspect of your recurring expenses to consider will be the furniture inventory from your factory dealer. This may be a difficult estimate to come up with at first, as replenishing your inventory stock will likely be dependent on the demand of your particular store. If possible, reach out to other local furniture store owners and discuss inventory renewal with them if you want to get a more concrete idea of this estimated expense.
Making a Profit
Once you have thought of all of the necessary costs involved with starting your furniture store, it's time to direct your attention to the fun part: the profit! After you dish out the start-up expenses, how will you make a profit as a furniture store owner after you deduct all daily, monthly, and annual recurring expenses? Furniture stores are able to be successful because the premise of their business plan is to purchase furniture from a factory dealer at a wholesale price point and sell it to consumers for a much higher price. In fact, most furniture stores are able to mark up their prices by approximately 80% from the wholesale price.
Naming Your Store 
In your business plan, be sure to name your furniture store. This should not be a hasty decision, – naming your store plays a huge role in branding and marketing. If you need help getting started, take a poll with some friends or use one of the free business name generators that are available online. Once you decide on a business name and confirm that it is not already taken, you will need to register your business, which leads to our next step.
Step 3: Handle All Legal and Financial Aspects
The first part of the legal process of opening a business is registering your business name. Registering your business name officially can look different depending on which state you are located in. Check with your local chamber of commerce or city hall to get more information on how to officially register your business.
Business Legalities
You'll need to decide on how to structure your business legally. The most common options available are sole proprietorships, limited liability companies (LLCs), and corporations. More often than not, small and moderate size business owners choose to structure themselves as an LLC. This is because the LLC structure prevents you as an owner from being held liable in the event that your furniture store is sued. If you are unsure of which structure is right for your store, contact an attorney in your area for advice. Attorneys are useful for small business owners for plenty of other reasons, too.
Other legal issues to consider are permits, licenses, business insurance, and certificates. Failing to obtain the proper documentation for your store-front location can result in expensive fines or result in your store being forced to close. These documents vary by state and city, so, again, be sure to check with your town and state laws.
Financial Steps to Take 
After all the legal areas have been squared away, it's time to figure out your finances. You'll need to take a trip to your local bank and be sure to set up a business account. Keep in mind not to mix your personal and professional financials. Having a separate account solely used for your business is crucial for your own personal protection.
Most business owners also choose to have a separate credit card for their business. This will help not only in building your business credit (which will be beneficial for any future investments needed) but also aid in keeping your business and personal financial exchanges completely separate.
Interviewing and hiring employees is an oft-overlooked, though important, step of financial planning. It will be impossible to begin budgeting for your store opening until you know how many employees you have on payroll.
Step 4: Purchase All Necessary Inventory and Business Equipment
It goes without saying that in order to open a furniture store, you will need to purchase some inventory upfront to stock your showroom displays and have inventory available in your warehouse. However, there are many other pieces of operating equipment that you should also consider investing in as well to improve the operations of your store.
Delivery Truck
In order to make local deliveries, many furniture store owners have at least one delivery truck. Although renting is an option, branding your delivery truck with store advertisements can help your marketing efforts while on the road.
Point of Sale System
An often-overlooked piece of business equipment is a point of sale system. POSQuote does a great job of breaking down many of the basics of what you should be looking for. There are a whole lot of benefits of finding the right solution, but we'll cover four of the most important here.
Managing Inventory:

A system like KORONA POS will allow furniture store owners to keep track of their inventory with ease. Inventory can be a complicated process, but

inventory software

will simplify the process by streamlining reorder levels, order cycles, shipment tracking, and receiving.

Customer Relationship Management:

The furniture industry is not a one-purchase-and-done type of market. If you successfully maintain a relationship with your customers and build loyalty, they will keep returning to your store for all of their furniture needs (and tell others about your store as well). Get a POS that integrates with a CRM or loyalty system and improves the customer experience.

Multi-Location Management:

As your store grows, it's likely that you'll want to open another showroom location. Make sure you're looking for a system that is able to scale to a bigger operation down the road.

Customer Support: As a new business owner, you'll have questions. And the POS system is one of the most operational aspects of your business. So it's vital that you find a solution with a personal and professional support team.
Retail Space Equipment
Lastly, be sure to take into account all the necessary equipment that you will need at your store-front location: desks, printers, computers, phones, office supplies, uniforms, forklifts, etc. It may be helpful to have a meeting with your new hires and discuss what needs they will have.
Step 5: Start Advertising and Open Your Store
Once you've completed all the steps, you have put in some serious work into opening your furniture store.
You'll need to start your advertising efforts well before opening to let consumers know about your new store.
Make sure any store-front advertising is easily visible and attention-grabbing.

Set up your furniture store on

Google My Business

, as well as create a profile on any applicable social media platforms (Facebook, YouTube, Instagram, are great places to start with).

Design a website that is easy-to-use, and keep it maintained with current information and inventory.

Explore

local advertising opportunities

in your area. Consider attending local vendor events, running a commercial for your store on local radio channels, or hosting a community pop-up event at your store launch.
The possibilities for advertising are endless, and what works in one area for one store may not work for yours. Remember, advertising your furniture store is a marathon, not a sprint. You can make adjustments and tweaks over time when you test what does and doesn't work for your target audience.
Get Your Furniture Store Business Started Right
To learn more about how your POS system can help, sign up for a free trial below. We'll walk you through the basics of getting your inventory system and product reporting up and running. This way, you'll see exactly how your system will operate once your store is up and running.