Running a winery has unique challenges when managing tasting room sales, inventory, and customer experiences. Without the right solutions, common pain points arise:
Disorganized inventory makes it hard to track what wines you have. This leads to running out of popular options.
Calculating flight, bottle, and case prices becomes a headache during busy times. Mistakes frustrate staff and customers.
No customer purchase history means you lose insight into preferences and miss marketing opportunities.
Inefficient checkout lines during rush times lead to long waits and lower sales.
Lack of sales data visibility hinders optimal decision-making. You operate blindly without robust reporting.
Managing wine club members and promotions is a manual mess without automation.
The right point of sale system addresses these winery pain points through specialized features for retail shops, wine clubs, and tasting rooms. The right winery POS provides the tools to run a smoother, more profitable operation.
This guide provides an overview of four leading POS systems for wineries to help you find the right solution for your needs. It evaluates key features like inventory and customer management, reporting, and payment processing. It also considers associated costs to help determine the best value. By the end, you'll better understand which POS systems deserve a closer look and which is the best fit for your winery.
1. KORONA POS: All in One Solution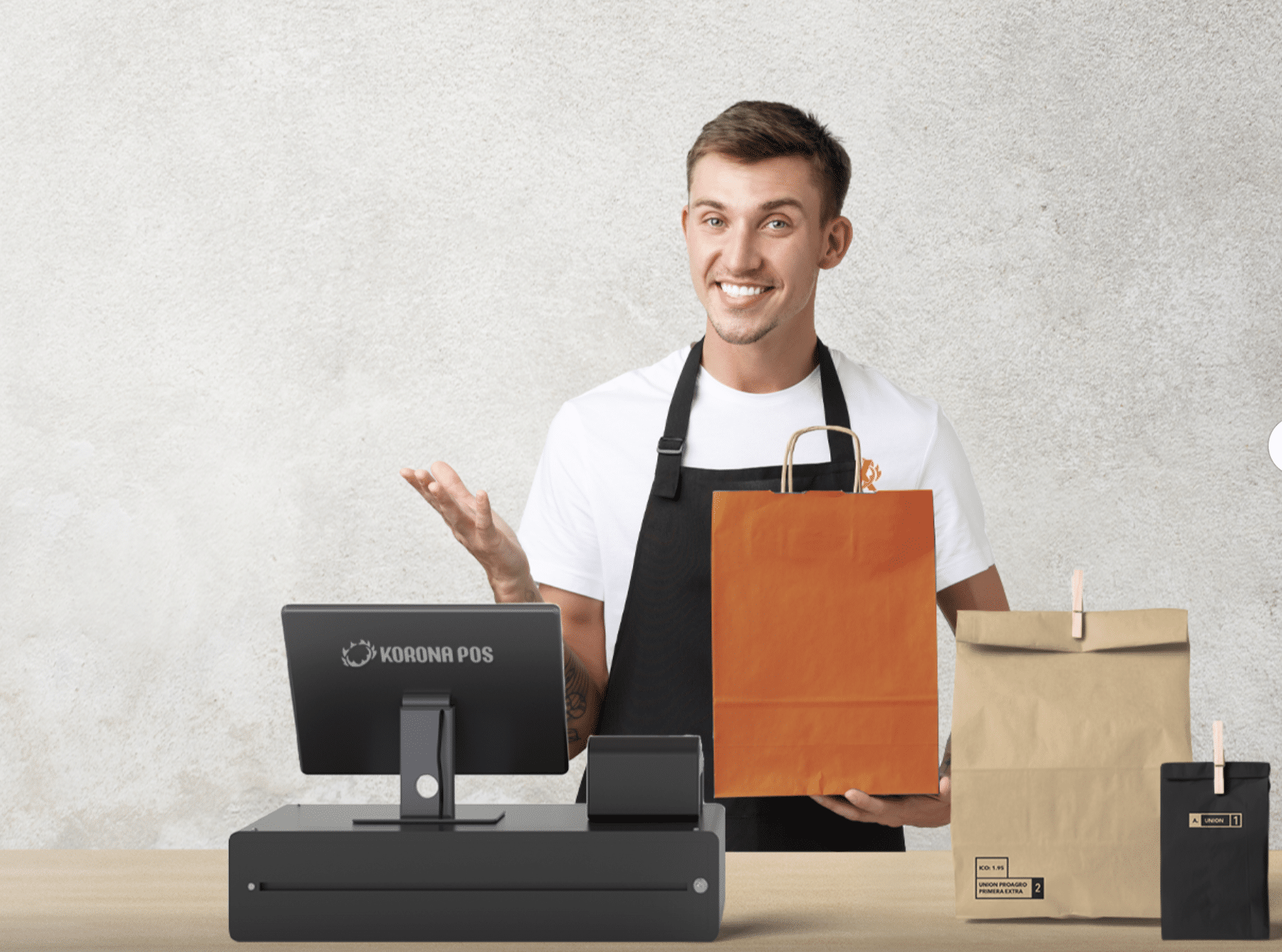 ---
KORONA POS is an industry-leading cloud-based POS designed specifically for wineries and tasting rooms. It's one of the most robust and intuitive POS systems created for the wine industry. Let's look at why KORONA POS is such a great POS system for wineries:
Omnichannel marketing
The solution can handle your sales across multiple channels, including bottle in-case sales, gift shops or other general retail areas, dining and bar operations, and eCommerce. This keeps your business streamlined and organized so you can easily produce insightful reports for your winery business. With all data consolidated under one umbrella, managing your inventory becomes much easier.
See also: Winery Branding: How To Make Your Label Stand Out
Inventory management
KORONA POS makes adding, tracking, and updating your wine and merchandise inventory easy. You can set reorder points to ensure you always have enough stock. Users can set stock notifications, automate ordering and vendor relations, and easily scan inventory.
Robust reporting
KORONA POS offers over 20 reports providing insights into sales, stock levels, customer behavior, and more. Detailed, personalized performance indicators give you an overall view of your business. They allow you to see indicators such as year-on-year sales, sales rates, average transaction amounts, conversion rates, inventory, turnover, return or refund rates, and much more.
Reports such as these provide a complete overview of your winery and offer practical advice on what changes to make. They can also help you manage your employees to keep your sales team in check.
KORONA POS employee reports breaking down individual sales daily for commission-paying wineries, which is also simple to set up for automatic calculation.
Winery POS system payments
KORONA's winery POS integrates with all major payment methods, including Apple, Android Pay, and EMV cards. This keeps your transactions more secure and provides your shoppers with added convenience – the solution integrates with many different payment solutions.
Wine club and subscription tools
Many wineries have wine clubs or subscriptions and depend on a robust customer relationship management system. KORONA POS helps manage these programs by automatically billing members and offering member-only pricing.
It also helps personalize and ship wine to members. The solution integrates with bLoyal, the market's most powerful wine club management. Plus, both KORONA POS and bLoyal work with eCommerce, too. Anything you sell online or at the winery will be reflected in the single inventory and sales reporting database. The integration makes running this critical part of your business that much easier.
Designing and printing labels
The software can customize wine labels so wineries can make unique, personalized labels. Since KORONA POS integrates with label printers, wineries can professionally print customized wine labels in-house.
Age verification features
KORONA POS has built-in age verification to make sure legal requirements are being met. This means that all cashiers will be prompted to check each customer's ID, protecting your business from costly fines or closures.
How much does KORONA POS cost?
KORONA POS is a cloud-based POS software that offers three pricing plans: Core, Advanced, and Plus. The Core plan costs $59 per month, the Advanced plan costs $69 per month, and the Plus plan costs $89. All plans include unlimited users, unlimited sales, 0% transaction fees, core checkout functionality, a product database, reporting, and a customizable dashboard. The Advanced and Plus plans include additional features such as inventory management, multi-store reporting, and order-level optimization.
There are no upfront costs, setup fees, or hidden fees with KORONA POS. Subscriptions are simply a month-to-month agreement, and businesses can cancel at any time with no additional fees or surcharges. KORONA POS also offers a 30-day money-back guarantee for all hardware and a 60-day software guarantee.
What are the cons of using KORONA POS?
KORONA POS is a cloud-based POS software designed for businesses of all sizes, including wineries. However, there are some potential cons to using KORONA POS as a winery::
No full-service dining features: KORONA POS is primarily a retail and ticketing solution. While the software offers features for QSR businesses, it isn't a great fit for full restaurants. For instance, there are no seat numbers, no KDS integration, and more rudimentary table maps.
Harder learning curve: KORONA POS might be tricky to learn if this is your first time working with a complex system. This means you must spend extra time and effort getting to know and understand the system well.
2. WineDirect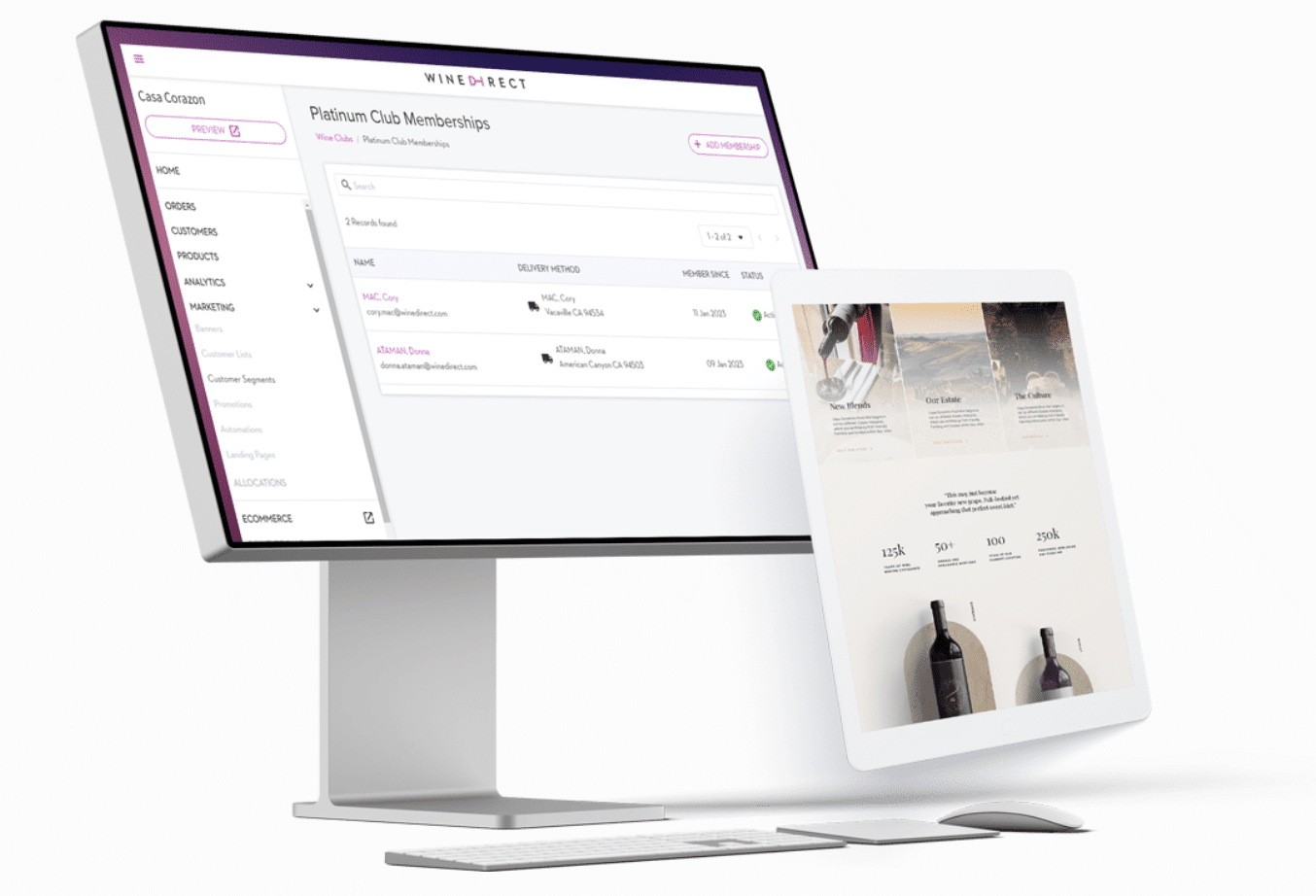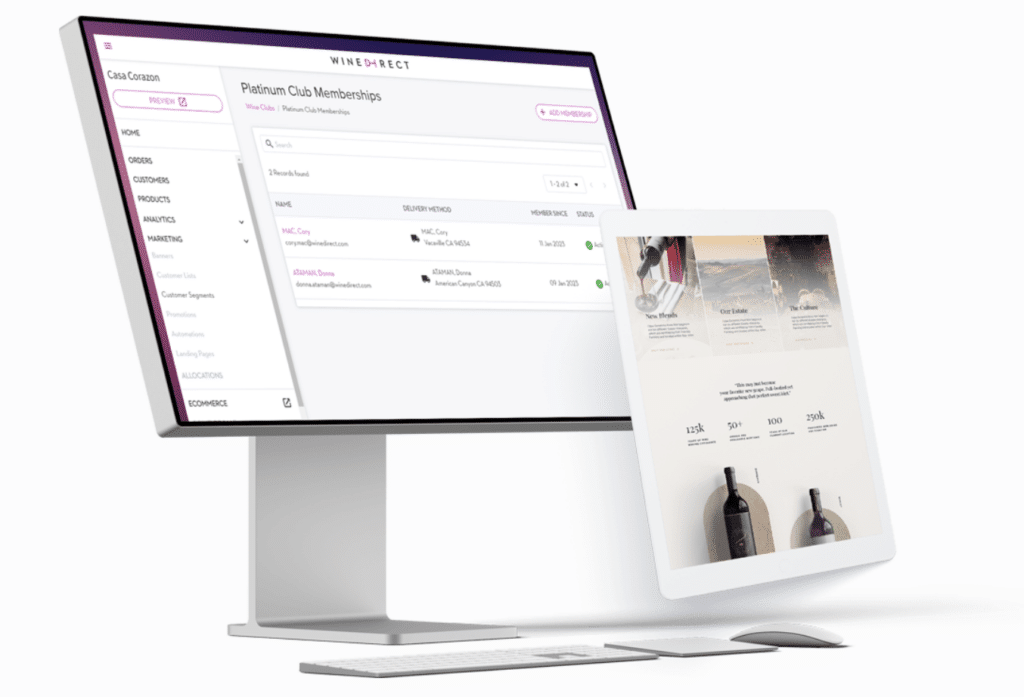 ---
WineDirect is a cloud-based point of sale software that is specifically designed for wineries. It offers several features that make it a good fit for this industry:
Inventory management
WineDirect allows wineries to track their inventory in real-time, including wine levels, lot numbers, and expiration dates. This helps wineries ensure they have the right amount of wine on hand to meet demand and avoid stockouts.
Tasting room feature
The tasting room feature allows winery owners to make sales anywhere thanks to a fully mobile POS system. This lets you turn your entire cellar into a tasting room by simplifying the checkout process.
Marketplace Distribution
WineDirect makes it simple for you to reach more customers via its extensive distribution network. It provides a smooth connection to third-party platforms, such as Vivino, and access to major loyalty programs in the USA. To make your new product available, just check the "make available on marketplace" box when you upload it.
Here's a breakdown of the process:
Setup is a breeze. You can handle all orders using your current eCommerce account.
Once you've installed it, you can instantly share your new products with marketplace partners with just one click.
Join the pioneer group of winemakers using this innovative selling approach. Leverage the rapid growth of the marketplace to your benefit.
Order management
WineDirect makes it easy for wineries to manage their online and in-store orders. This includes tracking orders, processing payments, and generating shipping labels.
Customer relationship management (CRM)
WineDirect includes a CRM system that helps wineries track their customers and purchase history. This information can be used to target marketing campaigns and provide personalized customer service.
Reporting
WineDirect provides a variety of reports that can help wineries to track their sales, inventory, and customer data. This information can be used to make more informed business decisions.
How much does WineDirect cost?
WineDirect has three pricing plans: DTC Starter, DTC Pro, and DTC Advanced. The DTC Starter plan costs $79/month. This plan is best for wineries with up to $200,000 in annual sales. The DTC Pro plan costs $199/month and is best for wineries with annual sales between $200,000 and $5 million. The DTC Advanced plan is custom-priced and is best for wineries with annual sales over $5 million. All plans include a one-time onboarding fee.
What are the cons of using WineDirect?
Poor customer service: Some wineries have complained about the quality of WineDirect's customer service. They have said that it can be difficult to contact customer service representatives and that they have yet to be responsive to complaints.
High prices: Besides transaction fees based on pricing plans, WineryDirect charges a one-time onboarding fee of $399, $999, and $2,500 for DTC Starter, DTC Pro, and DTC Advanced plans.
Lack of integrations: WineDirect has limited integrations. Unlike other POS software solutions, it doesn't offer integrated eCommerce sites and third-party services. In addition, WineDirect does not support credit card pre-authorizations for in-store sales.
3. Lightspeed Restaurant POS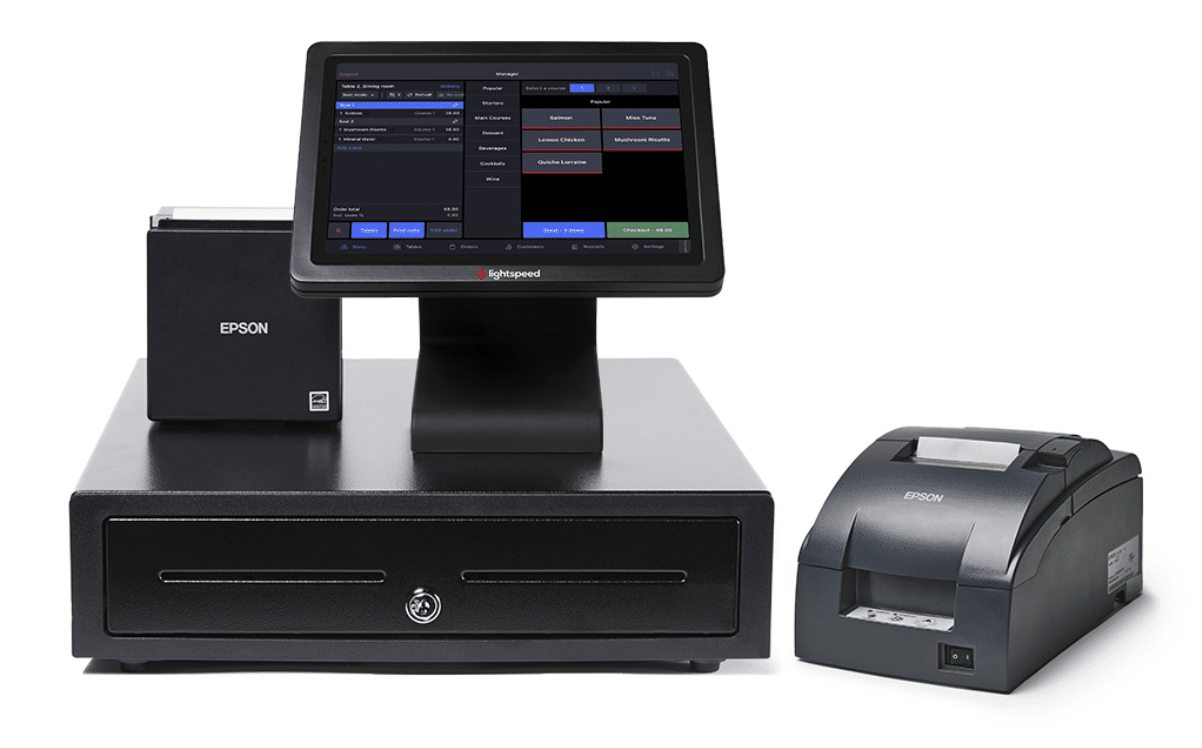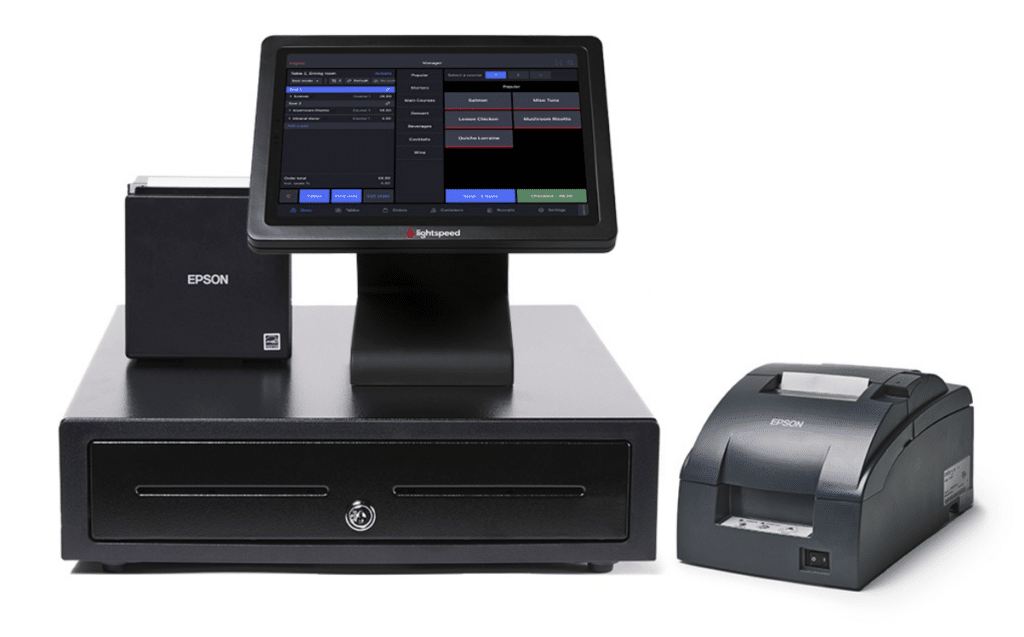 ---
Lightspeed Restaurant POS is a user-friendly and efficient point of sale system that is a great fit for wineries. With its easy-to-understand interface, winery staff can quickly learn to use the system without much training. It allows wineries to manage their sales, track inventory, and process payments seamlessly, making the entire operation smoother. Some of the key features of Lightspeed Restaurant POS that are beneficial for wineries include:
Inventory management
Lightspeed Restaurant POS has a powerful inventory management system that allows wineries to track their wine inventory in real-time. This includes tracking the quantity of wine in stock, the wine's cost, and the wine's selling price. The system also allows wineries to set up alerts so that they are notified when their inventory levels are low.
Sales tracking
Lightspeed Restaurant POS provides detailed sales reports that allow wineries to track their sales performance. These reports can be used to identify popular wines, track sales trends, and identify areas where sales can be improved.
Customer relationship management (CRM)
Lightspeed Restaurant POS includes a CRM system allowing wineries to track customer data. This includes the customer's contact information, purchase history, and preferences.
The CRM system can be used to send targeted marketing emails and promotions to customers. Lightspeed Restaurant POS also offers Como, a loyalty application that allows customers to collect and redeem loyalty points during meals, and features a wine club subscription function.
Online ordering
Lightspeed Restaurant POS offers an online ordering system that allows wineries to sell their wine online. This is a great way to reach new customers and increase sales. Lightspeed provides wineries with BevSpot, an inventory management application that minimizes profit loss and optimizes ordering practices. In addition to BevSpot, it also integrates with OpenTable, a solution that helps restaurants and tasting rooms manage waiting lists, table status, and more.
Mobile POS
Lightspeed Restaurant POS offers a mobile app allowing wineries to take orders and payments from anywhere. This is a great option for wineries with a tasting room or selling wine at events.
How Much Does Lightspeed Restaurant POS Cost?
Lightspeed Restaurant POS costs depend on the plan you choose and the hardware you need. The most basic plans start at $69/month if you also use Lightspeed's payment processing.
Software plans: Lightspeed Restaurant POS offers three software plans: Starter, Essential, and Premium. The Starter plan is the most affordable plan, and it costs $69 per month. The Essential plan costs $189 per month, and the Premium plan costs $399 per month.
Hardware: The hardware you need for Lightspeed Restaurant POS will vary depending on your business needs. However, Lightspeed offers a variety of hardware options, including iPads, barcode scanners, receipt printers, and credit card readers.
Payment processing fees: The aforementioned prices are contingent on users subscribing to Lightspeed's payment processing service as well. If a user opts for a third-party solution, the software subscription fees are much higher.
What are the cons of using Lightspeed Restaurant POS?
There are some potential disadvantages to using Lightspeed that should be considered before deciding on a solution for your winery:
Lack of solid inventory management features: One of the most common complaints about Lightspeed Restaurant is its lack of inventory management features. The system does not have the ability to automatically track inventory levels or generate reorder reports. This can be a major pain point for wineries with large product inventories or multiple product variations.
High cost: Lightspeed is a relatively expensive POS system. The monthly software fees are higher than some of the industry's competition, and there is also an upfront hardware cost. This can be a barrier for small businesses with limited budgets.
"It's fairly expensive in comparison to what we were using in the past." Reviews from Donna SoftwareAdvice.
Customer service issues: Many users have also complained about Lightspeed's customer service. The company has been known to have long wait times for support, and some customers have reported having difficulty resolving their issues.
"The Customer Service is Diabolical! I lost sales due to a big glitch in the system! No one answers the phone, even at 6.30 pm." Reviews from Michael SoftwareAdvice.
4. VinNow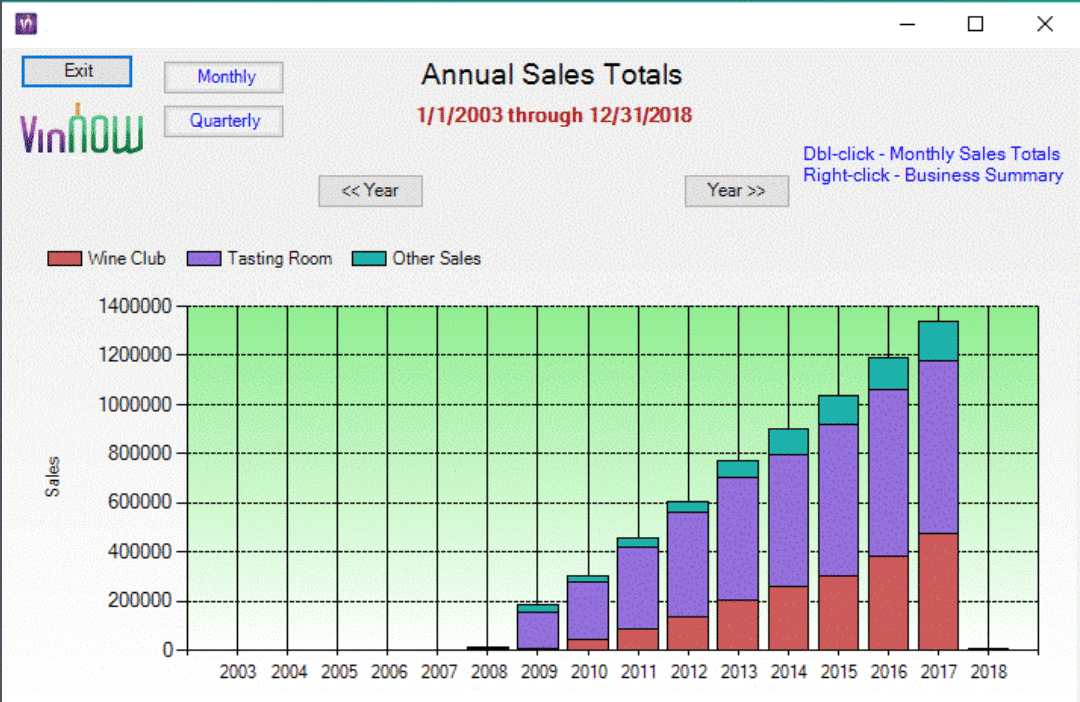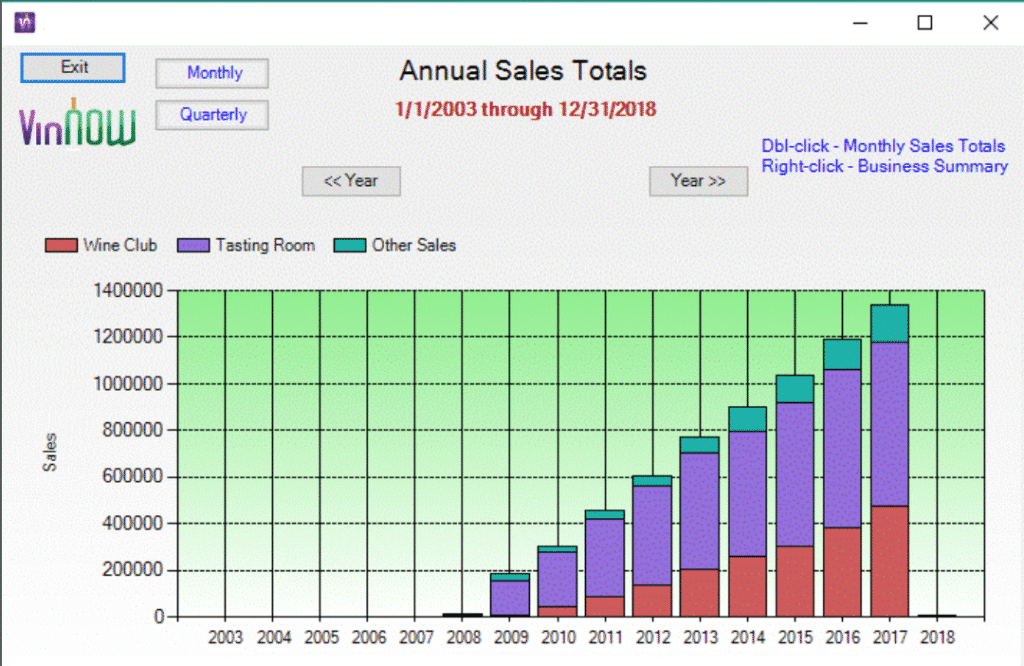 ---
VinNow is an ideal solution for wineries looking to streamline their operations and enhance customer experiences. It is a user-friendly and efficient software designed specifically for the wine industry. With VinNow, wineries can easily manage their inventory, track sales, and handle customer information all in one place. This system simplifies the tasting room experience for visitors, enabling staff to process orders and memberships quickly. Some of the other features that make VinNow ideal for wineries include:
Credit card processing
VinNOW POS makes it easy to accept credit and debit cards from customers in-store and online. VinNOW provides a comprehensive and secure solution for credit card processing, ensuring your transactions are effortless and streamlined.
Instead of managing payments through an isolated system, VinNOW integrates this process within its own user interface, automating every step. Additionally, it maintains a detailed record of each customer's credit card payment history, all accessible from the VinNOW platform.
Gift cards
VinNOW POS allows you to sell gift cards that can be redeemed for wine, merchandise, or other products or services. VinNOW's gift cards are designed for use exclusively within the VinNOW system.
You have the flexibility to either pre-generate these cards with a predetermined value for immediate sale or create cards with a customizable value set by the customer at the point of sale. The choice of gift card type will depend on how you've configured your gift card product and how you've registered these cards within the VinNOW system.
Wine club
VinNOW POS makes managing your wine club members and tracking their orders easy. VinNOW addresses all these issues with its advanced wine club automation tools.
These features simplify registration, preference management, and the execution of automated club operations, eliminating the need for manual data entry. Additionally, these tools facilitate straightforward and comprehensive club reporting.
eCommerce
VinNOW POS includes a built-in eCommerce platform that allows you to sell your wine online. The platform is easy to use and can be customized to fit your specific needs.
Accounting
VinNOW POS integrates with QuickBooks to easily track your financial data. The software also includes a variety of reports that can help you make informed business decisions.
Winery Inventory
VinNOW offers a comprehensive suite of inventory features tailored to the needs of winery owners. The system efficiently manages both sales (retail sales, merchandise, wine club orders, etc.) and non-sales transactions (returns, samples, spoilage, etc.) to ensure comprehensive inventory tracking.
VinNOW also excels in report generation, offering an array of inventory-focused reports that are readily available with a few clicks. Users can select a specific timeframe to generate a detailed report highlighting inventory changes due to sales, non-sales, transfers, and adjustments across the entire business. This feature provides a thorough view of inventory movement, ensuring that winery owners always understand their stock levels.
CRM
VinNOW offers winery owners comprehensive CRM features that greatly improve their marketing strategies. With the ability to generate targeted marketing lists and enhance campaign performance, winery owners can reach their customers more effectively. The direct email campaign integrations with VerticalResponse and Constant Contact make connecting and utilizing these platforms effortless.
Compliance
VinNOW offers a suite of compliance solutions for winery owners to streamline their operations. Its partnership with Avalara, a renowned authority in the beverage alcohol industry, ensures wineries have access to accurate state and local sales tax rates.
Shipping compliance is achieved through VinNOW's collaboration with ShipCompliant. This integration eliminates the risk of data loss, ensures accuracy, and speeds up compliance maintenance. This reduces tedious administrative tasks and boosts confidence that all requirements are met, providing an efficient and reliable solution for your winery's compliance needs.
Shipping
VinNOW POS integrates with UPS, FedEx, and GLS, so you can easily ship your wine to customers. The software also allows you to track your shipments and generate shipping labels.
VinNOW POS includes a Vintracker feature that allows you to track the movement of your wine through the supply chain. This information can be used to ensure that your wine is properly stored and transported and to identify any potential problems.
Automated reports
VinNOW POS includes a variety of automated reports that can help you track your sales, inventory, and other metrics. These reports can be used to make informed business decisions and improve your bottom line.
Read also: Critical Winery POS Features for Vineyards, Wine Shops, and Tasting Rooms
How much does VinNow Cost?
The Client-Based subscription starts at $99 per month for up to 150 club members, with the cost increasing to $249, $389, and $489 per month as your membership expands to 500, 1000, and 1001+ members, respectively.
For users who prefer a web-based subscription, the solution starts at $129 per month for up to 150 club members and scales up to $299, $449, and $589 per month for membership bases of 500, 1000, and 1001+, respectively.
In addition to these core services, VinNow also offers add-ons like a web shopping cart and VinTracker Bulk Wine Module. The shopping cart costs an extra $50 per month, while the VinTracker service is available for an additional $69 per month.
Keep in mind that the company reviews and adjusts these rates every January and July. Moreover, if you're switching from another service and need to convert your data, VinNow charges a one-time data conversion fee of $600.
What are the cons of using VinNow?
While suitable for new and small wineries, VinNow may lack some advanced functionality required by larger operations. According to some reviews, there are sometimes glitches in the system.
Customer service: According to many reviews dating back to 2017, VinNow has a less-than-stellar customer service reputation. For this reason, we recommend that you get in touch with other winemakers who have already used the service to get their feedback on VinNow's customer support.
Lack of some integration: VinNow does not include an integrated eCommerce site. The software also does not feature on-site upselling tools.
Expensive: VinNow has many fees that can quickly add up and become too much. In addition to the monthly subscription fee, you also have to pay for add-ons such as a shopping basket, VinTracker service, and one-time data conversion fees.
Conclusion: Best POS System for Wineries
In summary, while there are many POS options on the market for wineries, the systems described here represent some of the best currently available based on functionality, ease of use, and cost.
As a winery owner, choosing a system that fits your specific business needs and budget is crucial to streamlining operations, providing quality customer service, and ensuring efficient business management. Try KORONA POS by clicking on the button below.