Last Updated: March 3, 2021
The quick service restaurant, or simply, QSR, industry has been one of the fastest growing in the country. Many of the top retail chains in the country are QSRs. And even more small business quick serve shops open every year.
From taco trucks to gelato kiosks, these businesses require streamlined operations and keen organization. That's why the QSR POS features are so important. You need the right QSR point of sale that will make running your quick service restaurant easier.
So what are the most important tools? Features such as advanced reporting and cloud-based inventory should make up your backend, while table service, tip management, and mobile POS technology will keep daily operational tasks efficient. Take a look at the list below for all the other features that make up great QSR software.
1. Real-Time, Cloud-Based Inventory
Managing an efficient inventory system is the most critical QSR operation. Typically, storage space is limited and an excess of a certain product can be a major headache or prevent the delivery of other critical goods. Additionally, a shortage can shut down your operation if you have a limited menu.
So you need an inventory management system that will keep your product levels optimal. A cloud-based POS is key. It updates as soon as a change is made and allows you to work remotely instead of having to be on-site. Plus, with a great system, you can even set auto-order levels so that your point of sale places the order for you.
2. Advanced Sales Metrics and Reporting
In order to optimize inventory, you also need to have the analysis to give you actionable advice. Your QSR point of sale must be able to break down your sales into intelligible reports. Through tools like ABC retail analytics, best and worst sellers, and over/understock reports, you'll be able to make sure that business is more productive.
For instance, you might have a product that seems to be one of your best, but its margins aren't actually as good as they seem. Perhaps shipping is more expensive, or it spoils fast and you waste more of it than other products. Small factors can make a big difference in your bottom line. Detailed reports from your POS can break this down and allow you to make important changes to your business.
3. Mobile POS Technology
A mobile POS system (mPOS) saves smaller quick service restaurants precious space. A desktop POS is great for many businesses but they take up a large amount of real estate and can also take away from a shop's aesthetic. Adding a mPOS with a tablet can easily be sufficient for a quick serve checkout line, especially if you have software that makes fast transactions.
Mobile points of sale are beneficial for larger QSRs as well. It adds the option of checking out shoppers on the retail floor or adding an extra lane during busier period or service. Big lines are big deterrents for shoppers, so it's critical to keep them short in any way possible.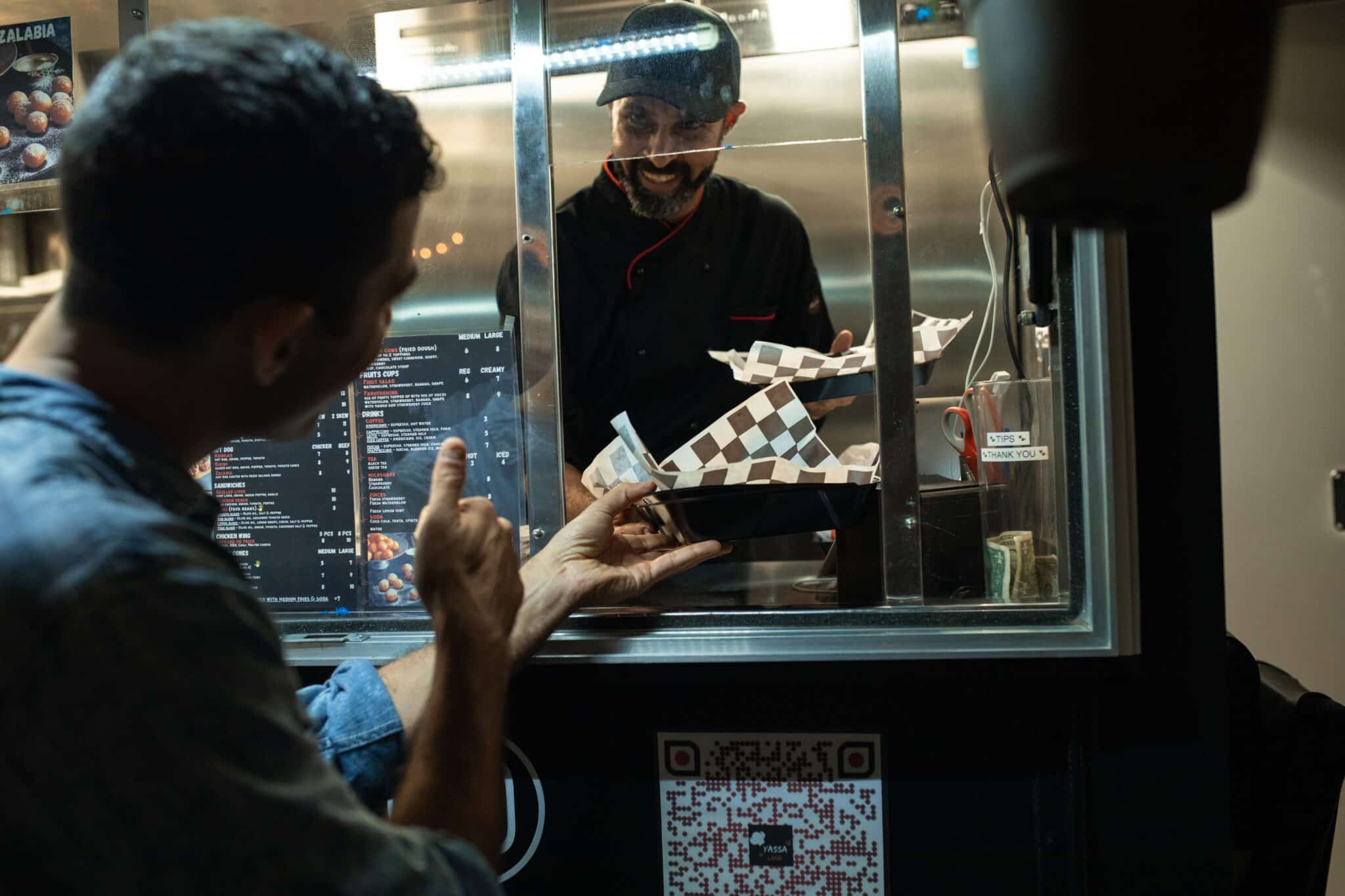 4. Cashier Permissions
Many quick service restaurants hire young, inexperienced cashiers. It's important to be able to monitor transactions and sales. Most employees are honest, but internal theft is the largest contributor to shrinkage in retail and restaurants. Plus, mistakes happen. Figuring out where the mistake originated so that you can improve training is important.
Still, you need your managers or shift leaders to have access to more information and capabilities on your POS. Setting POS permissions based on each individual user should be easy and make your shop more secure.
5. Employee Reports
In addition to monitoring levels of access, it's also useful to measure the performance of staff members. Detailed reports at the end of every shift can highlight average ticket prices, transaction speed, and individual items sold.
This can be helpful when you're running a special or introducing a new product. If you notice that one team member isn't selling much of a certain item, it is good to know immediately so you can improve performance. When business is busy, just observing is usually not enough.
6. Customer Relationship Management and Loyalty Programs
A lot of QSRs have regular customers. Even daily shoppers. You should reward these people with discounts, coupons, new product samples, etc. It's impossible to keep track of everything you've given out and how much they're spending at your store. So keeping a customer database in your point of sale makes this easier for you. Every time a shopper comes in they can enter their phone number, email, or scan a card so that the purchase is recorded in your system.
For some quick service shops, a more in-depth loyalty program might be a better solution. These can automate rewards so that they're automatically added into their account and deducted with their next purchase. Make sure that your POS solution can integrate with a loyalty program that fits your needs.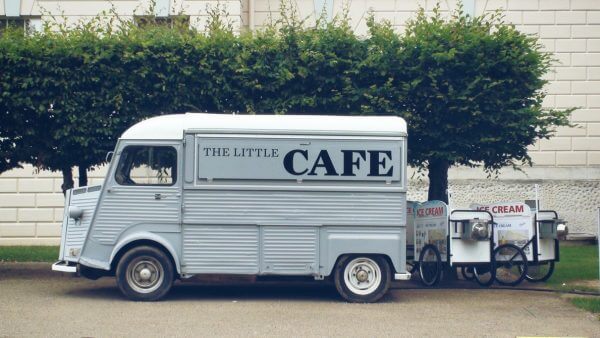 7. Automated Promotions and Discounts
Many QSRs offer different combination deals or bundled packages. Manually editing the prices can wreak havoc on inventory and hold up lines for way too long. So it's important that you can enter the deals into your POS easily so that they reflect the right prices and are accounted for in your inventory correctly. This will make your cashiers thankful and your ordering more accurate.
8. Table Service and Tip Management
One thing that makes QSRs different from other retailers is that they often have table service. You need a point of sale that is as versatile as you are. Basic table ticketing and organization is key to keeping the floor running smoothly.
With table service comes tips. And for many quick serve restaurants, employees get tipped out differently. This can be a nightmare to organize on your own, especially for payroll. Imagine a point of sale that calculates it all for you and includes any credit card tips in your payroll. This saves you a ton of time and keeps staff happy.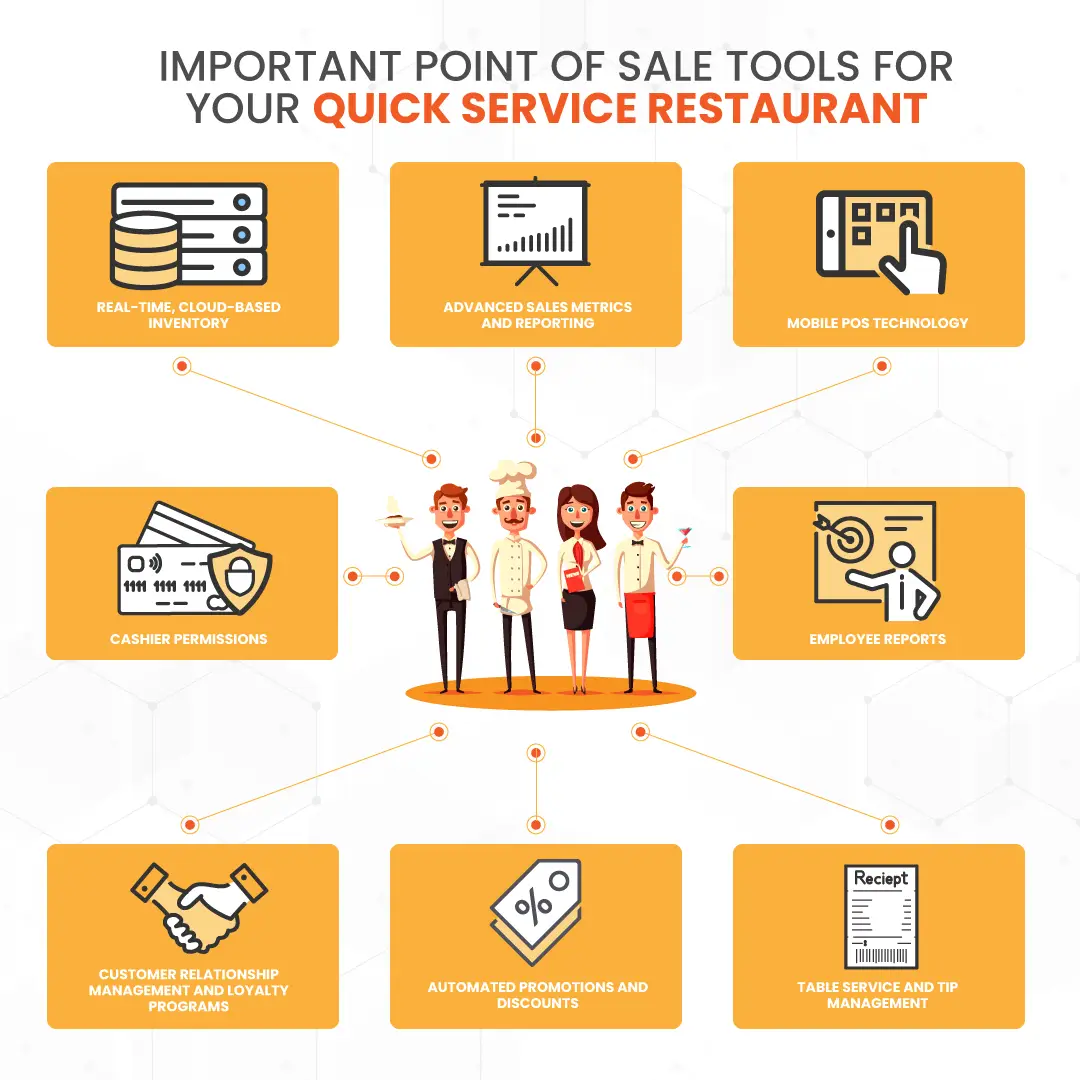 Which QSR POS Features Will Make Your Business Better?
Consider the list above and ask yourself which features you might benefit from. Even if you're missing just one or two, a great QSR POS system can make a huge difference. KORONA's QSR software was designed for quick serve restaurants and has each of these tools included in a simple monthly contract. Try it out for yourself with a free demo! Just click below to find out more.
Get Started with KORONA POS today!
Tell us a little bit about your business and explore all features that KORONA POS has to offer. And there's no commitment or credit card required.