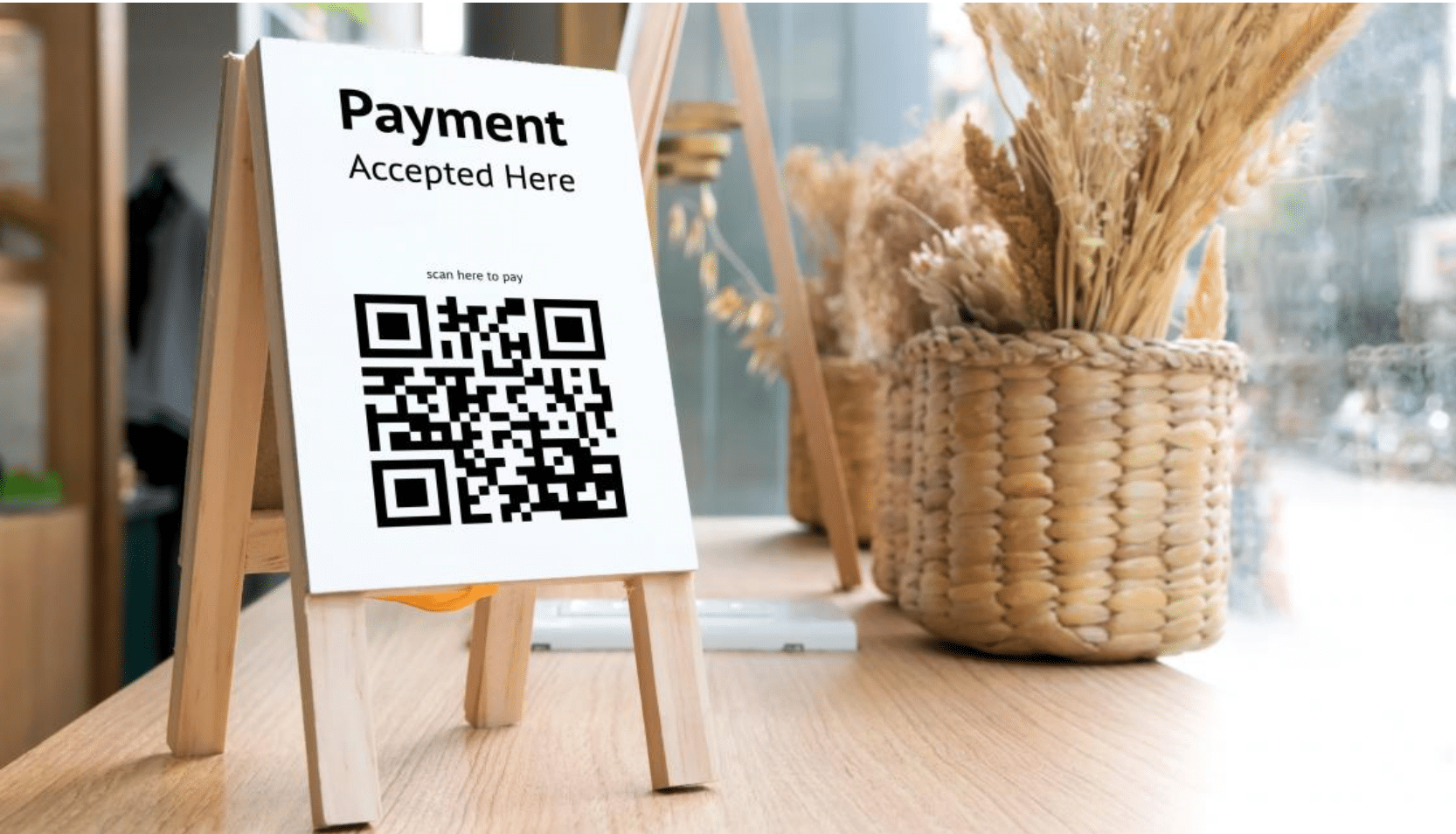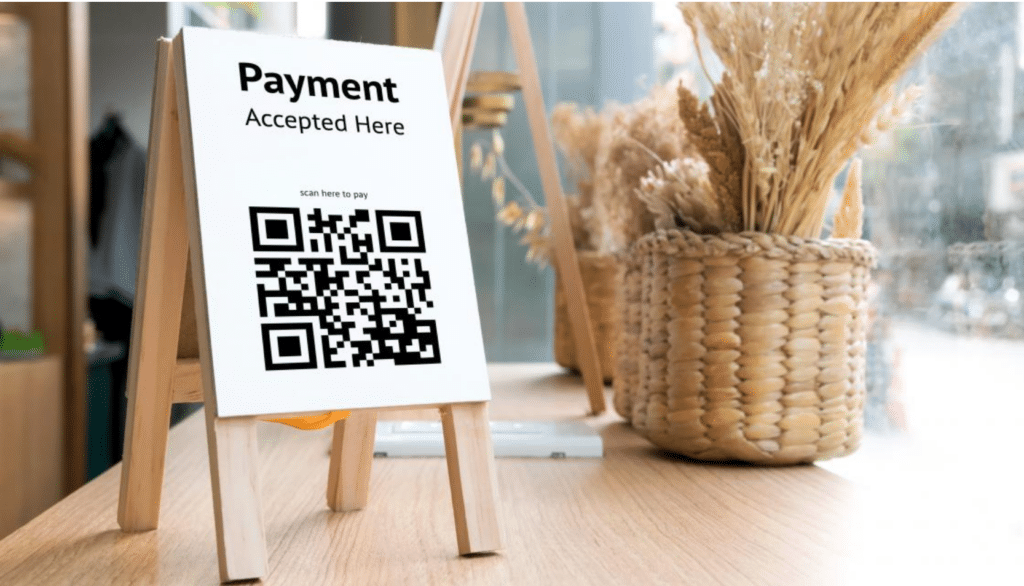 QR codes have revolutionized the way people shop. From making checkouts faster and easier to providing customers with a more secure payment method, these innovative technologies have ushered in a new era of retail. For business owners, QR codes offer many benefits. Not only do they make it easier for customers to pay, but they also provide an extra layer of security. Scanning a customer's QR code at checkout keeps the customer's personal information safe and secure.
Furthermore, a good retail POS system can help make the checkout process with QR code payments even faster and more convenient. This allows guests to access their shopping cart or initiate payments quickly with the help of QR code scanning. Customers can also receive loyalty points and store discounts with QR code payments which helps to increase customer loyalty and encourages repeat purchases.
In this blog post, we'll explore the benefits of using QR codes in retail stores and how retail businesses can use QR codes and POS systems to maximize checkout speed and improve customer satisfaction.
Introduction to QR Code Payments
QR Codes, or Quick Response Codes, are a type of barcode that can be scanned using a smartphone camera. They are revolutionizing how people pay for goods and services as they present a variety of benefits over traditional payment methods, such as cash or cards.
QR codes allow businesses to accept customer payments and simplify the checkout process. They offer faster transaction times than other payment methods and provide extra convenience for customers with minimal effort on the side of the business.
Using QR Code Payments also helps retailers save on costs by eliminating the need for checkout infrastructure and reducing operational expenses associated with manual checkout processes. Furthermore, having a good retail POS system can reduce transaction processing times when using QR codes for payments, thereby improving customer satisfaction.
Benefits of QR Codes for Retailers
QR codes have much to offer retail business owners – all of which can be realized through a good retail POS system. Benefits include increased security, crowd appeal, customer loyalty, and high versatility.
Secure: First of all, customers can pay securely through QR codes. With this form of payment, customers don't need to manually key in their credit card details. This helps prevent any type of fraud or data breach during the transaction.
Crowd Appeal: In addition, QR codes are an attractive option for consumers, who can quickly scan them on their smartphone instead of having to search for their wallet or purse. This is especially useful when making payments at festivals and outdoor events where space is often limited, and people may want to make purchases quickly.
Increase Customer Loyalty: Moreover, offering bespoke promotions exclusive to shoppers who use QR codes can help increase customer loyalty and build relationships with your customers. For instance, you could provide discounts only available through QR code payments or reward points for making regular purchases using QR code payments.
High Versatility: Last but not least, you don't have to limit yourself when it comes to customization; QR codes are highly versatile, so you can adjust the design according to your needs. QR codes also allow for encrypted data transmissions for additional security when making payments.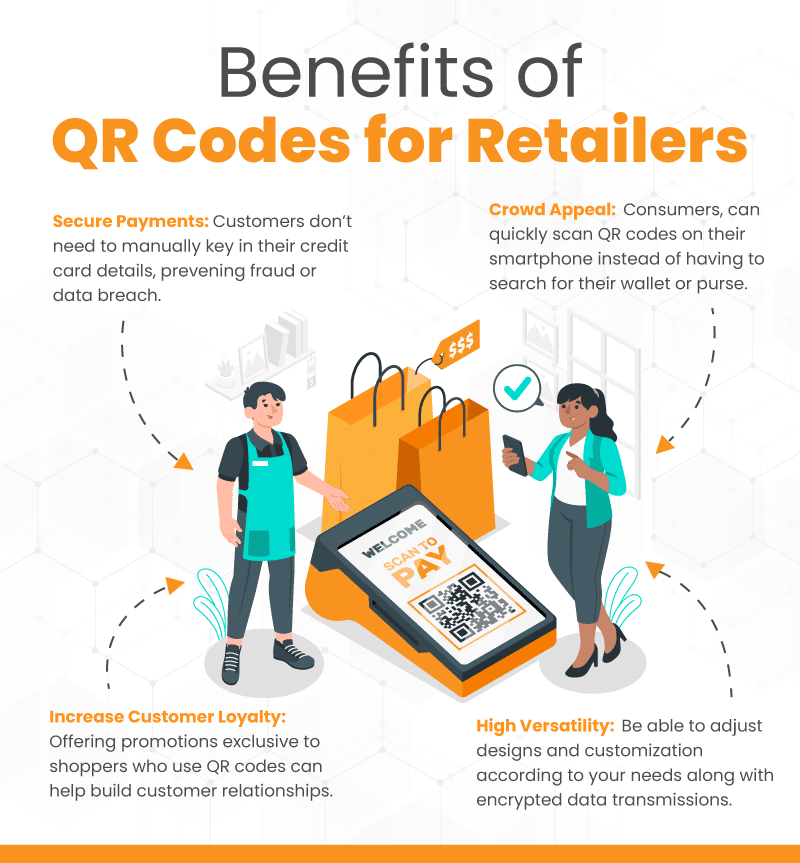 Advantages of Using a POS System for QR Code Payments In a Retail Store
QR codes provide a convenient and secure way for customers to check out. But using them correctly requires a retail POS system that enables quick and efficient transactions. Below are just some of the advantages of having a POS system in your store that supports QR code payments:
Streamlined Checkouts
A POS system helps streamline the entire checkout process without manually entering data or waiting for confirmations. This makes it easy for customers to complete their payments quickly and provides them with valuable information regarding their orders.
Increased Efficiency
Using a POS system increases efficiency in the store, allowing staff to serve more customers at once and reducing long lines at the checkout counter. This provides customers with a better shopping experience and helps drive sales growth.
Improved Security
QR codes are secured by encryption, making them difficult to break into. With a POS system in place, businesses can rest assured that customer information is safe and secure from malicious activities or data breaches.
Customized Payment Options
POS systems can also be customized to offer multiple payment options, such as credit card payments or digital wallets. This allows businesses to provide customers with more flexibility when it comes to choosing how they want to pay for their goods or services.
Easy Inventory Management
Using a POS system with integrated QR codes also makes tracking inventory across multiple stores easy. With real-time updates on stock levels, you'll always know how much of each product is available—and when reordering is necessary. Plus, you can use detailed reporting to get insights on stock levels and sales performance.
Steps for Setting Up QR Code Payments
Setting up QR code payments isn't complicated – all you need is a good retail POS system to start your business. KORONA POS, a leading point of sale solution, offers retailers the convenience of natively generating and utilizing QR codes within its system. KORONA POS enables businesses to incorporate this technology into their operations seamlessly. Through its intuitive interface, retailers can effortlessly generate QR codes for products, promotions, or payment purposes, enhancing the customer experience. Customers can easily scan these QR codes using their smartphones, facilitating quick and secure transactions. By natively integrating QR codes, KORONA POS empowers retailers to stay ahead in the evolving retail landscape, providing a streamlined and efficient point-of-sale experience for merchants and customers.
You Might Want To Read: How to Create and Use QR Codes for Your Retail Business? The Ultimate Guide
Tips for Optimizing Your QR Payment Experience
QR payments are quickly becoming the gold standard in retail. If you're interested in utilizing QR codes in your business, here are some tips to optimize the experience for you and your customers:
1. Select the right POS system
Having the right point of sale system is key to ensuring customers have a seamless payment experience. Choose a POS system compatible with QR codes to integrate them into your business easily. Ensure it has enough features to meet your needs, like inventory tracking and customer loyalty programs.
2. Promote Your QR Codes
Consumers need to know that you offer QR code payments before they can use them at checkout. Market your payment options by displaying signs or banners in stores highlighting your QR codes and encouraging customers to use them on their phones. Also, consider partnering up with a wallet app such as Apple Pay or Google Pay that supports QR codes as a payment option. This will help increase the visibility of your business. You can also consider offering loyalty programs or discounts for those who use QR codes for their purchases. This will incentivize customers and increase sales!
3. Train Your Employees
Ensure your employees know how to process QR code payments and troubleshoot any issues that may arise during the process. This way, they can help guide customers using this new technology and ensure the checkout experience runs smoothly.
Conclusion
In conclusion, QR code payments are quick, convenient, secure, and widely accepted. Not only do they provide your customers with a hassle-free payment experience, but they also allow you to save time and money, reduce transaction fees, and improve customer satisfaction. Moreover, integrating QR codes into your retail POS system can help streamline the checkout process and make checkout even faster and more efficient. Ultimately, implementing QR code payments is a win-win for both you and your customers.