Customer experience is at the heart of running a multi-channel retail store. Selling products or services is no longer only carried out in a physical store. Other channels such as social media, SMS, email, and online stores are all avenues to leverage for selling products and increasing the efficiency of your overall operations.
Despite the sheer diversity of all these channels, one crucial tool can synchronize sales and customer data across these platforms: POS software. However, choosing the right POS software can be difficult, especially if running a multi-channel retail operation. Point of sales for multichannel retailers has specific features you need to look for. This guide will provide you with a list of POS software features that multichannel retailers can leverage and use to their advantage.
You might also want to read 26 Must-Have Retail POS Software Features For Retail And SMB Owners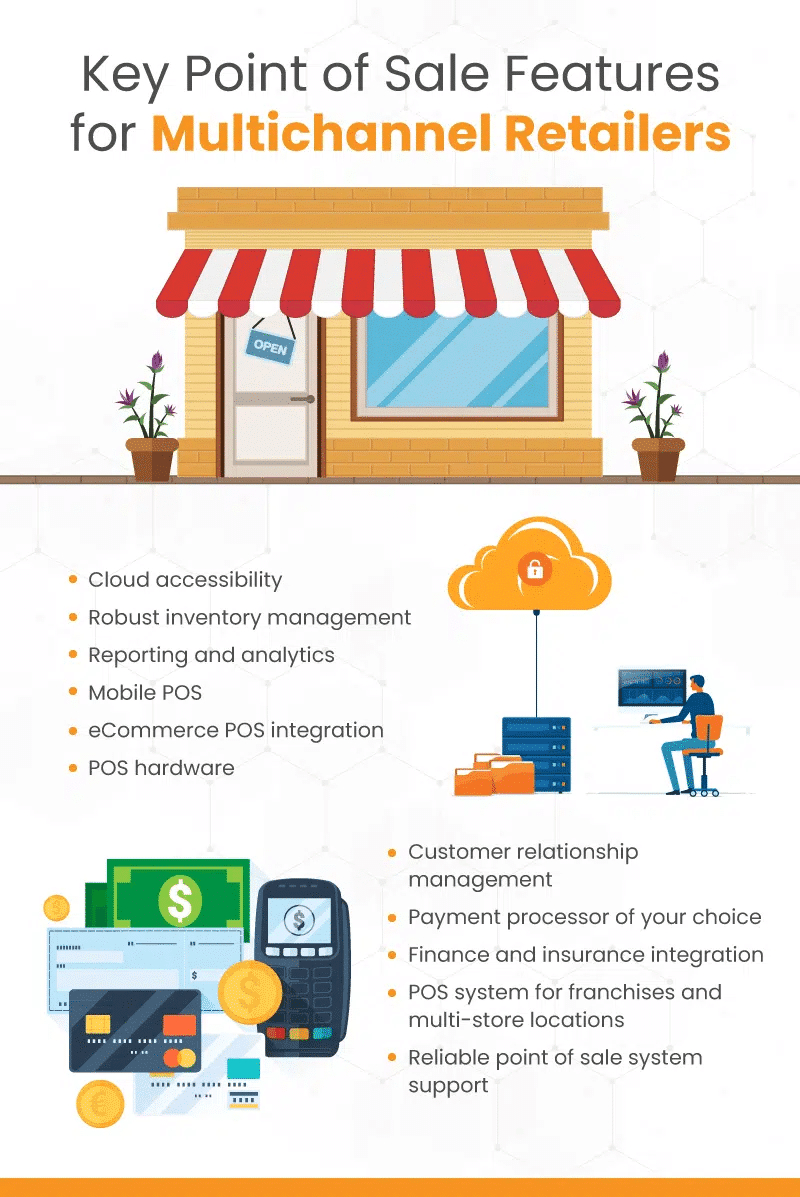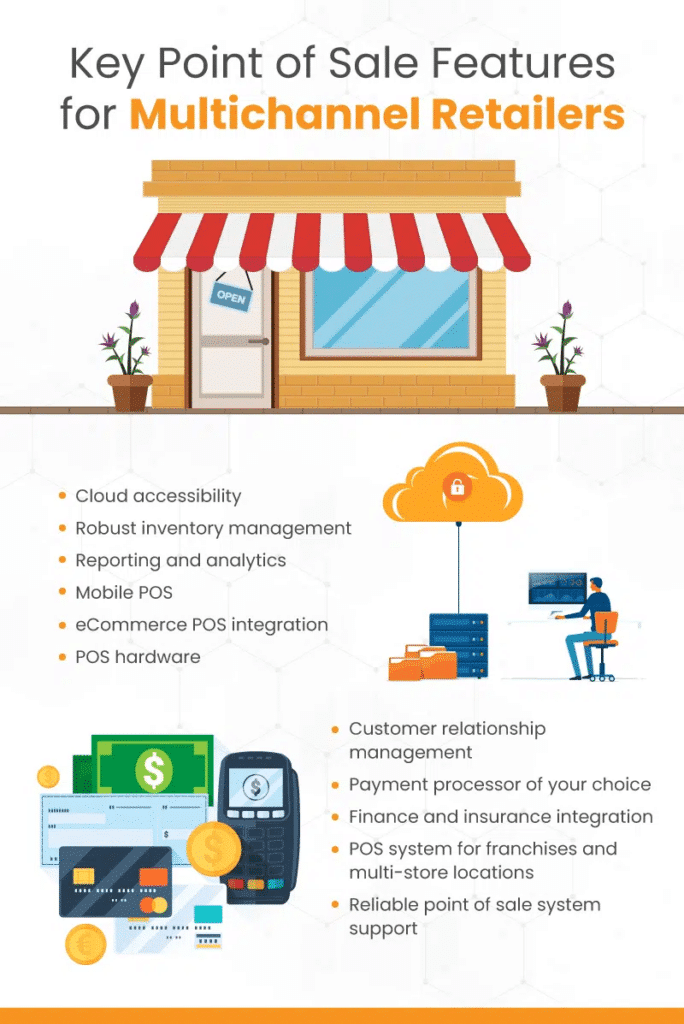 Table of contents
Cloud Accessibility: An Important POS Feature For Multichannel Retailers
A cloud-based point of sale makes it easy to access data and reports. Owners can access any of their store's data without being present on-site. In addition, the cloud-based service makes all updates in real-time, so you can always see how your business is performing. For a multi-channel retailer, a cloud-based POS is essential to get a more comprehensive overview of all transactions and, most importantly, to benchmark the most efficient channels.
Plus, with inventory management being a typical challenge for retail businesses, a cloud-based POS system can significantly help enterprises reduce human error and improve inventory management through automation.
Sales and inventory information is synchronized and stored electronically as soon as a payment is made, allowing for better inventory control in retail stores. There are many POS providers on the market, and not all software is suitable for your retail store. Make sure you get the right information before you make your final decision.
Robust Inventory Management Features
Inventory management is a key capability for any retailer. The right inventory management software can make your life easier as a multi-channel retailer, ensuring that you always have the supplies in stock and eliminating the need to run to the store constantly.
Now, retailers can use inventory management through their point of sale system. This automates many processes and saves retailers a lot of time. With automatic replenishment, stock notifications, parity level settings, vendor management, and perpetual counts, a point of sale system helps businesses understand their inventory and manage a more efficient operation.
For example, KORONA POS inventory management software offers an ABC analysis feature that ranks items from best sellers to worst sellers. This feature helps business owners understand which products or services are most critical to the financial success of their organization.
Reporting and Analytics
All multi-channel retailers need metrics to measure their business efficiency. Point-of-sale reports itemize sales, staff performance, inventory, profit margins, and more. Each of these elements can be fully customized to meet your business needs and can help you learn more about your customers' preferences. Some of the most popular customers reports that a point of sale system can generate are sales rates, year-over-year sales, sales per square foot, average customer spend, conversion rates, turnover rates, returns/refunds, and gross margin ROI. While most companies don't need to use each of these or many other metrics, they can determine which ones are most useful to their business.
Mobile POS
More than 40% of businesses use a mobile POS system, 79% of which are small and medium-sized businesses. In addition, the number of users in the mobile POS payments segment is expected to grow to 94.7 million by 2027. A retail business has several reasons for using a mobile POS solution.
Mobile POS can improve the checkout experience by reducing long lines. In addition, it accepts all types of payments, from traditional credit and debit card transactions to emerging forms of payment like e-wallets, cryptocurrencies, and other online payments.
Finally, employees can quickly reset everything using a mobile app if the computer or cashier system goes down. Mobile checkout systems can transform the retail transaction flow by reducing payment and processing inefficiencies, ensuring that customers can pay anywhere in the store.
eCommerce POS Integration
Another critical POS feature for multichannel retailers is an eCommerce POS integration. An eCommerce POS integration is a solution that provides a simplified connection between your eCommerce platform and your POS system. This allows you to extract detailed real-time data directly between two systems and process transactions and orders across online and offline channels.
The eCommerce POS integration enables multi-channel retailers to offer promotions and discounts, provides better customer data and information, and facilitates in-store returns and pick-ups. This is necessary, after all, since the COVID-19 pandemic has significantly affected consumers' shopping behavior.
Many customers also now prefer to order products online and then pick them up in-store. Thus, your POS software must have an online ordering feature to be competitive in today's market. Online ordering is a significant advantage for retailers as it reduces customer waiting time and increases sales.
POS Hardware
A cutting-edge POS system comes with comprehensive hardware that can facilitate all operations within your store. Some of the most critical POS hardware for your business include the following items:
Receipt printers
Tablets
Scanners
Credit card readers
Terminals & cash drawers
Ticket & inventory scanners
If you continue using simply a cash register, you'll need to get an upgrade. Traditional cash registers are designed to record items, compile transactions, and accept and store payment information. POS systems perform all of this but also operate as the operational core of the business.
A POS system can manage inventory, generate sales reports, customize employee authorization levels, create promotions and discounts, consolidate data from multiple locations or franchises, process tips, and commissions, and much more.
Businesses have many types of hardware to choose from, ranging from large desktop touchscreen machines to small mobile devices. Consult with a point of sale company to find out which solution is right for your business, and don't hesitate to ask questions.
Customer Relationship Management
CRM helps multi-channel retailers manage and maintain their customer relationships and keep track of customer data and trends. With a CRM, you can easily set up a loyalty and referral program and record customer information such as name, address, and other contact information. All this information is helpful for your marketing campaigns, especially during the holiday season. The CRM feature also gives you several other conveniences:
Stay up to date on customer activities by tracking orders placed, payments, and communications.
Communicate with the customer in various ways, including email, phone, or SMS.
Track changes to customer information over time.
Compatibility With The Payment Processor Of Your Choice
Some POS providers also operate as payment processors. The disadvantage of choosing this type of POS system is that most of these providers charge rates that are unusually high. Plus, you do not have the option of selecting another payment processor. If you wish to do so, you will have to change your POS software again. Make sure you have a POS system that is processing agnostic and compatible with the payment processor you wish to use.
Finance And Insurance Integration
POS software must integrate finance and insurance to enable customers to conduct streamlined transactions. The two industries are closely linked, and with a seamless connection, it can be easier for customers to complete their transactions.
An effective finance and insurance integration system must allow customers to view their account balances, track their payments and learn about available discounts. In addition, it should allow merchants to automatically enter insurance rates into the software to generate quotes for customers.
POS System for Franchises and Multi-Store Locations
The best POS software for multi-channel retailers can adapt to your business and help you expand to new locations. Managing data from a single store is one thing. When you grow to two, three, or more locations, the stakes become higher, and your software should be able to keep up with the pace. Point of sale features for franchises and multi-location stores include several standard items:
Better insight into all your business operations
Real-time data updates
Automated royalty payments
Ease of communication between locations
Improved transaction times
Employee management tools
Detailed sales reporting and metrics
See also: 7 Critical Multi-Store Point of Sale Software Features
Reliable Point of Sale Support
This may sound like a trivial point, but it is vital for any multi-channel retailer. In the case of software malfunction, you need to be able to rely on your POS vendor's support team. Before choosing a POS software, besides the technical features, make sure that the POS provider also offers various support options:
Dedicated and competent support team
Detailed digital manual
Installation assistance
Phone, email, and chat support
Training demo included
KORONA POS: The Best POS For Multi-Channel Retailers
KORONA POS is a retail POS software specially built for retail stores such as convenience stores, thrift stores, liquor stores, and more. The software also offers seamless inventory management tools and all transactions in your store.
With KORONA POS, you can also choose the payment processor of your choice, build your CRM, track loyalty program data, integrate loyalty, etc. If you want to know more about KORONA POS, click the link below.
FAQs: POS Features for Multi-Channel Retailers
1. What POS system do most retailers use?
Retailers use several point of sale systems. Below are some commonly used solutions:
– KORONA POS
– Shopify
– Lightspeed
– Toast
– Epos Now
Not all retailers have the same needs in their stores, and a POS that works for one retailer may not work for another. Therefore, look at the features a POS software offers and determine if they will suit your needs is essential.
2. What are the 5 hardware components of a POS system?
Popular POS hardware components include the following:
– Receipt printers
– Ticket & inventory scanners
– Scanners
– Credit card readers
– Terminals & cash drawers
3. What are the modules in POS?
POS software packages often include integrated accounting modules, including general ledger, accounts receivable, accounts payable, purchasing, and inventory control systems. A POS system is an all-in-one way to track your company's cash flow.