When we talk about entrepreneurship, we automatically think of people who have started their own business or project. That's true, but there are plenty of other ways to be an entrepreneur that don't involve you becoming the next Steve Jobs. Entrepreneurship can also be about buying into someone else's idea and starting a franchise.
If you're considering starting your own business, but you're too afraid to start, worried you don't have the next great idea, or you don't have enough support, then starting a franchise might be one of the best options for you. However, opening a franchise can also be a daunting and nerve-wracking task, especially if you don't know much about it.
But don't worry! We're here to help. With some great advice and real-world examples, you should be able to get the ball rolling and take your business to the next level. This blog will walk you through the nitty-gritty of owning a franchise and hopefully help you figure out if this kind of business model is right for you.
Let's get started!
What Is a Franchise?
A franchise is a business that allows other people or companies to sell its goods or services while using its name, image, brand, logo, or any of its intellectual property. In addition to the right to use its name, the franchisor sets the rules and guidelines for running the franchise. To be part of a franchise, the franchisee must pay a fee to the franchisor, who in turn will issue a license to use its brand.
The franchisor will also support the franchisee in terms of training, marketing strategies, and equipment necessary for the smooth running of the new business. As aforementioned, owning a share of a franchise is another alternative to starting a business from scratch. The risk of failure of the franchisee is less critical, and the partnership is beneficial for both parties – the franchisor gets a percentage of sales or a flat annual rate for the use of its brand, while the franchisee gets an opportunity to sell products/services under a proven and established business.
A few essential terms come up constantly when talking about franchising and need to be understood before proceeding. Let's break them down: 
Franchise
This is the authorization that one company gives to another to sell its products in its name. From the Federal Trade Commission (FTC): "A franchise agreement is a contract under which the franchisor grants the franchisee the right to operate a business, or offer, sell, or distribute goods or services identified or associated with the franchisor's trademark."
The Franchisor
This is the parent company. It grants franchisees the right to manufacture, sell, or use any other material associated with its brands in exchange for a fixed sum of money or the payment of percentage-based royalties.
The Franchisee
The franchisee is the person or business that agrees to manufacture and sell another company's products under a license. It is required that they abide by the rules established by the franchisor.
What Are The Steps To Opening a Franchise?
If you're interested in becoming a franchisee, you will first need to find the right franchisor with a reputation for supporting its franchisees. This step is essential, but it is not the only one you need before starting your franchise business. Let's go over the other steps to opening a franchise.
Research the industry you want to start your franchise in
Researching the industry in which you wish to operate your franchise comes down to asking yourself the following questions:
What type of franchise would you like to open?

What types of businesses are best suited to your area and likely to generate revenue?

Do you have a business ethos that you want to follow?
Use your intuition to determine the type of franchise that might be viable in your area, and contact a franchisor to get access to statistics and other relevant data to help you make your choice. Franchises are available in many different types of industries. However, a 2019 study revealed that the franchise industry is best known for its fast-food sector.
The same study revealed that 30% of those interested in opening a franchise in the United States said they were most interested in opening a quick-service franchise. Once you've decided on the type of business you want to work with, send them each a franchise application. These companies will then send you an information package that will help you better understand their business model. Below is a shortlist with the most popular franchise industries:
Quick service food

Cleaning and maintenance

Retail

Automotive

Home service

Vending

Business service

Senior care

Low investment
Evaluate The Franchise Market
If you decide to buy a franchise, it means that you'll have a long-term commitment. Since the quality and type of product you're going to sell depends on the franchisor, make sure that the franchise has a lasting appeal and that its market is not in any way threatened in the near future.
You need to ensure that the product or service offered by the franchisor is scalable and sustainable over time. If, for example, the product the franchisor offers requires the use of fossil fuels and harms the environment, in the long run, this product may have difficulty surviving in the market due to the growing consumer awareness of environmental safety and climate change issues.
Frequently Asked Questions for Prospective Franchisees
Remember, the franchisor must prove to you that they have a thorough understanding of the future market for the product and of the possible changes that might need to be made to adapt. Here are some of the questions you can find answers to in order to evaluate the market better:
What is the current state of growth of the product/service in the market? Is the product expanding, growing slowly, stagnant, or slumping?
Keynotes
Make a comparison of the volume of advertising and marketing around the product or service today versus a few years ago, which will give you an indication of the state of the market. It is also a good idea to approach some franchisees and ask them for information on how consumers view the product or service and whether the business is profitable. You can look up some information on the Internet to get an idea of how the products perform on the market. Look for data such as the current number of consumers or users compared to previous years. Statista is a website that could be a great help to get such information. 
What are the features that make the product/service unique and that contribute to its sale? Do they justify a higher price?
Keynotes
What makes the product/service unique? For the franchisee and franchisor to make money, the product must stand out from the competition, have real advantages, and not be threatened. It will be challenging to maintain or increase prices if what you sell can be easily duplicated by others.
Who would be the potential competitors of your product, and how competitive would your offering be with theirs?
Keynotes
What are the technical or pricing advantages of your competitors? Is there room for improvement in the service you offer? How successful are your competitors and their level of advertising? If there are no competitors, ask the franchisor why there are none.
Once you look at the general market, what do you know about the local market you're considering developing your franchise in?
Keynotes
Does your location have the same advantages as the general market? Is the product or service appropriate for your area? Does the success of your business depend on particular lifestyles or income levels?
Thoroughly understand the franchisors' recruitment process
To have a chance of being selected by a franchisor, you will need to have a well-prepared application that proves that you are the best candidate. Take your time to study the recruiting process. The best franchises have very rigorous recruiting processes to ensure that they choose the right person.
They have several steps in the recruiting process to protect their business integrity and maintain the high standards of the franchisees they choose. On the other hand, if you come across a franchisor that gives you little information about their business, has a very mundane recruiting process, and pushes you to buy a franchise, that's a red flag. Be careful because it could be a franchisor committing a phishing scam.
Secure funding
Once you've decided on a franchise to invest in and obtained all the necessary information, it is time to look for financing for your business. Make sure you have a detailed business plan to pitch to potential lenders. You have several options for obtaining financing. You can consider bank loans, personal loans from banks, small business loans from the government, or other non-traditional lending options. You can also benefit from the support of your family or your friends. Don't forget that you will also need enough cash when the business is launched to cover some expenses until the business starts making profits.
Read also: How Much Does It Cost To Open a Retail Store?
Participate in a discovery day
A discovery day is an in-depth meeting organized by the franchisor for candidates who meet the company's requirements from a financial perspective and the essential qualities of the ideal franchisee. The discovery date is an opportunity to ask questions to the franchisor, understand more about their business model and get to know each other. It is also an opportunity for you to exchange ideas with other franchisees.
Only applicants the franchisor deems to be serious will participate in a discovery day. This is the last step a franchisee must take before being awarded a franchise. If you receive an invitation, you must demonstrate you have done your due diligence and are ready to take the next step in owning a franchise. Prior to that meeting, you should:
Thoroughly review the franchise disclosure document (FDD)

Understand how the franchise works and its business model

Know your responsibilities as a franchisee

Prepare a series of questions to ask the franchisor about things you don't understand
Sign the agreement and get your permits and insurance
Without a signed contract, there is no proof that you are legally a franchisee. Some franchisors are flexible in negotiating certain terms of the agreement, such as the lease. If you are not, you may want to reach out to a franchise lawyer to find the best options for your business. If the agreement offered by the franchisor is rather rigid, you have nothing to worry about.
On the other hand, if the contract is excessively negotiable, that could be a red flag, a sign that the business isn't going well, and that you need to do some research on the franchisor. In addition to signing the contract, you must also have the necessary documents to set up your business. Each industry requires a certain number of permits and insurance.
Also, regulations vary by state, county, or city. Even if the franchisor has basic knowledge of the permits, licenses, and insurance you need, it is advisable to check with the appropriate authorities to ensure compliance.
How Much Does Starting A Franchise Cost?
The ideal amount of money you need to open a franchise depends on the sector you have decided to invest in. There are franchises in the home service industry where you can start for as little as $20,000; investments in the hospitality industry can run into the millions. Your franchisor should also be able to give you an estimate of how much it will cost to get started.
You Might Also Want To Read: A Guide For Entrepreneurs Who Want To Open A Franchise
There are leasing programs or loans available to you to reduce your initial cash flow requirements. However, most bankers or franchisors require that you have enough cash to invest in the business. Your franchisor should emphasize the amount of debt that is desirable. So you need to assess your resources to service your debt. Here are some unavoidable expenses you will have to face:
The franchise fee
A franchise fee is a sum of money that the franchisee pays to the franchisor for the right to use the company's brand and products. The franchise fee can range from $0 to $100,000. Franchisors charge a franchise fee based on brand awareness and competitive pricing. However, the average franchise fee is around $35,000.
Other expenses to cover
These are the expenses that the franchisor won't cover. Some of these expenses include:
Insurance, licenses, permits

Security system fees

Professional services fees for civil and architectural drawings

Store decoration and equipment costs

Real estate and rental fees for finding the right location

Subcontracting fees

Security deposits

POS system and payment processing service

Management and staff training and salaries

Legal fees

Accounting fees

Office supplies and form
Five Best Franchises To Buy & Own In 2021
There are hundreds of franchises across the United States. In this section, we have compiled the top 5 franchises you should buy in 2021.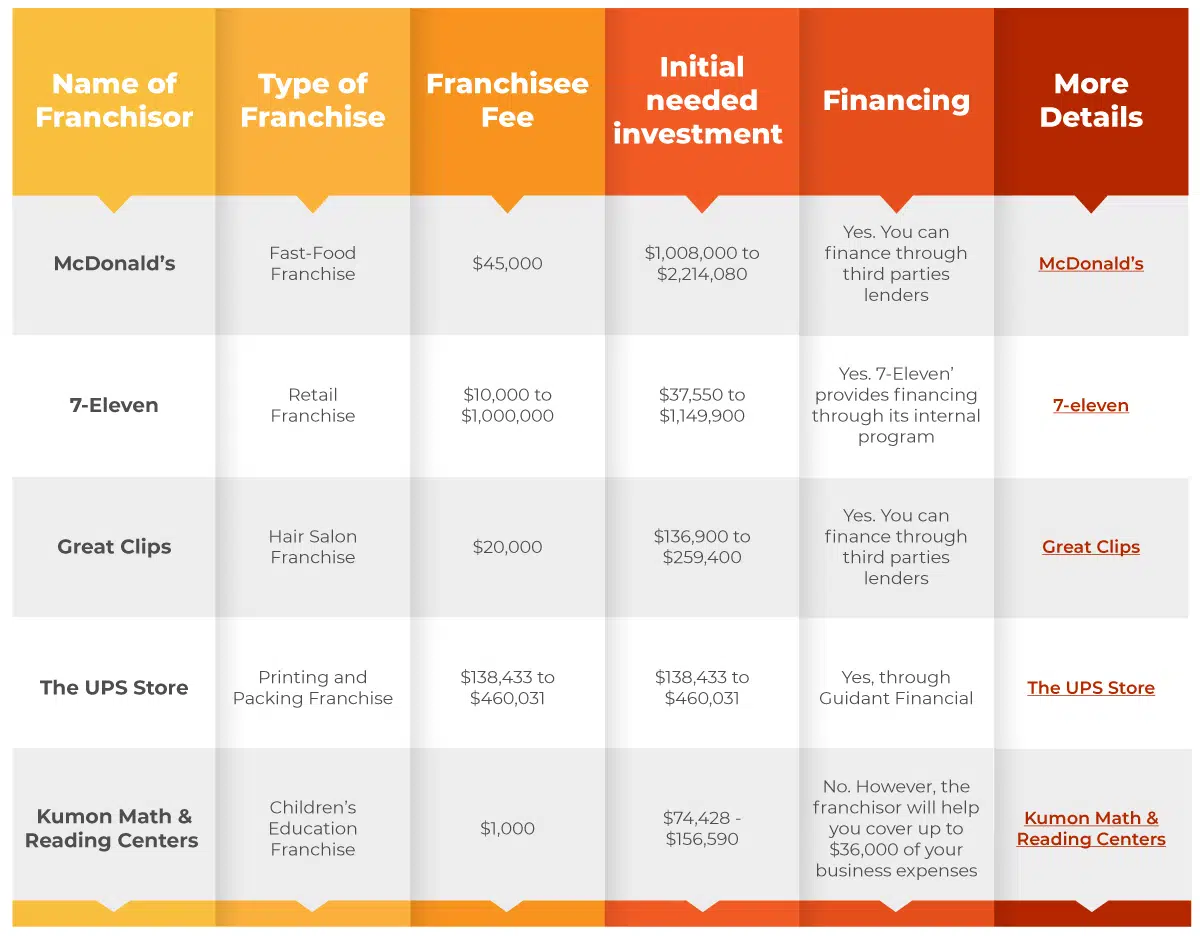 Use KORONA POS To Better Management Your Franchise Business
Starting your franchise is one thing, but managing the business is a whole new ballgame. From inventory management to staff payroll to transaction processing within your store, you need the right tool to work your franchise smoothly and faster, not only for your customers but also for your staff. And that's where our point of sale comes in. KORONA POS is a cloud-based POS system specially adapted for retail franchises and quick-service fast-food franchises. The system is designed to streamline franchise operations from both the franchisor and franchisee perspectives.
Real-time metrics of all locations

Scalability through replication and seamless data transfers

Choose royalty payment structure

Run cross-store loyalty

In-depth inventory management

Establish a franchisee order portal
To learn more, click below to start a free trial.