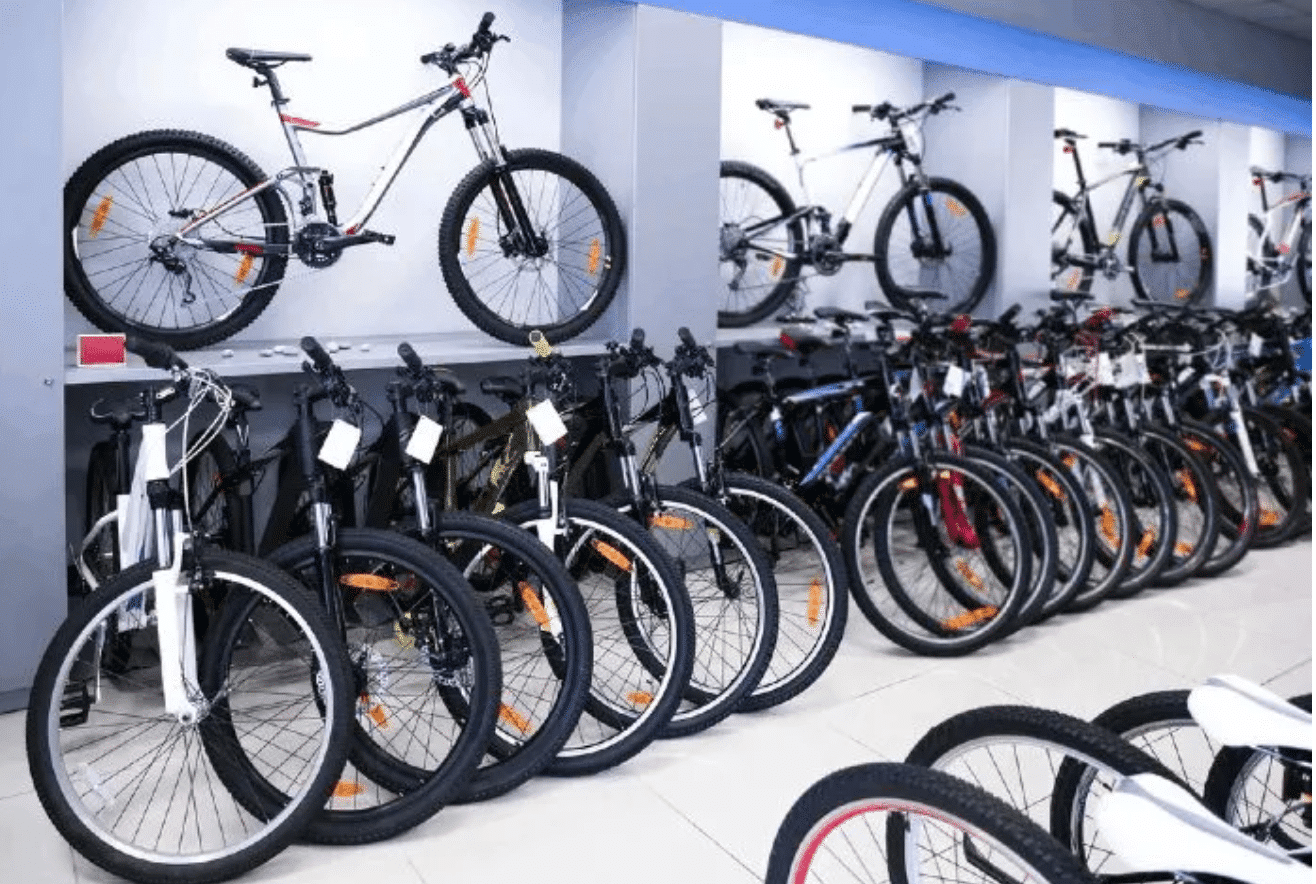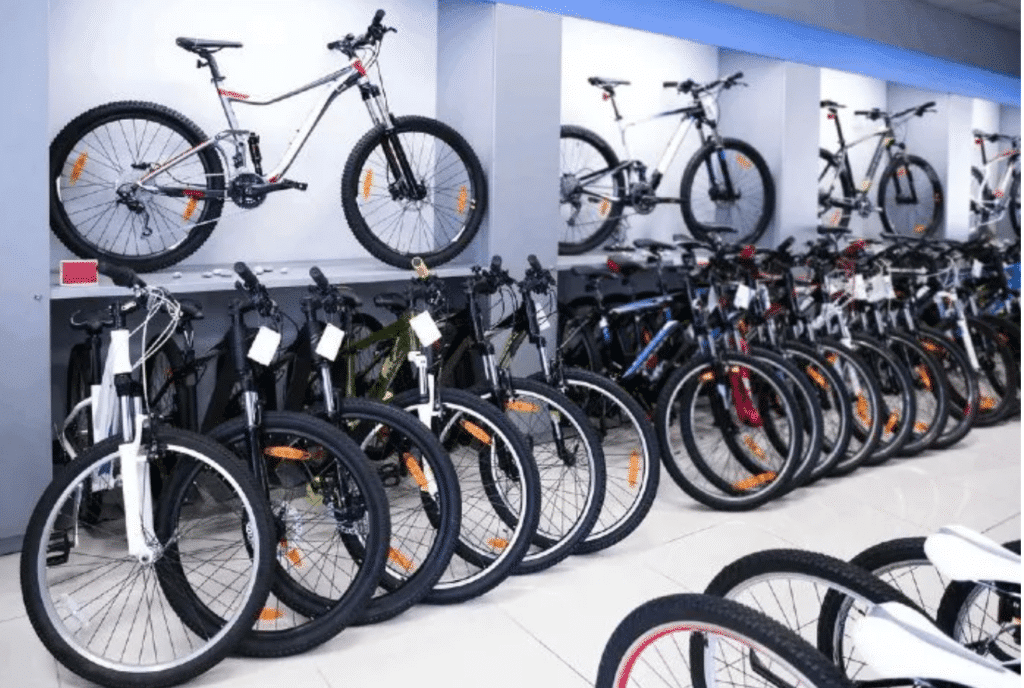 Starting a bike shop can be an exciting and rewarding entrepreneurial adventure. With cycling growing in popularity across North America, a bike shop can be profitable when executed thoughtfully.
There are roughly 7,000 bicycle shops in the United States. The global bicycle industry was valued at over $64 billion in 2022, with the United States' value being estimated at over $6 billion. Experts predict this industry will continue to grow significantly domestically and globally.
If you do it right, a bike shop can be a successful small business. But it's not easy. How do you go from dreaming about becoming the cool neighborhood bike shop to actually making that dream a reality? This comprehensive guide covers all the key steps and considerations when starting a bike shop. Follow this advice to help set your new bike business up for success.
1. Conducting market research
Before opening a bike shop, thoroughly research your area's market opportunity. Market research will provide insights into customer demand, ideal location, and potential competitors.
Research should aim to answer the following:
Is there sufficient demand for a bike shop in your area? Analyze cycling popularity, income levels, outdoor recreation habits, and other demographic data.
What services or specialties are missing from current bike shops that you could provide? Surveying local cyclists can reveal unmet needs.
What is the competitive landscape? Identify direct and indirect competitors, including big box stores selling bikes. Evaluate their strengths and weaknesses.
What are the cycling trends and growth projections? The pandemic bicycling boom introduced many new cyclists. Understanding broader trends will help predict future demand.
Is the area saturated? The number of existing shops should indicate if there's room for a new entrant—benchmark sales per capita.
What are the zoning regulations for opening a retail business? Check municipal codes and business licensing requirements.
Thorough market research provides the critical data needed to determine if opening a bike shop is viable in your location. Derive insights to shape your business plan.
2. Picking the right bike shop location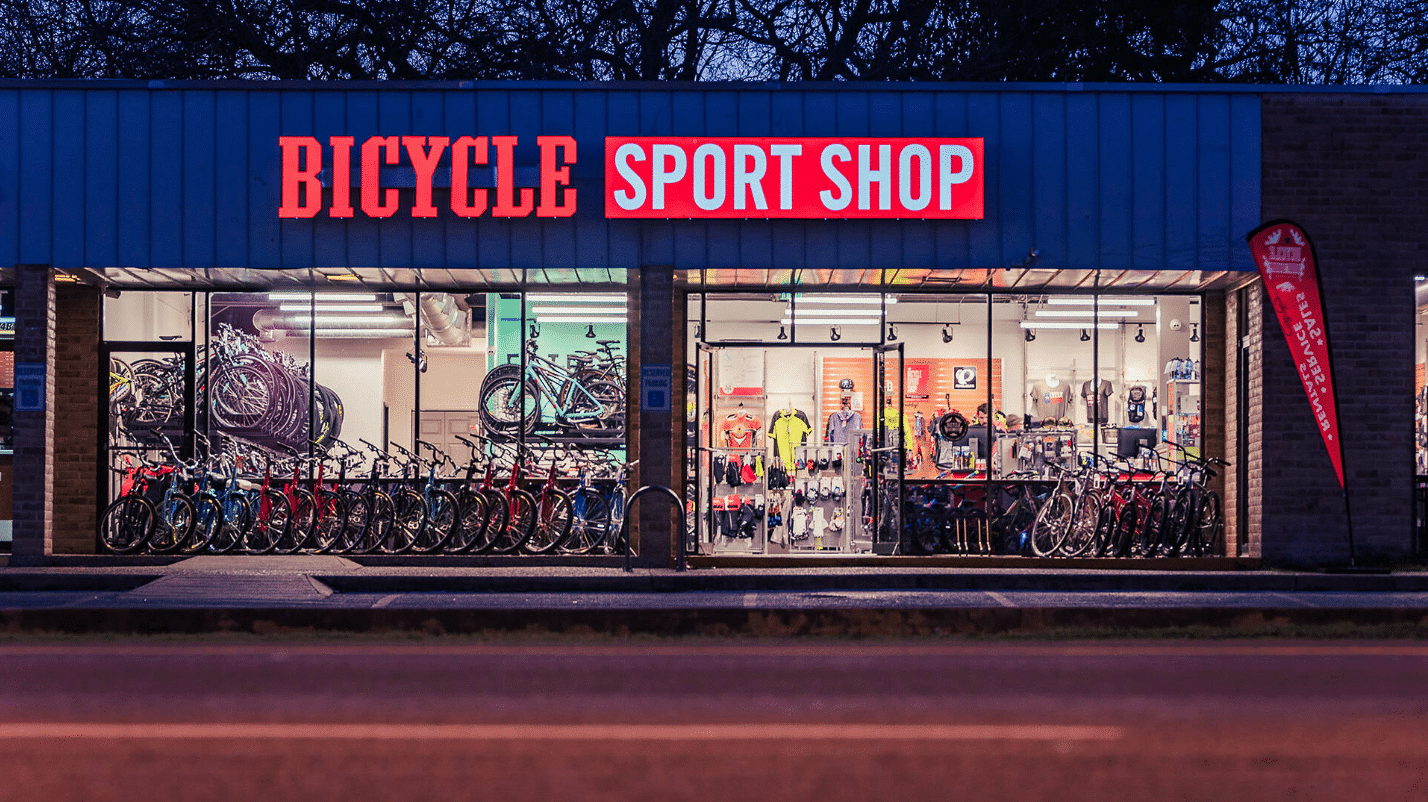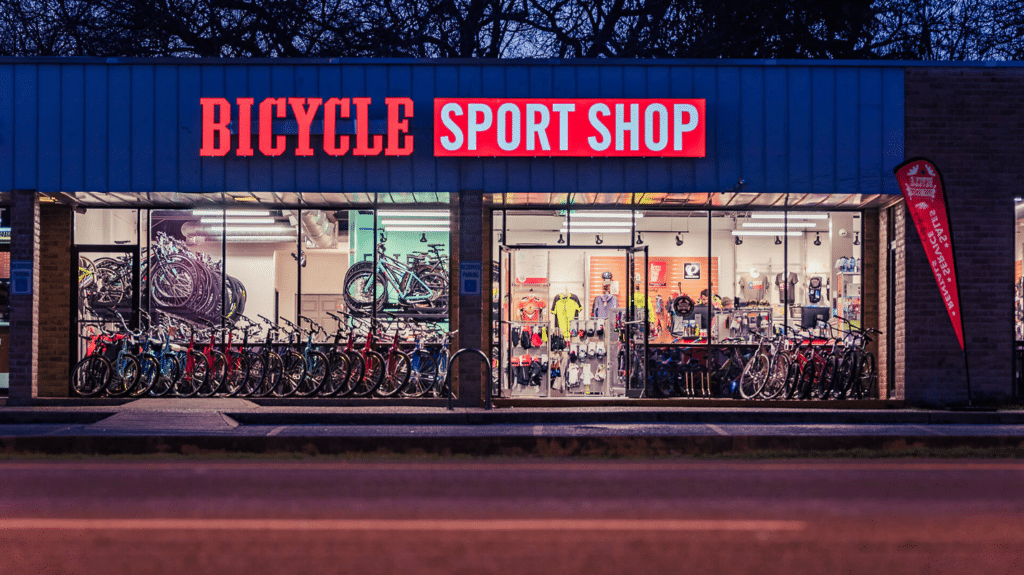 Location is key to any retail business. Choosing the optimal location for your bicycle shop requires weighing several factors:
Neighborhood and surroundings – Opening near cycling hotspots or trail networks makes your shop a natural destination. Locate where cyclists ride.
Visibility and traffic – A space on a main thoroughfare or with a storefront is ideal. Bike shops require visibility and easy access. Look for a location easily accessed by bike lanes, public transit, and handicap accessibility. The easier you make it for people to visit your shop, the more customers you'll gain.
Proximity to competitors – Being too close to competitors can make gaining market share difficult. Find the right distance to co-exist.
Zoning – Confirm commercial or mixed-use zoning allows for a retail business. Light industrial zones can also work well.
Parking – Having on-site parking, or easy street parking nearby, is essential for customers transporting bikes.
Price – While you want prime real estate, find a balance between location and affordability. Financing or investors can help fund a more costly spot.
Growth potential – Does the space allow for future expansion as needed? Warehouse space above? Empty units nearby? Room to grow is ideal.
Retail space. You'll want at least 2,000 to 5,000 square feet of retail space for a bike shop. Make sure the space has high ceilings, lots of open floor area, and a design that allows for good traffic flow and visibility of products. It should have room for bike displays, a service counter, checkout area, and storage in the back.
Take time to evaluate all aspects of potential locations. The ideal space balances visibility, access, parking, zoning, price, and growth flexibility.
3. Devising a business plan
The next step in starting a bike shop is crafting a solid business plan. This in-depth strategic plan maps out all aspects of starting and operating your shop.
A thorough business plan should cover the following:
Executive summary – High-level overview of your shop and what makes it unique
Company description – Legal business structure, ownership/management details, and mission statement
Market analysis – Market research insights and how they shape the opportunity
Competitive analysis – Proof of how you'll differentiate your bike shop from competitors' shops
Products and services – Detail of the products, services, and inventory you will offer
Marketing strategy – Outline how you will attract customers and promote the shop.
Financial plan – Projections for operating expenses, sales, capital, and funding needs
Operations – Description of day-to-day operations, management, staffing, and inventory management
The business plan serves as the roadmap for your shop and also brings credibility when seeking funding from banks or investors. Put time into crafting a comprehensive, high-quality plan.
4. Calculating startup costs
With a business plan finished, the next step is determining the investment needed to start your bicycle shop. Costs will vary significantly based on size, inventory, location, renovations, etc.
Below are some common startup costs:
Purchase of bikes and accessories for starting inventory – $50,000 to $150,000+
Shop lease or mortgage – $2,000 to $10,000+ per month
Renovations like flooring, walls, and lighting – $20,000+
Shop fixtures like racks, counters, and displays – $5,000 to $20,000
Tooling for bike repairs – $10,000+ for full workshop setup
POS system, inventory software, computers – $5,000+
Initial shop branding and marketing – $5,000+
Permits, licenses, and legal fees – $2,000 to $5,000
Initial insurance policies – $2,000 to $10,000+
Starting inventory of soft goods like apparel – $5,000 to $10,000
Work with professionals like contractors, lawyers, and accountants to generate accurate estimates if needed.
5. Financing your bike shop business
To start a bicycle shop, you'll need funding to cover startup costs like rent, inventory, and staffing until you become profitable. Consider these options to secure financing for your new business:
Personal Savings
If you have savings you can tap into, this is an easy option. However, you risk losing it if the business struggles. Only use what you can afford to lose.
Business Loans
Banks and credit unions offer small business loans and lines of credit. Be prepared to put up collateral like your home or savings. Interest rates will vary depending on your credit and the loan term. Banks may finance 50-80% of startup costs with good credit and collateral. A Small Business Administration (SBA) loan might also be a great idea. The SBA guarantees portions of bank loans to help with financing.
Crowdfunding
Websites like Kickstarter, Indiegogo, and GoFundMe let you raise money from many individuals. Create a campaign explaining your idea and providing rewards for different contribution levels. Market the campaign to friends, family, and local cyclists to build momentum.
Investors
Private investors, venture capital firms, or angel investors may provide funding in exchange for equity in the company. Be careful, though; giving up too much equity means losing control and ownership. Only consider this option if other sources are unavailable.
Equipment Leasing
Instead of buying expensive gear upfront, consider leasing options like bike repair stands, diagnostic tools, cash registers, and more. Look for companies that cater to new small businesses, as they may offer more flexibility if you have limited revenue initially.
The key is securing enough to cover 3-6 months of expenses, as it can take time to become profitable. Do your research to get the best terms possible. And don't forget that you can combine multiple options, like using some savings and taking out a small loan. Speak to financial advisors to explore all financing options before settling on the best ones for your business.
6. Choosing a business structure
Before legally registering your bicycle shop business, you must choose what type of legal structure to form it. There are usually five options for new bike shops:
Sole Proprietorship: A sole proprietorship is owned and operated by one individual. There is no legal distinction between the business and the owner. It offers the simplest structure but adds personal liability.
Partnership: A partnership sees two or more people owning and operating the business together. Partners share control, profits, and liability according to set percentages.
Limited Liability Company (LLC): LLCs mix elements of partnerships and corporations for personal liability protection with pass-through taxation. Owners are members, not shareholders.
S Corporation: S corporations are a special tax status elected by qualifying corporations. Owners pay taxes on their share of profits personally. It provides liability protection.
C Corporation: C corporations are standard corporations with profits taxed at the corporate level. Owners (shareholders) are taxed again on dividends personally for double taxation.
Consult legal and tax professionals to determine the best structure for your bicycle shop based on your location, business goals, and personal financial situation.
7. Registering your business
Once a structure is chosen, officially register your bicycle shop business. The registration process varies by state and structure but often includes the following:
Filing formation documents with your state (articles of incorporation, etc.)
Choosing a business name and registering name/tax ID/EIN
Applying for any licenses and permits
Checking local zoning codes and business regulations
Purchasing necessary insurance policies
This establishes your bike shop as a legal business entity. Again, seek help from legal and accounting professionals to ensure you complete all registration steps properly.
8. Designing and building out your shop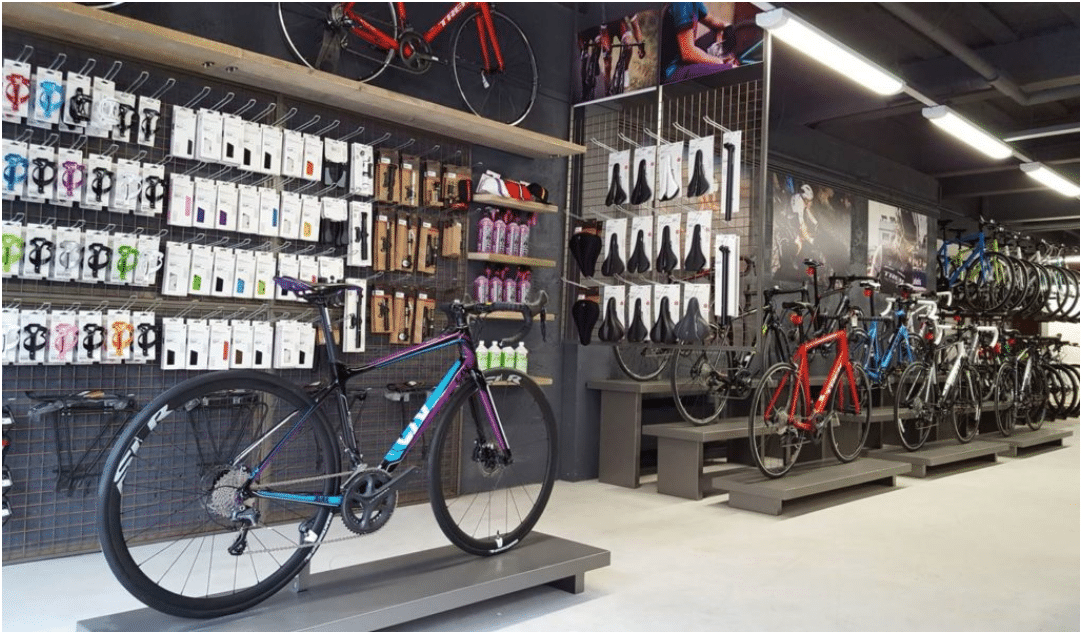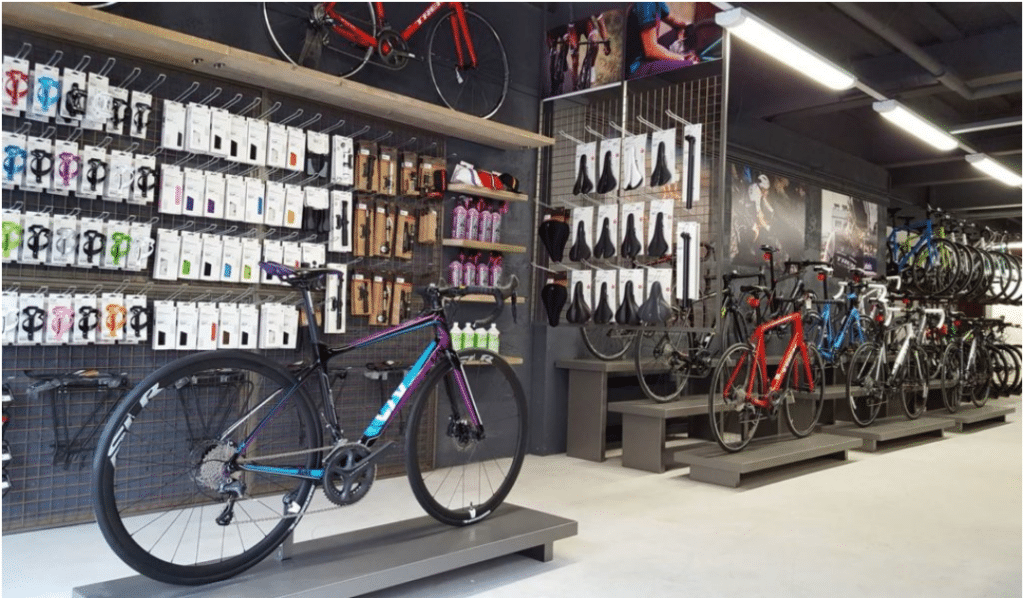 With a secured location, the fun begins – designing and building your dream bike shop! Focus on creating an engaging, customer-centric sales floor layout and intuitive workflow between the front and back of house.
Salesfloor design
Create a sales floor that makes shopping easy and enjoyable:
Visually appealing storefront, signage, and merchandising displays
Clear organization of bike types/categories and accessories
Uncluttered aisles for easy mobility
Secure bike racks for test rides
Clean, well-lit repairs and service area
Checkout counter with proper POS system and tools
Charging station, free wifi, refreshments, and seating
Back of house
The back-of-the-house is where inventory storage, bike assembly, and repairs happen. Plan it for maximum efficiency:
Spacious storage for bikes, parts, and accessories – use racks and shelves
Dedicated bike assembly and tune-up stations
Professional workshop space for repairs
Employee break room, bathroom, locker area, and storage
Loading bay with door large enough for bikes
Hire contractors, architects, and designers when needed. Install security and surveillance systems. Get all required permits and inspections for renovations. Build out your shop properly the first time.
9. Stocking your bike shop inventory
An essential step in opening a bike shop is stocking your store's inventory of bicycles, parts, and accessories:
Range of bikes – road, mountain, hybrid, cruiser, and kids, including a combination of entry-level and high-end
Replacement parts – brake pads, cables, wheels, handlebars, seats, etc.
Bike gear – helmets, pumps, lights, locks, racks, bells, and other essentials
Cycling apparel – jerseys, shorts, shoes, gloves, pads
Nutrition – sports drinks, gels, chews, bars
Tools – individual and kit options
Custom build options – frames, groupsets, paint, and wheels to customize bikes
Research current trends and standards to choose brands and models. Attend industry trade shows to find new suppliers and products. Price competitively but leave room for sales and promotions. Stock conservatively at first and let demand dictate growth. Use inventory management software to track and optimize stock levels.
10. Hiring your bike shop staff
For your new bicycle shop, you should hire employees that excel in customer service and have a passion for cycling with some technical expertise. Core roles typically include the following:
Shop manager – oversees daily operations, staff, and inventory
Sales staff – sell bikes, equipment, and apparel, as well as upsell accessories
Bike mechanics – assemble bikes, and perform repairs and tune-ups with more advanced technical expertise
Cashiers – process purchases, returns, and inventory at the bike POS system
Additional roles like floor staff, porters, accounts managers, and web developers can be added as your business grow. Define clear roles and responsibilities. Hire slowly at first because culture fit is essential. Seek out fellow cycling enthusiasts when possible.
11. Marketing your bike shop
Starting a bike shop is good. Knowing how to market your products and your brand is better.
To attract customers, commit to marketing your bicycle shop from day one. Below are some low-cost tactics to boost awareness for a new bike shop:
Social media accounts – Build a following on Facebook, Instagram, and YouTube with visual content and specials. You can partner with cyclists who practice extreme racing and publish them on TikTok.
Email newsletter and SMS campaigns – Collect emails and phone numbers to promote sales. Your point of sale should help you in this regard.
Sponsor local rides and events – Get your logo on jerseys and lead fun group rides.
Offer classes and demonstrations – Host free maintenance, safety, and skills clinics.
Loyalty program – Reward repeat business with points, special access, and discounts.
Cross-promote with local businesses – Offer joint discounts or packages to each other's customers.
Public relations – Get featured in local media bike articles, event calendars, and recommendations.
Invest in paid marketing like Google Ads, retargeting campaigns, and print/radio ads as your shop gets established. Focus all marketing on your ideal target consumer.
12. Tips for starting a successful bike shop
Beyond the significant steps outlined above, consider these additional tips:
Offer a Variety of Services
Combining bike sales with services boosts revenue opportunities and provides added value to customers:
Bike assembly and delivery
Repairs and tune-ups
Custom bike builds
Fitting consultations
Small group rides
Maintenance classes
Have a mobile repair service that can provide on-location support at events and races. Services build loyalty and give cyclists added reason to visit frequently.
Get Involved in the Local Cycling Community
Immerse your shop in the local cycling community right away:
Sponsor a racing team or club rides. Have the store be a home base.
Host group rides and clinics.
Set up a store club/team for customers with perks.
Attend local races and events with a branded tent.
Donate bikes and equipment to youth cycling programs.
Advocate for improved local bike infrastructure.
This positions your shop as a hub for local cycling while also providing valuable marketing exposure. Let your authentic love of bikes shine through.
Leverage Online Channels
While a physical shop is central, an omnichannel approach that integrates online is vital for growth:
Have an eCommerce store for accessories, parts, and apparel.
Offer services like tune-ups and maintenance online.
Share cycling content and stories on your blog.
Use SEO strategies to improve website visibility.
Be active on social media and interact with customers.
Send regular email newsletters with sales and content.
Invest in paid digital ads to acquire customers online.
Collect customer data online and offline to personalize marketing.
Blend online convenience with exceptional in-store experiences for a future-proof bike shop.
How To Start a Bike Shop: Conclusion
Starting a successful bike shop takes careful planning, commitment, and passion. Follow this guide to lay the groundwork for a thriving retail business. Differentiate with excellent service and community engagement. It will be challenging, but if you start with solid planning, secure enough funding, build a great team, and provide fantastic service, you'll have happy customers singing your praises in no time.
Click below to get started with a free trial of KORONA POS to see how it'll work at your bike store.
FAQs: Equipment Inventory Management
1. ​​What is equipment inventory management?
Equipment inventory management is the process of tracking and organizing a business's fixed assets, including inventory details, locations, conditions, and maintenance.
2. How do you maintain equipment inventory?
Use ID tags and assign equipment custodians
Maintain detailed asset registers with purchase dates, values, specs
Perform periodic physical inventory audits and cycle counts
Update statuses and conditions frequently
3. How do you organize equipment inventory?
Categorize by type, location, department, attributes
Sort digitally or use physical layouts optimized for access
Standardize documentation and naming conventions

4. What should be included in an equipment inventory?
Asset name and unique ID
Category and location info
Specifications like make, model, serial number
Purchase date, cost, warranty details
Condition, maintenance notes, status
Photos for visual identification