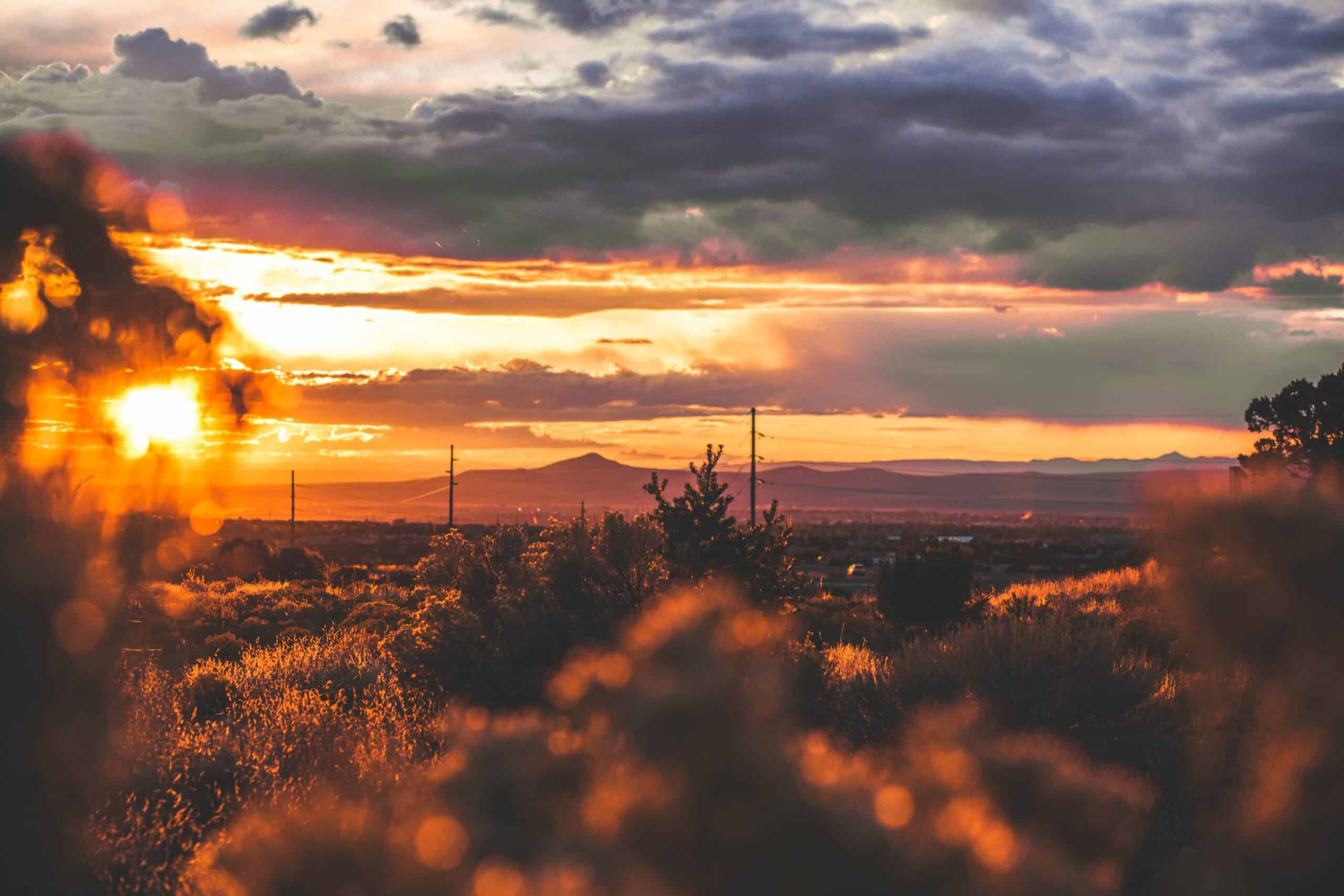 Cannabis is now available to buy across many cities in New Mexico. In June of 2022, recreational sales topped $21 million, with Albuquerque accounting for one-third of the purchases. Legislation to legalize adult-use marijuana was passed in April 2021. The first sales went live almost exactly a year later in April 2022. With a simplified application process and lower licensing fees, New Mexico is actually one of the easier places to open a dispensary compared to many other states.
Still, there's a lot to think about and plan for when opening a marijuana retail business in New Mexico. It requires dealing with legal hurdles, intricate business planning, tight real estate conditions, elaborate security protocols, and significant capitalization. Below we'll take you through the steps that you need to know to open a dispensary in New Mexico, the Land of Enchantment.
Table of Contents
Familiarize Yourself With State And Local Licensing
Each state has its own cannabis control board or legal marijuana program. In New Mexico, it's called the Cannabis Control Division, and it's a part of the New Mexico Regulation and Licensing Department. The good news is that NM puts no limit on the amount of scheduled licenses to be issued. That means that compared to other states, getting approved will be much more feasible. In addition, the application portal is totally digitized, which expedites and simplifies the process. Still, depending on your budget, some businesses will choose to hire a cannabis industry compliance consulting company to ensure the success of filing without any hiccups or rejections.
New Mexico Dispensary License Cost
New Mexico's fees are actually considerably low compared to those of other states'. The annual fee is $2,500, plus an additional $1,000 annual fee for each retail location. This will be one of the least expensive aspects of opening a cannabis business in the Land of Enchantment.
New Mexico Recreational License Application – Fill Out Forms With the CCD
New Mexico requires the following forms to be digitally filed before submitting an application:
Social And Economic Cannabis Equity Plan

– to show your plan to apply yourself as, or to hire as employees, Black, Latino, Indigenous, female, impoverished, transgender or non-gender conforming, distressed farmer, or formerly incarcerated individuals. Also included in this is information regarding whether your location will bring business to an impoverished or underserved area.

Proof of Age
Background Check/Criminal History
Program Diagram Attestation

– detailing how your premise will be built in accordance with state guidelines

Applicant Attestation

– to swear by the rules of the state and the validity of the information provided on the application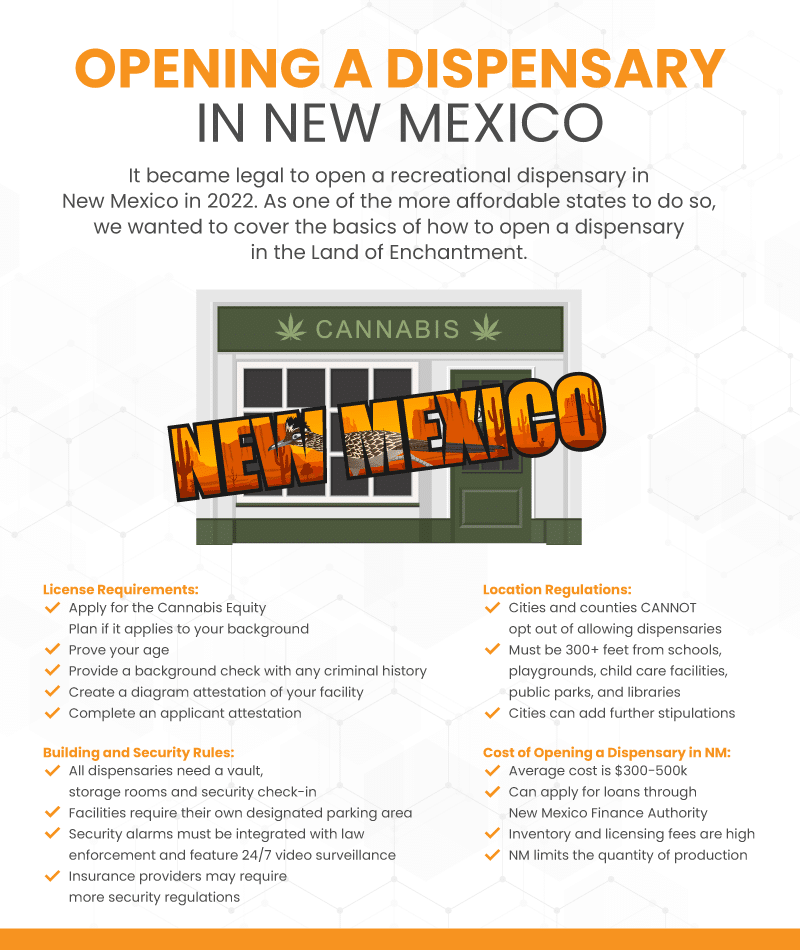 Have A Solid Business Plan
Similar to starting any new company, writing a thorough business plan is essential before getting anything off the ground. Make sure to include an executive summary and a concise pitch about what your retail location will be all about. It's also necessary to include a description of the structure of the business, including the type of ownership and managerial setup.
Next, explain what kind of products your store will stock. In order to give yourself a good snapshot of your audience, conduct market research of your targeted local customers and competitors. What niche or gap does your inventory fill compared to other stores? Don't forget to cover your supply chain plans in obtaining the cannabis products you will sell. See the section on acquiring inventory for more info on this.
Detail as precisely as possible your budget costs for licensing, rent, construction, inventory, insurance, marketing, utilities equipment, staffing, security, and more. Remember, for cannabis dispensaries, this includes state mandated structural attributes, 24 hour surveillance, and business insurance. Finally, include a plan to obtain loans and financing to cover all of these expenses.
Find Real Estate
As with most businesses, the location of your dispensary will be crucial to your success. Do you want to be in a walkable town center, or on a highway with a big parking lot? (Interestingly, some NM cannabis industry insiders estimate that up to forty percent of cannabis sales are commuters from outside the state, namely Texas.)
With the persistent stigma surrounding cannabis, you might not be able to ask the landlord of your dream location to rent out to you. Still, it's important to keep all of these factors in mind when choosing your location.
Location Regulations
One of the main differences between NM and other states is that cities and locales cannot opt out of allowing marijuana businesses in their jurisdiction. In other states, like NY for example, municipalities can vote on whether they want to let cannabis cultivators or dispensaries operate within their borders. In NM you can open a dispensary in any city, as long as you find a landlord or commercial real estate owner that's willing to do business with you.
Of course there are still limits and regulations about where your business can be. You are not allowed to open a cannabis retail business within too close of a radius to certain types of buildings. NM statute states the following:
A local jurisdiction may: limit the location of a cannabis establishment …as determined by the local jurisdiction, but which distance shall be three hundred feet or more from the perimeter of school grounds on which instruction is provided at any level from kindergarten through twelfth grade, a playground, a child care center, a youth center, a public park or a library that was in existence at the time the cannabis establishment was licensed.
In addition, there are laws concerning how close in proximity dispensaries can be to other dispensaries. The city of Clovis, for example, prohibits retail cannabis establishments from being within 500 feet of each other. While these regulations still leave a lot of room open for real estate scouting, stay aware of them when choosing your dispensary location.
Building Requirements
Generally, a successful marijuana retail business demands ample square footage. You're going to need at least one vault, storage rooms, security check in, showroom floor, and in a place like New Mexico, a parking lot. Keep this in mind when considering real estate prospects.
New Mexico Dispensary Security Regulations
New Mexico has laws detailing the specific requirements for dispensary security. This includes security alarms that are directly linked to law enforcement. Plus you need 24/7 video surveillance covering every angle of each room of your dispensary, with minimum camera resolution requirements.
Of course, there are additional rules for locks, vaults, and building maintenance. Interestingly, New Mexico does not require security guards for dispensary locations. Still, your insurance provider will potentially ask you to hire a licensed security company in order to apply for certain policies. Be sure to go through the full checklist of security regulations and necessary apparatuses to fully understand the true costs when preparing to open a retail dispensary.
How Much Money Do You Need To Open a Dispensary In New Mexico
New Mexico's Cannabis Control Division does not have minimum capitalization requirements to open a dispensary. This means that you don't actually have to show a liquid asset amount in a bank account in order to apply for a license. Nevertheless, you will need significant capital to open a marijuana retail location. The average cost to get things going, depending on location and scale of operation will be between $300k-500k.
How To Get a Loan To Open A Dispensary In New Mexico
While NM currently has no banks that loan money to dispensaries, there are several options to secure financing for your cannabis retail shop. First, you can approach cannabis industry specific financing groups like Bespoke Financial. These financial institutions have experience working with marijuana-related businesses and serve as one of the better private options. Next, you can try approaching angel investors or venture capital firms to try to secure a loan, but expect to give up substantial equity before you even get your business started.
You can also consider applying through the New Mexico Finance Authority. They offer opportunities for qualifying entrepreneurs looking for microbusiness loans. This is effectively New Mexico's social equity program, as the authority intends to provide the funds to "rural and economically disadvantaged" communities. Considering the interest rates for the loans will be around 2 or 3 percent, this is certainly an option well worth looking into.
Hire And Retain Great Staff
Staffing your dispensary with experienced, trained professional budtenders is a must. The cannabis retail space is crowded with marijuana enthusiasts, and giving your clientele a reason to come back to your store means providing care and interest in their wants and needs. Budtenders make about $14 an hour in New Mexico, but be prepared to pay on the higher side for great employees.
In addition, you will likely need to hire compliance officers and experienced managers to make sure that your operation is smooth, profitable, and fully legal. Finally, most dispensaries hire an outsourced security guard to watch over the establishment. These employees cost at least $5 to $10 more per hour. Luckily you won't need as many of them on the floor at the same time.
Acquiring Cannabis Inventory
One of the biggest challenges for new dispensary owners in New Mexico will be acquiring inventory. With limits on the scale of cannabis production, the demand is currently outpacing the supply. As such, retail locations are paying around $3,000 to $4,000 dollars a pound for wholesale flower.
Some cannabis business leaders argue that the only viable option for profitability and longevity at this time is to own a vertically integrated cannabis company to self-supply your dispensary. While this license costs much more up front ($7,500 compared to $3,500 for retail only), it potentially delivers a much higher chance for long term success.
Either way, the laws and regulations continue to evolve in this new state industry, and growing marijuana to provide for retail businesses takes several months. Supply and demand and pricing could change dramatically based on legislation not only in New Mexico but also in neighboring states.
Point of Sale Integration and Compliance
Finally, your marijuana retail business will need a modern cannabis POS system. KORONA POS offers built in key performance indicators and inventory analysis to deliver broken down data, helping you optimize your efficiency.
We integrate with all of the most useful and popular cannabis specific software tech for CRM, loyalty, rewards, email marketing, and compliance. With KORONA POS, your point of sale system will be seamlessly compatible with New Mexico's state-mandated compliance software BioTrack, meaning you never have to stress about seed-to-sale regulations.
FAQs: How To Open A Dispensary In New Mexico
Does New Mexico have recreational dispensaries?
Yes, New Mexico now has over one hundred recreational dispensaries open for business. Many of the former medical locations are now available for adult-use customers, and dozens of new recreational-only retail locations have either been approved for operation or are already fully operational. Albuquerque leads the state with both the amount of recreational locations open and total revenue. 
How do I get a recreational dispensary license in New Mexico?
To get a recreational license in New Mexico, head to the state's Regulation and Licensing Department website and find its Cannabis Control Division. From there you can apply for a license online, with the whole process being digitized. Expect to wait about ninety days before hearing back on a decision.
How much is a dispensary license in New Mexico?
A dispensary license in New Mexico costs $2,500 annually, plus an additional $1,000 annual fee for each location. For vertically integrated dispensaries (those that cultivate and process their own product), the fee is substantially higher, at $7,500.
How do you manage a dispensary?
Managing a dispensary is a lot like managing other retail businesses, albeit with more intricate compliance and regulatory requirements. Finding a niche audience, establishing supplier relationships, adhering to local laws, and using a highly technical, modern point of sale system that integrates with the most popular software integrations will help your business thrive.