Last Updated: March 23, 2022
You might still think of Nanna cutting along the dotted line for 10 cents off a bunch of bananas, but the world of coupons has evolved a lot since then. And they are very much still alive. In fact, most estimates say that 85-90% of American consumers use coupons. People are trying out new retailers and telling their friends about it. Print coupons are quickly being replaced by digital offers through email, text, apps, or social media. But, if anything, the demand for deals and promotions is greater than ever so there are definitely some huge advantages of coupons for retail businesses. What does that mean for retailers? You guessed it: come up with some competitive coupon deals.
So today we'll talk about all of these advantages of coupons for retail businesses, as well as a few questions to ask yourself prior to, during and after your promotion that will help make it a successful one. Remember, not any old promotion will be successful for your store. Oh, and your retail POS system can help with this! More on that below.
9 Huge Advantages of Coupons for Retail Businesses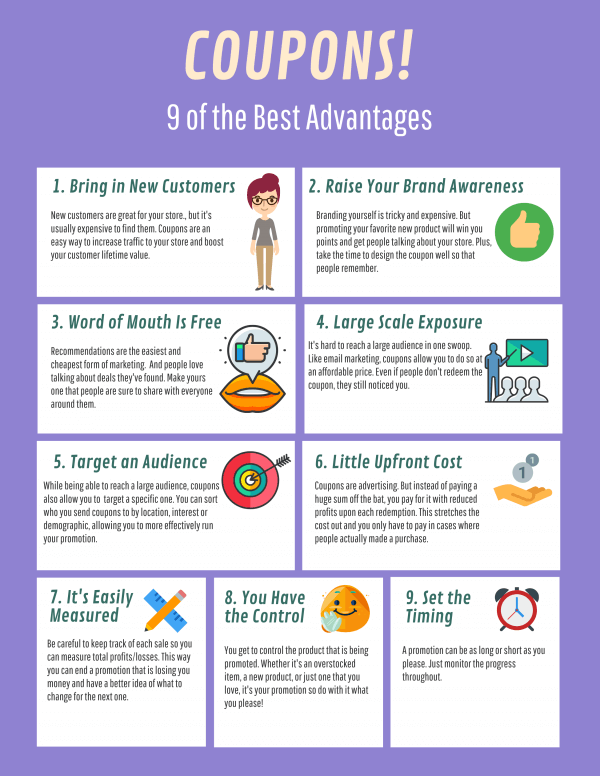 1) Bring in New Customers
It's always cheaper to keep an existing customer than to get a new one. BUT, coupons are an efficient and affordable to way to get new people in your doors or on your website. Many of them will be one-time shoppers but even getting a few new regulars is great for business. A great way to particularly attract newbies is to promote some of your new products. A lot of people may want to try it, just not at full price. If they love it, paying full price down the road won't be a big deal.
Also be sure to come up with strategies to keep these new customers. Use this as an opportunity to work on customer service, create a more memorable shopping experience, build your customer database, and get people active on your social media and review sites.
2) Raise Your Brand Awareness
With new customers comes a boost in brand awareness. Your coupons will also reach many more people who don't come into your store during this promotion but may do so on the next. At the very least, you're on their radar and is a great advantage of coupons for retail businesses. Such recognition is huge for new businesses or those that don't have a strong presence (e.g. an Etsy shop or a brick and mortar store with a poor location).
3) Word of Mouth Is Free
When it comes to discussing retail, nothing gets people chatting more than a great discount. With the advent of social media, some deals can even go viral. There are also sites wholly devoted to users sharing various coupons they've stumbled upon. Large retailers play this game too. GAP recently ran a coupon that gained a lot of traction – by the end of the day, 445,000 people had redeemed it.
4) Large Scale Exposure
Word of mouth advertising is great, but even if it doesn't go viral, you can still easily reach thousands of eyes and ears. Digital coupons can be emailed to a mass audience with a single click. If you've kept up with your customer database, this will be even easier. Be ready, however, for huge demand. You always want to be over prepared in these instances. Staff and order accordingly.
5) Target a Specific Audience
Coupons can easily target the exact customer you want to reach, especially if you use a third party site. Most offer tools that filter recipients by location and interest. This minimizes your waste of time and money. Figure out different strategies for attracting new customers versus thanking your most loyal. You need to reach both audiences but in very different ways and with different offers.
6) There's Little Upfront Cost
Coupons are another form of advertising. But rather than pay a lot up front for a campaign that you're not sure about, the cost of coupons comes from a diminished profit at the end the of the sale. Just be very careful to minimize losses: limit the number of redeemable coupons, couple the deal with minimum spends, offer only one per customer, etc.
7) Its Effectiveness Is Easily Measured
While a loss of profits is certainly a cost, it's an easy cost to measure and gauge against the success of the promotion. You can use a numbering system, online tracking or scanning apps to keep an accurate count. Your POS system tracks all of this automatically, allowing you to access detailed sales reports. Coupons run through your point of sale allow you to see how many people you reached, how many sales were made, and how much additional money was spent during each customer's time in the store. This will help improve future promotions
8) You Can Pick the Product Strategically
Like any promotion, it's an opportunity to encourage customers to purchase products that they normally wouldn't buy. You can also select products with a higher profit margin in order to minimize your losses during the promotion. Overstocked items of slow movers work well, too. Promos will get these out the door and help you better manage your inventory. Stay away from discounting your best sellers, though. You don't want to discount sales that you would have made at full price otherwise.
9) You Control the Timing
Coupons also allow you to control how long the deal lasts. Depending on the industry and products, some deals are best as quick, short-term offers while others are better left available for a longer period of time. Make it specific and somewhat urgent; broad sales that last for too long don't encourage repeat shoppers and reap the advantages of coupons for retail businesses.
What About the Pitfalls of Coupons?
So with all of these benefits in mind, be sure to be mindful of some of the pitfalls as well. Coupon services like Groupon have received plenty of criticism for hurting retailers more than helping. Part of that is that Groupon takes half of the revenue, but it also shows that running a successful coupon promotion has its risks. So when setting up your promotion, be sure that the perceived value is greater than the actual cost to your business. We hesitate to call these cons. If your promo is done right, these shouldn't affect your business. But they are certainly still something to watch out for.
1) What is the Cost Percentage of Your Sales?
Measure the actual cost percentage of the new sale from the coupon. Look at the profit margin of the products that you're thinking of promoting and see if they would be feasible for a promotion. Some businesses are better set up for coupons. For instance, a museum or amusement park can offer dozens of different coupons at once. Their costs of operation hardly change based on the number of customers present. An apparel company or restaurant, however, takes on a bigger risk. Each redeemed coupon could add to the total loss. In this case, the number of redeemable coupons must be monitored closely.
2) What is the Amount of an Average Sale?
Are customers spending more with each coupon? If so, what else are they buying? This information can be used to help determine your store layout or offer bundled deals down the road.
3) What is the Redemption Percentage?
This is only applicable if you use Groupon or something similar. Most retailers report that approximately 85% of purchased coupons are actually redeemed. Like unclaimed gift cards, that's free money in your pocket.
4) What Percent of Users are Already Customers?
Again, you don't want to poach your own customer. It's good to reward your best customers, but that doesn't mean offering all of them a coupon that will cost you money. You want to give away things that people wouldn't normally buy, rather than steal a sale.
6) What Percentage Will Become Regular Customers?
Again, get them in your customer database so that you can determine how many coupon users actually kept shopping with you. This is yet another way to help optimize your next offered coupon.
5) How Many Does Each Customer Need to Buy?
If you are offering customers to buy multiple products keep track of how many each person redeems. You don't want a small group of people taking advantage of the deal. The idea of a coupon is to reach a large audience so take proper measure to ensure that it does.
7) How Much Would it Have Cost to Reach This Many People With an Ad?
This is pretty straightforward: Was this worth it?
Hopefully, this was a helpful guide for your next coupon excursion. Let us know if you have any words of wisdom from your a past coupon promotion. And for more information on how your POS can help with this, click below to talk to one of us and try out KORONA POS for yourself.
Get Started with KORONA POS today!
Tell us a little bit about your business and explore all features that KORONA POS has to offer. And there's no commitment or credit card required.