Spring isn't always known as a big season for retail. Many consumers are more interested in enjoying the weather than shopping at retail stores. Coming up with spring marketing ideas for retail doesn't need to be as time-consuming and stressful as your winter holiday planning, but it's worth making a strategy nonetheless. After all, there will be less competition than in other seasons. Plus, it's a great way to gear up for the rest of the year. So what are the best ways that to market your business this spring and ensure you have a great first half of the year? Let's consider these great springtime marketing tips.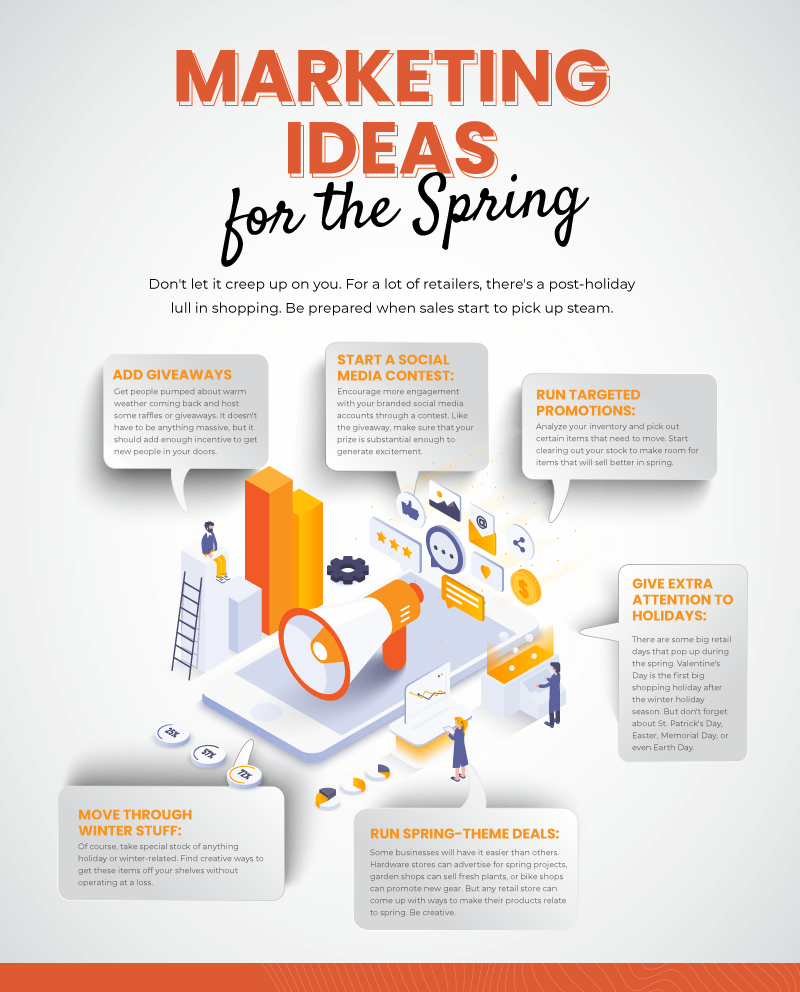 1. Up Your Spring Break Marketing with Giveaways
The best strategy to attract spring break enthusiasts is to host a giveaway. Giveaways are an easy way to attract new customers. And even with a big prize offered, a great marketing giveaway can pay dividends.
A big spring break promotion will attract a lot of customers, both new and existing. This will grow your customer base and increase your brand loyalty.
All of these customers will need to register for entry to win the prize. This gives you the easy opportunity to collect phone numbers, emails, birthdays, and other information to grow your future marketing. Just keep it straightforward and simple so people aren't annoyed.
If possible, focus on spring break events or products. Free vacations, tickets, or relevant paraphernalia will keep your marketing on point.
2. Start a Social Media Contest
Highlighting sales, deals, discounts, and promotions on your social media pages is an important avenue for marketing. But hosting a contest is even better. It encourages engagement with audience participation. This will increase your visibility on social media and make your brand more recognizable.
Social media contests can be easy. Pet shops can start a pet photo contest on Instagram. Require a certain hashtag in order to participate. You can offer a prize on Twitter for the most retweets on something brand-related. Whatever you do, incentivize sharing and help spread your business name and brand.
Spring makes it a great time to center the contests around holidays or spring themes. If you're a big enough brand, you can really up the stakes by offering free products for a year or other larger prizes.
3. Clean Up and Organize Your Inventory by Running Promotions
You don't necessarily need to go all out and give away a free vacation. Running more basic sales and promotions is a great way to up your spring marketing strategy.
First, spring sales and discounts will stand out more. Fewer retailers and other businesses run large promotions. Most people expect prices to rise across the board as the summer approaches. So organizing a large promo or storewide discount will be sure to attract unsuspecting shoppers.
But like any promotion, it's important that it benefits your business as much as the customers. Use this as an opportunity to clear out products that you've had trouble selling. Overstocked items in your inventory can be a huge burden to business. Using your retail POS inventory management, identify several of these products and find creative ways to promote them. Not only will this help optimize your inventory, but you'll also have an improved understanding of each of your retail products.
See Also: ABC Retail Analysis: Advanced Inventory Management Software
4. Get Rid of Your Winter Line
For many stores, particularly apparel retailers, the process of organizing inventory starts with trying to move through your winter product line. Bargain shoppers will be on the prowl for big discounts on warmer clothing and accessories.
But most retailers sell seasonally-specific products. Few can afford the space to store them in the warehouse for the summer and even fewer the space to keep them on the shelves. So it's vital to move through your winter line and open up your space to sell more spring and summer items.
5. Run Spring-Themed Promos and Deals
Get cheesy with spring puns and plays on words. Dad jokes might be bad, but they're catchy and will get people paying attention and talking about your small business.
For some businesses, this will be easier to relate to. Bike shops, gardening stores, hardware stores, etc. can easily find ways to relate to spring themes and activities. But other retail niches might have to work a bit harder to find ways to create spring marketing promotions. Just get creative – a laundromat can advertise a spring cleaning deal, or a sporting goods store can highlight traditional spring sports.
If it's possible with your retail space, move part of your store outside. Sidewalk sales grab the attention of passersby and increase your retail foot traffic. Make a great sign and think about having a staff member greet customers out there. Outdoor sections are likely to increase your sales.
6. Take Advantage of Holidays and Events
There are a few big spring holidays like St. Patrick's Day, Earth Day, Mother's Day and Memorial Day, which most small businesses use as marketing opportunities. But there are plenty of smaller special days and local events that you can take advantage of.
Look into community organizations and events. Farmer's markets, city festivals, and charitable events are great ways to give back to the neighborhood and get your name out there. With the beautiful weather back, many people come out for the springtime events. And everyone is in good spirits. Participating in these is great for business and fun to do as well.
Sponsoring local sports teams, like Little League or community softball is another great way to add to your brand identity and recognition. Many of these leagues start in the spring, so get on the ball early.
Finally, look into smaller "holidays." The spring equinox is 3.20, National Puppy Day 3.23, and Waffle Day 3.25. April boasts Tweed Day on 4.3, National Beer Day on 4.7, National Cheeseball Day 4.17, and National Pretzel Day (lookin' at you, Stanley Hudson) on 4.26. We'd love to list all of them, but we'll let you check out some for yourself. Find fun ways to incorporate them into your store and brand. Your staff and customers will love it.
Improve Your Spring Marketing Strategies with KORONA POS
KORONA's point of sale solution makes it easy to price any type of sale or promotion, whether it's for the spring or any other holiday marketing strategy. All while keeping your inventory and costs in order on your back-end. The cloud-based solution also makes it easy to monitor the success or failure of any marketing campaign: detailed sales metrics and in-depth product reporting help you make sense of your business. Try it for free today and set up a personalized demo with one of our product specialists.
Don't forget to check out our other seasonal/holiday marketing guides below:
Get Started with KORONA POS today!
Tell us a little bit about your business and explore all features that KORONA POS has to offer. And there's no commitment or credit card required.