For any of your business operations, it's important to come up with a uniform policy and routine. Running a successful small business is about streamlining your processes and making sure your entire team is on the same page. This goes for how to deal with customer complaints, return policies, inventory shortages, new employee training, greeting shoppers, and much more. Staying consistent and on-brand will help you succeed down the road.
A retail store daily checklist is another important item to add to this list of operational procedures. Just as we should do in our personal daily lives, keeping up with healthy business habits will bring long-term success. There's no better way to start each day than by opening your store on the right foot. So here are a few daily items to put on your checklist.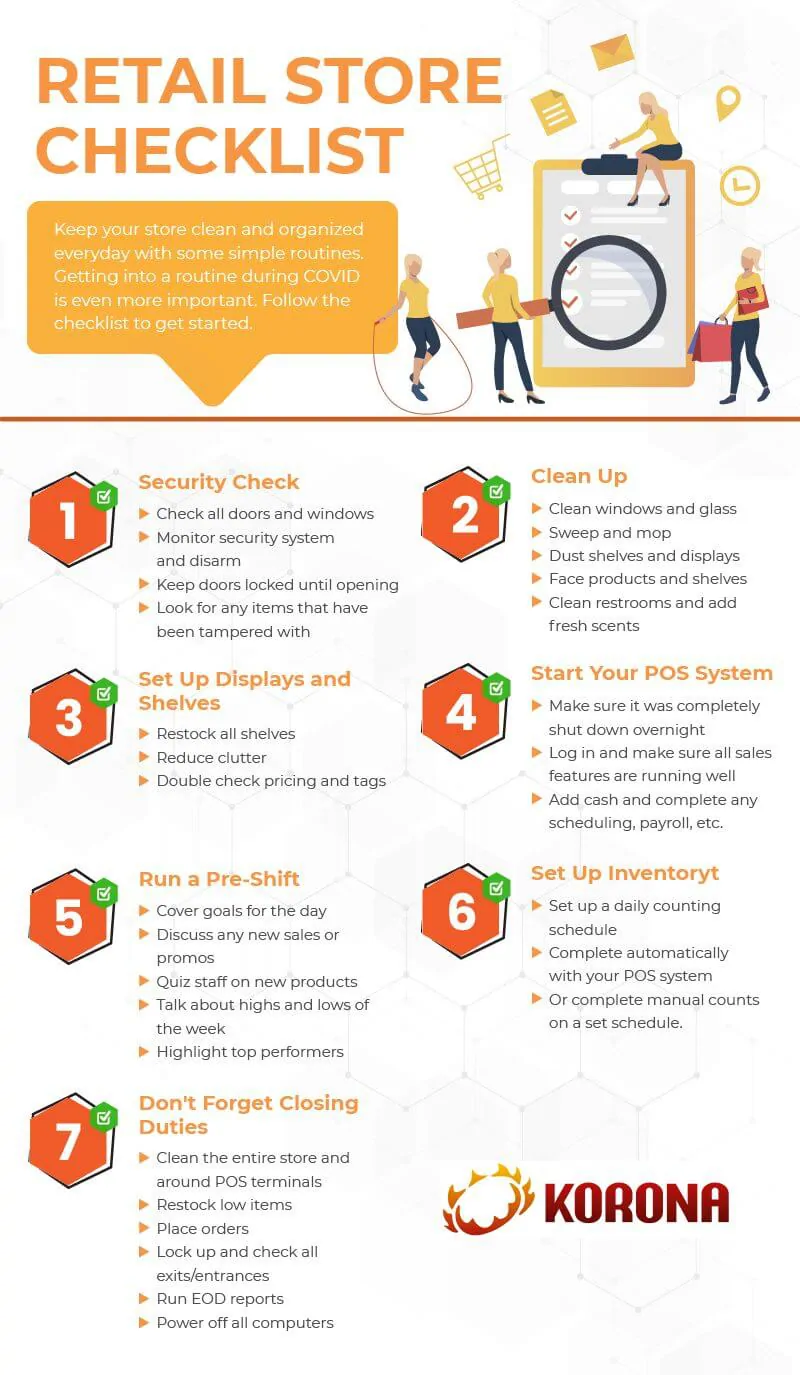 1. Do a Basic Security Check
Always start your day by checking for anything suspicious that might have happened the prior night.
Check all doors to make sure they remained locked overnight.
Look for any sign of entry through windows.
Make sure the security system is working and disarm it if necessary.
Keep all doors locked until the moment your store is open to the public.
Look for any missing product or items that have been tampered with.
Of course, it's unlikely that anything suspect will have happened overnight, but it's a good routine to get into. Staying diligent about the security of your business is of paramount importance.
2. Spruce Up Your Retail Space
You always want your retail space to look pristine. While there may be some moments throughout your busy day when it's mildly lacking in luster, your retail space should always look impeccable at the beginning of the day.
Start by performing all basic cleaning tasks:
Clean all windows and glass surfaces.
Sweep and mop the floors.
Dust shelves and counter space
Straighten up any messes such as unkempt shelves, displays, or changing rooms.
Thoroughly clean all restrooms and make sure they're well stocked with soap, towels, and toilet paper.
3. Set Up Displays and Shelves
Likewise, you want to make sure that all displays and shelves are clean, stocked, and well organized. Shoppers expect to be able to find items that they're looking for. Cluttered or disorganized shelves can turn them away quickly and lose you sales and long-term shoppers. So make sure your store is set up well and spare your shoppers any retail PTSD from past Toys "R" Us visits.
Start by managing all promotional displays in the store. These are meant to grab shoppers' attention, so they should look exceptionally clean and organized. Check all pricing listed on the display to make sure it's accurate – many retailers honor mistaken pricing and consumers are starting to expect that. If you have time, also double check that all discount pricing matches that in your POS system. Again, accuracy here maintains your store's integrity, keeps shoppers pleased, and makes your cashiers' job a whole lot easier.
Also check out your shelves to make sure they're fully stocked. It's always good to start each day with as much stock on your shelves as you can fit. And be sure to face items so that shoppers can clearly see the labels.
4. Get Your Retail POS System Up and Running
It's important to give your POS system a rest each night. Shutting it down, like any computer, allows it to cool down and operate more efficiently when you boot it back up the next day.
Start it up first thing to make sure that all software features are running smoothly so employees can use it to clock in, log in, or set up their drawers.
Performs any opening operational tasks that need to be done through the point of sale, including cash floats, scheduling, payroll, etc.
5. Run a Pre-Opening Daily Briefing
Get your opening together to discuss the day and make sure everyone is feeling well and on the same page. These don't need to be Wal-Mart level cult celebrations but it's important to keep morale strong and check in with everyone each day.
Go over goals for the day.
Discuss any new sales and promotions.
Make sure everyone is familiar with new products and able to discuss them with shoppers.
Talk about any incidents with shoppers from the week.
Point out some highlights from the week and give kudos to your best team members.
Mention some areas of improvement.
Again, these pre-shifts need not be overwhelming or painful to take part in. Some simple talking points and a quick check-in with your team is all you need to get the day started right.
6. Set Up a Perpetual Inventory Count
Perpetual inventory counts help ensure that your store always has the optimal levels of stock on hand. You can do this by setting up a counting schedule as part of your daily retail store tasks.
Choose certain areas of the store or specific types of products to be counted on certain days of the week. Setting up this type of system is easy to do in your retail POS system.
Once you have the pattern of counting organized, completing it each day will be easy. By either manual counts or with an inventory scanner, you and your team can keep your retail business better organized and more efficient.
7. Perform Closing Duties as Part of Your Retail Store Daily Checklist, Too

As important as a good opening to your day is, a consistent closing procedure is equally important. You need to have a routine in place to close your business in ways that make the opening as easy and efficient as possible.
Clean all areas of the store thoroughly, especially any that contain food or touch food.
Restock areas that are running low.
Place orders for new products that you'll need the next day.
Lock up and check all windows and doors.
Run end of day reports.
Check cash drops and make sure that your cash management system is accurate.
Make sure all security cameras are in working order.
Power down all computers, including your POS machines.
Turn on any night lighting that you have in the store.
A great daily checklist for your retail store will keep team members focused and on point throughout the day. It will also help you identify any problem areas that need fixing and keep your store running efficiently.
To learn more about how your point of sale can help, start a free trial with KORONA. Our software automates your business's operations, so you have less to worry about. Click below to get started!