Marketing your smoke or vape online might be a bit challenging at first. However, getting it right from the start will help you with your marketing journey down the road.
Marketing, of course, informs more consumers about your product and converts more shoppers. Thus, successful marketing endeavors will help increase revenue and keep you in business. And with both the rise of both eCommerce and general internet use, digital marketing is the most important marketing avenue to consider.
When it comes to smoke and vape shops, one product has drastically changed the marketing landscape: CBD. CBD offers consumers and array of health benefits that have opened the doors to an entirely new market of consumers that are potential shoppers. Research shows that CBD can help help with chemotherapy-induced vomiting and nausea, chronic pain, and Multiple Sclerosis symptoms, and many others. In addition, more consumers are now using CBD on a daily basis for pain reduction, stress relief, and recreational use. Stay on top of retail trends in CBD products for opportunities to consider.
All more traditional smoke and vape shop products aside, this trend has bolstered the market for small business owners in the field. And with this has come an influx of new smoke and vape shop retailers, hence the need for improved marketing strategies to stand out from the pack.
With the potential for widespread growth in both brick and mortar and eCommerce arenas in mind, let's discuss how to market your smoke or vape shop online.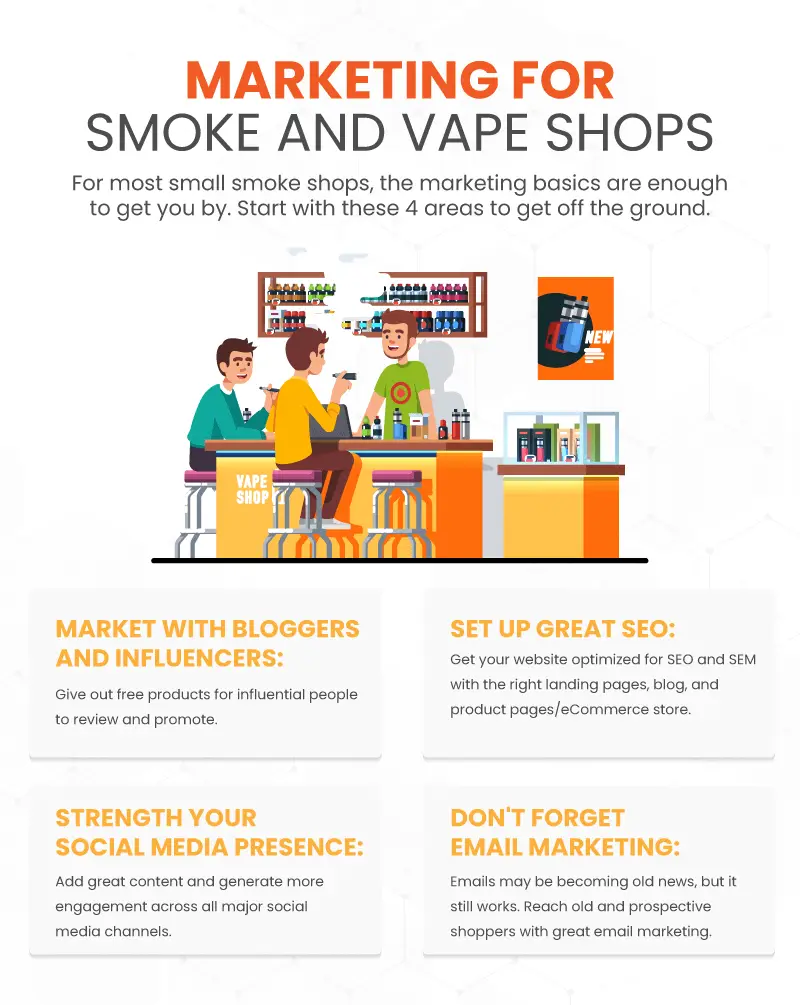 1. Give Free Products for Bloggers and Influencers to Promote
Influencers and bloggers often have a large social media following. With such an instantaneous reach, they're a popular marketing avenue for many types of businesses. For vape and smoke shops, start by identifying top bloggers and influencers in the industry and offer to give them free products for review. Even a single review from a user with a large number of followers can lead to a monumental increase in sales. While Instagram influencers no longer carry the clout that they once did, YouTube video reviews are extremely valuable. Video content in general is becoming a bigger resource, and YouTube reviews are certainly no exception. A key review or two may even drive more traffic to your store for an extended period of time.
Avoid being too pushy with the product review process since your target audience will respond more positively to genuine reviews than a review that might seem like a paid promotion.
2. Use Search Engine Optimization for Your Smoke or Vape Shop
SEO for your smoke or vape shop will drive traffic to your website. Quality website content is what you need to start with. Typically, it requires you to include a blog section on your website if you do not have one yet. Focus on writing articles that include keywords for relevant, high-volume search terms.
Remember, you don't want to attract just any user; rather, it's important to narrow your target audience so that your traffic is filled with high-intent buyers. Avoid topics that are too broad – they'll bring in the wrong users and are much harder to rank for on popular search engines.
Write content that is legitimately helpful for the user. Search engines are much better at identifying filler content that isn't actually useful. Instead, spend time making quality posts that users will enjoy reading.
Additionally, it's important to create a seamless shopping experience at your eCommerce store. This means optimizing your product pages with great titles, descriptions, and images. This will get more shoppers to your site by showing search engines more information about what you sell. And once you do that, improve your checkout experience by making it intuitive and fast. This will boost your converstion rates and bring in more sales.
Keep up to date with basic SEO principles and see your business grow more quickly than you might think.
3. Effectively Use Any Applicable Social Media Platforms
Most consumers use their phones, tablets, or laptops/personal computers to make at least some of their purchases. The rise of mobile use in general and mobile shopping in particular means that retailers must adapt. Therefore, smoke and vape shops would do well to have a presence across various social media platforms, including Facebook, Instagram, and Twitter. More niche options might suit this type of retail well, too.
Of course, it's not easy to create a page with a basic profile on each of these platforms. Add a link to your website and tag your shop for each platform. On top of this, you can collaborate with different influencers to review your vape products on each platform.
Social media advertising is another avenue within this marketing branch that many retailers are now taking advantage of. Running extremely targeted ad campaigns is now easier and cheaper than ever before. Start with small campaigns that don't require a large investment. This allows you to try out different strategies to see what works well without investing a large amount of your marketing budget. A/B test different types of ads and various copy to see how each performs.
The good thing about social media is that your existing and potential customers can feel the connection when they see pictures of your shop and products. It might help you have an audience or customers both far and near who are willing to order your products. Others may even visit your shop and buy the products they want.
Social media provides retailers with more instantaneous communciation than more traditional forms of marketing. They also allow for easy long-term communication and mutual interaction, both of which are extremely effective in building a relationship and strengthening your brand's image.
4. Try Email Marketing Strategies
Email marketing, though less modern than social media, remains as one of the most effective marketing methods available to retailers. The average return on investment is regularly one of the highest, making it a productive use of marketing dollars.
For smoke and vape shops, email marketing is best used to promote new deals, discounts, and products. Interactive emails allow users to download a discount code or coupon that can be redeemed at either your online or brick and mortar store.
Use various channels to collect email addresses. Retailers can use a pop-up on their web pages to ask for an email, offer discounts for registering when making a purchase, or ask for it in person at the checkout. Collecting email addresses (or phone numbers) is a great way to build your CRM for future marketing endeavors.
Avoid emailing your list regularly without providing value since they may opt-out. Include exclusive deals and discounts to encourage continued participation and activity.
Market Your Smoke or Vape Shop with KORONA
Marketing your smoke or vape shop online is a critical part of your business. You won't reach your potential sales without effective marketing, both online and offline. Successful marketing allows you to understand your customers, target the right audience, and sell the best product to the optimal audience.
KORONA POS integrates with some of the top customer relationship management system and loyalty programs on the market. With a point of sale integrated with a CRM, your marketing efforts will be markedly easier. To learn more, click below!