Starting a new business is always a daunting task. Opening a new music store or instrument shop is no exception. So if you want to live your dream of living in High Fidelity, it's important that you take the proper steps to prepare. Here are a few simple steps on how to start a music store and get your business off the ground right away.
10 Steps on How to Start a Music Store
1. Choose Your Music Store Business Structure
The first step for any new store is to determine what type of small business legal entity you'll be. Most new music stores will start as sole proprietorships, partnerships or limited liability companies (LLCs). Always be sure to check with the IRS!
Sole proprietorships are the simplest of business entities. All taxes are filed jointly with the owner's personal income taxes.
Partnerships are similar but the business taxes will be filed with each partner's personal taxes/
Lastly, LLCs are partnerships with added protection against personal assets of each member of the LLC.
2. Get all Licensing and Insurance
Music shops don't need to worry about any licenses other than the basics. Each store will need general liability insurance and property insurance. Liability insurance will help cover any costs from claims made by customers, such as slips and falls or getting hit by a rogue drumstick.
Additionally, small businesses should also purchase workers' compensation insurance and commercial automobile insurance. These protect both you and your staff in the event of a workplace injury or accident.
Business income insurance is a less common option but will recoup some lost sales if any unforeseen event forces you to shut down business for a period of time.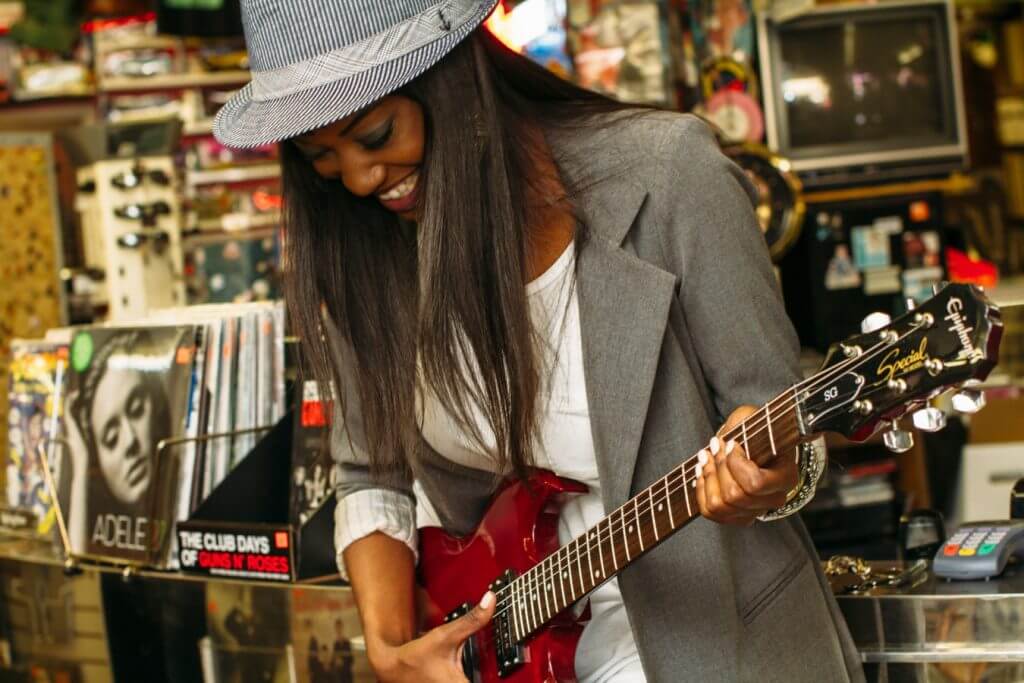 3. Sign a Lease at a Great Location
Location is important for any business. You want to be near high traffic areas, ideally with plenty of pedestrians. Corner spots improve visibility and access and parking areas add convenience to any shoppers who drive to your store.
Instrument shops and music stores have the added task of finding a location in a concentrated area of young people. Look for spots near schools, music venues, colleges, or other areas with a younger crowd.
Consider retail spaces in malls or shopping centers that will bring in families or shoppers who might have forgotten that they needed a new instrument or music book. Just make sure to do your due diligence and negotiate your lease.
4. Build a Simple Website
Having an online presence is imperative in this day in age. At the very least, businesses need a website and social media profiles as a digital business card. A rudimentary web presence allows shoppers to find out basic store details, like hours, products, location, etc.
If you have the time and resources, it's worth building a more robust site. Use it as an opportunity to define your brand and goals. Make it clear why you started your music shop and why you're passionate about it. Write a blog that offers useful information for your shoppers and attracts new customers to your store.
Even better, open up an eCommerce side of your business. Most music store owners take particular enjoyment from talking face-to-face with other music enthusiasts. And most shoppers like trying out instruments or listening to albums prior to purchasing. But it's still beneficial to offer some products online. It's easier than ever to open a small web store. Think about adding it to your business plan.
5. Determine Your Product Catalog
Finding the perfect products to sell will be one of the hardest parts of your operation. Music shop inventory is expensive and you only want to sell the best to your customers. Plus, you also want to carry a great variety of products.
Focus on making it a one-stop-shop for music fans. Sell all relevant accessories for music in general and your specific instruments. Adding a bunch of smaller, more inexpensive items near the checkout area will remind shoppers of some things that they forgot they needed. It's a great opportunity to boost your average transaction value.
If you're selling albums, CDs, tapes, etc. buying and organizing your inventory is most likely going to be the best part of opening your store. Take your time and enjoy it!
6. Find the Right Vendors
Brands and vendors are a vital part of selling music and instruments. Find several vendors that you respect and trust. You'll probably be selling used instruments so make sure that you form trusting relationships from the start.
Attend trade shows to network and meet people in the industry who are just as passionate about what they do as you are.
7. Optimize Your Pricing and Margins
Most music shops are forced to add 30-40% margins to their products, particularly instruments. Because these items are more expensive and don't sell frequently, it's important to adequately mark up items, even if it seems steep.
Run predictions on product performance so you can anticipate sales and inventory. Use your music store POS system to upload all product data and run hypothetical KPIs. You'll have plenty of adjustments to make once you open your doors, but be ready to anticipate several different scenarios so that you can adjust more quickly.
8. Figure out the Terms of Your Buy-Back Program
One of the most exciting parts of music shops is the opportunity to sell back to the shop itself. It's a fun part of owning the shop, too.
But it's important to set a firm policy from the beginning. You need to be able to make snap decisions on the worth of certain items, as well as anticipate how much interest a certain item might generate.
It's also important to keep your inventory and cash flow in mind when planning your buyback program. Most stores can't afford to be overstocked with anything – shelf and warehouse space is valuable – so it's critical that you consider current stock before making a purchase from a customer.
9. Hire A Passionate Team
Music shops attract passionate shoppers. And your staff needs to be just as passionate. Every team member must be able to guide each customer, whether they're a seasoned musician or a fresh beginner.
Typically, you'll want to hire team members who are musicians themselves. Use your interview process to get to know each potential candidate on a personal level. Find out where their musical interests lie and what types of instruments they play. Getting a solid team together prior to opening is a critical initial step to start a music store.
Determine a commission structure for your sales team, too. If you're selling expensive instruments, commission-based sales are often a great option. While making sure that salespeople are never too pushy, paying commission might be beneficial for your music shop.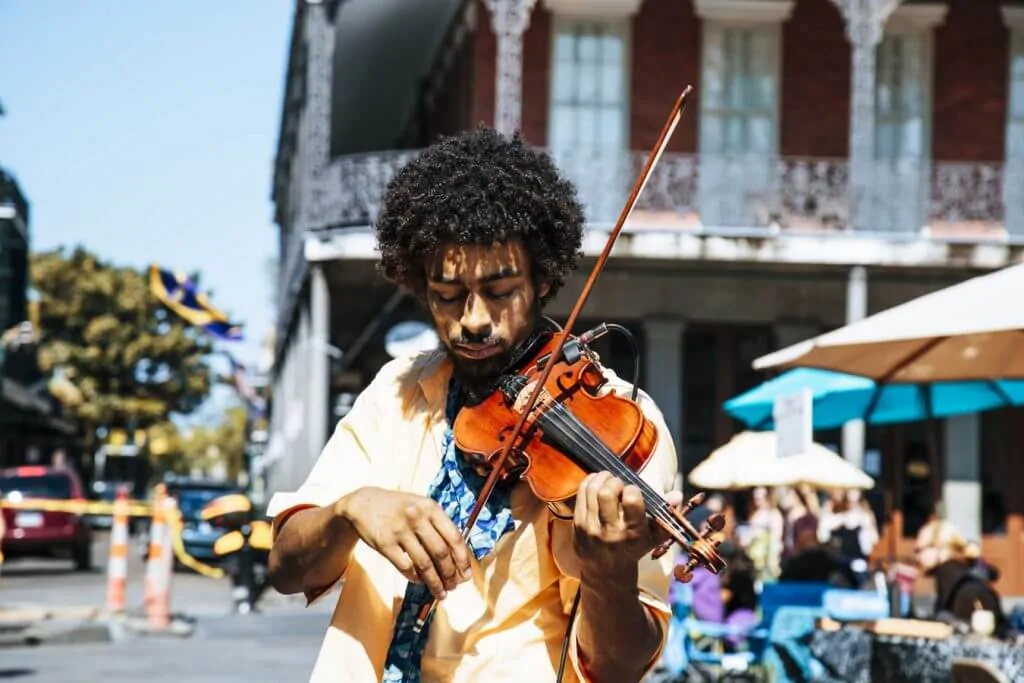 10. Attend Local Music Events
New businesses must always strive to become a notable part of the community. Music stores are certainly no exception, especially since they can become cultural hubs of any neighborhood and draw in people from any demographic.
Attending local music events and festivals is the perfect way to get started. They're fun to attend and often draw large numbers of people. Use them as an opportunity to build brand awareness and meet people in the community.
You might also sponsor local artists and bands by providing free or cheap rental equipment for small shows. Sponsoring schools and band programs is another way to help out young musicians and add value to your neighborhood.
How to Start a Music Store with KORONA POS
Any instrument store or music shop needs a great POS system. KORONA POS is a great solution for any music store business. Try out the software for free today! Just sign up below to get started. You won't need to make any commitments and you can schedule a personalized demo with one of our product specialists. Also, check out our other guides to starting a business:
Get Started with KORONA POS today!
Tell us a little bit about your business and explore all features that KORONA POS has to offer. And there's no commitment or credit card required.