For many retailers, the most difficult aspect of running an efficient operation is maintaining effective inventory management. Bookstores are certainly no exception. You have a limited shelf space and a whole lot of books to choose from when deciding how to stock your retail space. So getting the most out of your real estate is critical for bookstore owners. And once you have your bookstore inventory under control, much of the rest will fall into place. Pricing, promotions, stock levels, and circulation will be easier to monitor and optimize. So let's consider some ideas on how to run a bookstore well and what will make your business even better.
1. Create Bundled Deals, Gift Sets, and Other Promotions – And Track Them
Books make a great gift and sets of books make an even better gift. Especially around the holidays. So get creative and put together great gift packages.
One great to do so is to pair a popular item with a slower-moving book. Offer sets for different genres and age levels. Use seasonal events and holidays to guide your promotions and catch more eyes. Bundled deals are a great way to move through inventory and sell extra items that your customers might not have thought about purchasing otherwise.
Just be sure to track all inventory of your bundled sets. Keep the individual items accounted for in your bookstore inventory management system. It should be easy to set special promotional prices and keep accurate inventory counts through your bookstore point of sale system.
2. Get the Right Bookstore Point of Sale
You must have a great inventory management system. And in order to have a great inventory management system, you must have a great bookstore POS system. You need one that is powerful enough to not only handle a large inventory but to help you optimize the structure of that inventory. This can be done through POS metrics, analytics, and sales reporting. Understanding your products on a deeper level allows you to better order and stock.
You'll also most likely need a versatile, all-in-one solution to handle the different aspects of your business (typically retail and coffee).
One more benefit of finding the right POS software is your customer loyalty program. A powerful loyalty program means you also have customer relationship management tools and advanced membership features. This will keep customers coming back and spending more.
This is far from exhausting the list of possible advantages that come from having a great POS system for bookstores, but it's a good starting point to highlight some of the most important.
3. Sell Lots of Impulse Buys and Related Products
Just because you have a bookstore doesn't mean that you have to sell books exclusively. Add-on products or other impulse purchases are great tools to boost sales and increase the average customer spend. Those items might encourage new customers to come to your store as well. Below is a list of some common products that bookstores carry in addition to books:
Board games

Educational games

Journals and notebooks

Toys

Movies and albums

Maps

Bookmarks
Track your sales of add-on products closely and determine what is worth keeping on your shelves. Use your POS area and checkout counter to stock additional items and increase your average sale per shopper.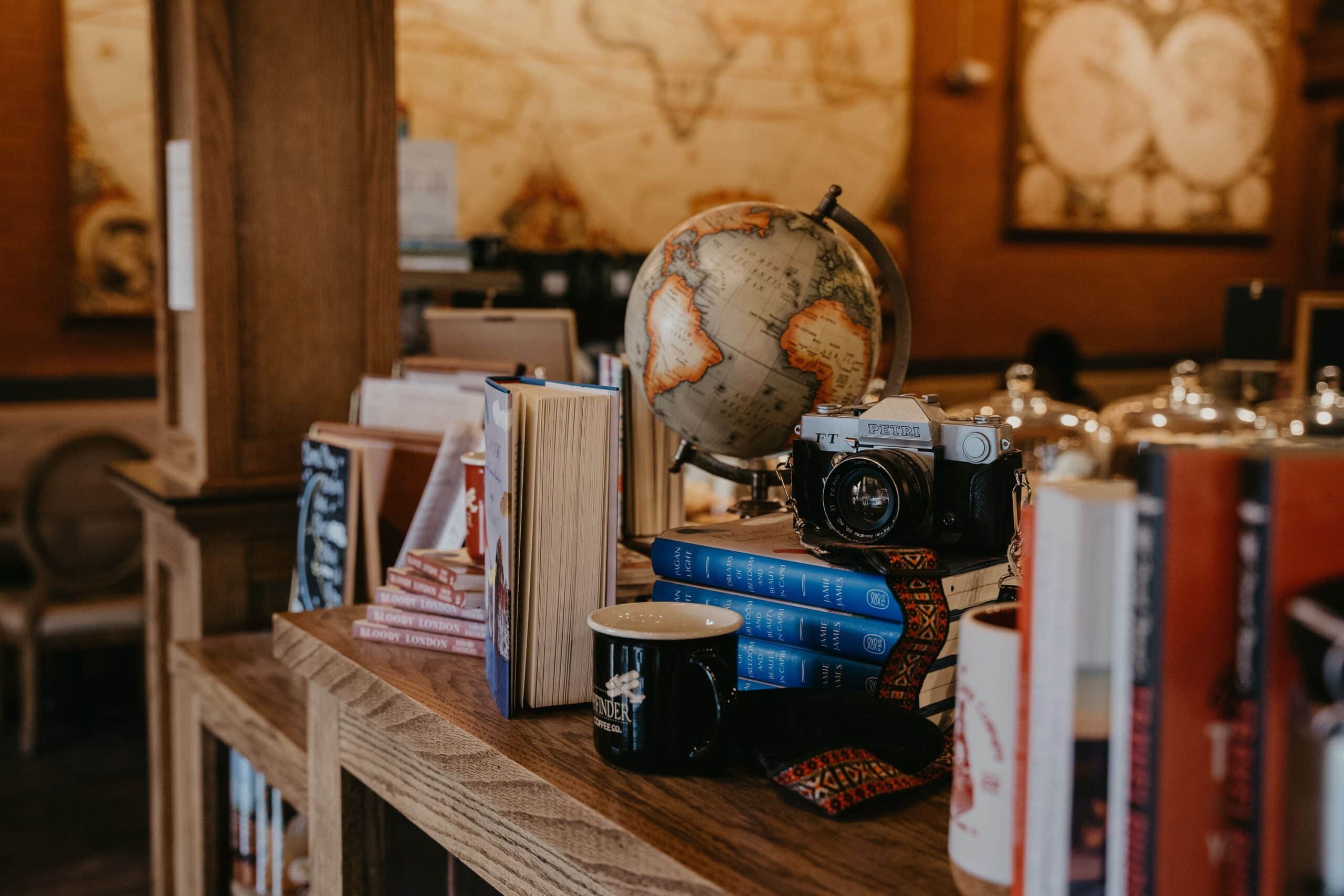 4. Follow and Anticipate the Seasons
Book sales in brick and mortar stores have been hit harder than many other industries with the rise of eCommerce. But, of course, many have stayed successful and profitable. An important part of this success is by planning seasonally. Seasonal sales are critical for bookshops.
For one example, some bookstore owners have noticed that longer, classic books sell better during the winter months. Winter is a more popular time for reading and these titles are often put on readers' New Year's resolution list.
Most importantly, you cannot afford to be out of stock of popular items. Keep bestsellers and classic books well-stocked through the holidays. They make easy but thoughtful gifts and will sell quickly during November and December. Using tools with your bookstore POS system will help you analyze your most important products and better plan for a great holiday season of sales.
5. Think About Adding a Coffee Shop to Your Bookstore
Many popular bookstores, including all the major big box bookshop retailers, have small coffee shops or cafes within the store. Most readers love doing so with a hot cup of coffee or tea, so it's a big draw to any bookstore. Since bookstores typically have low margins, finding other ancillary sales is an important tool to grow sales.
Check out our blog on some tips for opening a coffee shop. And make sure you have a point of sale system that can handle both your retail bookstore and coffee shop needs. Inventory can be consolidated under one umbrella, keeping your sales and data accurate.
6. Add a Used Books and eCommerce Section to Your Store
A great way to compete against Amazon and other online bookshops is by including a used book section in your brick and mortar bookstore. It's a fun hunt for book enthusiasts, and an easy way to keep your inventory interesting and exciting.
This section of your store could be in a small corner or even outside in front of your store. Your used books can go in the same inventory management system as the rest of your products.
Also consider selling used and new books online. It may be a grin and bear it type of concession for some owners, but it's an important way to protect your brick and mortar business. Keep true to your brand and maintain a local focus and it's a fair compromise.
7. Host Book Events
Hosting authors for talks and book signings is a great way to draw a crowd and sell a lot of books. These are great for building your word-of-mouth marketing and fostering a sense of community around your store. Book signings are fun and simple publicity.
You might also consider hosting open mic nights and book readings for local authors. Give your loyal customers/authors the opportunity to share their work and build their base. It's another way to encourage community organization around your shop.
Building this local community is important for keeping brick and mortar bookshops afloat. In many cases, new stores have been largely funded by small neighborhood donations. Check out these great stories from the New York Times.
8. Hire a Great Bookstore Staff
It's important for every retailer to have a great knowledgeable team, but it's ESPECIALLY important for bookstores. You need associates who can recommend new titles and authors but also come with a vast knowledge of historical works. Shoppers expect each employee to have an in-depth understanding of everything that they're selling. Make sure that you have a "staff picks" section, too. It personalizes the shopping experience and is a great way to push certain titles if you need to move inventory.
A great team can also help you with book purchasing. Hiring avid readers means that they will bring a certain knowledge to your store that you and your existing staff don't have. This is an organic way to build your inventory.
9. Your Bookstore Needs a Great Location
You first have to determine if a neighborhood needs a bookstore. If there are already a few, consider looking elsewhere. Existing bookstores probably already have a strong community and its best to leave that be. Find a spot where you'll be bringing something new and needed to the neighborhood.
Next, determine if the area can support a bookstore. This is trickier. You want to attract new readers, but you'll need the initial customer base to support your business off the bat. Look for other neighborhood shops that would attract a similar clientele. If you see small boutiques, farmer's markets, and vintage stores, you're likely to have a lot of people interested in visiting a bookstore.
There are a lot of book lovers out there that dream of one day opening their own shop (me included!). But it's important to have the right plan to start and to embrace the business side of things that it takes to run a successful bookstore. It won't always be fun and thrilling. But it will be once you're established and successful. For more information on KORONA, click the box below!
Below are more "how to" guides for opening a new business:
---
Get Started with KORONA POS today!
Tell us a little bit about your business and explore all features that KORONA POS has to offer. And there's no commitment or credit card required.