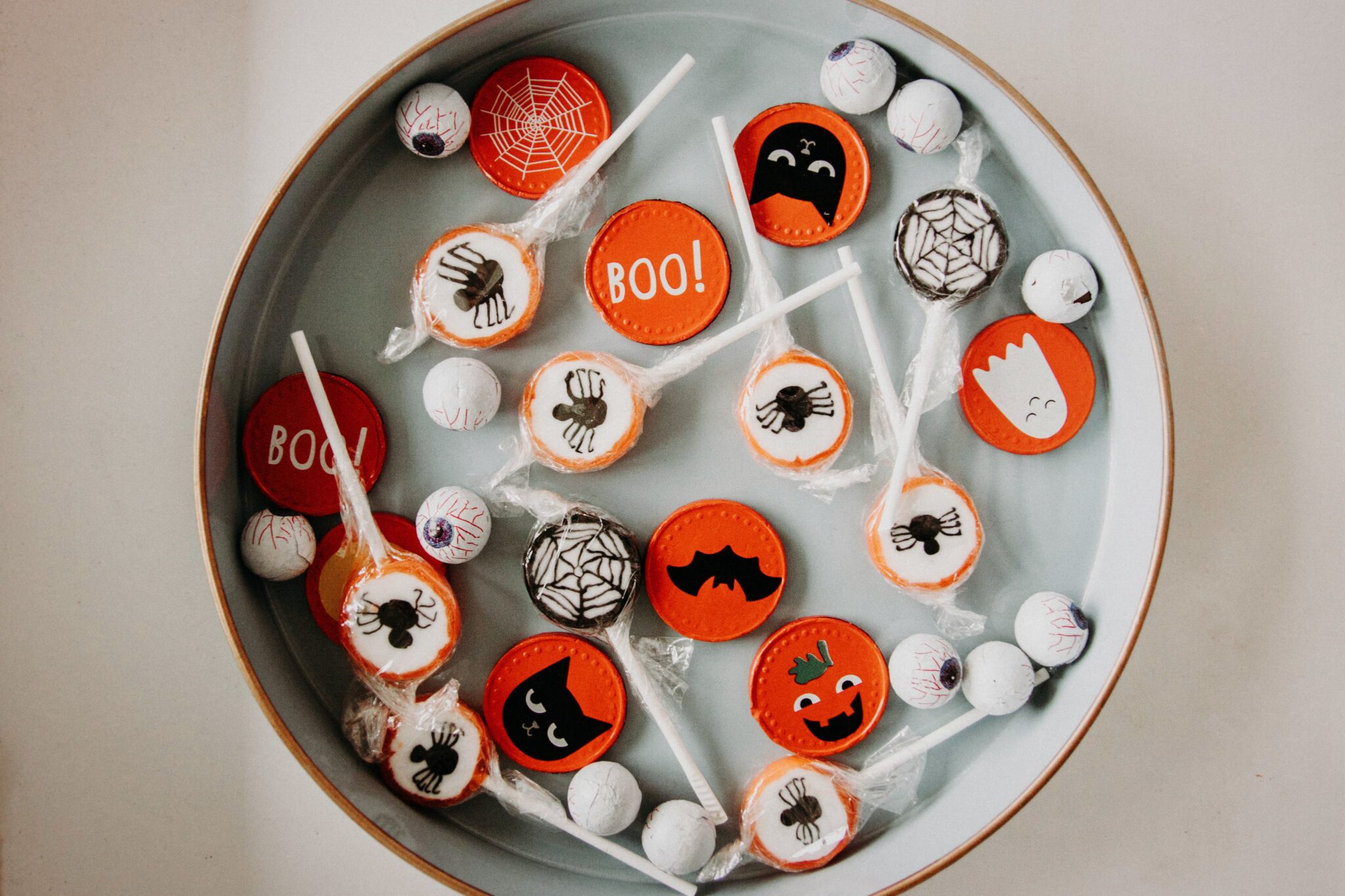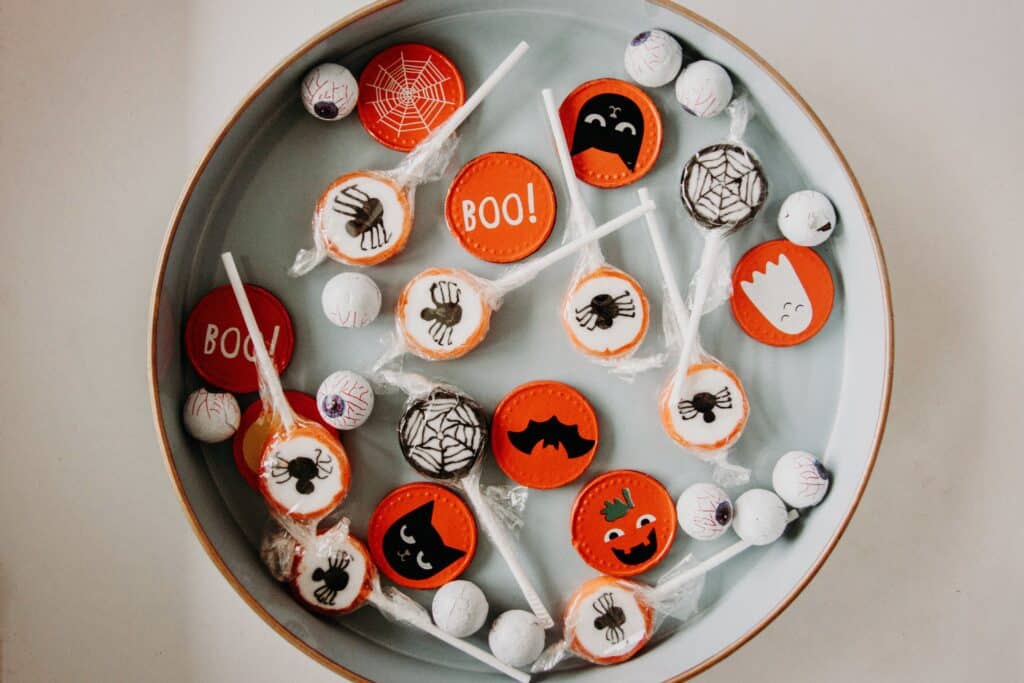 October is around the corner again, and Halloween is the first big chance to jumpstart your holiday marketing and get ready for the biggest months of the year. Halloween presents a great opportunity for retailers of all kinds. Nearly 70% of consumers celebrate, spending over $10 billion on the holiday.
So, how can you take advantage? Let's look at a few different Halloween marketing campaign strategies for retailers nationwide. Taking the time now to plan ahead will make your holiday a bigger success and bring more shoppers through your doors.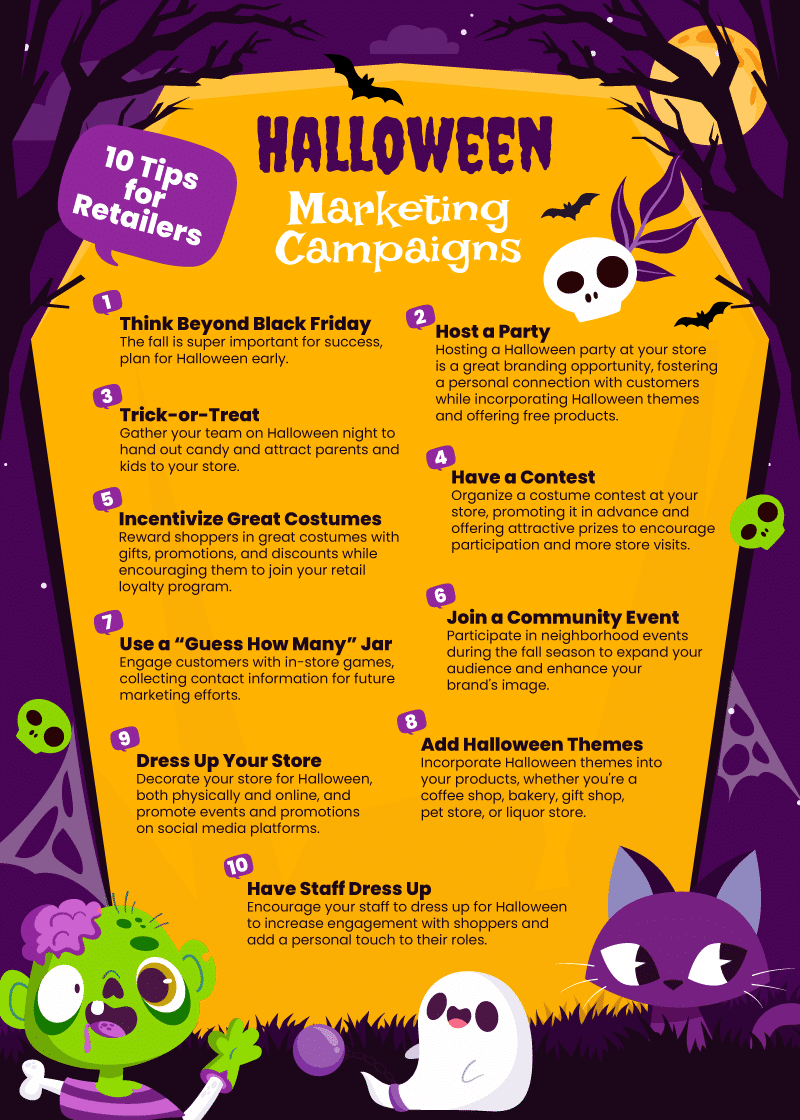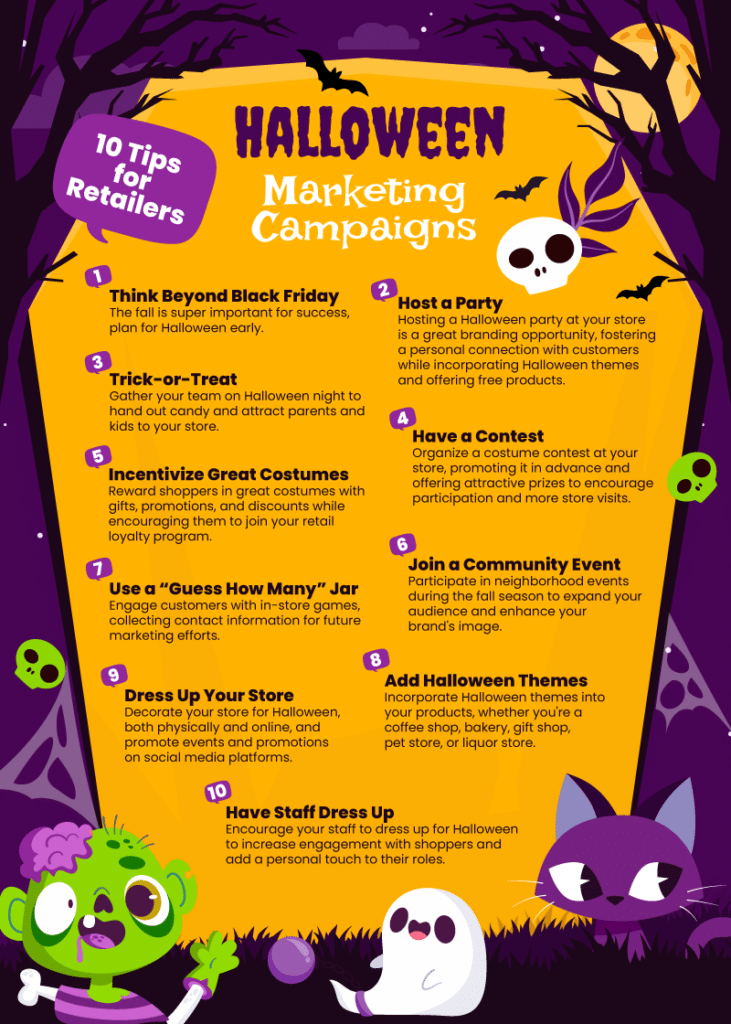 1. Don't Just Focus on Black Friday Sales
Too often, retailers only put effort into planning their Black Friday and Cyber Monday retail sales. While these are critical dates for having a successful holiday season, the rest of the fall and early winter are equally important.
Unfortunately, it's a consumer holiday often forgotten by retailers. Even if your business isn't a Halloween-specific retail destination, there are plenty of ways to get in on the fun and excite your shoppers. And with nearly half of consumers planning on starting their Halloween shopping by early September, it's important to be prepared early.
You Also May Want To Read: Back-To-School Campaign Ideas For Retailers
2. Host a Halloween Party
A store event is a great branding opportunity, no matter the time of year. It offers small businesses the opportunity to get to know their customers on a more personal level and hang out in a more friendly manner.
You don't need much of an excuse to host a small party. Just ensure you include some food and drinks while making it Halloween-themed. Encourage your staff and guests to wear costumes. And make sure to offer free products that will remind your shoppers that they need those items throughout the rest of the year.
3. Open for Trick-or-Treating
On the big night itself, get your team together for trick-or-treating, especially if you're in an urban area. Parents whose kids are happy, because they stopped by your store will be much more likely to return to shop with you.
Encourage your staff to join the fun, show their creativity with great costumes, and help decorate the space.
4. Organize a Contest
Going one step further, host a contest at your store for the best costume. Advertise it beforehand so kids and parents know to stop by. You can host the contest during trick-or-treating or your business's party.
Pick out a great prize or two for the top contestants. Don't break the bank, but try to offer something big enough to incentivize participation and more guests entering your store.
5. Add Halloween Marketing Campaigns with Great Costumes
Reward shoppers who look the part. Offer gifts, promotions, discounts, etc., for guests decked out in a great costume.
Get them signed up for your retail loyalty program in the process. This will help with future marketing efforts and get them back into your store soon.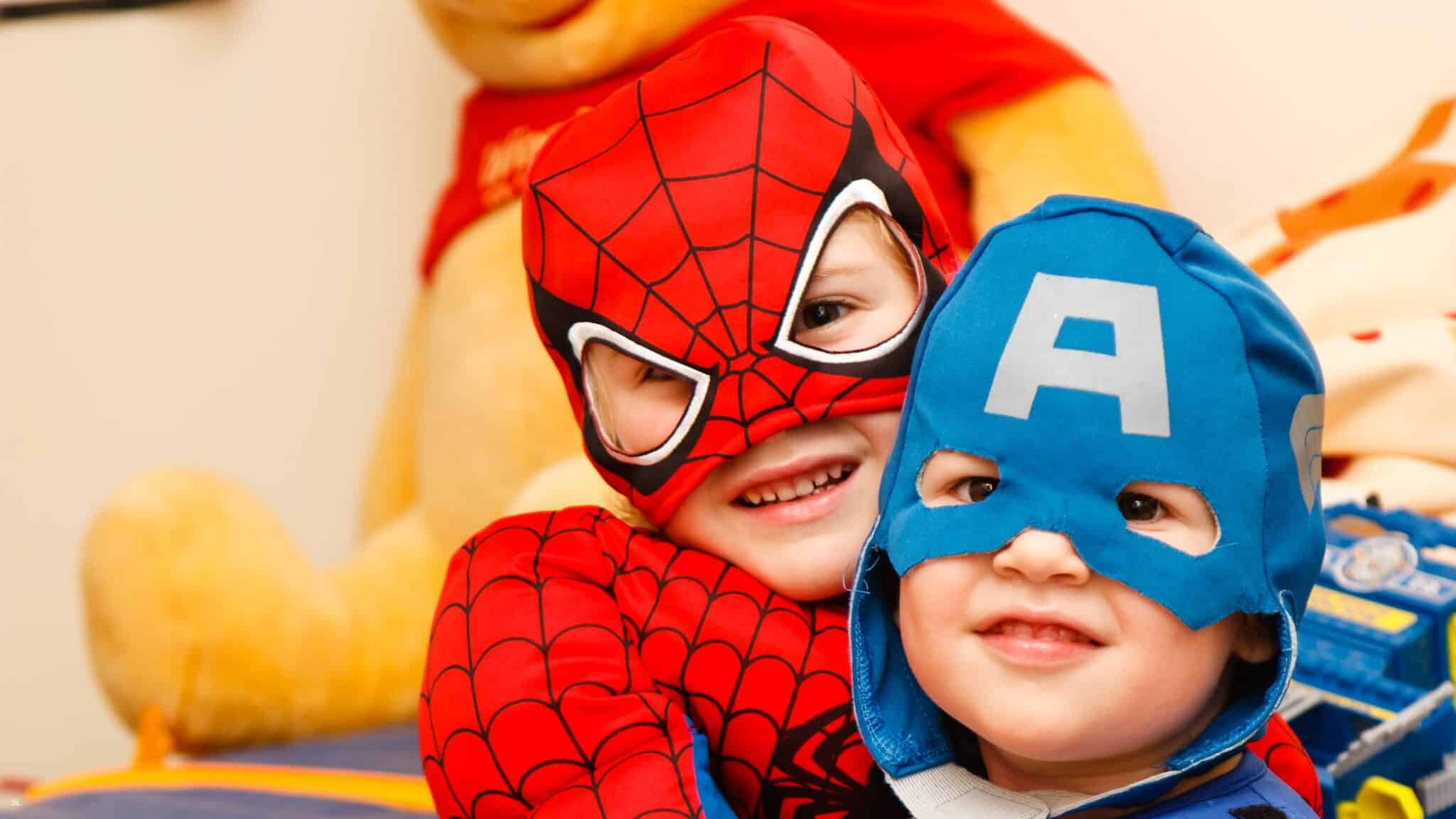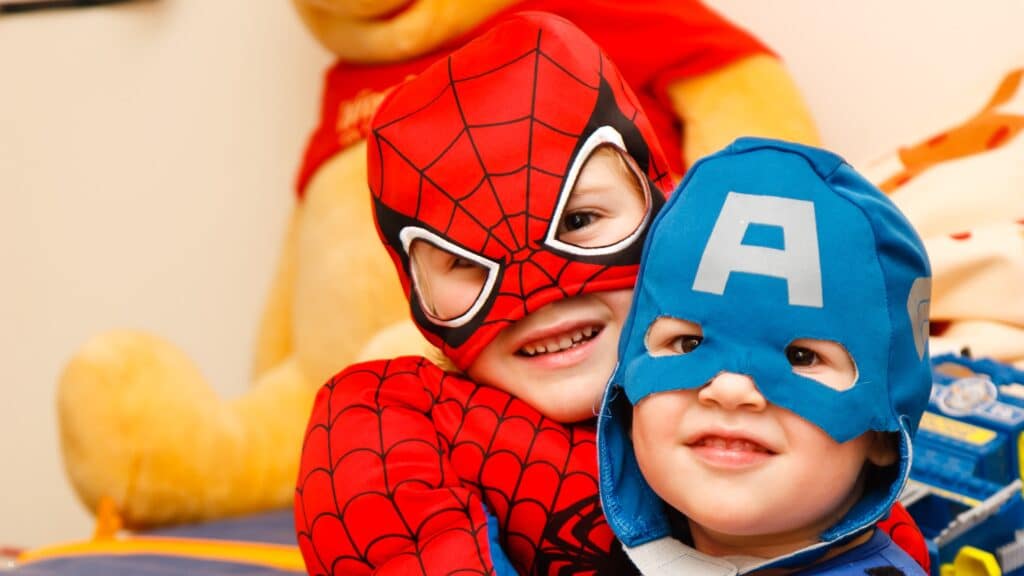 6. Join Community Events
Neighborhood events are another great way to reach a larger audience and build your business's brand image. The fall season usually features several city, state, or local community events where businesses can participate.
Sign up for a booth, sponsorship, or volunteer opportunity at one this fall.
7. Put a "Guess How Many" Jar Out
Adding small games in your store during the Halloween season is another way to get your customers engaged during the shopping experience. A "guess how many" jar is a time-tested method.
Just throw a jar full of candy corn (who actually eats it anyway?) in a huge jar and toss it on the counter. Just make sure to count it up beforehand accurately. Add a pad on which guests can write their names and numbers. Even better, request an email or other contact information so you can add them to your email/SMS marketing lists. Remember how important frequent communication is to help drive more shopper loyalty.
Add the jar near your retail POS system and include some last-minute Halloween-related impulse purchases. Candy or small accessories are easy options.
8. Add a Halloween Theme to Your Products
Running a Halloween promotion isn't just reserved for the Party Citys of the world. Pretty much any retailer can join in on the fun.
Coffee shops can offer Halloween-themed drinks.

Bakeries can make pumpkin cookies or pastries.

Gift shops might sell costume accessories

.
Pet stores should offer dog and cat costumes.

Liquor stores could promote a Halloween cocktail and sell all ingredients bundled.
9. Dress Up Your Store
Don't forget to have fun with Halloween decorations. Deck out your storefront and sidewalk area. Put decorations in the windows and add a sign advertising contests, promotions, or events.
Do the same online. Add Halloween themes to your eCommerce shop. Again, advertise all upcoming events and promotions.
Finally, advertise it all on your social media profiles, too. Encourage people to share photos on your Instagram and Facebook pages.
10. Encourage Staff to Dress Up
And get your team in on the fun, too. If they'd like, encourage them to dress up on Halloween or during Halloween weekend. It's another easy way to help foster more engagement with your shoppers. And it lets them add a bit of their own personality to their job.
Check out the rest of our blog for more advice on handling the holidays. Click below to learn more about KORONA.
FAQs: Halloween Marketing
1. How can I promote my business on Halloween?
To promote your business on Halloween, consider hosting a themed event or sale, such as a costume contest or spooky-themed product discounts, to attract customers. Utilize social media and email marketing to create Halloween-themed content and promotions, engaging your audience with festive visuals and interactive campaigns. Partnering with local businesses for cross-promotions or sponsoring a community Halloween event can help boost your brand's visibility during this holiday season.
2. How do you market a Halloween event?


To market a Halloween event effectively, create eye-catching promotional materials with spooky or themed designs, such as posters, flyers, and digital graphics. Leverage social media platforms to share event details, run targeted ads, and create engaging content like countdown posts, sneak peeks, and interactive polls.
3. When should you market for Halloween?

You should start marketing for Halloween well in advance, typically around 4-6 weeks before the holiday. This early promotion allows you to build anticipation, capture the attention of early planners, and ensure your Halloween-themed products are top-of-mind for consumers. However, specific timing may vary depending on your industry and target audience, so conducting market research to understand your customers' behavior and preferences is crucial for a successful Halloween marketing campaign.