Every business deals with unhappy customers from time to time. Of course, it's important to minimize poor customer experiences. In a previous blog, we discussed how to respond to customer complaints and the value of turning a negative experience into a positive one. So today, let's examine some common examples of customer complaints and resolutions for business owners dealing with them.
See Also: How to Respond to Customer Complaints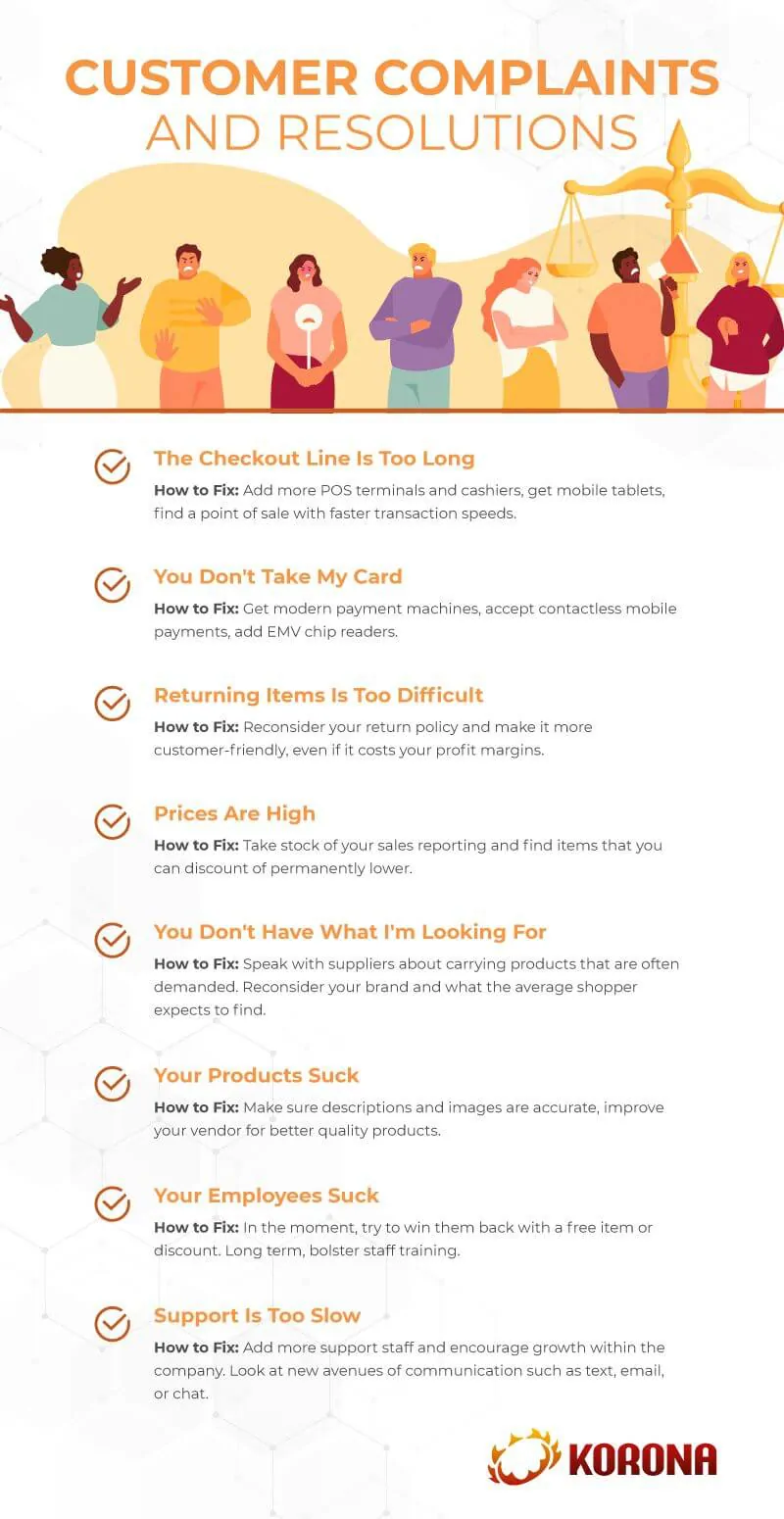 Complaint #1: The Checkout Process Is Too Long or Tedious
Long lines can be a major pain, especially if your customers aren't anticipating the extra time. Studies show that most shoppers will abandon the store if the wait time is longer than 5 minutes. Customers might not directly complain about a line, but you will usually be able to tell if someone is dissatisfied with the checkout process.
How to Fix It: There are a lot of ways to cut down your average line time:
Get more POS terminals to open up new lanes.

Add several tablet points of sale so that employees can open up a new terminal quickly.

Train your staff to ring up and check out smoothly.

Look at new POS systems that can process sales at a faster rate, especially if you have many daily transactions. A difference of 5-10 seconds can make a huge difference.
If the complaint is that your online checkout process is too tedious, find a way to make the process easier and more intuitive. Watch out for excess abandoned carts – this can mean your checkout process is annoying.
Complaint #2: You Should Offer Alternative Payment Options
Many retailers are now offering several different payment options for their shoppers. EMV chip cards, mobile payments through PayPal, Apple, or Android, and contactless tap-to-pay are all becoming more and more popular. And some customers expect to have all options. If you don't accept these types of payments you might hear the complaint that your store isn't convenient enough. It's not as simple as accepting just cash or card these days.
How to Fix It: This one is pretty simple: start accepting alternative forms of payment. Speak with your point of sale provider to get any necessary devices. If the software doesn't integrate, consider looking for a new POS solution. Speak with your credit card processor, too, to make sure that any new forms of payment can be processed and distributed.
Complaint #3: Your Return Process Is Difficult
One of the most common customer complaints for brick and mortar retailers is that the return process is difficult or limited. Perhaps a product cannot be returned, or you require a receipt upon return, or the return is only good for store credit, etc. There are many variations of complaints on the return process. No matter the reason, take these complaints seriously. They can easily lose you customers.
How to Fix It: Improve your retail return process by favoring the customer. Even if you lose a sale, keeping a customer's experience positive will bring them back later. Most stores don't need to require a receipt anymore, especially if the payment was made on a card. It's easy to retrieve a prior sale through your POS system if the customer has the card with which they made the purchase. Make your return policy clear and easy to understand.
Complaint #4: Prices Are Too High
Pricing in retail is notoriously tricky. Margins are typically low, so being even slightly off with your pricing can lead to major issues. And with more competition than ever, your shoppers expect fair pricing. So most retail owners will hear a complaint about their pricing at one point or another.
How to Fix It: First, identify the issue. If you have room to lower your prices while still making enough of a margin on the item, then just lower the prices. If you notice that customers are complaining that online prices are cheaper, you may have an issue with showrooming. If this is the case, try to match prices when possible. If you are unable to price match, look for ways to improve the customer experience that can help justify the higher price. If your shoppers aren't looking elsewhere for the product, but still complaining about prices, revisit your store pricing strategy. Consider adding special discounts, promotions, or loyalty benefits to keep your shoppers happy.
Complaint #5: You're Out of a Product or Don't Carry a Certain Item
Running out of a certain product now and then happens to all retailers, but if you're consistently 86'd of multiple items, your customers will start to notice. Remember, there are virtually no products that someone can't go to a competitor for. And if you make it too difficult to come by, people will shop elsewhere. Likewise, you may just not carry certain products that your shoppers expect you to have. Listen for repeat questions or complaints and make changes when you notice a clear trend.
How to Fix It: For the latter, the solution is simple: order any appropriate additional products that customers are demanding. The former problem can be a bit trickier. In this case, you'll need to improve your inventory management. Make sure that your POS inventory system is making this easy for you. Auto-ordering, inventory level alerts, and vendor management features all make it far less likely that you'll find yourself out of a product.
Complaint #6: An Item Was Not As Advertised or Poor Quality
This typically applies more to eCommerce retailers than brick and mortar shops. There are many complaints about products not being quite as advertised. And oftentimes, the complaints are fair. That doesn't mean you're doing something wrong, but it does mean that you should make some changes.
How to Fix It: Check out your product images and descriptions online. Make sure that you offer as much relevant information as possible. Encourage product reviews so that your shoppers can get a good idea of your product from other purchasers. Don't exaggerate the effectiveness or durability or performance of a certain item. Be honest with descriptions and promises.
Complaint #7: The Customer Service Is Poor
There's a lot that goes into great customer service, and a lot that a customer might complain about. Perhaps an employee was unpleasant in dealing with a question or unknowledgeable about a certain item. The most common complaints surrounding customer service are over an attitude or irritated demeanor from an associate.
How to Fix It: One bad interaction with an unpleasant employee can mean a customer will never return. Even worse, they're likely to tell their friends about the experience. Others will leave a poor review online, meaning that the negative experience reaches even more people. So it's critical to react quickly to minimize the damage. If you're in the store, speak directly with the customer and let them explain the issue and how the situation might have been better. If not, find a way to reach out to them after the fact. Apologize, offer a gift or discount, and promise that they will have a better experience the next time around.
Complaint #8: Customer Support Is Slow
Keeping up with customer support and a steady stream of questions and concerns can be a monumental task. It gets harder when your business takes off and you're busier, too. And many great businesses hear complaints that their support or customer service contact is too slow or too hard to reach. So don't be discouraged if you hear the complaint, just focus on finding ways to improve the problem.
How to Fix It: Consider adding more people to your support team. Support jobs are difficult and take a lot of training so take your time finding someone who wants to stay long-term and grow in your company. You might also look at creating new avenues for your support. Add different channels of communication such as text, email, or chat. We all want to speak to someone on the phone when we have an issue, but it is the most labor-intensive on a business's end of things. Finally, add manuals or FAQ sections to your website to encourage your customers to troubleshoot issues before contacting support teams. To find out more details on what your support system is lacking, add a short optional survey at the end of support calls or chats.
Get Started with KORONA POS today!
Tell us a little bit about your business and explore all features that KORONA POS has to offer. And there's no commitment or credit card required.