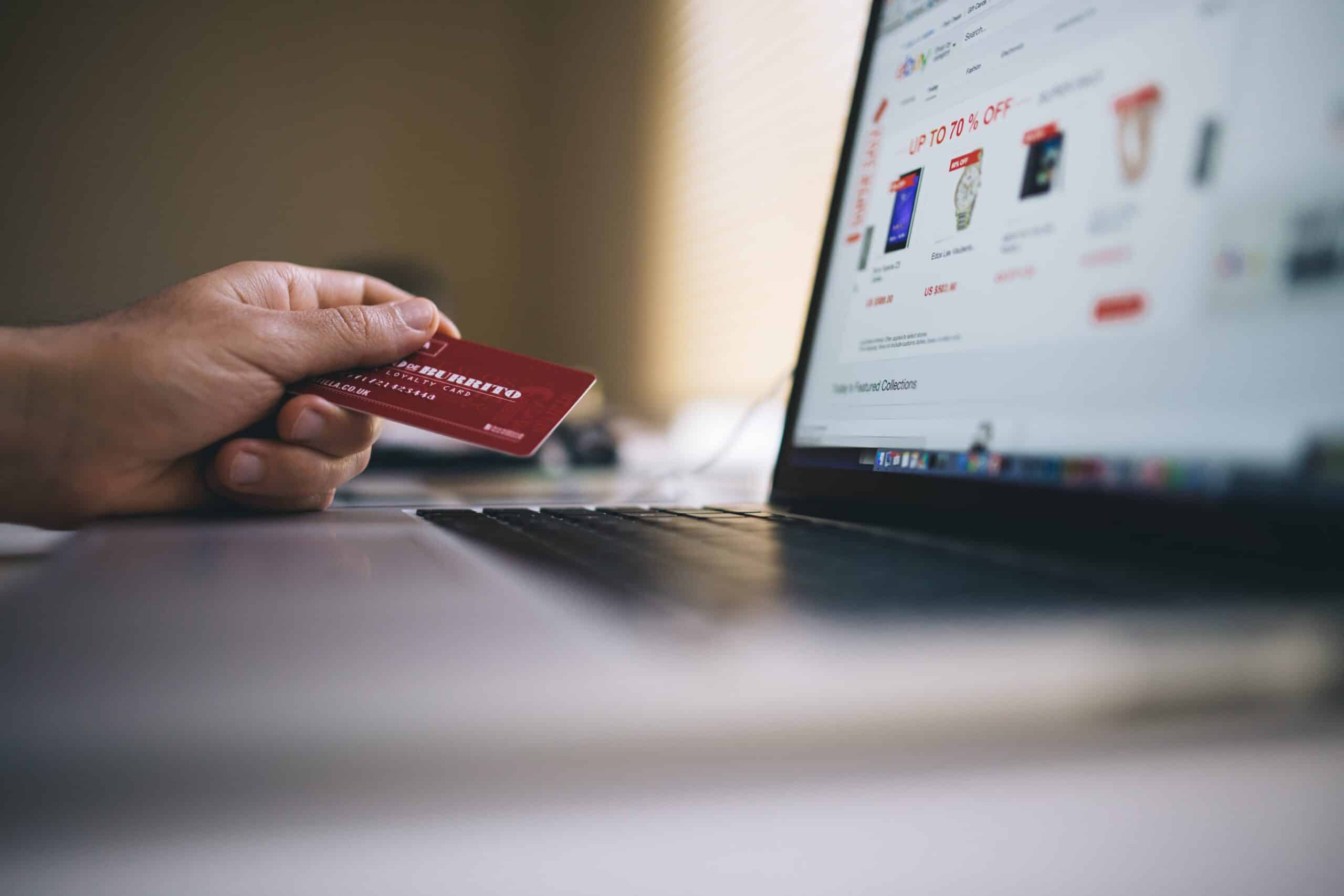 POS integration should be a key part of any retail company's strategy. Choosing a point of sale solution that works seamlessly with other technology and software offers significant benefits. Integrations can help boost multi-location sales, provide more accurate real-time inventory updates, eliminate manual data entry, and more.
Nonetheless, not everyone is aware of these benefits and how they can find the best POS integration solution. Read on for more details. We will cover:
What is a Point of Sale System?
A point of sale, otherwise known as the point of purchase system, is the apparatus through which shop owners ring in customers and execute transactions. They have evolved a long way since simple cash registers. In fact, today, they touch on almost every aspect of running a retail business.
Having a powerful point of sale system guarantees everything runs smoothly. It's the main component of running your in-person store. Additionally, if you're an owner of an eCommerce store, a POS can help you manage everything from your payment processing and sales reports to customer management, inventory management, and more.
Best of all, a powerful POS will optimize both in-store customers and online shoppers. Now that you know the basics, here are six ways that you can overcome the challenges of integrating a POS system in your eCommerce site:
1. Choose a Compatible POS System
Business owners love building sites on platforms like WordPress and WooCommerce since they're reliable, easy, and free. They're also easily scalable and customizable. Apart from being site builders, you can use WordPress and WooCommerce for almost any situation because of the millions of plug-ins available, adding to your site's functionality.
However, when looking for a POS solution that directly integrates with your eCommerce store, you'll find that not all solutions are built equally. Although open-source point of sale solutions in WooCommerce aren't always the easiest to use, the right point of sale will bring your business to the next level when you start your own eCommerce website. Smart POS technology gives store owners the freedom and flexibility to run their online shops successfully.
2. Hire an Experienced Developer
Many eCommerce businesses will use basic templates when initially setting up their site. Others that want more customization will hire an experienced developer.
When hiring a developer, you have several options. You can choose to employ someone in-house, which will likely be the most expensive. On the other hand, if you work with a remote developer, it's usually less expensive, and you can still get high-quality work. Another option is to hire an expert from an agency. With this option you can save a lot by just paying for their productive hours.
3. Train Your Staff
Design a training strategy to outline exactly how to operate a POS system while doing all day-to-day tasks and actions. You can also go through troubleshooting issues so that cashiers and staff members are self-sufficient with the software. Luckily, the best point of sale companies offer extensive training materials, including manuals, videos, blog posts, and more.
Let your staff have hands-on experience to improve their confidence and enhance the customer experience at the point of sale. Ensuring your staff knows how the POS system works is vital so that your business stays effective and meets your customers' needs. Encourage them to ask questions so they know exactly what they're doing and why they're doing it.
4. Conduct Thorough Testing
User Acceptance Testing (UAT) is a type of Beta testing in which a website is "mock" launched to a controlled audience. UAT is a crucial step if you have an eCommerce business. An eCommerce UAT lets you know if your site and its functions have met the criteria to be successful in the market.
In the initial stages of designing and launching a website, you might encounter issues or bugs that can hurt your site's sales and potentially ruin your brand image. If you test beforehand, you'll know these flaws before they go live on your site.
5. Ensure Data Security
Security is a vital aspect of any point of sale system. That's why you need to make sure that you take steps to secure sales systems, credit card transactions, and the data of your customers from cyber-attacks and physical threats.
Card skimming devices, hackers, and malware infection can be prevented by using secure passwords and two-factor authentication. In addition, adding cyber security measures like antivirus software, firewalls, and regular monitoring should be implemented. These can detect any suspicious activity on the network before it can cause damage.
Similarly, companies should also have their cloud system updated with new patches and bug fixes. That way, they can remain up to date with the latest threats.
Physical security shouldn't be overlooked either when protecting your POS systems. Ideally, you should install CCTV cameras in critical areas of your store or areas where customers pay on swipe cards. Consider implementing access control systems such as door locks and motion detectors. This prevents unauthorized personnel from going inside areas that are restricted, protecting sensitive information and cash.
What Are the Things to Consider When Picking a POS System?
When picking from all available POS options, be sure to scrutinize how well the back-end system integrates with other software tools for running your business. Carefully look at these aspects and evaluate your business needs.
For instance, if you're dealing with numerous clients, numbers, and products simultaneously, it's unlikely to completely avoid human error. So, rather than double-checking every single one of your customers' orders, you can use a POS system that lets you analyze sales patterns and manage your inventory.
Plans and Pricing
Despite having excellent features, POS software probably won't be the most expensive software category for your business. In fact, some POS companies demand no money up front for their software. However, these companies generally charge more per transaction, which can be detrimental to a high-volume retail business.
Eventually, you will want to upgrade your existing plans to allow your business to expand over time. In addition, many of the most powerful reporting tools and eCommerce integrations require more premium subscription pricing plans. Either way, look for a POS plan free of costly signup fees or lengthy contracts.
Integration Availability
Your POS system should be smoothly integrated with the apps and systems that you use. These integrations can range from email marketing systems that enable order notifications to loyalty programs and accounting software. They can also manage special B2B features like purchase orders.
Think about how you can utilize your POS system to enhance all aspects of your business. Many industries have vertical-specific applications and programs. Be sure that whatever POS solution you choose is compatible with these.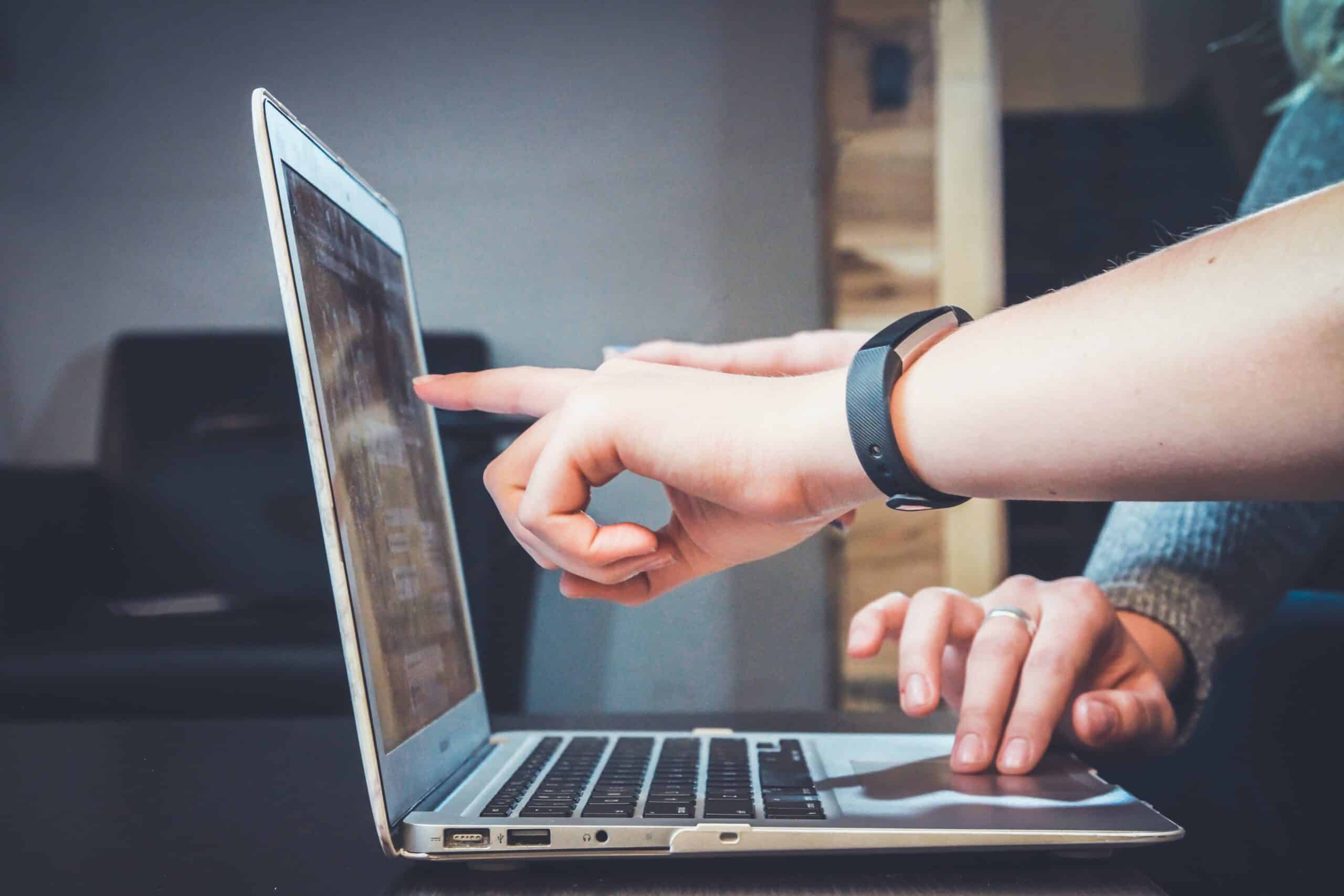 Benefits of eCommerce POS Integration
Here are some of the benefits of having eCommerce POS integrations:
1. Sell to More Channels
Retailers should open up their sales to more channels in order to reach the biggest audience available. Building an eCommerce platform allows you to expose your products to customers outside your immediate community.
When you incorporate your POS in your online and offline channels, you'll get a single view of your business transactions and how you can serve your customers better. It serves as a single place for all of your sales, inventory, and customer data.
2. See your inventory in real-time
Not all POS systems will reconcile in-store inventory, online orders, and warehouse inventory, which can confuse your staff and customers. Your customers don't want to hear excuses for your items being out of stock. They want a seamless purchasing experience no matter where they're buying your products.
Thus, your POS integration should sync automatically in your inventory across all channels, no matter where you sell. When you automatically sync your inventory, you'll know how much stock you have and where it is. A modern POS will allow you to access this information from any location with internet access.
3. Reduce checkout time
Your customers are looking for a smooth checkout process. Allow shoppers to pay with whichever format they choose, with options like Apple Pay, Google Pay, and more. Also, adding mobile POS (mPOS) allows you to process transactions anywhere in your store, which further enhances customer service.
In addition, eCommerce integration can help businesses move lines quickly with pre-ordering. With the option of Buy Online Pickup In-Store, retailers can have customer orders ready for a fast hand-off without the need to process the full transactions in person.
4. Enhanced customer experience
Incorporating your POS with eCommerce allows you to serve customers better. Robust POS software comes with in-depth customer purchase history. Take advantage of these behavior analyses to power and inform your marketing strategies and tailor recommendations more effectively.
Implementing discounts and promotions across channels is one way to boost customer satisfaction while addressing your business needs at the same time. More revenue means happier customers.
5. No more manual data entry
Intuitive access to in-store and online sales data allows you to make better business decisions in the long run. You no longer have to worry about manually entering your data. With powerful integrations, all of your data can be migrated and imported automatically.
This can help you can save labor costs immensely. That way, you can focus on other aspects of improving and expanding your business.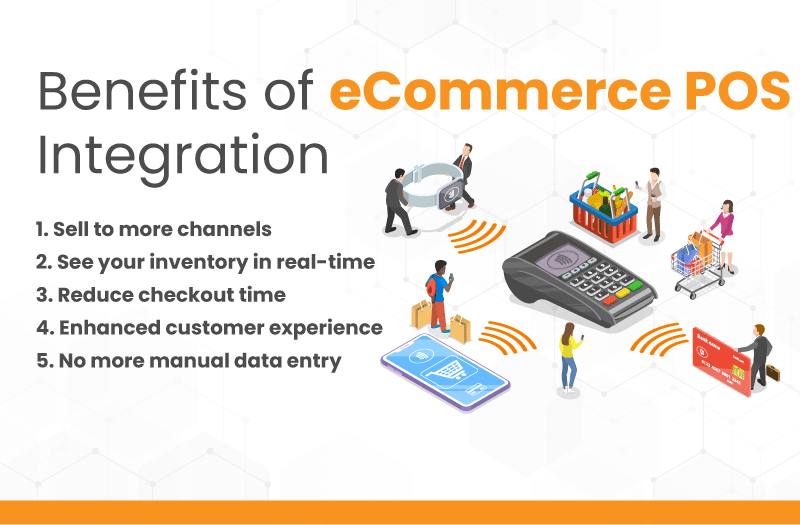 Conclusion
So there you have it. If you want to take your business to the next level, then eCommerce POS integration is vital.
Dynamic integrations allow business owners to maximize income while keeping control and organization. Incorporating your store's POS system into online platforms like WooCommerce or Magento makes tracking your sales, inventory, and customer behavior extremely accurate and easy. Click below to learn more about how KORONA POS can integrate with your omnichannel retail operation.
FAQs: Checkout Optimization for eCommerce Retailers
What is the difference between eCommerce and POS transactions?"
eCommerce is shopping that is done through websites or mobile apps. POS transactions are purchases made in person. Nonetheless, eCommerce now integrates with point of sale software so that all of your online sales are recorded and tracked in a central database.
What are eCommerce-friendly POS systems?
eCommerce-friendly POS systems integrate seamlessly with online platforms to optimize omnichannel retail. You can have your inventory, sales information, and customer database all in one place. This automates and centralizes much of the tasks and information that retailers deal with.
How to integrate POS with eCommerce?
POS integrates with eCommerce through application programming interfaces or APIs. These APIs allow programs and websites to work and communicate with each other. The best POS providers should provide technical support to make these integrations quick and seamless.