Finding the right suppliers is crucial for resellers looking to grow their retail businesses. However, with so many wholesale suppliers to choose from, it can be overwhelming to determine the best options.
This blog post simplifies sourcing inventory by providing an overview of 7 top wholesale suppliers for resellers. It discusses critical details like product selection, ordering minimums, and benefits of each supplier. Whether you're just starting or looking to expand your inventory, this post will help you find the ideal wholesale suppliers to partner with.
You'll also gain insights into best practices for researching, evaluating, and building supplier relationships. To steer your retail business towards success, read on for a guide to the best wholesale suppliers for resellers.
What Is a Reseller in Retail?
A reseller in retail acts as a middleman between brands/manufacturers and end consumers. Resellers purchase products from brands in bulk at wholesale prices. They then sell the products to consumers, often at a markup from the wholesale price.
There are several common types of retail resellers. Independent retailers buy inventory from brands and sell products in their own brick-and-mortar stores. Online marketplaces like Amazon also act as resellers, providing a platform for other resellers while selling some products directly themselves. Other resellers include wholesale clubs such as Costco that require a membership and discount retailers like Walmart that sell high volumes of products at low prices.
One advantage of resellers for brands is that they allow brands to reach a much wider consumer audience than by selling directly. Without resellers, brands would have to take care of their own sales and distribution to consumers, which is highly inefficient. Resellers provide the retail infrastructure to sell products across multiple channels like physical stores, eCommerce sites, mail-order catalogs, and more.
You might also want to read: How To Buy Wholesale – The Ultimate Guide for SMB Retailers
Resellers earn a profit by selling products to consumers at a markup from the wholesale price they purchased inventory for from brands. The markup compensates resellers for their costs, such as rent, staff, shipping, and other overhead. Larger resellers can negotiate even lower wholesale prices by buying in high volumes, allowing them to sell products to consumers cheaply.
Is Inventory management giving you trouble?
KORONA POS makes stock control easy for retailers.
Automate tasks and get a clear picture of your entire inventory.
Contact us
What Are Wholesale Suppliers?
Wholesale suppliers are companies that sell products in bulk to retailers, who then sell the products to end consumers. Wholesalers can sell large quantities of products at lower per-unit prices than retailers can. This volume pricing allows retailers to purchase inventory from wholesalers at discounted rates compared to buying directly from manufacturers.
See also: How To Get a Wholesale License? A Step-by-Step Guide For Retail SMB Owners
Wholesalers play an important role in the supply chain between manufacturers and retailers. They purchase goods directly from manufacturers in bulk, store the inventory in warehouses, and then efficiently redistribute products to retailers as needed. This eliminates the need for retailers to source products from many individual manufacturers.
There are several common types of companies that act as wholesale suppliers. Product distributors buy from manufacturers and resell to retailers. Importers acquire products from foreign manufacturers and supply them domestically. Dropshippers fulfill orders by shipping products directly to a retailer's customers. Liquidators sell overstock products in bulk. And some manufacturers also supply products directly to retailers.
See also: Wholesale vs. Retail: Meaning, Differences, & Profitability
1. Kole Imports
---
Kole Imports is one of the most popular wholesale suppliers for resellers in the U.S. It is a family-owned and operated business that has been in business since 1985. Kole Imports is known for its wide selection of products, competitive prices, and excellent customer service.
With Kole Imports, resellers can stock shelves with trending merchandise in various popular categories, such as home decor, toys, apparel, electronics, health & beauty products, pet supplies, sporting goods, home & garden items, and party supplies. The extensive product selection allows resellers to appeal to a wide range of customers and keep their shelves filled with in-demand products across several segments.
Key features retailers should know about Kole Imports
Wide selection of products: Kole Imports offers a wide variety of products, including general merchandise, closeouts, and unique items.
99.7% fill rate on orders: Kole Imports has a very high fill rate, meaning that you will likely receive all of the products you order.
Great way to sell surplus stock products: Kole Imports specializes in purchasing end-of-line, overstock, liquidation, and discontinued products.
Provide different shipping methods: Orders shipped by Kole Imports can be delivered by various methods, including UPS and FedEx small parcel shipments, LTL pallet shipments, and full container shipments.
Requires a minimum order of $250: Kole Imports has a minimum order requirement of $250, which is relatively low compared to some other wholesale suppliers.
2. Wholesale Central
---
Wholesale Central is a wholesale directory that lists thousands of wholesale suppliers from various industries. It offers powerful sourcing tools to help resellers find thousands of prescreened wholesalers, importers, distributors, dropshippers, and manufacturers. Wholesale Central provides various features to help businesses find the best wholesale suppliers and products:
Key features retailers should know about Wholesale Central
There are several things that set Wholesale Central apart and cement its status as one of the best wholesale suppliers for resellers:
No membership fees: Wholesale Central does not charge buyers to access its directory, making it an affordable option for small to medium-sized businesses.
Supplier verification: The platform takes great care in vetting suppliers to ensure they are reputable and trustworthy, which means less risk for resellers.
Product locator service: Resellers can use this feature to find specific products quickly, saving time and effort in sourcing inventory.
Trade show calendar: Wholesale Central provides a comprehensive list of trade shows, a valuable resource for resellers looking to make connections and discover new products.
Exclusive deals & specials: The platform provides a free "Buyers Network" that gives members exclusive deals and discounts.
Educational resources: Retailers can benefit from various educational articles and tips provided by Wholesale Central aimed at helping them succeed in the competitive retail market.
Low minimum order quantities (MOQs): Wholesale Central has low MOQs, so you can start small and scale up as your business grows.
Wide product range: A searchable database of over 387,852 wholesale products from over 1,400 independent suppliers.
3. Bwanaz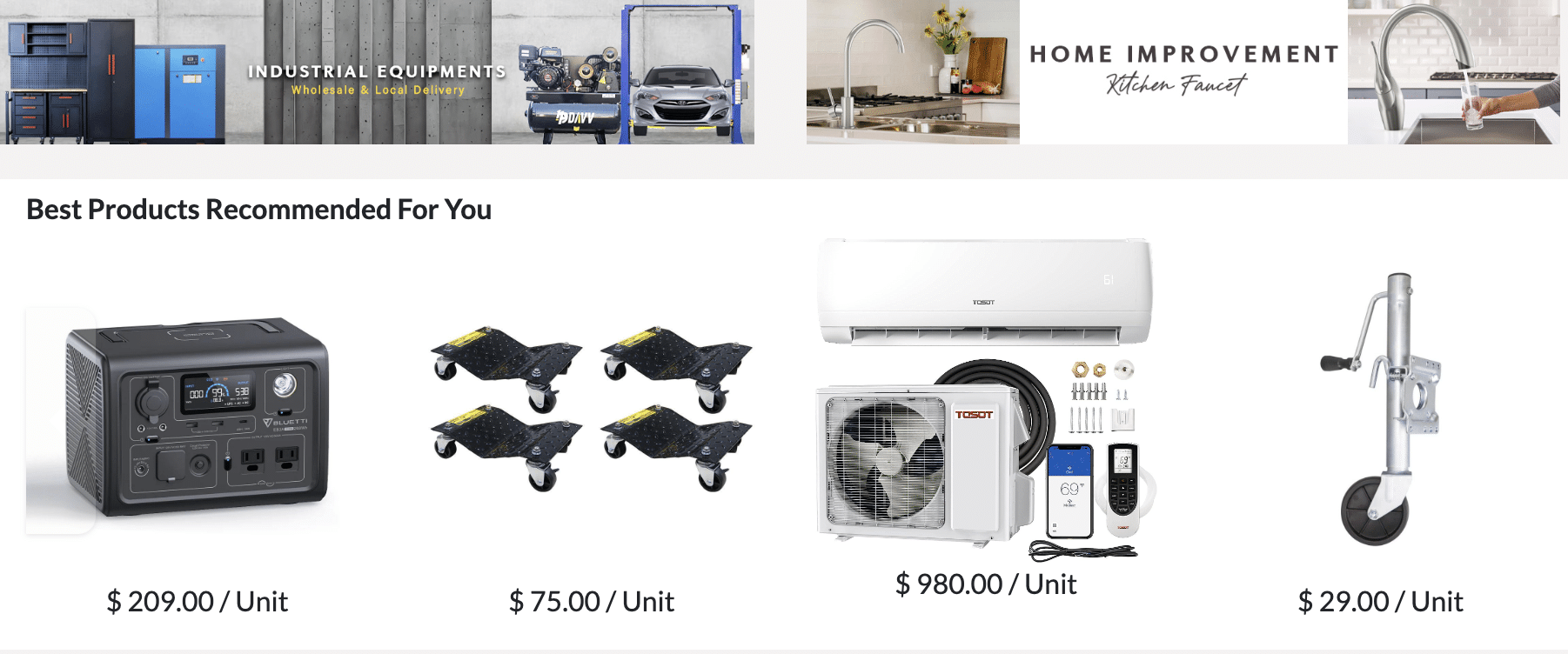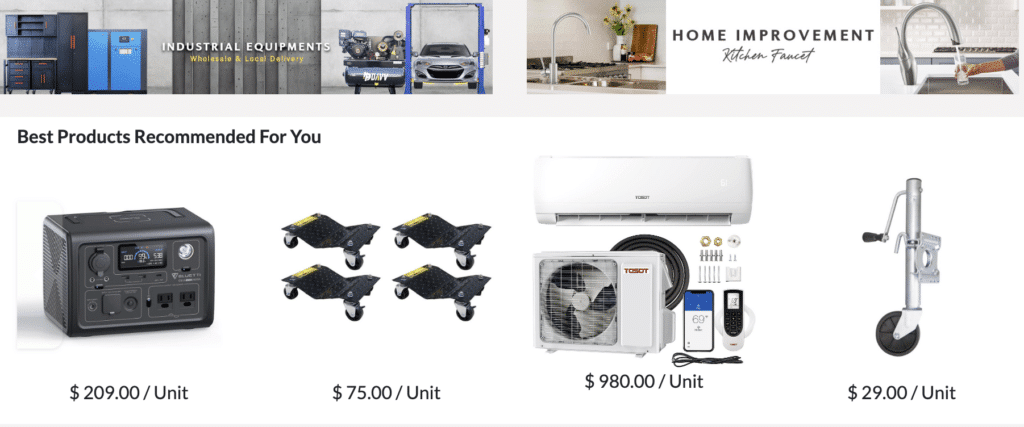 ---
Bwanaz is an online wholesale marketplace that connects resellers with verified suppliers from the United States. The company extends a three-month trial period of its premium membership at no cost, granting access to the best bargains and discounts on a wide selection of wholesale goods. Furthermore, a no-fee membership option permits users to peruse the product and supplier directories. For dropshipping vendors seeking profitable opportunities, the product recommendations section is a valuable resource for discovering items with high-profit potential.
Bwanaz boasts an extensive selection of merchandise spanning more than 5,000 categories. This includes apparel and accessories, items related to arts and entertainment, and products for business and industrial needs. The range further extends to cameras and optics, a variety of electronics, and furniture. They also stock hardware, as well as luggage and bags. Office supplies are readily available, along with vehicles and parts for those with automotive needs.
Key features retailers should know about Bwanaz
Free trial and memberships: Offers a free membership program. You only have to create your account, and you're good to go.
Flexible return policy: Most products purchased from Bwanaz.com, as well as items bought through Warehouse Deals, can typically be returned within a 14-day period following the receipt of the shipment. However, certain items may be subject to alternative return policies or conditions.
Fast and easy shipping: Bwanaz.com provides various shipping and delivery alternatives for purchasers, ranging from local pickup in Southern California to standard US shipping across the contiguous 48 states. Additionally, they also offer free shipping options.
4. Costco Wholesale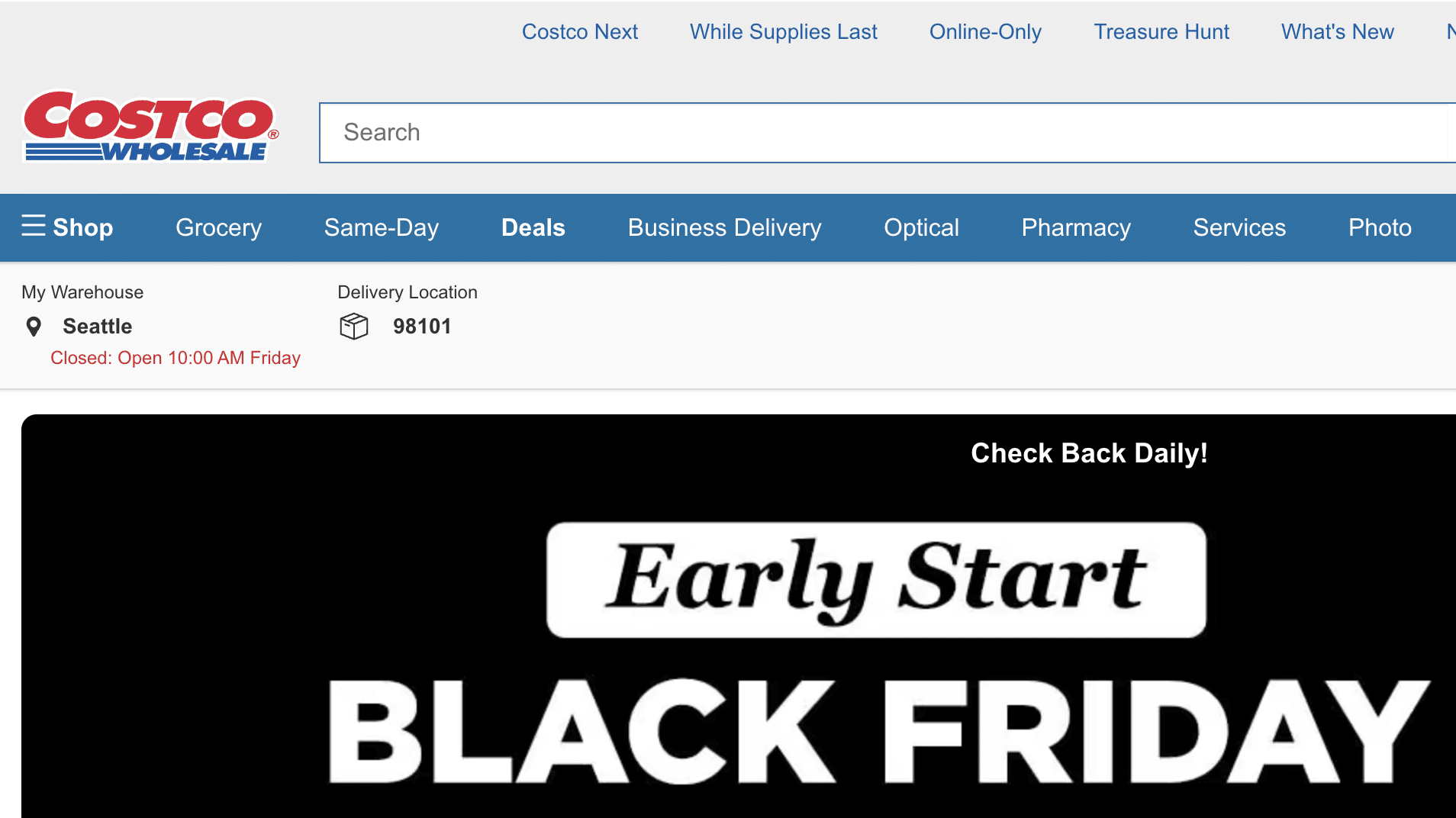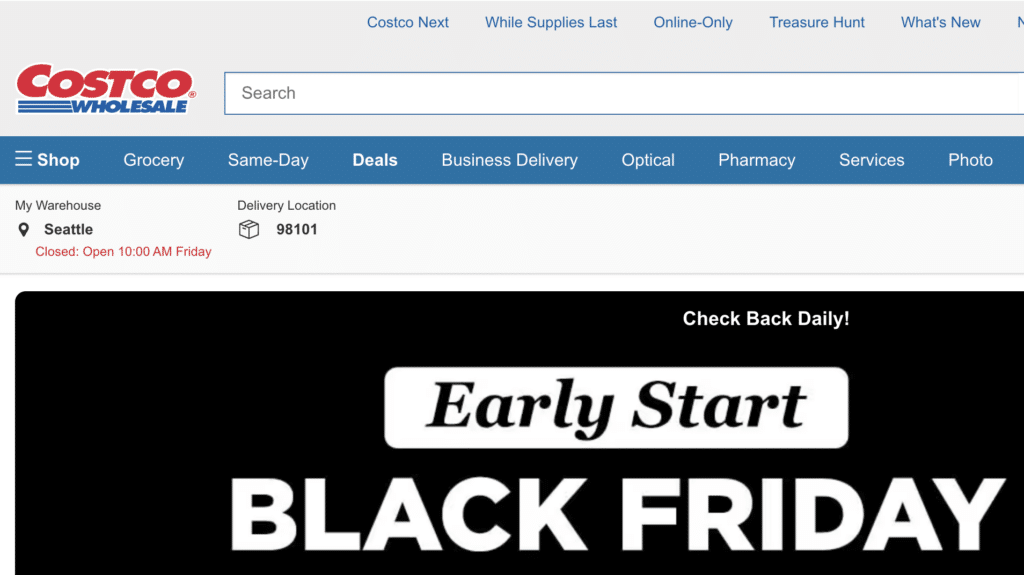 ---
One of the best wholesale suppliers for resellers is Costco Wholesale. With its wide range of products at wholesale prices, Costco offers excellent opportunities for resellers looking to source inventory. Costco wholesale offers a wide range of product categories, including groceries, household essentials, health and beauty products, home goods, seasonal and holiday items, office supplies, outdoor/sporting goods, auto parts and accessories, toys, and books.
Key features of Costco Wholesale for resellers
Again, there are a few things that make Costco Wholesale a great option for resellers:
Membership-based model: Costco's membership model ensures that resellers can enjoy exclusive benefits, including access to special pricing, events, and services tailored for business owners.
Bulk purchasing: The bulk purchase options available at Costco allow resellers to stock up on high-demand items, ensuring they can meet customer needs without frequent restocking, thus saving time and logistics costs.
Competitive pricing: Due to its large volume purchasing and efficient supply chain management, Costco can offer products at highly competitive prices, allowing resellers to maintain a competitive edge in the retail market.
Kirkland Signature brand: Costco's private label, Kirkland Signature, offers resellers the opportunity to provide quality products at reduced prices. These products often match or exceed the quality of national brands and generate strong customer loyalty.
Online shopping and delivery: Costco's online portal extends convenience to resellers who may not have the time to shop in-store. With features such as scheduled delivery and business-friendly shipping options, resellers can manage inventory efficiently.
Return policy: Costco accepts returns within 90 days for televisions, projectors, major appliances, etc. However, the company does not accept returns on cigarettes or alcohol where prohibited by law.
5. S&S Activewear


---
One of the best wholesale suppliers for resellers is S&S Activewear. Known for its wide selection of quality basics and customization options, S&S Activewear provides resellers access to top brands and products at wholesale prices. S&S Activewear offers a wide range of activewear products (t-shirts, long-sleeve shirts, sweatshirts, hoodies, jackets, shorts, sports bras, yoga pants, etc) for men, women, and children.
Key features retailers should know about Wholesale Central
S&S Activewear is one of the best wholesale suppliers for resellers for many reasons:
Wide selection of high-quality products: S&S Activewear offers a wide selection of high-quality products from over 60 top brands. This gives resellers confidence that they are selling their customers high-quality products that they will love.
Competitive prices: S&S Activewear offers competitive prices on all of its products. This allows resellers to make a profit when they resell the products.
Fast shipping: S&S Activewear offers fast shipping on all orders. This is important for resellers who need to quickly get products to their customers.
Drop shipping services: S&S Activewear offers drop shipping services to its resellers. This means that resellers can sell S&S Activewear products without carrying any inventory.
Quality brands: Resellers can choose from various reputable brands under the S&S Activewear umbrella, such as Adidas, Champion, Bella + Canvas, and Gildan. This enables retail business owners to offer products recognized for their quality and durability, appealing to brand-conscious consumers.
6. DollarDays
---
DollarDays is a leading online wholesale supplier in the United States, offering over 10,000 different items ranging from dollar store-type products to general merchandise. What's unique about DollarDays is how they've organized their inventory into different sections across the US. This means you can find what you need close to you, saving you money on shipping.
Resellers can diversify their inventory by purchasing from DollarDays's wide product range. They can explore options for infants and children, ensuring young families can access necessary items. Additionally, there are numerous products for enhancing home and garden spaces. For educational and professional needs, an array of school and office supplies is offered to suit any organizational demand.
Seasonal and holiday items are available to capitalize on festive periods. Creative minds can find many items in the arts and crafts section, which provides materials for various projects and activities. Moreover, pet owners can find a selection of pet supplies to keep furry friends happy and healthy.
They ship to 48 states within the US through well-known courier companies like FedEx and UPS. Plus, they offer a 14-day return policy on all purchases, giving you peace of mind when you shop with them.
Key features retailers should know about DollarDays
Dollar Days offers resellers a few unique selling points for their wholesale business:
Wide selection: DollarDays offers over 70,000 products, so resellers can find everything they need in one place.
No minimum order quantity: DollarDays does not require a minimum order quantity, so resellers can order as much or as little as they need. DollarDays can customize your order to fit any budget.
14-day return policy: DollarDays has a 14-day return policy so that retail business owners can return unsatisfied products.
Promotional discount: From time to time, they may offer qualified consumers "promotional codes," "gift codes," or "offer codes" through a variety of promotional activities.
7. Alanic Clothing
---
Alanic Clothing is a leading wholesale clothing manufacturer and supplier in the UK, USA, Australia, Canada, and New Zealand. Alanic has a unique selection of clothes like t-shirts, leggings, jeans, and sportswear for all – men, women, and kids – that come in many sizes and colors. You can also get clothes made with your own brand on them. Every week, they have short-time big sales and lower prices for resellers who buy in bulk.
Key features retailers should know about Alanic Clothing
14-day return policy from delivery: Alanic will exchange the item or refund the amount of the item, less the original shipping costs.
Accepts different payment methods: Alanic Wholesale accepts all types of payment methods: Credit and debit cards, wire transfers, PayPal, pre-paid gift cards.
Fast shipping: Urgent delivery and very urgent delivery status options. The majority of orders are delivered within 5 working days for Eastern States.
How To Find Wholesale Suppliers for a Retail Business
Finding reliable suppliers is a critical step for the success of any retail business. Here is a structured approach to help you find suppliers:
1. Define your needs
Product needs: Know the products you want to sell, including quality, quantity, and variety.
Price points: Understand your pricing structure and how that affects your choice of suppliers.
Delivery schedules: Be clear on how often you need your products delivered.
Values and standards: Consider if you require suppliers that align with certain ethical, environmental, or industry standards.
2. Research suppliers
Trade shows: Attend industry-specific trade shows where multiple suppliers showcase their products.
Wholesale directories: Utilize directories like ThomasNet, Kompass, or Alibaba to find suppliers worldwide.
Online marketplaces: Platforms like Alibaba, Global Sources, and Made-in-China.com are good for finding overseas suppliers.
Local sources: Explore local trade magazines, chambers of commerce, and business networks.
3. Evaluate supplier performance
Reputation: Check reviews, testimonials, and business bureau ratings.
Experience: Look for suppliers with a solid track record in your industry.
Financial stability: Ensure they have a strong financial foundation to withstand supply chain disruptions.
Location: Consider the supplier's location concerning your business for shipping costs and times.
Production capabilities: Ensure they can meet your demand without compromising on quality.
4. Contact potential suppliers
Request information: Ask for their product catalogs, wholesale price lists, and minimum order requirements.
Sample products: Order samples to assess quality firsthand.
Ask questions: Inquire about their production capacities, lead times, payment terms, and return policies.
5. Negotiate terms
Pricing: Negotiate pricing based on volume, payment terms, and long-term relationship potential.
Delivery: Work out delivery schedules that match your inventory turnover.
Exclusivity: Discuss exclusivity terms if you want to be the only retailer carrying their products in a certain area.
Payment terms: Clarify payment methods, credit terms, and any available discounts for early payment.
6. Build relationships
Communication: Establish clear and regular communication channels.
Partnership: View your suppliers as partners in your business, not just vendors.
Feedback loop: Provide feedback on their products and services and be open to receiving suggestions.
POS Software for Handling Suppliers' Ordering And Inventory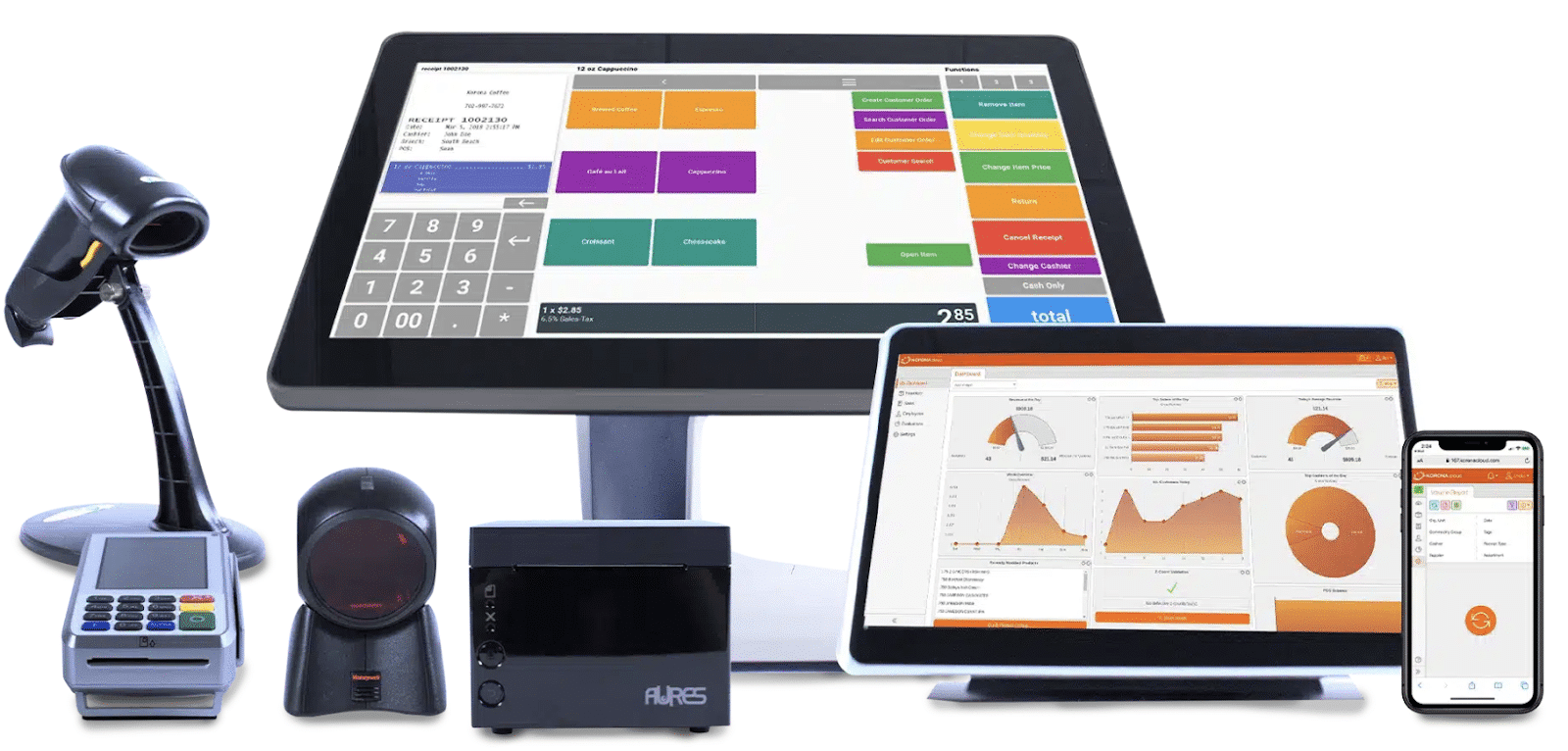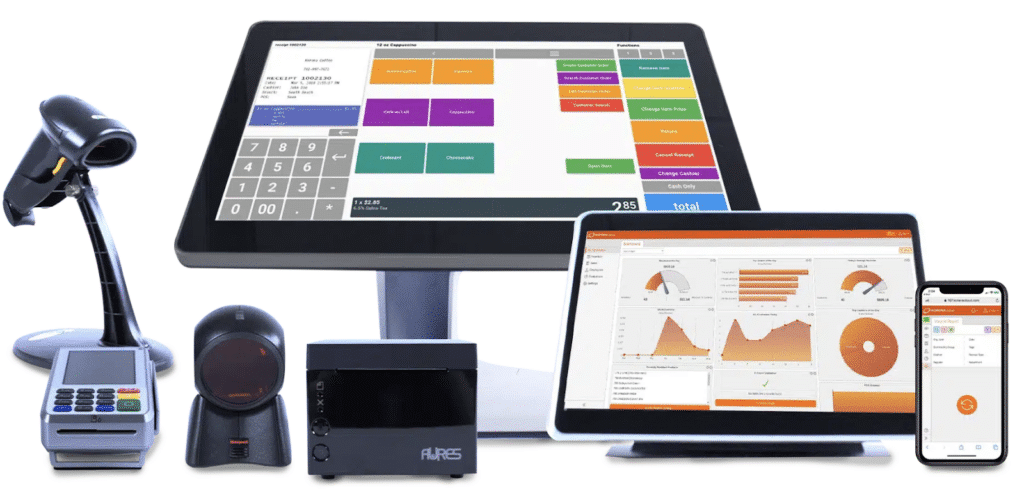 ---
Having the right inventory management software is crucial for retailers to efficiently handle suppliers ordering and inventory. A sound system will integrate purchasing, receiving, and inventory tracking in one place to provide real-time visibility into stock levels. The software can automatically generate purchase orders to replenish stock as orders come in.
It will also sync with the POS to update inventory counts as items are sold. Features like low-stock alerts can notify managers when to reorder items from suppliers. Overall, the right technology removes many manual processes and gives retailers the data to optimize ordering and ensure shelves are properly stocked.
One software that excels at managing store inventory is KORONA POS. This system makes tracking shipping easy and enables auto-ordering from suppliers when stock gets low. You'll get notifications when items need to be reordered. The software also provides tools for labeling, pricing, and organizing your products.
Whether you run a small or large shop, KORONA POS gives you the visibility and control you need over your inventory. Book a meeting today to learn how this solution can help streamline your inventory management and ordering processes. Click below to get started!