When you plan to start your boutique, you should also ask yourself, "where do online boutiques get their clothes?". Unless you plan to make your inventory, you will need to source your store inventory from wholesalers and other designers. Thrift stores, however, operate differently. Thrift store suppliers include online thrift store suppliers, community donations, swap meets, niche communities, estate sales, garage sales, etc. These types of suppliers are not the usual sources that ordinary boutiques turn to for their clothing needs. There are many places where boutique owners can purchase clothing. Read on to discover other ways or sources to stock your clothing store.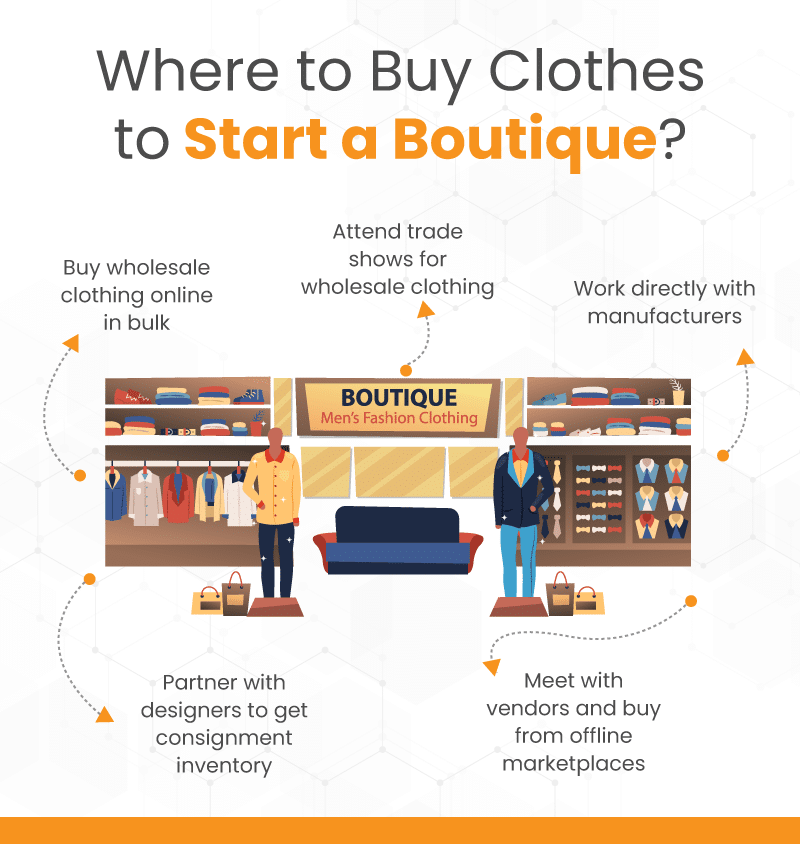 Where To Buy Clothes To Start a Boutique: Work With Manufacturers
Another way to source inventory for your boutique is to work directly with the manufacturers. It is possible to either buy pre-made products directly from them, cutting out the wholesaler middleman, or to order custom inventory for your online store. 
The first advantage of not going through the intermediary of the wholesaler is to reduce the costs of acquiring inventory. In addition, working with a manufacturer to produce custom products will allow you to have a unique stock that no one else offers.
However, it should be noted that this option is not without its drawbacks. You will have to budget for design and sampling costs if you order custom products. In case you find products you like in other online stores, look for the manufacturer or brand name in the product description. Then research the brand and contact them directly to see if they offer wholesale pricing.
Replenish Your Clothing Store With Consignment Inventory
If you don't have enough money to stock up on inventory, you can always fill your store through the consignment model. Consignment inventory is available at the retailer, also known as a consignee, but is still owned by the supplier or consignee. In other words, you will partner with designers, collectors, or manufacturers to have their items stocked in your store. You will sell these items at a slightly higher price and pay a portion of the sales profits to the consignor. Curious to learn more about how consignment inventory works? Check out our blog here.
Buy Wholesale For Your Boutique From The Offline Apparel And Gift Markets
Marketplaces allow you to meet the vendors directly, see the quality, touch and smell the products and get inspired. Below are some major offline wholesale markets:
AmericasMart Atlanta – This marketplace touts itself as the world's largest collection of wholesale gift, home decor, and apparel showrooms. It has both permanent showrooms and rotating specialty markets. Showrooms are rooms where the showroom owner brings together more than three brands to show you in one place. The showroom typically features similarly priced brands and focuses on the customer demographic.
Dallas Market Center – Another great market with permanent showrooms and rotating specialty markets. Aside from clothing and accessories, you can find housewares, gifts, jewelry, and children's items. 
In addition, some markets offer you the option of buying on the spot and taking the merchandise home the same day. If this option works for you, you can try it out. For example, Atlanta Apparel offers the Cash & Carry option. Atlanta Apparel showrooms offer both immediate cash & carry options and the ability to write bulk orders to meet buyers' delivery needs.
Handling Your Boutique Inventory: How Will You Go About It?
Sourcing inventory is only half the work that needs to be done before opening a store. Once you have the clothes to sell, you need to keep track of the items, so you don't run out of them. The first thing to do to manage your boutique's inventory better is to opt for a point of sale software tailored to your business. Your boutique or thrift store point of sale software will enable you to accept payments through your online or physical store and help you keep track of your inventory. You need to create a labeling system for your bins and items. Add SKUs to your point of sale software and add these labels to your inventory to make them easy to find. If you are looking for inventory management software for your store, click on the button below.
Where To Buy Clothes To Start a Boutique: Conclusion
There are several shopping places to buy apparel to open a boutique. These places include wholesale clothing websites, manufacturers, offline clothing vendors, trade shows, and independent designers. These channels can help you stock your store, whether online or brick-and-mortar.