One of the biggest challenges for retailers is the price associated with inventory. Merchandise can sometimes be overstocked or languish on the retailer's shelves for weeks without a single sale being made. This is when the stock investment becomes a financial loss, and the retailer must do something about it.
However, there is an alternative available to the retailer to minimize the risk of financial loss: consignment. Consignment is an arrangement in which goods are left in possession of a third-party authorized to sell them. The products or items in question are called consignment inventory.
A consignment inventory works similarly to how a traditional retail business operates. But instead of the retailer buying the stock from a supplier and then selling the stock at a price they choose, the retailer sells the stock at a higher price and pays the supplier a portion of the profits.
In this way, the retailer sells the products without fear that they will deteriorate or be rendered ineffective by a competitor. After all, they didn't have to invest capital in purchasing the products. However, holding even consigned stock is not without costs. Read on to learn about best practices for managing consignment inventory and what is a consignment contract.
Table of contents
1. What Is Consignment Inventory?
Simply put, consignment inventory is stock on-hand with the retailer, also called consignee, but still owned by the supplier or consignor. Consignment inventory is held in warehouses solely for inventory owned by the supplier and intended to be sold by the retailer.
Let's say a company has just launched a new line of beauty care products. You may strike a consignment partnership with this company/supplier as a retailer to build more exposure of the products to your customers.
In other words, you will take the company's beauty care products to sell in your store. Once in your store, you will increase the price of the items by 25- 40% a suggested cost from the consignor. This extra margin is the profit you will make on each sale. If the products do not sell as expected, you must return the products to the company after a certain period agreed upon with the supplier. Depending on the terms of the contract, the shipping costs of the products can be charged to the retailer or shared by both parties.
2. Vendor-Managed Inventory vs. Consignment Inventory
Vendor-managed inventory (VMI) and consignment inventory are two closely related terms, but they have differences. With VMI, the supplier manages and controls the inventory, determines how much stock the customer needs, and ensures that the supplier has the required items when its stock is depleted. With consignment inventory, however, the retailer remains responsible for maintaining an appropriate inventory level for their business.
3. The Advantages & Disadvantages Of Consignment Inventory For Retailers?
Pros of consignment stock for consignees
Consignees are retailers or companies that take on the responsibility of selling inventory on consignment on behalf of a manufacturer or supplier. This means that individuals, corporations, and businesses can be consignees. The consignment inventory model can benefit them in several ways:
Broader selection of products 
In taking consignment stock, a retailer typically requests the product in bulk and places it in their store. This allows the retailer to choose from a wide variety of consignment products from their suppliers and select them based on their customer base, location, and market.
The main benefit of consignment inventory is that it reduces the financial risk for retailers. Since retailers don't have to pay for products until they are sold, they don't have to worry about tying up or losing capital on inventory costs. Plus, you don't have to worry about disposing of excess inventory. If the retailer does not sell any products, they can return them to the supplier.
Reinforced relationships with suppliers
By agreeing to take on most of a product's inventory, the retailer is taking on a fairly large financial risk. The more they market and promote consignment products, the more they build a relationship with their suppliers with the same goal. This is important because they are more likely to be loyal to their supplier.
Cons of consignment stock for consignees
Retailers may incur higher carrying costs for consigned inventory. This is because the consignor generally sets its own prices. The retailer must cover their own costs, including labor and additional shipping or handling costs. In order to sell the items at a higher price than the consignor suggests, retailers may also have to charge a higher margin.
More complex inventory management
One of the problems that consignment stores may need help with is inventory management. Consigned merchandise must be tracked separately from non-consigned items. And since they don't come with any upfront supply costs, tracking your margins and profits can be trickier. Not to mention that keeping goods in your store or warehouse carries risk, and you'll have to pay for any damaged items.
Retailers may also need to keep track of the consignor's inventory and make payments on time. All of this can require additional time and resources. And speaking of resources, using a retail inventory management system is essential for better consignment inventory management. The point of sale software must have robust inventory management features. So be mindful of the type of point of sale system you choose.
4. The Advantages & Disadvantages of Consignment Inventory for Consignors?
As mentioned earlier, consignors are manufacturers, wholesalers, or suppliers of goods. Like the consignee, the consignor also enjoys certain benefits of consignment inventory. These benefits include the following:
Pros of consignment stock for consignors
Eliminating inventory holding costs
Carrying costs are the money and inventory costs that a company spends when it holds a certain amount of inventory. In short, it is the cost of storing, owning, or maintaining an inventory of goods. Since shippers/suppliers transfer ownership and do not have to hold the inventory on consignment, they can incur minimal or no holding costs. This gives them more money to spend on other business expenses.
Consignment stocks allow suppliers to introduce their products to new audiences. Consignors can take advantage of consignment inventory to gauge interest in their products before committing to stock a large quantity. When a retailer accepts consignment stock, they typically hold a large percentage of that stock. The consignor can take advantage of this opportunity to showcase smaller-scale products to the public while on consignment. In this way, they can test the demand for any product.
Reducing costs and eliminating inventory is an essential benefit of a consignment inventory model. But it also means streamlining the supply chain. Consignment inventory can help suppliers, manufacturers, and wholesalers avoid the costs associated with storage. Creating a supply chain without excessive costs and space makes the entire consignment process more efficient.
Strong relationships with retailers
As long as a retailer is willing to take on most of the inventory for a product, the consignor is taking on a fairly large risk. This means they are more likely to be loyal to their consignor. Knowing that a retailer's success may very well depend on their supplier, a consignor must satisfy their retailer to ensure that they have no intention of changing consignors.
Cons of consignment stock for consignors
High initial investment with no guarantee of sale
Consignment inventory can involve an upfront cost for packaging, shipping, and other costs associated with placing the inventory in the store. If the inventory does not sell, these costs will not be recouped and may prevent consignors from seeing a return on their investment.
When consigning inventory to a retailer, the consignor may not receive full payment until after purchasing the inventory. This can jeopardize the consignor's revenue, depending on the agreement's payment terms. Consignors may face a cash flow problem (especially those who are smaller or just starting out), so consigning inventory may not be the best option for them.
5. What Should a Consignment Stock Agreement Contain?
A consignment contract, or consignment agreement, is a legal document defining the terms of the agreement between the consignee and the consignor concerning the consigned goods. The details of your agreement will depend on your situation, but you generally want to cover the following items in the contract:
Right to sell

– The "right to sell" section simply formalizes the agreement. It should state that the consignor formally authorizes the consignee to display and sell items in their retail store.

Time Limit

– The time limit indicates a time frame in which the items must be sold. If the products are not sold by the specified date, they must be returned to the consignor.

Insurance

– Describe the implications of purchasing insurance for the products. 

Policies

– Define the shipping and return policy

Transactions

– How will the transactions be processed?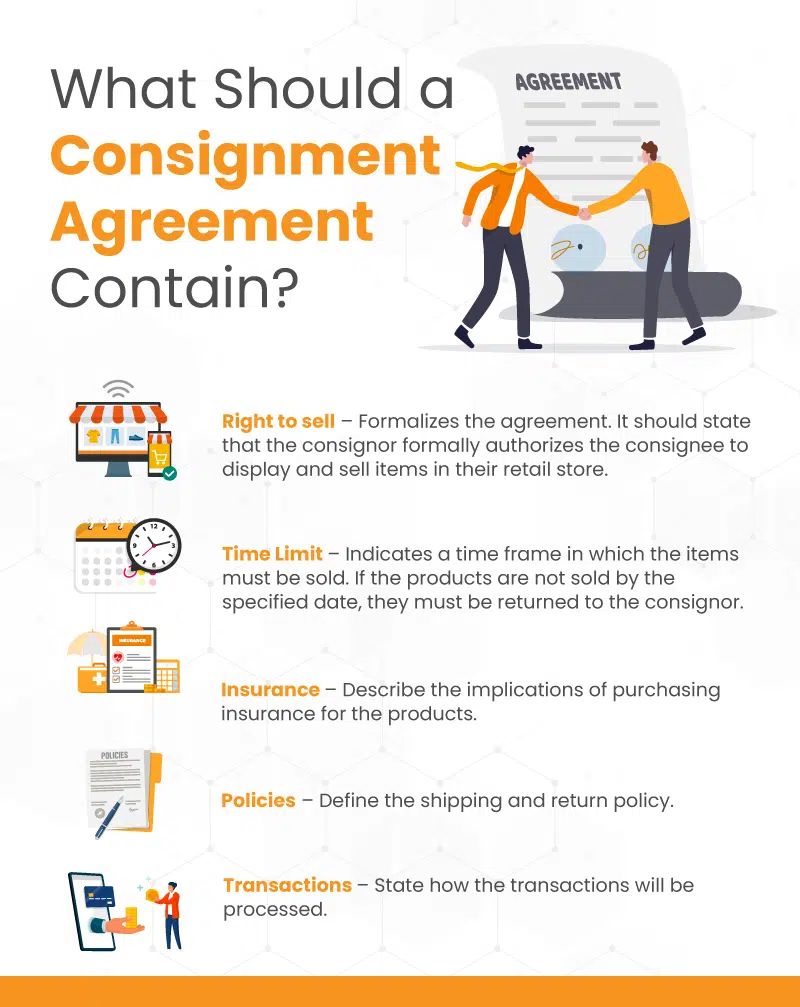 6. How To Manage Consignment Inventory
Once you have signed your agreement and are ready to sell consigned products in your retail store, it is vital to have an inventory control strategy in place when selling consigned products. Below are some best practices for managing consignment inventory.
Learn more about your product
First and foremost, you must know what your product is as a retailer. Different customers prefer many different types of products and merchandise. Knowing this will help you understand what styles and items are currently in demand. Knowing the type of products your customers want will depend on the data you have available to you. Having the right point of sale software is therefore crucial. It's also essential in a consignment model to know the durability, quality, and market value of your product before you make any sales.
Do not consign too many products as a consignor
As a consignor/supplier, it is imperative to monitor and manage the supply of your consignment inventory. You must supply only what is needed and in the right quantity. It is best to have a comprehensive production plan to help you determine how much supply is needed to achieve this. This will help you avoid overstocking your warehouse and save you unnecessary financial burdens.
Leverage inventory management software
To maintain control over consignment inventory, the best solution is to automate your accounting and inventory systems. Instead of using spreadsheets or pen and paper to track and manage your inventory, adopt cloud-based inventory management software that streamlines data entry, tracking, and reporting. When it comes to managing your sales and inventory, KORONA offers robust tools to help you sell and manage your products. KORONA POS lets you know which items are selling best, how profitable they are, and which products are underperforming. 
FAQs: What Are Alcohol Control States?
1. How do you handle consignment inventory?
– Invest in automatic replenishment tools.
– Consider inventory turnover rates.
– Target the right mix of products for consignment inventory.
– Make sure you have a contract that is mutually acceptable to both parties. 
2. Do I include consignment in my own inventory?
Consignment items should generally be included in the consignor's inventory rather than the consignee's inventory. However, it is a good idea to check with your accountant or bookkeeper if you are unsure.
3. How do I price consignment items?
The price of consigned items is typically 25 to 40 percent above the purchase cost. This extra margin is the consignee's profit. Without it, the consignee would have no incentive to sell the goods. Consignors are encouraged to price the goods for sale, meaning their profit margin should not be so high that it deters consumers from buying the product. Consignment pricing requires a little finesse and a good understanding of your customers. If your price is too high, you may not sell your products. 
4. What is an example of a consignment?
A retailer may strike a consignment agreement with a clothing fashion designer and agree to sell the designer's clothing in-store. The retailer will only pay for the goods sold, with the designer owning the rest.