The world has changed a whole lot in 2020. And businesses have had to adjust. Widespread closures, limited capacities, new sanitation regulations, and different staffing protocols are just a few of the things that brick and mortar businesses have had to deal with in recent months. These changes will likely last for at least the next year, if not longer.
Ticketing businesses, like museums, water parks, amusement parks, and event centers are some of the last places to open back up as the COVID pandemic subsides. These business verticals face unique challenges in reopening given the typical crowd size and proximity. But there are some ways to make reopening easier. Timed ticketing is another tool that can help your event management run more efficiently. There are some easy benefits of timed ticketing that we'll cover so you can be more prepared to reopen.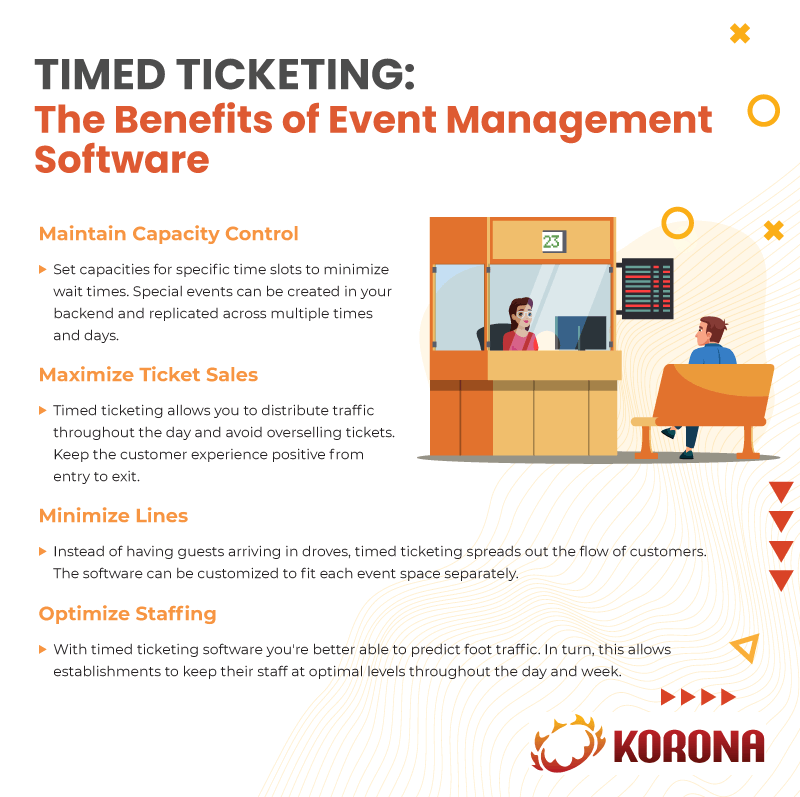 What Is Timed Ticketing?
Timed ticketing is software built into your ticketing system and event management that helps control the capacity and flow of patrons. Museums, theme parks, and event centers can organize tickets into more specific categories with set times of entry.
Not only does timed ticketing help prevent the spread of any virus in your space, but it also improves the overall customer experience. You're better able to staff appropriately and keep your lines and ticket sales moving quickly. With a great solution, it's a system that's seamless for both you and your visitors to use.
1. Capacity Control Throughout the Day
You're able to set specific ticket capacities for all segments of the day. This allows customers to buy tickets for specific time slots. Once at capacity, they are no longer available for sale. As a result, the shopping experience is made easier, wait times are minimized, and the event is more enjoyable.
Doing so in the backend of your software is easy, too. You can create one special event and then replicate the event across multiple time slots. You can also add custom messages to the event to show shoppers when certain slots are filling up quickly.
Through your event management software, such real-time calendars help you better manage your entire business, including staffing, scheduling, and ticket sales.
2. Maximize Ticket Sales
Timed ticketing better distributes your foot traffic throughout the day. This will prevent your business from overselling tickets during peak times. Not only is overselling capacity a danger to public health, but it also diminishes the guest experience. Running a smoother operation will keep customers happy and returning often.
Plus, knowing the arrival time of each guest will prevent bottlenecks in your checkout and entry lanes. These turn away customers, discourage return visits, and reduce the number of guests that can come in your gates. More evenly distributing the flow of customers throughout the day will maximize your total ticket sales.
3. Minimize Lines and Wait Times
Again, timed ticketing keeps your lines minimized throughout the day. Instead of allowing guests to arrive at any time, timed ticketing only allows for entry at a specific time slot. This encourages guests to come at non-peak hours and spread your entries out over the course of the day.
The backend of the software allows all capacities to be customized to fit your event space accordingly. Managers can play around with different options throughout each day to find the best fit.
Shorter lines and wait times will improve the guest experience. And a limited capacity will allow your team members to spend more time with each individual guest.
4. Keep Staffing Optimal at All Times
Your event management software should also help you manage your staff. Timed ticketing means that you'll know exactly how many people are in your space at any given time. In turn, you can staff accordingly. Take the guesswork out of the equation to make the guest experience better and your team happy.
With multi-vertical management, you can do this with each part of your business operations, including ticket sales, tour guides, kiosks, QSRs, gift shops, theaters, and more.
Smart calendars allow you to also schedule staff for specific shifts or tours throughout the day, offering you a more all-in-one ticketing solution for your business.
To learn more about how KORONA can help your institution reopen and succeed down the road, set up a demo by clicking below. We'll take you through the software step-by-step so you can see each of the benefits.
Continue Learning: What Is a Queuing System? Why Your Business Needs Line Management