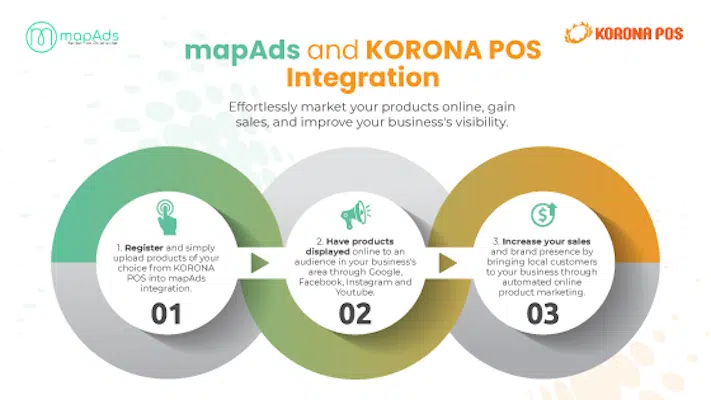 At KORONA POS, our team is always working to update and improve our software to fit the needs of our customers. Each subscription comes with automatic quarterly updates to the software that include new features and integrations. One of the latest updates is one of the most exciting: a mapAds integration.
mapAds is a solution built to help automate location-based digital ads and increase online sales. Built for many types of retailers, mapAds is a great fit for liquor shops, convenience stores, and any other business that sells to an audience making location-based search engine queries.
With your KORONA POS mapAds integration, retailers can now automatically upload their product catalog from KORONA POS to their mapAds account, making the process that much more seamless and efficient.
What Is mapAds?
mapAds was developed in Germany and is now offered in the U.S. market.
Merchants first upload their product catalog to the software. Next, you simply connect all applicable sales/promotional channels. These typically include Google, Facebook, and Instagram. Finally, let mapAds do the rest!
The software creates online listings for your products on Google so that your business appears when someone makes a relevant local query.
Better yet, it can automatically create promotional ads on Facebook, Instagram, and YouTube. mapAds automatically optimizes these ads for your audience based on their location and search queries.
How Your Business Can Benefit
As a KORONA POS user, mapAds is amazingly easy to implement into your business. In fact, the solution is entirely automated. mapAds simply takes all product data, including quantities available, pricing, and images directly through its KORONA POS API. You simply need to activate the mapAds widget in the backend of KORONA POS, and select which merchandise groups that you'd like to include.
From there, you must decide on your marketing budget. You can simply opt for mapAds to display your products on Google search results, or you can choose a monthly budget for targeted ads on Google, Facebook, Instagram, or YouTube. For the paid ads, mapAds creates posts and promotional video content and automatically chooses a local audience so your ads are only reaching the most targeted audience.
Either way, mapAds increases your brand presence across each of these channels, improving your exposure to a relevant local audience through organic SEO and paid channels.
mapAds vs. Pointy
Many businesses have been using Pointy for their local advertising. While Pointy provides a valuable service, we feel that mapAds does it better. mapAds offers true automation for the whole process, while Pointy requires that all products and relevant information are manually uploaded.
Additionally, mapAds is more cost-friendly. You only pay a small percentage of your total ad spend for the service. And it comes with no additional cost to your KORONA POS subscription. Plus, your budget can be changed on a month-to-month basis. No need to lock yourself into long contracts. Instead, change your advertising budget at any point so that it stays productive for your business.
Getting Started with mapAds and KORONA POS
To learn more about KORONA POS, click below to schedule a product demo. We'll take you through the software, including our mapAds integration so you can see how it'll look at your business.
We're excited to announce this integration and feel confident that it will help our customers grow their sales by reaching a much broader audience.