Last Updated: January 11, 2021
As most small business owners are painfully aware of, there are only so many hours each day. You probably have found yourself multi-tasking and troubleshooting various issues every single day.
While your ability to do so is part of what makes you a great SMB owner, any business owner would benefit from automating certain business operations. 80% of businesses who invest in marketing automation alone have benefitted with an increase in leads. This doesn't mean that you'll have robots stocking your shelves, but there are a surprising number of opportunities to make your business more efficient.
These days you can automate your small business by integrating software that will automatically post on your social media account, track customer loyalty rewards, send out emails, and more. It's 2021 and so many business tasks can now be automated.
Get with the trends and consider these tools to help you figure out how to automate your small businesses.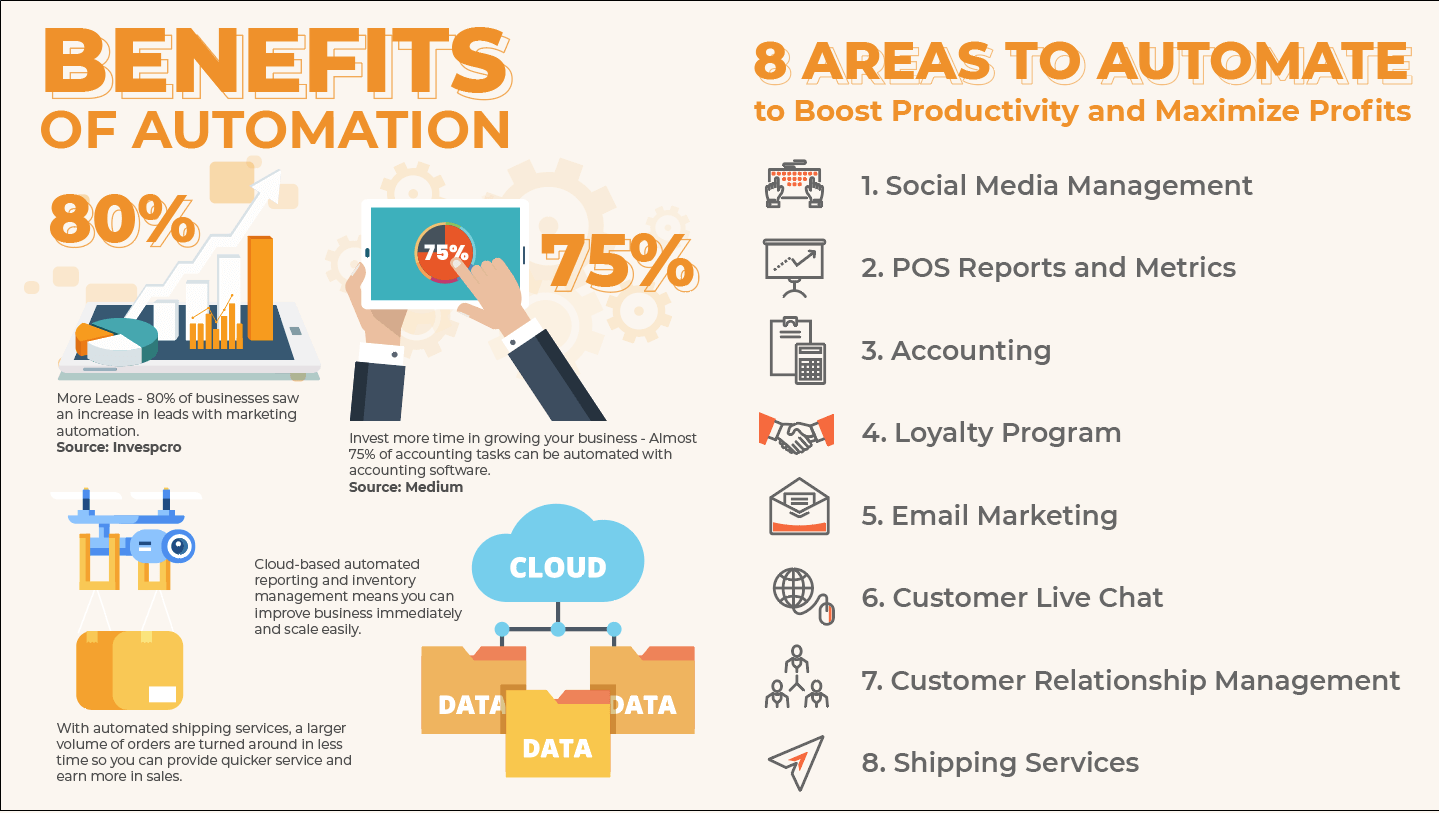 1. Use Social Media Management Software for Growth
After you manually create pages for all relevant social media platforms, the rest can pretty much be automated. There are a LOT of social media management companies that allow you to schedule your posts months ahead of time. They also offer insight into how each post performed and the engagement it garnered from users.
Social media management is an art form and data like this will help small businesses hone in on exactly what types of posts will drive the most traffic to their site. Social media management services are affordable and save business owners time by consolidating all platforms and metrics into one.
2. Take Advantage of Small Business POS Reports and Metrics
A great small business POS system is an easy place to start with a few automation tools that all SMBs should be using.
Your inventory management should be under one umbrella, whether you have one store or fifty. This is especially useful for franchises, or for small businesses that are hoping to scale. Automated inventory kept in the cloud makes opening a new location easier than ever.
Reporting important business KPIs will save you time analyzing nuanced data. Your point of sale can provide reports in seconds that detail your gross margins, average transaction value, inventory turnover, year-over-year comparisons, and much more. These provide actionable data that can help you improve business immediately.
3. Integrate Accounting Software with Task Automation
Your POS system should also integrate with accounting software, such as Quickbooks. Accounting software makes onboarding and payroll much more efficient.
It also keeps more accurate data for your business operations and taxes than a pen and paper usually does. It's easy to learn and minimizes your mistakes. This can save you costly fines and legal battles down the road.
Automated finance tools will also provide automatic invoices for your clients. Again, it saves you time while also providing professional bills and receipts for customers. Almost 75% of accounting tasks can be automated with accounting software.
4. Build an Automated Loyalty Program for Small Businesses
Keeping a digital loyalty program has become a steadily more popular solution for many small businesses. Big box retailers have robust, branded apps with loyalty programs built into the system. This may not be possible for many small to medium-sized retailers, but there are still great options available.
First, your POS system for small businesses should have a basic points system and customer relationship management included in the software. This eliminates that pesky punch card fraud problem and helps keep the forgetful customer happy.
It also makes each transaction more seamless – customers will never hold up lines while digging for that missing loyalty card in the bottom of their purse or wallet.
For more powerful loyalty programs, your point of sale must integrate with third-party software. This is useful for membership options and advanced ticketing. Check out how KORONA can help with your loyalty program.
See Also: 5 Easy and Affordable Ways for Small Businesses to Invest in Technology
5. Automate Your Email Marketing
The return on investment for email marketing is still greater than it is for most other marketing outlets. And it's easier than ever to manage.
Using your loyalty program, begin to gather customer emails. Once you have enough to start sending content, choose an email marketing management program and you're all set. They keep all personal information secure and consolidate it into various tagged groups, allowing you to target specific groups with more personalized offers.
At the very least, email marketing will increase traffic to your website or eCommerce store and boost brand visibility. At its best, it can directly lead to increased profit by converting more sales.
6. Get Customer Live Chat on Your Website
Don't burden your support team with more tedious emails that they feel like they need to respond to immediately. Instead, get a customer chat box on your website. It gives you the opportunity to immediately respond to hot leads and separates them from the thousands of emails you get every day.
It's easy to set up and also lets you monitor live action on your website in real time. Your website's FAQ will never be able to answer every question, so this is a great option to still provide quick answers to your customers (say hello to Beatrice in the bottom right corner if you want to see it for yourself!).
You can also hire live chat support for as little as a dollar per hour. This service can be useful for making sure any visitors that have a question after hours will still receive a prompt response.
7. Optimize with Customer Relationship Management (CRM) Tools
Similar to a loyalty program, CRM tracks a customer's journey from start to end. You can see how the customer initially discovered your product, what brought them to your brick and mortar store or eCommerce shop, what items were purchased, how often they shop with you, and overall profit generated from these shoppers.
CRM tools are a great way to gather overall data on your customer base so that you can tweak your marketing and merchandising.
8. Consider Shipping Automation Services
This is especially important for SMBs that have an eCommerce side of business. There are shipping automation services that allow you to print postage at home or from your office. This lets you know the price immediately and keeps you out of long lines at the post office or shipping station.
See Also: Holiday Shipping Tips for Retailers: 8 Retail Shipping Strategies
For larger operations, think about investing in automated shipping that tracks orders and inventory for you. These services can print labels in bulk, make sure orders are fulfilled, and automate processes on the customer's end by saving profiles.
How to Automate Your Small Business with KORONA POS
Make sure that you're measuring the success of any changes that you make. What works well for one business may not be as successful for another. The more you measure, the better spent your money will be.
As we mentioned in the second idea to consider, your small business point of sale can automate a lot of these things. As technology progresses, more of these processes will be integrated with each other.
KORONA POS has software designed to help our retailers automate as much as they can. And for more niche needs, our software integrates with the tools that you need to be a successful small business.
Get Started with KORONA POS today!
Tell us a little bit about your business and explore all features that KORONA POS has to offer. And there's no commitment or credit card required.