Both eCommerce and physical retail stores are growing at a steady pace. However, the eCommerce niche has taken a recent step further in light of various COVID-19 restrictions and evolving consumer behavior. According to Shopify, global eCommerce sales are expected to reach $5.5 trillion by 2022. Thus, identifying the right products to sell can be a goldmine for any eCommerce site or brick-and-mortar store.
This number is expected to grow over the next few years, proving that eCommerce is becoming an increasingly lucrative business option. Selling trendy products can be one of the best ways to attract customers to your online store and encourage them to convert.
However, the most crucial question is how to find trendy products to sell in your retail store. Check out this blog to discover some practical strategies you can use to find such products and bring in a larger audience to your eCommerce shop. Check out the following resources below to learn more about eCommerce and online marketing:
Table of Contents
Leverage The Online Products Marketplaces
For retail store owners, new trendy products are critical to success. Determining what products your customers are most looking for can increase your margins and fight off the competition. And some of the best places to find the trendiest products to sell to your customers are online product marketplaces. For merchants who offer their products directly to customers, pay special attention to eCommerce giants such as Amazon, eBay, Etsy, Alibaba, etc.
Find trending products with Amazon Suggest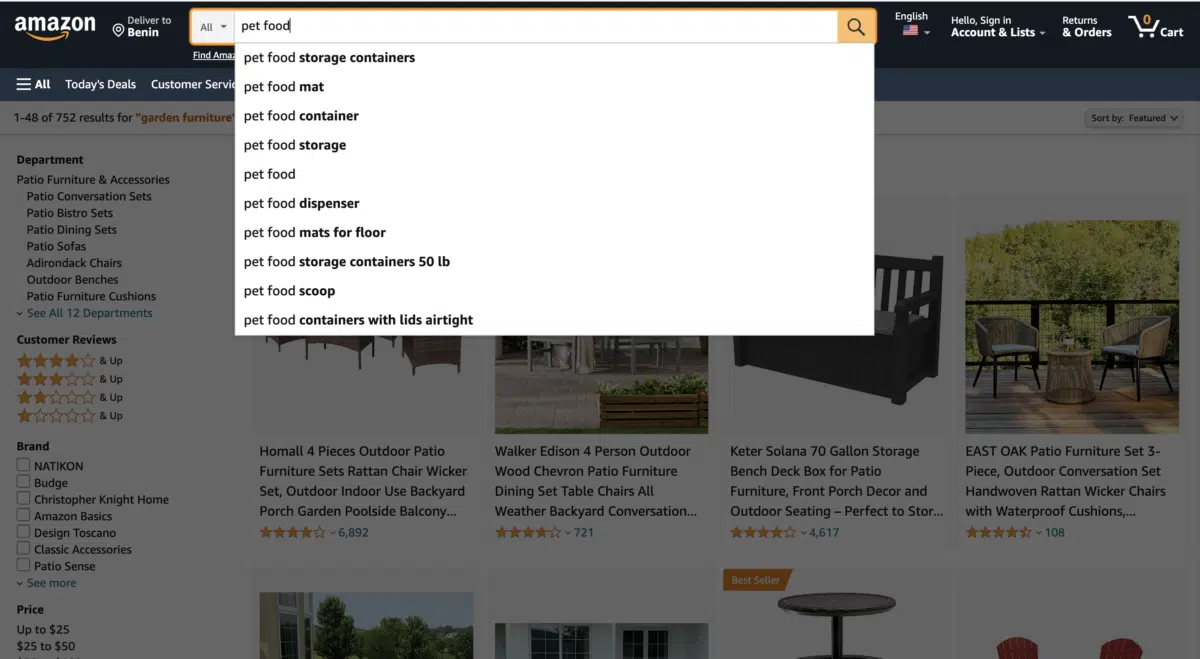 Merchants generally have two ways to discover new Amazon trending products. Amazon's Suggest feature in the marketplace search bar is one of the best ways to discover hot products and category keywords. Let's say you have a retail store that sells pet food. If you type "pet food" in the search bar, you will find associated popular products that people are currently searching for. This will allow you to create a keyword list for website optimization and find new trending products in your niche.
Find trending products with Amazon Movers and Shakers
Besides Amazon Suggest, there is another possibility to find products that interest Internet users: the Amazon Movers and Shakers section or the Amazon Best Sellers section. The Amazon Movers and Shakers section displays the most popular products for Internet users for different product categories. This section lasts and is updated every 24 hours.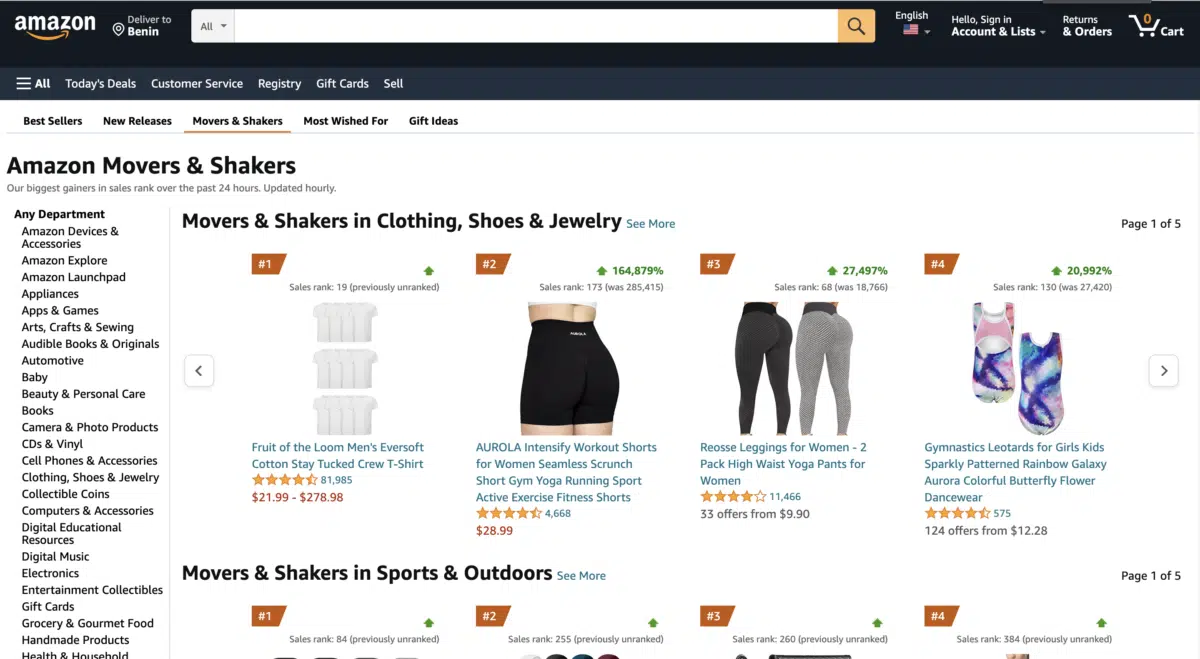 As you can see in the picture above, the list of product categories is on the left of the Amazon Movers & Shakers section. For example, you have a retail store that sells beauty products of all kinds. Click on the beauty and personal care department and see the top-ranked items in that category.
See also: Amazon Business Models Guide: 5 Ways to Sell on the Amazon eCommerce Platform
Finding trending products on eBay
As for eBay, you can also keep track of new trendy products there, too. Start a search for the best sellers on the marketplace. Bay regularly updates information on best-selling products. Search for "eBay best-selling goods" to get access to the best-selling products.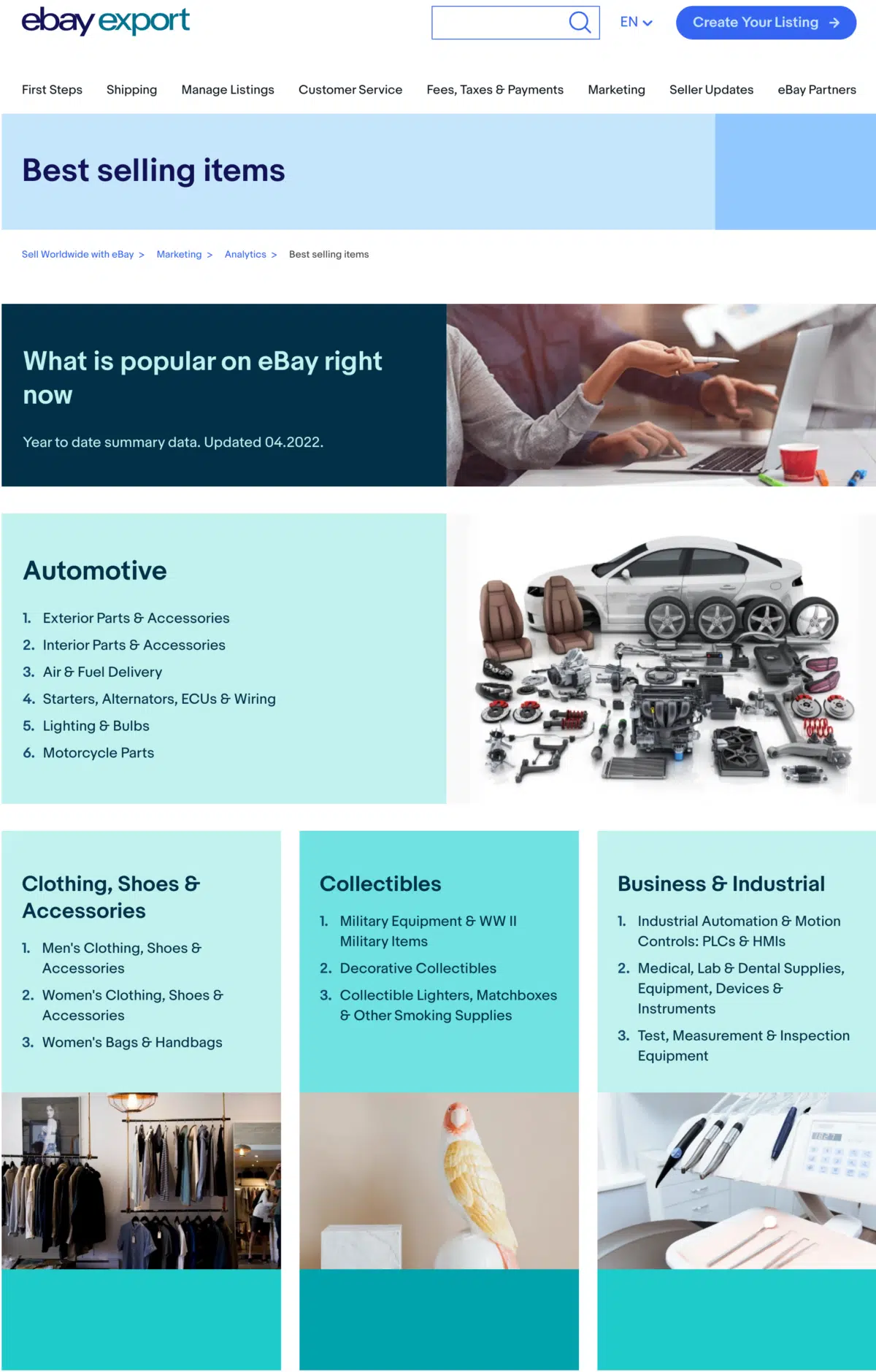 Pay attention to the special eBay Watch Count tool to find viral merchandise based on a specific keyword. For example, let's say you want to see which products related to women's bathing suits are popular in the market and selling well. Specify the keyword women's bathing suits and see all the results generated by eBay Watch Count.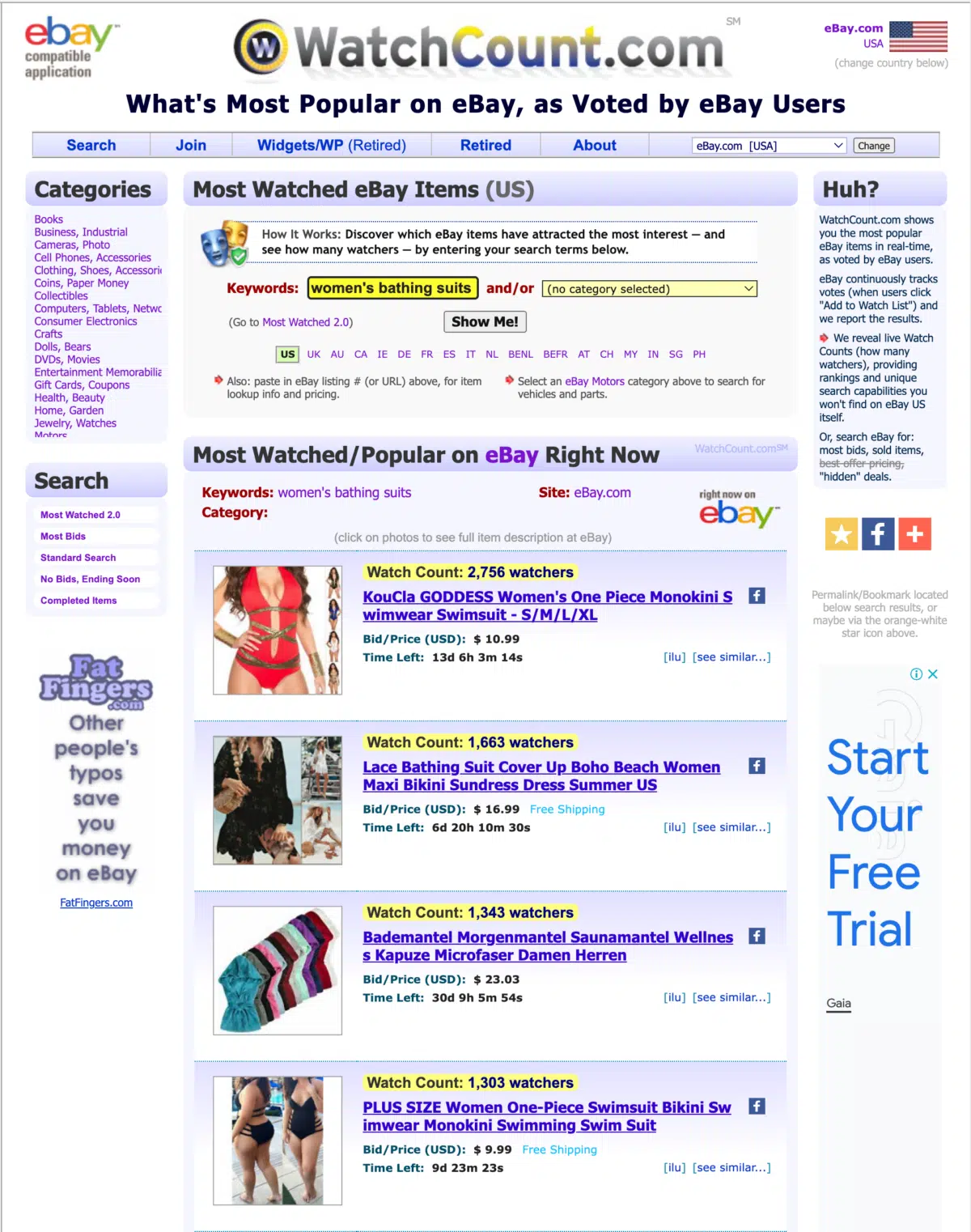 eBay Watch Count shows the number of past sales, the number of "Watchers" (users who search for the first item in the listing), and brief descriptions of the products. You can also see product prices, discounts, time remaining, and special offers.
Finding trending products on Etsy
The main advantage of the Etsy marketplace is the ability to explore unique, handmade items before they become trendy and reach the mass market. To do this, visit this leading eCommerce site and run the search by category and other criteria. Let's say you want to get information about bracelet products. First, you can see the list of sections related to the category you are interested in. If you want to explore a certain range of products, select the one you are interested in.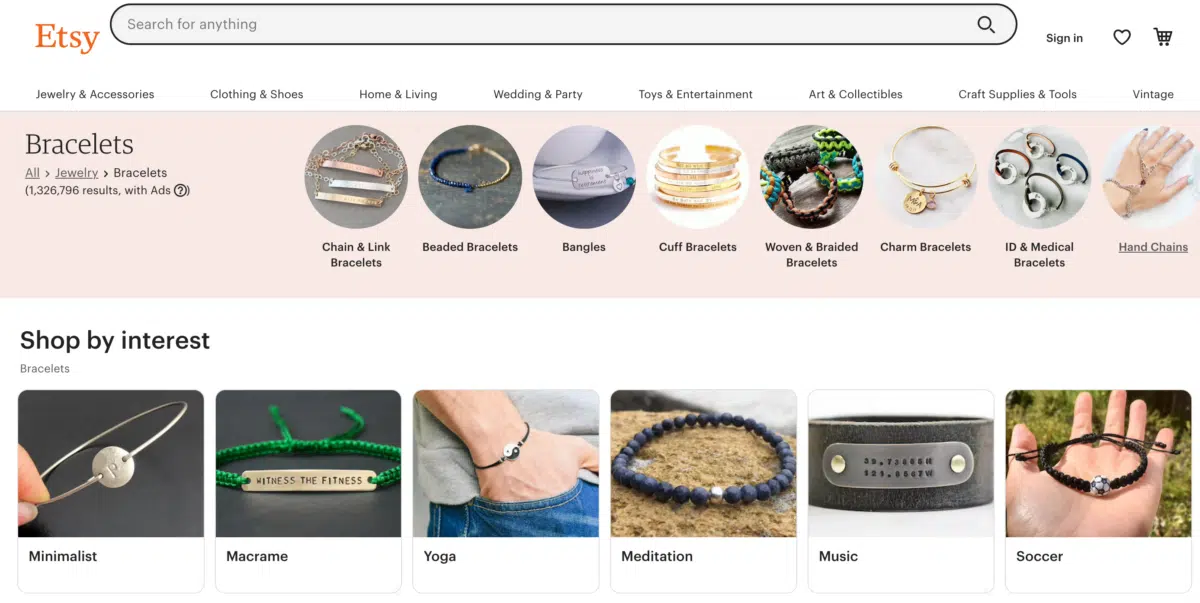 Finding trending products on Alibaba
Alibaba provides top-ranked product lists based on the buyers' demands. For example, if you are looking for in-depth information about chargers and adapters, Alibaba's list of trending items will be helpful.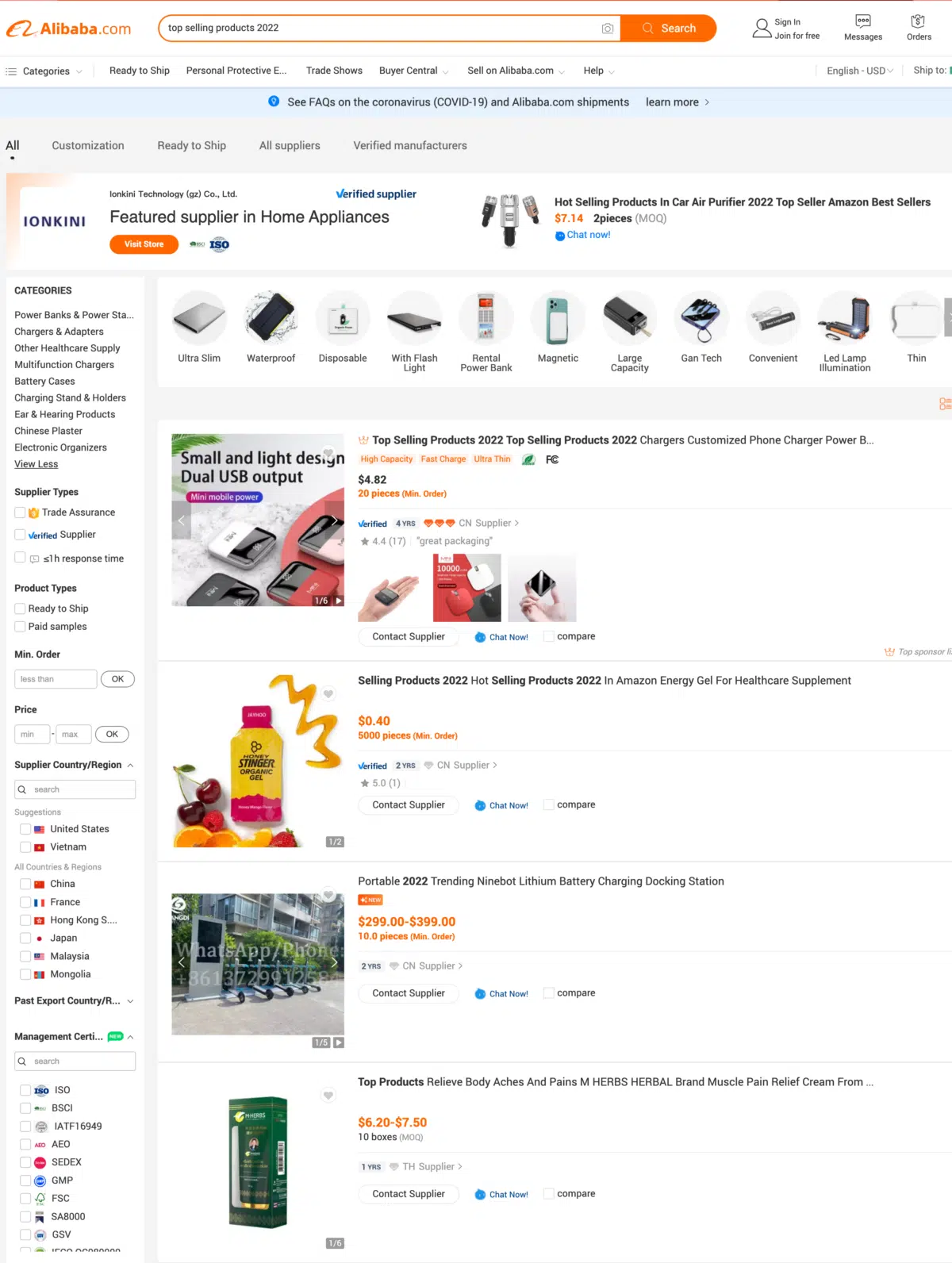 You will notice all the top-performing products on the list. There are also several product categories to your left. You can click on the product category that suits you to get an idea of which products are the most popular.
Leverage Google Trends To See Whether a Product Is Trending
Another way to discover the most popular products is to use Google Trends.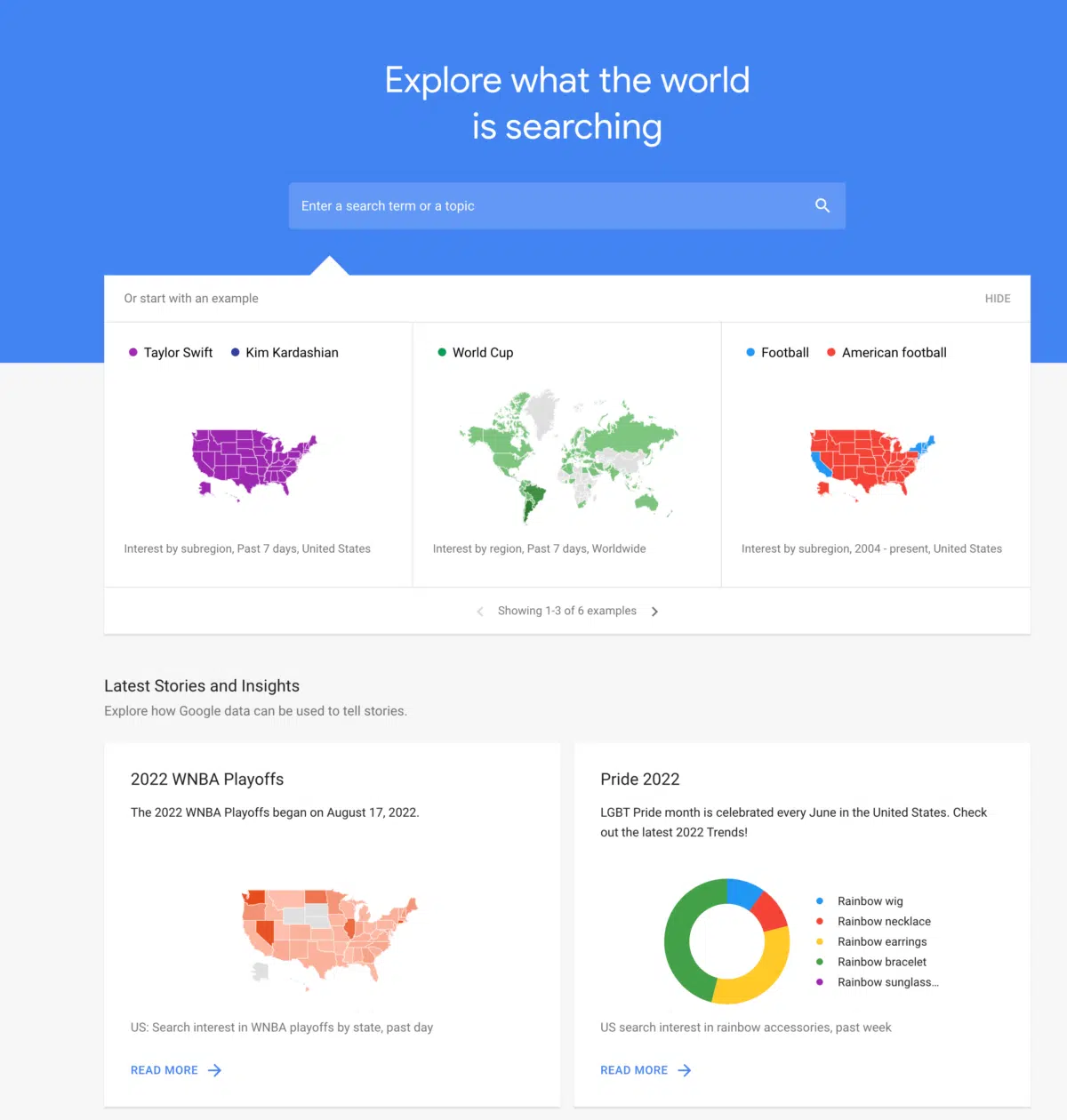 Just because everyone is searching for this product right now doesn't mean it will be in the next few months. Google Trends will allow you to check the search volume of this product over a given time to know if it is getting trending or not. Obviously, if the trend is up, it's a good sign. But you should also analyze the trend line itself. A strong upward trend can sometimes represent a fad. And by the time you get your product and add it to your site, the fad may be fading away.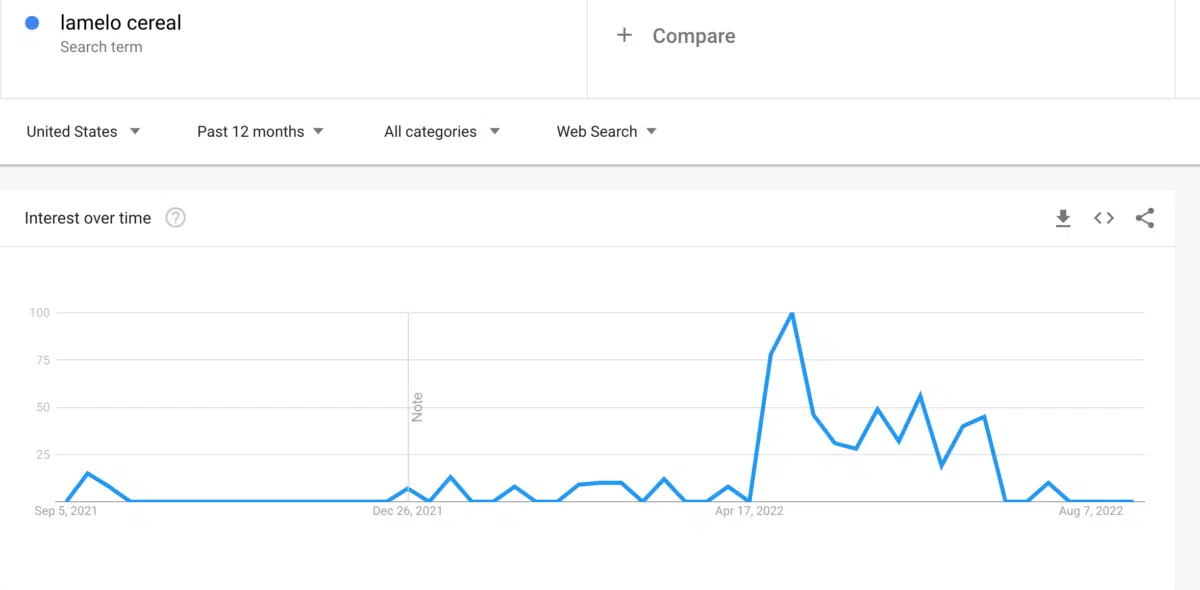 On the other hand, a slow and steady upward trend often means that the trend is here to stay in the medium or long term.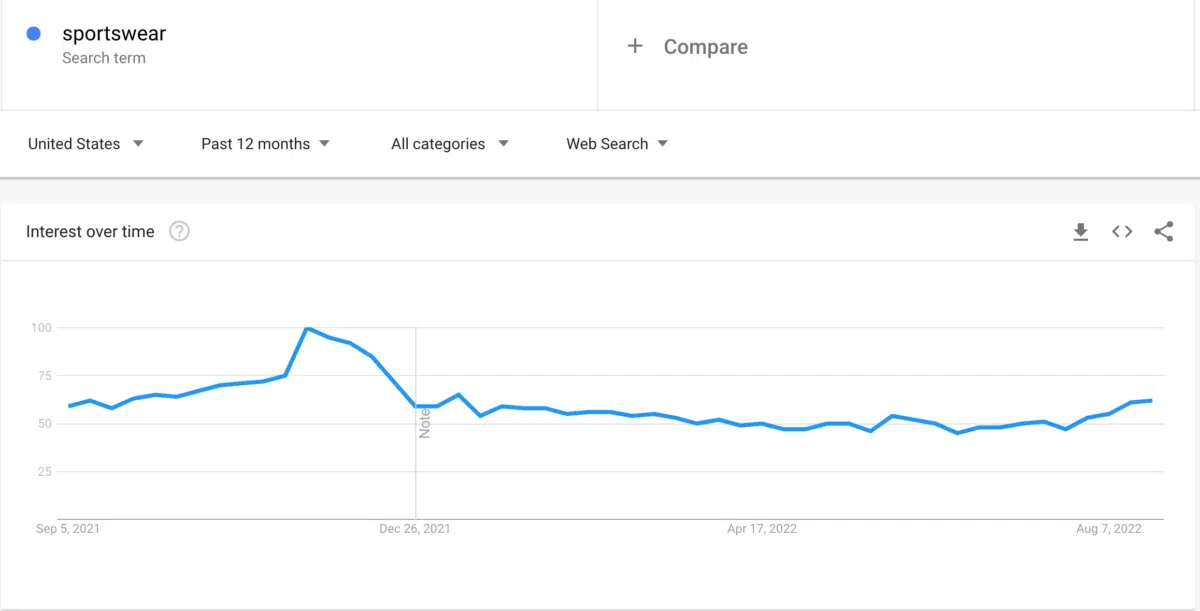 Google Trends also allows you to search for new products to sell if you already specialize in a specific niche and want to expand the range of products you sell. If you own a store selling wooden tables and want to offer other related products, you should type "wooden table" in Google Trends and scroll down to the "Related Topics" section.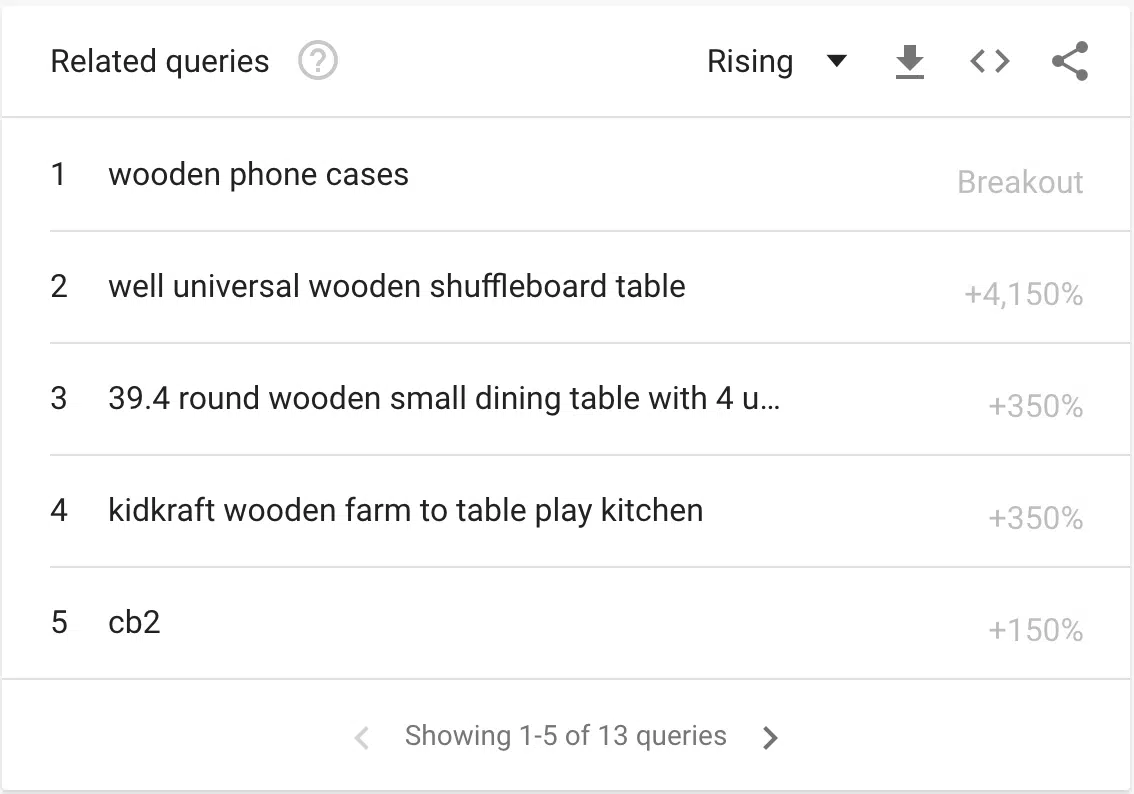 Search On YouTube To See What Products Are Trending
YouTube's "unboxing" videos continue to be a mainstay of the platform. And certain eCommerce niches (such as fashion, beauty, and electronics) can be a goldmine for determining which products are experiencing increased demand. To get started, you can type in "Popular/trending products of 2022," and you'll find the latest videos that mention all the currently popular products.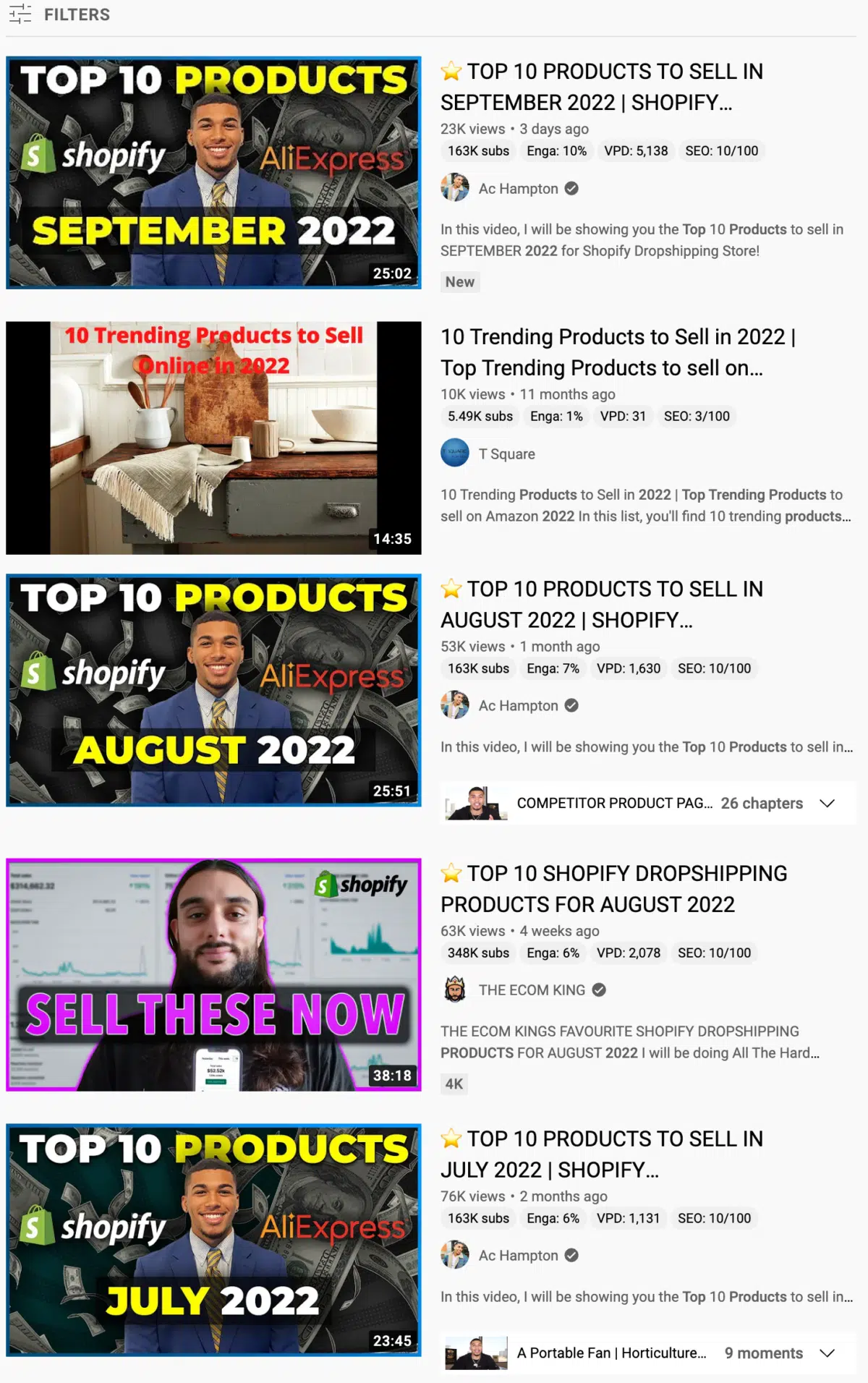 YouTube unboxing videos are videos in which YouTubers unbox a product and give their first impressions. Pay particular attention to when a video is uploaded. Don't make the mistake of focusing on products that were hot two years ago. Also, pay attention to the number of likes, comments, and views on videos.
Leverage Exploding Topics To See Whether a Product Is Trending
Exploding Topics is a ranked list of thousands of different trending topics. And the tool has a section specifically dedicated to "products." That said, you'll probably also want to check trends in your industry. For example, if you're in the dietary supplement industry, you can see what's trending in the "Beauty" section.

And get an idea of what trends are coming up in that space. Even if they are not product-oriented terms, you can use these trends to get an idea of what will become important in your niche.

Shopify's Trending Product List
Shopify maintains a regularly updated list of trending products. While Google Trends and Amazon Suggest can tell you what products people are searching for, this list shows you the types of products people buy and provides data on sales growth. For this year, there are 17 products that will give you new business ideas.
See related: 17 Trending Products and Things to Sell Online (2022)
Keyword And Competitor Research
There are several tools to analyze competitors and keywords in various fields. Tools such as Semrush, Ahrefs, Moz, etc. simplify the search for the most relevant key phrases and establish reports on the rivals in the market. This way, you can evaluate competitors' performance in the chosen market niche and plan investments for online promotion.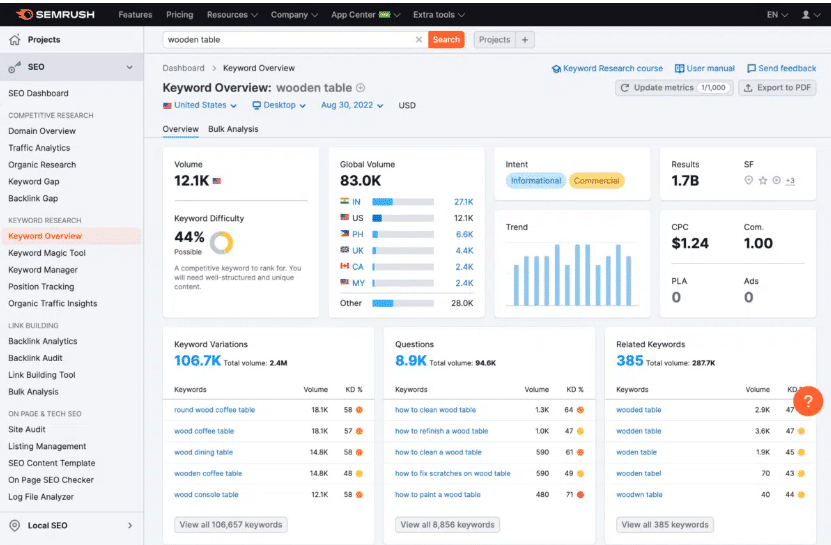 After specifying the product or subject of the keyword search, you will get information about the difficulty of the keyword (the rate of competitiveness to reach high SERPs), the search volume and CPC rate for the term, and keyword ideas in the context of other best performing websites in the niche, and organic search results to analyze the sites of your direct competitors. This software is useful for selecting the best products to sell online and planning adequate budgets for digital advertising and promotions.
See related :SEO for eCommerce Retailers: The Complete 8-Step Guide
Final Thought
As you go through this list, an important thing to remember is that a single strategy will probably not be enough. You usually have to cast a wide net to find those hidden gems. That means implementing a number of these techniques at the same time and trying several strategies. The ones listed in this blog are far from exhaustive. By doing so, you will usually be able to discover trendy products that your competitors don't know about yet and get a head start on the competition.
Get Started with KORONA POS today!
Tell us a little bit about your business and explore all features that KORONA POS has to offer. And there's no commitment or credit card required.
FAQs: How to Find Trending Products to Sell in Your Retail Store
What is a trending product?
Trendy products are products that many people are looking for, talking about, and buying online. In other words, a large audience would be willing to purchase the product if you sold it. So it's essential to find the channels where people are talking about these products so you can source them to meet their needs. 
How do you know which products are trending?
The easiest way to find trendy products online is to check Google Trends. The Google Trends tool looks at the popularity of top search queries in Google in various regions and languages. It will show you trends in your product ideas based on search volume from 2004. However, there are several ways to find trending products, such as tools like Amazon Suggest, YouTube, etc. 
What products are in high demand for 2022?
According to an article published by Shopify on trending products, the most requested items include print books, ebooks, Vinyl LPs, belt buckles, False eyelash accessories, household cleaning supplies, Circuit boards and components, play vehicle accessories, dinnerware, pet carriers and crate accessories, curtain and drape rings, marine radar, DJ systems, measuring, cups and spoons, shampoo, computers, cables, and mouse pads.
How do I sell trending products online?
Once you've decided on the trendy products you want to sell online, you need a platform. You can sell products to your customers on marketplaces such as Amazon, Etsy, and eBay, but we recommend creating your eCommerce site.