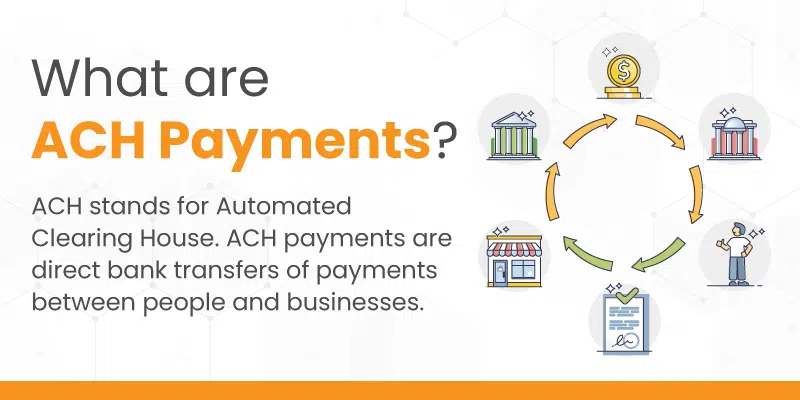 Automated Clearing House (ACH) payments are direct bank transfers of payments between people and businesses. Accepting ACH payments is a great way to offer customers additional convenience. If you already accept credit cards, you will likely be able to accept ACH payments easily. In this article, you'll learn more about the types of ACH payments that exist, how to accept ACH Payments and how they work.
Key Takeaways
ACH transfers are electronic, bank-to-bank money transfers processed through the Automated Clearing House network
There are two types of ACH payments: direct deposit and direct payment
Payments can be processed in a day or two, but the associated fees are minimal
Payments can be accepted through a bank or a TPPP, or third-party payment processor
ACH payments are not suitable for all businesses, such as retail stores that use point of sale (POS) transactions to accept customer purchases.
Looking for a point of sale software for your retail business? Click on the button below to learn more about KORONA POS.
Table of Contents
1. What Is ACH, And Why Is It Important?
ACH stands for Automated Clearing House. ACH payments are electronic transfers from one bank account to another, almost exclusively within the United States.
They are facilitated by the Automated Clearing House network, a centralized payment processing network used by banks, credit unions, and other institutions to send and receive money.
The ACH network is monitored by National Automated Clearing House Association (NACHA), an independent association owned by its member institutions (banks, credit unions, and payment processors).
ACH payments are easy to set up. Accepting ACH payments is beneficial because it is a cost-effective way to process customer payments, especially if you regularly serve other businesses or bill customers.
If you sell services and bill for your work, ACH transfers are a great way to get paid. Likewise, if you make recurring payments, ACH is ideal. Customers only have to enter their information once, so it's not tedious.
There are two types of ACH payments: direct deposit and direct payment. A direct deposit is an ACH payment from a business or government to an individual, such as a paycheck that is automatically deposited into your bank account.
On the other hand, direct payment is an ACH payment between individuals or businesses and consumers. There are two types of direct payments: credits (or deposits), or "push" payments, and debits, or "pull" payments.
Receiving money from a relative on Zelle or Braintree is an ACH (push) credit (push). On the other hand, a recurring bill withdrawn from your checking account each month, such as an internet or cable bill, is an example of an ACH (pull) debit.
As a retail business, if you pay your employees by direct deposit, you use ACH direct deposit. If, on the other hand, you have a subscription-based business, you bill your customers on an ongoing or subscription basis, you will probably want to use ACH direct payments, as they are more affordable than credit card processing fees.
2. How To Accept ACH Payments
To accept an ACH payment, you must open a business bank account (if you don't already have one) and provide the customer with your banking information. Customers make the payment on their own, and no further action is required on your part. If you plan to accept many ACH payments or let your customers set up recurring monthly payments, you may prefer to use a third-party payment processor (TPPP).
It should also be noted that there are some ACH payment processors that also operate as credit card processing companies. A third-party payment processor will make payments faster in exchange for a small commission. Below are the steps to take to accept ACH payments through a third-party processor.
1. Choose a third-party processor
If you have a business checking account, you can theoretically already accept ACH payments; the process may be more cumbersome and costly. However, if you intend to accept ACH payments regularly, you'll probably want to find a TPPP. If you already accept credit cards, you can use the same credit card processing company for your ACH payments.
If you don't accept credit cards yet, then you should take the time to shop around for third-party payment processors. Find one that allows you to conveniently accept payments through a POS system or other payment gateway. You should ensure the company charges a reasonable fee, transmits payments on time, and has an easy-to-use dashboard to manage your account.
2. Register
Once you choose a payment processing company, you will need to sign up with them. It may be necessary to create a new account. Contact the company to set it up specifically to accept ACH payments. If you already use the company to accept credit cards, ask them to add ACH payments to your available payment options.
3. Get your account details
As soon as you are registered with a third-party processor and ready to accept ACH payments, the next step is to note your payment details. This includes the account number and routing number for a traditional bank account, but if you use a TPPP, this is your merchant account. Also, ensure you know how to initiate transactions through your processor to withdraw funds from your customer's account. This is often done through a gateway or dashboard.
4. Sharing routing details
Transaction processing is the final step in accepting ACH payments. You may need to give your customers your account details so they can send you a payment. If you use a TPPP, you can take your customer's account details and initiate the transactions on your end. However, customers also have the option of entering their payment details themselves via a payment gateway. Your processor will then transfer the funds from their account to your merchant account.
See related: POS Systems vs. Merchant Services: What's the Difference?
3. Pros and Cons of Accepting ACH Payments
The pros and cons of using ACH payments in your small business are as follows:
Pros
Lower Payment Processing Rates
ACH transaction fees are minimal compared to wire transfers, credit or debit card transactions, and payment processors. For example, Square charges 3.5% + 15 cents per transaction and 1% per ACH transfer.
Fewer payment failures
Unlike credit cards, ACH payments reduce payment interruptions for recurring bills such as subscriptions, rent or leases, and monthly retainers for services. In addition, bank account information is less likely to change than credit cards, which expire, get lost, or are canceled, which can lead to missed payments or failures. Customers change bank accounts less often than they change credit cards, so encouraging them to set up ACH payments makes it much easier for them to make payments and better their consumer experience.
A suitable solution for payroll processing
ACH payments aren't just for accepting money. You can use them to settle payments, whether it's for rent, supplies for your store, or wages for your employees. Many employers pay their employees' salaries via ACH direct deposit, avoiding the hassle and cost associated with paper paychecks.
Cons
Not very suitable for point of sale (POS) transactions
If you own a retail store or eCommerce site, ACH payments are not advisable. Customers don't always have bank accounts and routing information in their wallets as they do with credit cards. Plus, entering that information at a cash register would be tedious. Knowing that the checkout process in a retail store should be quick, ACH payments can frustrate customers and make the checkout experience unpleasant.
Slow settlement times
Typically, ACH transactions take one to two business days to arrive in your bank account, while credit/debit card and Wise transactions are instantaneous. Same-day ACH is becoming more common but currently comes with higher fees for the payer or recipient.
Limited international application
ACH payments are, for the most part, only valid in the US. The network continues to expand to include international banks, but the number is limited. Many platforms that facilitate ACH transactions limit payments to U.S.-based banks. That said, if you want to shift your business online and accept payments worldwide, ACH payments are not the way to go.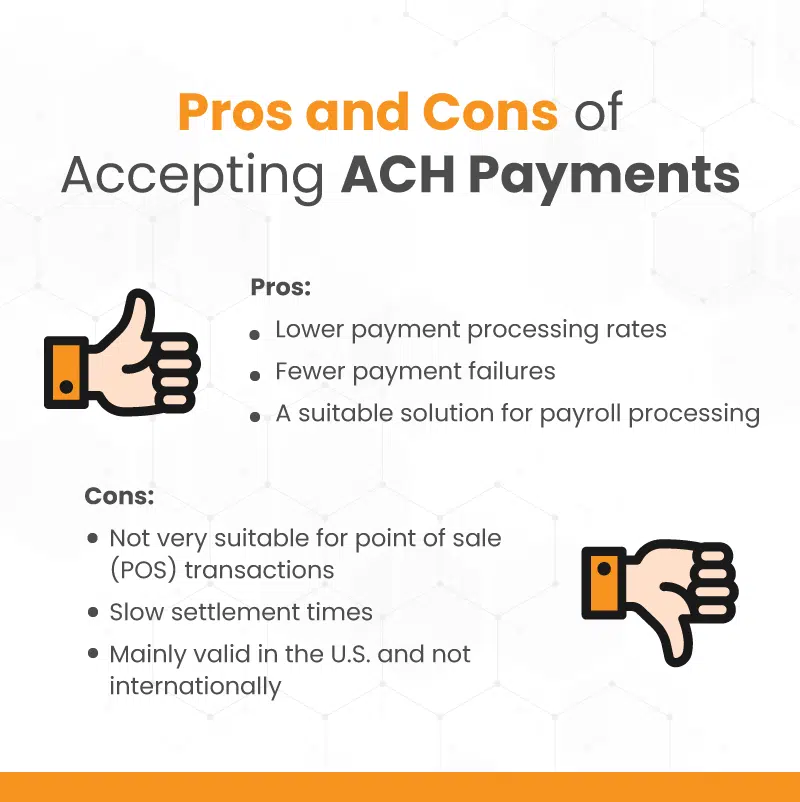 4. How Are ACH Payments Different From Wire Transfers?
While both are electronic funds transfers (EFTs), ACH payments differ from wire transfers in several ways. The first difference is the time frame. Electronic wire transfers are overnight, while ACH payments can take several days. ACH payments are often free or have a small fee, while wire transfers always have a fee, sometimes up to $50 or more per transfer.
In addition, ACH transactions are considered a more secure transfer of funds than wire transfers because no human intervention is required, unlike wire transfers. In addition, you can send and request payments through the ACH system, whereas you can only send payments through a wire transfer.
Conclusion
Accepting ACH payments is all about ensuring it is the suitable payment method for your business. If you're a retail business, we only recommend it if you want to use it to pay your employees' salaries. However, if you want to have fast payment methods, whether in a physical retail store or online, you'll need a point of sale system.
ACH payments are probably a good solution for you if you're a service business, buying a subscription or membership, or renting properties. To set up ACH payments, you must first choose an ACH payment processor, then create your account, complete the accompanying paperwork, and get your account and routing details.
Get Started with KORONA POS today!
Tell us a little bit about your business and explore all features that KORONA POS has to offer. And there's no commitment or credit card required.
FAQs: Accepting ACH Payments
1. Can anyone accept an ACH payment?
Anyone can accept an ACH payment if they have a bank account in the Automated Clearing House network. The banks in the ACH network are primarily based in the United States. 
2. Do all banks accept ACH payments?
For a bank to accept ACH payments, it must be part of the Automated Clearing House network. This requirement is necessary for accepting and sending ACH payments to be possible. 
3. How much does it cost to accept ACH payments?
The cost of an ACH payment can range from zero to $10. However, payment processing companies (TPPPs) can negotiate rates with users who have a high volume of ACH transactions. Banks cannot charge their customers a fee for ACH payments, including online bill pay. For example, with Stripe, you pay an ACH transaction fee of 0.80%, maxed out at $5.
4. Can PayPal receive ACH payments?
PayPal does not process ACH payments but rather through Braintree, owned by PayPal.