If you're a garden center owner, you know that it takes more than just selling hanging baskets, fertilizers, chemicals, or even gardening tools to make your retail gardening business a cut above the rest.
Getting your business blooming depends on your ability to satisfy your customer's demand on time, which comes down to having a garden center POS that integrates inventory management and chiefly makes payments and transactions within your business smooth, fast, and secure as garden centers are prone to long waiting times at the cash registers.
POS systems allow staff to access inventory and sales history quickly. It helps you better manage your inventory to avoid stock-outs or excess inventory and improve customer service.
See related: 5 Tips on How to Improve Customer Service Using Your POS Solution
However, there is a wide array of point of sale systems available on the market, and you should know exactly what your business needs before picking one. Choosing the wrong system will cost you time and money. Learn the core features you should look for in a garden center point of sale to get your business humming. We'll cover in this blog:
Features You Should Look For in a Garden Center POS
Garden centers and nurseries have their own particular requirements and, with their wide range of products, running these businesses can quickly become a hard nut to crack. Prior knowledge of the features that a garden center POS must have is essential to make a reasonable decision. Let's dive into these features.
1. Garden Store Inventory Management
Considering that the chances are high that you will be offering in-store purchases, good inventory management is the backbone of your company's success. A garden center POS should allow you to see the quantities of each product available in the store. More importantly, it helps you automatically identify problems, allows you to prioritize products that are running low in stock or selling less frequently, and provides an option for automated purchasing.
With features like label printing and stickers, you can print shelf labels and price tags directly from the software. These price tags can be generated from the stock entries so that the printing of the tags can be done simultaneously upon receiving the items.
In addition, another feature to look for is multi-location inventory management and consolidated product databases. Even if you have many sales stores, you only have to manage one product catalog with your retail inventory management software. This simplifies and organizes item transfers, moves to new locations, and price changes. KORONA POS is the best garden center retail system that offers you these solutions tailored to your needs.
2. Cloud-Based POS System for Garden Centers
As a garden center owner, you will probably not have the time to constantly follow everything happening in your store. A cloud-based POS system is what you need to track in real-time the evolution of sales, transactions, and stocks within your store without you being perpetually present.
This feature allows you to be efficient in running your garden business. It will enable you to make vital business decisions even in your absence and allow you to do other things while keeping an eye on your business. Some of the cutting-edge tools of the cloud-based POS system are cloud data storage, automated ordering system, inventory updates in real-time, inventory and cashier reporting, eCommerce integrations, and many more.
See related: Why Every Store Needs a Cloud-Based POS
3. Modern Payments and Transactions
Don't fall victim to poor queue management. According to Qminder, 73% of customers would abandon their purchase if they have to wait for more than five minutes. Therefore, choosing a POS system that supports all major debit and credit cards and contactless payments is imperative.
See related: Payment Analytics 101: Get Data From Your Credit Card Processing.
And speaking of contactless payments, KORONA provides you with the appropriate hardware to allow all your customers to use contactless mobile payments such as Apple and Android Pay.
See related: A Guide to Contactless and Mobile Payment for Retailers: 7 Common FAQs
KORONA POS also offers you the possibility of receiving payments by EMV chip card. This solution ensures that your customers can make payments with complete security, avoiding payment fraud and any build-up at the cash register.
Usually, a complete retail point of sale system comprises a cash drawer, a card reader, and a receipt printer, in addition to the cash register itself.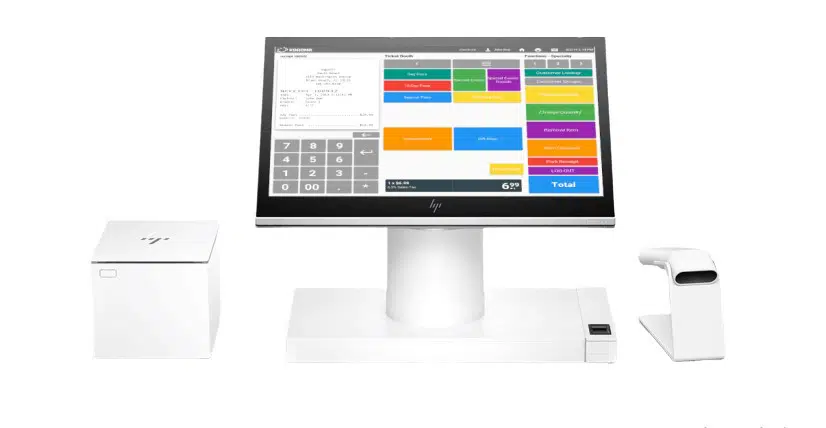 4. Advanced CRM System
A CRM system, or customer relationship management, helps facilitate the relationship between you and your customers just doesn't stop at and beyond the counter. It continues even after they leave your premises.
This software will serve as a channel to communicate with your customers, listen to their complaints or requests, and know what they want in the future. It is a mine of data and information that can be leveraged for future marketing efforts. A CRM can be integrated with the point of sale system or the point of sale can be integrated with third-party software.
A CRM offers garden center businesses a better knowledge of your customers, including segmentation, anticipation of their needs, and insight into shopping behaviors. It favors more efficient and fast communication as well as better protection of the confidentiality of your customers' data.
The garden center point of sale system you choose should also provide a customer database, which you can use to store customer data such as name, address, contact information, and order history.
See related: Benefits of Gathering Customer Information: How to Build Your CRM
5. Garden Store Loyalty Programs
According to Forbes, more than 80 percent of millennials and nearly two-thirds of baby boomers said they want rewards for their purchases and their engagement with brands. Therefore, having a garden center POS that offers loyalty programs is necessary for better customer satisfaction. Customers feel valued when you offer them rewards after-sales, which helps renew their trust in your brand.
KORONA POS provides a points-based loyalty program for each customer. It integrates with robust loyalty programs for member services, ticketing, delivery, and more. KORONA makes it easy to make gift cards for top shoppers and to customize your rewards program.
See related: Retail Loyalty Programs: Types of Programs and Loyalty Marketing
6. Garden Center POS Reporting
Data plays a significant role in all decision-making for businesses. This data is captured through your POS system. It allows you to keep up-to-date records of sales, margins, staff performance, and other key metrics that allow you to make strategic decisions when needed. For instance, you can reference past years' sales of specific items to better understand demand and then order accordingly. You can better plan future ordering, promotions, and product marketing with such precious sales history.
See related: Retail Store Analytics: How Sales Metrics Can Help a Small Business Scale
Why Should You Choose KORONA POS AS Your Garden Center POS?
KORONA POS is the best retail point of sale system for garden centers. The software is designed with all features that garden centers require for long-term success.
In addition to the above-mentioned features, KORONA POS offers a customer support team that is available to assist you 24/7 from anywhere in the United States. And once installed, the software will come with automated updates allowing you to have all the latest features.
With KORONA POS, focus on what is important to you and your customers.
Automate inventory purchasing, so you're never out of stock or in excess inventory

Strengthen retention rates with customer management systems, such as loyalty programs and targeted marketing campaigns

Monitor product profitability reports based on individual product performance, high-volume items, best and worst sellers, and employee sales

Built-in business automation tools that are right for your business
Learn more by clicking below to start your no-commitment free trial.