The Cove on Harbor is a gift shop, convenience store, and coffee spot all in one. Located directly across the street from the Disneyland entrance in Anaheim, CA, The Cove has been an establishment on the block for nearly 40 years. We recently stopped by to check in on the store and meet a handful of the people that make it great.
A Brief History of The Cove
Located on the Tropicana Hotel grounds, The Cove was one of the first shops to open on Harbor Boulevard after Disneyland opened its gates The Cove continues to be a popular stop for locals and tourists alike. They've adapted to changing demands over the past several decades and revamped the entire store in 2012. Their success enabled them to open a second location, Castle Gate Gift Shop, just down Harbor Boulevard at the Castle Inn Hotel.
The business has been family run since its inception and their general manager, Roger Gaspar, has been with the company for 20 years. After starting as a cashier, Roger's hard work and devotion quickly paid off: he's now been the GM of The Cove for a decade! We had the pleasure of sitting down with Roger, finding out more about the business and their switch to KORONA's point of sale.
The POS System The Cove Needed
With the throngs of tourists flocking to Disneyland every day of the year, The Cove has long hours and an incredible variety of products. Excited groups of friends and families can stop by the shop on their way into the park for coffee, pastries, or other snacks. On their way out, hot and thirsty guests can swing by for a soft drink or their great selection of local wine and craft beer. And many grab a handful of t-shirts or other Disney swag before heading home.
This is what sets The Cove apart. They offer such a wide variety of products and necessities in just one location (and provide some of the best customer service you'll find, to boot). But in order to run a smooth operation, a store this busy and this full of different products needs a reliable POS solution. This was something Roger didn't have for some time.
"I used to have the product number of every single item we carried memorized," Roger remembered with a pained smile. The Cove ran for years without a modern inventory management system. And after investing in their first point of sale, things hardly got better. "I'd be on the phone for 4 or 5 hours just trying to get through to customer support," he recalled, this time without the nostalgic grin. No general manager can afford to spend nearly an entire day on hold. And what's worse, any time the system went down, no sales could be captured, and thousands of dollars would inevitably be lost.
A few years ago, Roger spent several hours on hold again trying to reach support. This time would prove to be the last straw. After finally getting a human being, he was told that they couldn't help him with the problem because they hadn't paid the extra fee for phone support that month. It was time for a change.
Not only did they need better, more reliable support, but they also needed a smarter inventory system that could run between their different verticals: gift shop, coffee shop, and c-store.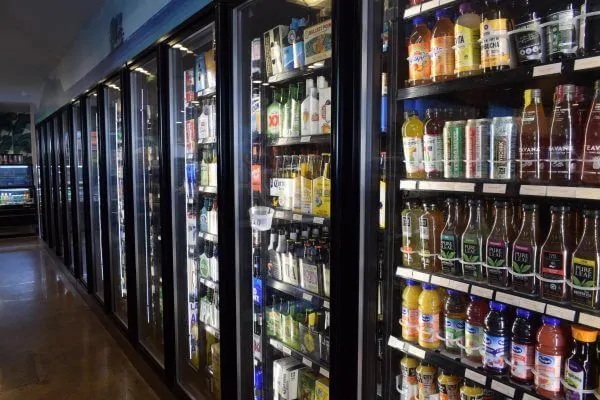 A Better Business with KORONA POS
After a bit of shopping around, Roger and his team found the solution they needed: KORONA POS.
KORONA's support is 24/7 and every single phone call, text message, or email is included in the subscription. This made getting used to the system stress-free for everyone at The Cove. Not only did they not have to worry about getting charged for any questions they had, but the system itself proved to be intuitive and easy to learn. "Staff with different amounts of hands-on POS experience caught on within the first day or two," says Roger. "We never had to worry about the POS slowing down sales or making staff frustrated. It was such an easy transition."
And when it came to inventory, long gone were the days of memorizing product numbers. Managing the sales between each department and terminal has never been easier. All data is consolidated into one database. And with their new spot at Castle Gate, Roger is delighted that KORONA easily handles inventory for separate locations as well.
The data and analytics from KORONA's reporting allow Roger to quickly compile the right information to help him make the best decisions for the store. "It's as simple as a few clicks and then pressing print," he says. "Comparing data by the month or year is amazingly easy."
When we asked Roger what the best thing about KORONA POS is, he paused. "You know, there's a lot, but basically it just makes my life so much easier. I have less to worry about and can spend my time doing other things to make our store even better. I couldn't ask for a better POS."
Swing by The Cove on Harbor if you're in the neighborhood. We had a great time getting to see such a successful store and meeting the whole crew there. You can tell how well everyone works together and how much mutual respect there is among the whole staff. And if you're a shop manager or small business owner who can relate to Roger's story, give us a shout at KORONA POS. We're happy to get you set up with a free trial so you can see first-hand how KORONA POS point of sale can change your business.
Also, check out The Cove's Trip Advisor, Yelp, and Facebook!
See another customer testimonial! – Rocky Top Mountain Coaster
Get Started with KORONA POS today!
Tell us a little bit about your business and explore all features that KORONA POS has to offer. And there's no commitment or credit card required.