The holiday season is the best time of year of small businesses to give back to your staff and community. Not only is it always good to be generous and help out your neighbors, but it also can inspire your team, show your community that you care, and improve your brand's identity.
There are a bunch of charity ideas for small businesses to get involved and make a change. So get started on planning how your small business will give back this holiday season.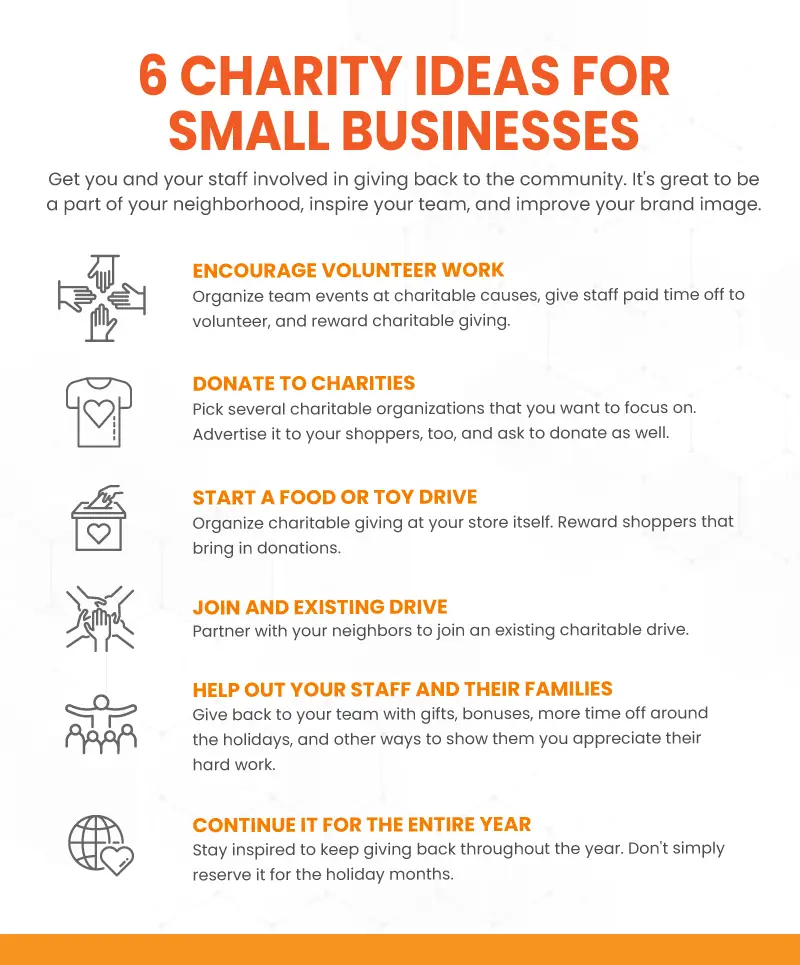 1. Encourage Volunteer Work From Your Staff
The only thing better than giving back to yourself is to inspire another group of people to do the same.
If possible, set aside a certain to all go volunteer somewhere together. Group activities are a great team-building tool and help solidify your business's culture. Shutting the store down for the day will lose you some sales, but you'll make up for that in the long term with the experience.
Otherwise, offer paid time off for your team members to go out and spend time volunteering. Most of us put off volunteer work due to a lack of time. So make it easy for your staff to go out and do some good.
Encouraging your employees to give back with their time will invigorate your entire company to be excellent members of your community. It will also serve as a lesson in leadership and additional responsibility, creating new avenues for growth among the team.
2. Donate to Great Charities During the Holiday Season
Charitable organizations abound in any community so it's not hard to find a handful to donate to. And every business has products that at least one of the charities would be able to accept.
Gift shops or toy stores can donate small gifts for children.
Grocers can give non-perishable food items.
Coffee shops or bakeries can supply coffee and pastries to charitable events.
Hardware shops can provide materials for charitable construction projects.
No matter your business vertical, there's also something you do to help out a local charity. Doing so will gain you respect and improve your reputation, improve the community around your business, and increase your connections around town.
3. Start Your Own Toy, Food, or Other Drive
Toy, food, or other types of drives are another way to get your entire team involved in charitable giving. Charitable drives also put you and your staff in front of many members of the local community. The holiday season will have the most drives going on each year, so it's the perfect time to get started.
Host a bake-off and donate each item to a charity.
Enter a calendar drive to get everyone involved.
Donate your time, services, or product to an auction drive.
Bring donations to your local food bank.
Add products to toy drives and participate in gift wrapping.
Starting your own drive takes initiative and planning, which won't go unnoticed by your team and community. Plus, it's an easy way to meet members of your neighborhood and form long-term charitable partners for the future.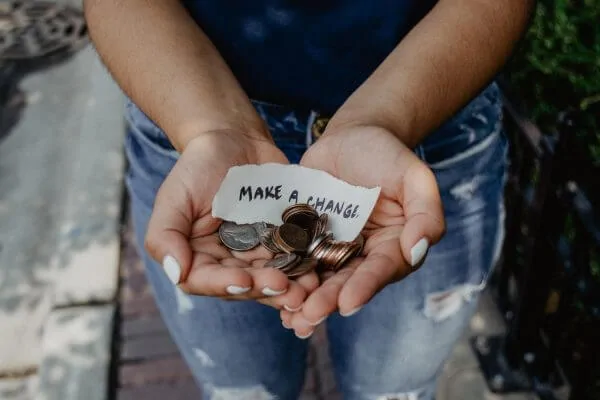 4. Or Join an Existing Charitable Drive
Below are some popular options for many small businesses:
Coats for Kids
The organization tries to collect at least 50,000 coats each year for families across the country. They partner with local charities, schools, and social service agencies to make sure each coat is getting to the right kid. SMBs can host their own drive to get involved.
Feeding America
Again, this nationwide non-profit partners with local affiliates to help end hunger across the country. Ask a local food bank about ways to become a part of the drive.
Toys for Tots
One of the oldest charity drives in the country, Toys for Tots makes it easy for businesses to get involved. Their website will find the nearest location for drop-off so all you have to do is promote it around your place of business.
Penny Wars
This is a more interactive one. Give out empty containers around your store to various employees – it's easiest if they are given to teams. The goal is to collect the most pennies, while other coin denominations are subtracted from the total. For instance, if a team has 20 pennies but 1 dime, they have a score of 10. It's a small way to get everyone involved by making it a fun competition.
#GivingTuesday
The Tuesday after Thanksgiving helps raise awareness across the country through social media. The hashtag is used to promote general charity during the holidays, so you'll have many options of how to get involved.
Operation Christmas Child
This charity accepts donations of shoeboxes that businesses can fill with toys, school supplies, toiletries, candy, or clothing. You just have to cater the box to a certain age group and chip in for shipping costs.
Make-A-Wish Foundation
Many, many businesses partner with Make-A-Wish. When ordering from suppliers or vendors, check to see if any proceeds go back toward this foundation or something similar. If so, you can try to order more from those that do donate.
5. Give Back to Your Employees
While helping out others in your community through charitable organizations is critical to do as a small business, it's important to remember that your employees are also a part of that community. The holiday season is the best time to remind them how much you appreciate them.
Showing your team that they are valued and integral to the success of your business makes for a happier and more motivated staff. Plus, the New Year is a time for change, and many employees begin to think about finding new work. So take the time to remind everyone how great they are.
There are many ways to show your employees some appreciation:
Cash is still king, so simple bonuses never hurt.
Gift cards or big discounts for concerts, movie tickets, etc. encourage socializing among your team.
Add a vacation day or two around the holidays.
Buy a range of gifts that each member can choose from so that they can opt for more personalized gifts.
Throw a nice holiday party. It's also team building.
Write them sincere notes of appreciation around the holiday season. Likely, you'll want to couple this with one of the above ideas, but showing genuine appreciation goes a long way.
6. Try to Continue Past the Holidays
Why stop with just the holidays? Sure, it's the most important time to focus on being charitable, but your community and neighbors need help all year. It's a great habit to get into and will build a strong and lasting company culture.
Remember, too, that most charitable donations are tax deductible. The IRS offers a useful search feature to find out if a certain charity qualifies as tax deductible. You don't want your charitable giving to be beholden to certain tax breaks, but it certainly doesn't hurt to get something back.