Estimated Read Time: 6 minutes
At the heart of any retail marketing strategy is the goal of increasing trust and awareness in your brand. Of course, each marketing channel will have a unique impact on the overall goal. Some are inexpensive, reach a large group of people, but have lower rates of conversion, like email marketing campaigns. Others are remarkably targeted, have remarkably high costs, but lead to big sales, such as highly competitive keywords on Google Ads. So formulating a cohesive marketing strategy is a bit of a balancing act.
But there's one marketing outlet that stands out from the rest: word of mouth. It can't really be bought, but carries incredible value. And once it starts, it often picks up momentum, creating a loyal customer base. It requires patience, perseverance, and some ingenuity. A great word of mouth marketing strategy can quickly spur growth and take your business to the next level. But how can you increase it? Let's take a look at several word of mouth marketing examples and how you can implement them at your business.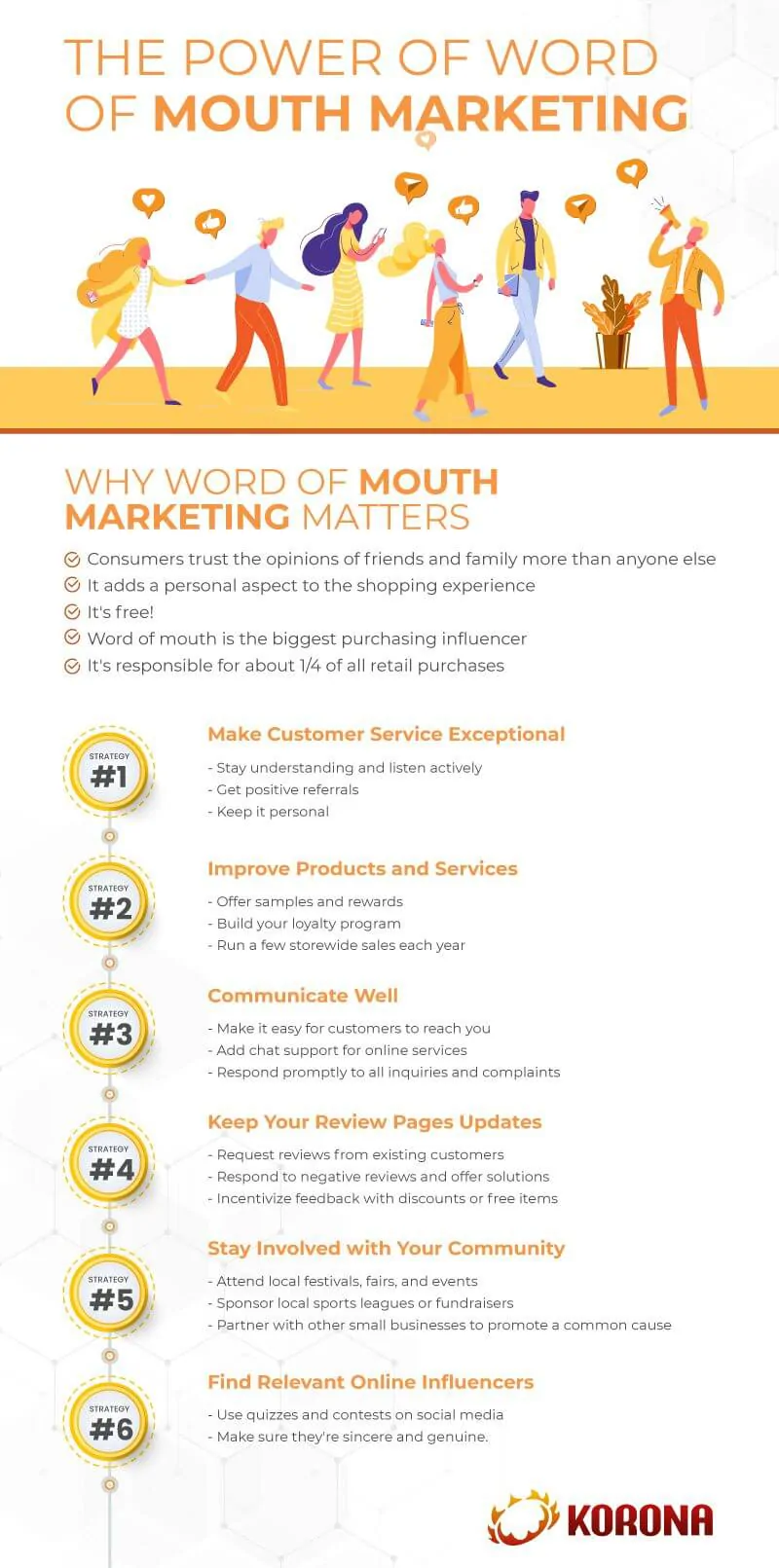 Why Word-of-Mouth Marketing Strategies Are So Important
But first, let's just clarify some things about why building a great word-of-mouth marketing strategy is so critical for your business's success.
Consumers have always been more apt to trust a reliable friend or colleague with a recommendation than anything else. Indeed, over 90% of shoppers are more likely to trust a personal recommendation over any other form of marketing. And this makes sense. The person referring or recommending a business typically has no incentive (unless it's an MLM…) to do so. Moreover, it makes the shopping experience more enjoyable because it also adds a shared experience. The commonality may be something that is shared for years down the road. And it's a great way to pick up your marketing during slower times of the year.
In addition, a direct recommendation to a certain product or business is a fresh break from the deluge of traditional marketing that nearly everyone in the 21st century faces on a daily basis. Most of us would probably prefer a referral from a friend than one from Cambridge Analytica's dubious data-driven algorithm. Unlike other marketing trends, this one is uniformly appreciated across all demographics – millennials ranked word of mouth as the biggest purchasing influencer.
And in fact, word-of-mouth advertising is responsible for about a quarter of all purchases. And it's even more influential when a consumer is buying a product for the first time or if it's a more expensive purchase. Check out the graph below to get an idea of just how important word-of-mouth marketing is across different markets and throughout the various stages that culminate in a sale.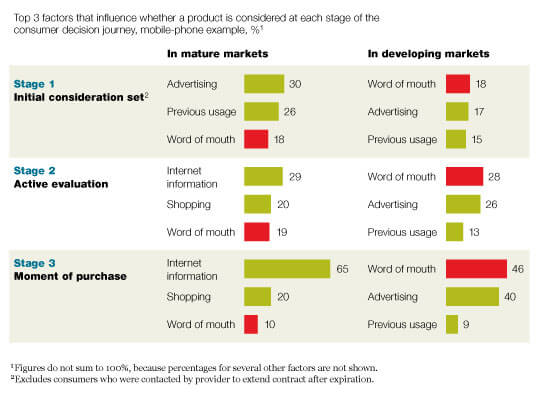 The Three Types of Word of Mouth Marketing
Word-of-mouth advertising is the process of actively promoting organic around a brand, service, or product. There is clearly a lot that goes into such a broad topic and there are entire books written on the topic. But for this blog, of course, we'll need to sum it up a bit more succinctly, so let's break it down into three broad categories.
Experiential – The most common type of referral, experiential word of mouth stems from someone having directly made a purchase of a product or service themselves. And they'll typically only mention something if the product or service is exceptional (remember, this could mean exceptionally good or exceptionally bad!).
Consequential – A less common or powerful type of word of mouth is driven by traditional advertising campaigns. A consumer is subjected to a marketing message and then shares the message with other consumers without ever having tried the product or service. While this has less of an impact on a purchase decision than experiential word of mouth, it's a useful way for businesses to increase the reach of their advertising at no extra cost. Consider ways to increase the word of mouth behind your marketing itself.
Intentional – Intentional word-of-mouth campaigns are the least common and most risky. They typically come at a high cost with an outcome that is difficult to measure and predict. These marketing strategies might involve a celebrity endorsement or eye-catching physical advertisement.
1. Make Customer Service Exceptional
Great customer service is absolutely the most important step toward generating more positive word of mouth surrounding your brand. Great customer service can even garner positive referrals in cases where the customer was disappointed with the product. Most of us have had experiences where weren't entirely happy with a purchase. But an understanding employee who made the return or exchange process painless and fast left a lasting impression.
Remember, exceptional is what you should strive for. Letting your customer service stand out will go a long way. Additionally, a more personal approach to customer service is a great way for small businesses to compete with big-box retailers. Focus on showing each customer that they are important, hear their complaints and feedback, and train all staff to offer consistent customer service to each shopper.
2. Improve Your Products and Loyalty Benefits
On top of providing exceptional service, you can also find ways to improve your products, promotions, and loyalty rewards. If you own a wine shop, bring in special wines that are difficult to find. Offer a tasting and sell them at a reasonable price. Getting your store to stand out with the products that you offer is a sure way to make your customers start talking about you.
Likewise, keep the shopping experience interesting with great promotions and sales. Nothing gets people talking like a sale that is seemingly "too good to be true." More and more businesses run one or two massive sales each year to keep their customer base talking about them.
Finally, word of mouth advertising can come from your loyalty program. Offer your best customers exceptional benefits with your loyalty program. They are semi-exclusionary and make people want to talk about it and convince others to join. The most obvious example in recent memory is Amazon Prime. While it's unlikely that your business will be the next Amazon, take their successes as inspiration for your own store.
3. Be Easy to Get in Touch With
A common frustration among shoppers is that businesses are difficult to get ahold of. And, to be fair, a common issue for businesses is that shoppers call or email with questions that they can answer themselves ("have you tried restarting it?"). But, in order to provide the exceptional customer service we mentioned above, you first need to be available.
Open several possible lines of communication for your existing or potential customers. Include a phone number and email on your Google My Business page and all social accounts. Add chat support boxes and FAQ sections on your website. Be proactive and send follow-up emails following an online purchase so that the line of communication is already started for your customers. Just be sure that whatever channel of communication you offer that you're staying active and responding to any contact.
4. Manage Your Review Pages
Always stay up to date with all review websites that feature your business. It's critical to gather reviews to support your online presence and trustworthiness, but it's equally important to communicate with customers once a review is left.
Of course, if you notice that someone has a problem with their shopping experience or a certain product, use the review format as a way to apologize and offer the customer something of value. Not only will it help improve the situation for that individual shopper, but it will also show other users that your business provides excellent customer service.
Promptly respond to positive reviews, too. Thank customers who take the time to acknowledge and recommend your business. It's a great opportunity to show your appreciation and possibly offer a small reward for their loyalty. And if you need to get more reviews, incentivize customer feedback with prizes, discounts, or freebies.
5. Be Active In Your Community
Be proactive with staying involved in neighborhood and community events. Word of mouth is largely spread locally, and community events are almost exclusively local. There's no better way to get the neighborhood talking about your business than by attending events, staying charitable, and providing more value to the area.
Go to city or neighborhood fesitvals and fairs.
Sponsor local leagues.
Host a trivia night at a local bar.
Buy a booth at a charity event.
Donate items to charitable auctions.
Partner with other local businesses to promote a shared cause.
There are so many ways to get involved, and most of them are fun. Take advantage of as many as you can.
6. Use Online Influencers and Offer Referral Rewards
Start getting more word-of-mouth advertising through your social media and blogs:
Partner with other businesses that share similar views and ethics and sell cross-promotional products.
Stay active on a regular basis and encourage user engagement.
Use quizzes, games, contests, and prizes to help spur more discussion around your brand.
Find relevant influencers that may want to plug your product on their social media page or blog.
However, you get referrals, offering rewards for them will make sure that you get more. Building a strong base of reviews, increasing your backlinks, and gathering more social media followers will grow faster if you incentivize more action from your customers.
Start building more word of mouth around your business with these 6 ideas. For more retail advice, start following our blog and social media pages! And if you are in the market for a new POS system, check out KORONA. We offer a free trial and product demo. Sign up today to learn more.
Get Started with KORONA POS today!
Tell us a little bit about your business and explore all features that KORONA POS has to offer. And there's no commitment or credit card required.