We've talked plenty about how important it is for retailers to take advantage of holidays and seasons. They're an easy excuse to promote certain products and build your brand's visibility. And a well-constructed plan can bring in plenty of extra sales.
But like any marketing strategy, it's important to map out the details and avoid losing money. Too many businesses run deals that are just too good. Oftentimes, they underestimate the number sold and end up eating large losses.
Once you have a plan in place, think about ways that your business can market for Easter. In this post, we'll cover a few effective retail marketing ideas for Easter. For more general spring related ideas, check out our post on spring marketing tips for retail.
1. Host an Easter Event
Many families spend Easter together. And since it usually falls during mid-spring, many Easter-related events are hosted outside.
The obvious choice is an Easter egg hunt. It's fun, interactive, and something that families can participate in together. If the kids are more into than the parents, take the opportunity to engage with the adults with displays, shopping, and promotional items.
Think about having food and beverages there are well. If you have the resources and space, bring easy snacks and various drinks for the guests. And don't forget about some Easter chocolates.
Find ways to brand the event by incorporating your products or logo into the event. Check out the Singapore Zoo's Easter egg hunt promotional material below. They even got Gudetama involved, which is never a bad idea, especially around Easter.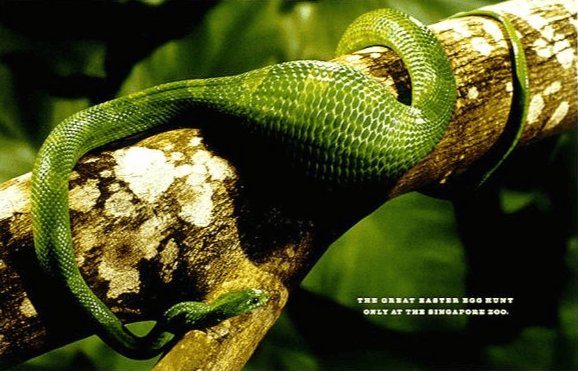 2. Start a Competition
Social media is probably the easiest place to host a holiday competition. If you have a successful Instagram account, run a creative contest on the best Easter photos, egg designs, and basket construction.
Think about ways that you could use the competition to get shoppers through your doors. A digital Easter Egg Hunt that ends in your store would be a cool experience and draw in new customers.
Social media competitions are easy, last-minute ideas that any retailer can take advantage of.
For simple in-store competitions, you could host a coloring contest or a counting contest (like the jar below!) for the total number of chocolate eggs or peeps in a jar.
3. Sponsor a Festival or Celebration
Even easier, piggyback on established events by buying a sponsorship. Many business owners don't have the time or space to organize an entire event. If you fall into this category, keep an eye out for other Easter events that you might be able to sponsor.
Many city sports clubs, churches, community boards, and schools host Easter events, like cookouts, pancake breakfasts, block parties, or, of course, egg hunts. For many of these, donating your time, services or a few items to be given away or auctioned off is all it takes to participate. And it's sure to be a fun day, too.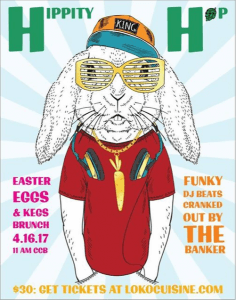 4. Put Together Easter Gift Basket Bundles
One of the best parts of Easter are the decadent baskets! Not only are they typically filled with chocolate, marshmallow, and other candy, but they also look great. It's easy to add Easter colors and some flowers to the arrangement, making them even more attractive.
Bundled deals are a popular holiday promotion method. Simply create a bundled deal with your Easter baskets. Add a few of your most Easter or spring-related products and discount the combo. Add some chocolate as well.
Pre-made gift baskets will always be a popular last-minute holiday purchase for a whole lot of shoppers. Spend some time making yours thoughtful and creative.
5. Get Some Easter Print Materials
Add little pamphlets or cards advertising your Easter sale. Even if most are recycled, if only a few people keep them to leave on their fridge or kitchen table, it'll be worthwhile. Print is not dead!
Cute Easter stickers or small cartoons will attract kids and keep them interested while in your store. Any chance to offer parents a reprieve will shopping is one worth taking.
Small postcards or unique business cards have become more popular among retailers. Getting your name out there is critical, but it still needs to be on-brand.
Lastly, you can use creative print materials (check out the cute ad below for some inspiration) to alert shoppers of special deals in your retail space. Big posters or signage can be placed outside or near your entrance to advertise the sale. Smaller tags can be used to identify specific items that are on sale.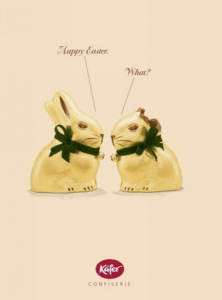 6. Be Charitable
Most holidays are good opportunities to be more kind and charitable. Find a local organization that could use some assistance. Remember, your products and your time/services are equally valuable.
You could also find ways to encourage your shoppers to participate in the charity, too. Offer discounts for shoppers who bring in non-perishable food for your neighborhood food pantry.
Without intending to sound too shamelessly opportunistic, you can make this into a chance to collect emails, phone numbers, birthdays, etc. Requiring some basic personal information in order to redeem your promotion is a fair trade-off.
More Retail Marketing Ideas for Easter?
Let us know how you've used Easter marketing in the past and what you're planning for next year. And for any sale or promotion, make sure that you have a retail point of sale that can account for your inventory and pricing accurately and quickly. To find out more about KORONA's inventory management system, click below and sign up for your free trial.
Don't forget to check out our other seasonal/holiday marketing guides below:
Get Started with KORONA POS today!
Tell us a little bit about your business and explore all features that KORONA POS has to offer. And there's no commitment or credit card required.