COVID has forced retailers to adapt in many ways remarkably quickly. And while it's certainly been a difficult time and the future remains uncertain, it's also shown how good we are at making changes when necessary.
When it comes to store cleanliness, COVID has perhaps pushed businesses in a good direction, pandemic notwithstanding. It's important to pay extra attention to the details. Creating a thorough retail cleaning checklist is absolutely essential so that nothing is forgotten and to keep your entire team on the same page.
So to get started we've put together this guide for retailers and other small business owners. Check with the CDC and your local institutions for all updated guidelines/requirements. And happy cleaning!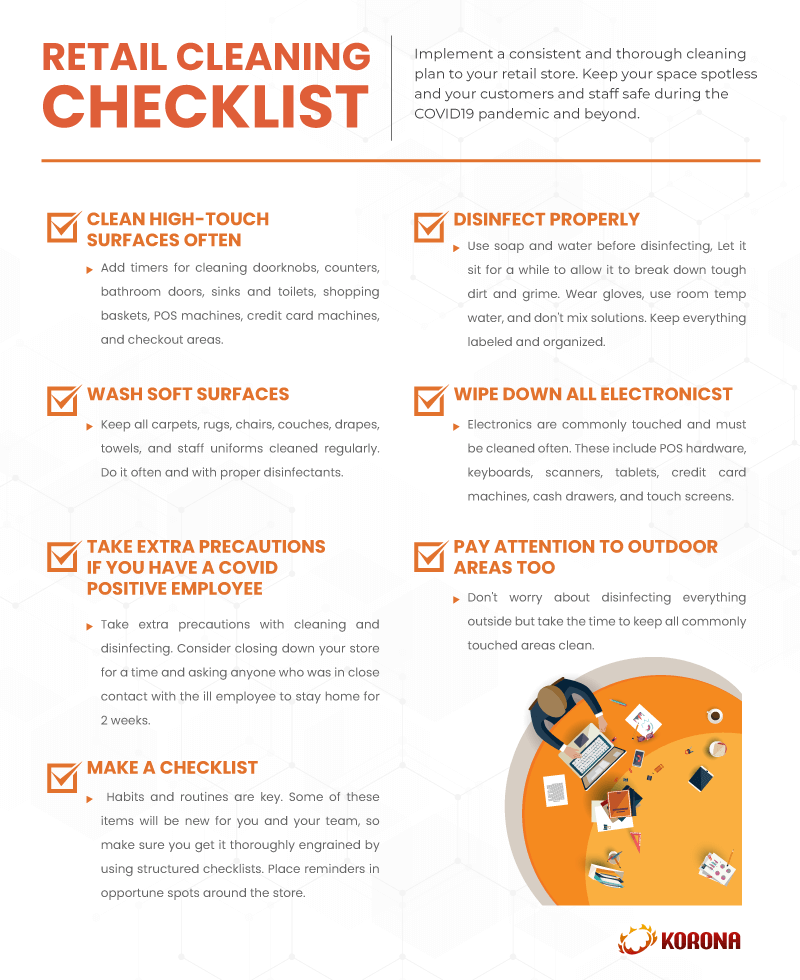 1. Clean High-Touch Surfaces Regularly
The most important parts of your store that need cleaning are the spots the get a high traffic of touches. Of course, these are the areas which are most likely to pass a virus or other germs from one person to the next. For retailers, these likely include the following:
Doorknobs and handles
Counter surfaces
Bathroom doors
Sinks and toilets
Shopping baskets and carts
POS machine
Credit card pin pad
Wear gloved when cleaning. Clean first with soap and water to work out dirt and kill most germs. Then disinfect to kill the remainder.
Do this frequently throughout the day since these items are being touched so often.
2. How to Properly Disinfect
There are many different solutions that work as a disinfectant. First make sure to use soap and water before disinfecting. This helps reduce the dirt and grime beforehand, making the disinfecting round more productive.
Use plenty of water and let the water sit for some time before adding the disinfectant. This again helps break down whatever may be on the surface before applying the disinfectant. Ideally, there isn't a massive amount of grime on any of your surfaces, but this step is nonetheless a "better safe than sorry" one.
Read and follow all directions on disinfectant labels. Some of them are quite toxic, particularly concentrated solutions. Advice your staff to follow each of the following rules:
Wear gloves to protect your hands
Don't breathe in fumes
Use proper ventilation
Don't use more than the recommended amount
Use room temp water, unless otherwise stated
Don't mix with other disinfectants or chemicals
Label all solutions
Store them safely away from where children can find them
Many businesses also use a diluted bleach solution. Just follow instructions and make sure that it is designated for cleaning purposes.
3. Launder Soft Surfaces
Clean all carpets, rugs, chairs, couches, window drapes, towels, and apparel tried on by a shopper. Use soap and water or any other disinfectant cleaner on larger items to clean them and preserve their appearance.
For small individual items, use a washing machine with hot water. Wear gloved when handling the dirty laundry and refrain from shaking any of it out. Clean any containers that stored the contaminated items, too.
Lastly, vacuum all carpets and rugs regularly in addition to the more infrequent cleaning mentioned above.
4. Wipe Down Electronics
Electronics are the most commonly touched items in any store, particularly around the point of sale area.
Clean all POS hardware, including desktops, keyboards, scanners, tablets, credit card machines, receipt printers, keypads, and cash drawers. Cashiers should wear gloves and be cleaning these surfaces on a strict schedule. Many retailers have implemented a regular cleaning every 15-30 minutes.
Use contactless payments. Modern tap-and-pay machines are fast, convenient, and reduce the amount of hand-to-hand contact that a shopper makes while completing a transaction. Check with your retail point of sale to make sure it integrates with this hardware technology.
5. How to Clean If a Staff Member or Guest is COVID Positive
Of course, it's imperative to take extra precautions should an employee or infected individual come into your store.
Clean all areas that they were in contact with.
Open doors and windows for more circulation of fresh air.
Clean and disinfect the entire space after 24 hours.
Ask staff members who were in contact with the sick person to stay home to quarantine for 2 weeks.
It's best to contact local health authorities to be sure how to best proceed and follow any applicable regulations.
6. Don't Forget Your Outdoor Areas
Outdoor areas are safer than indoors, but they, too, need attention.
Do not spray outdoor areas with disinfectant. It's not proven to reduce risks of transmission and a waste of the cleaning material.
Clean areas that are routinely touched with soap and water, such as railings, outdoor seating areas, sidewalk signage, or anything else at your storefront that can come into contact with customers or passersby.
7. Make All Retail Cleaning Checklists a Habit
As important as the items in the checklist itself, it's critical that businesses implement a routine for their staff. Like mask-wearing, more frequent hand washing, or any other change we've had to make to adapt to the pandemic, changing your store's policies requires that your staff find a habit.
Start with a general staff meeting to go over a cohesive policy. Put the new policy in print so that all team members can access it and it can be shared with new employees.
Post checklists in opportune spots around the store. Ask shift leaders and managers to double-check with staff members throughout and at the end of their shifts, especially during the beginning.
Below are a few more resources that small businesses can use during COVID to stay safe and stay open: