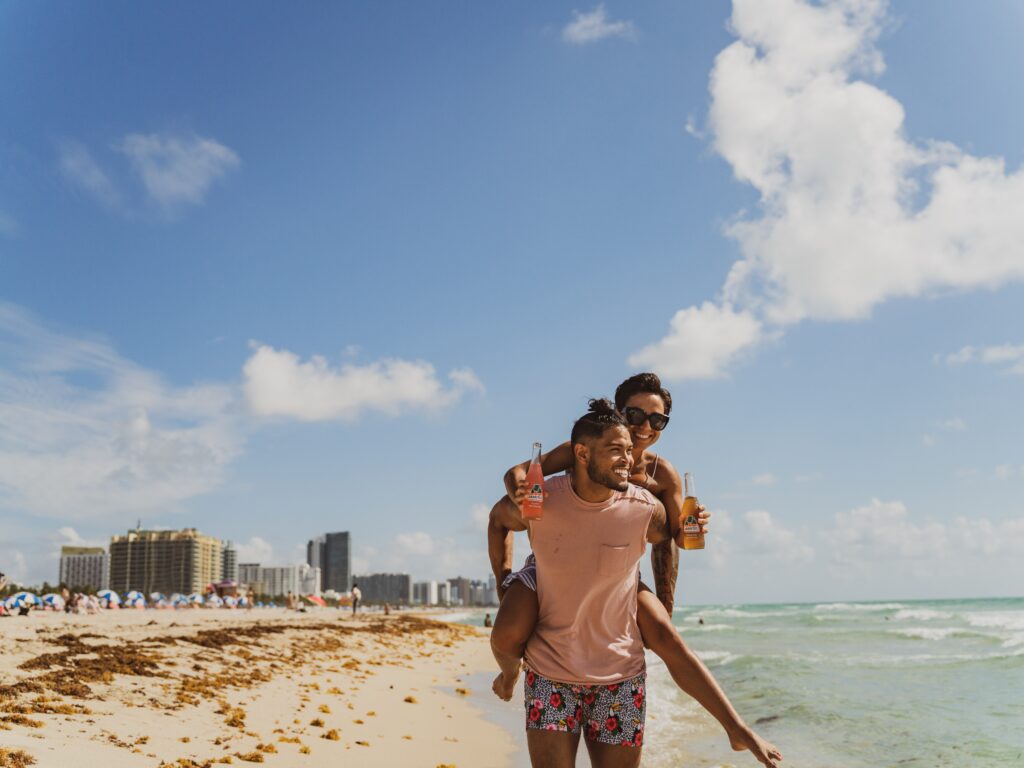 Memorial Day is upon us again. The holiday marks a new chapter as the summer begins and school nears its end. You might not consider Memorial Day to be a "shopping holiday" compared to other days of the year, but the holiday weekend still sees significant increases in spending.
People are out and about doing activities with friends and family. These activities often involve using products like beer, meat, and swimming gear. In addition, more than half of Americans attend a barbecue, picnic, or cookout.
The holiday weekend is also popular for deals and promotions. An effective way to get customers into your store is through Memorial Day email marketing. One survey showed that 59% of respondents said that their purchases were influenced by marketing emails. Sending topically relevant and enticing deals can help increase foot traffic, website visits, sales, and revenue. Read on for more details.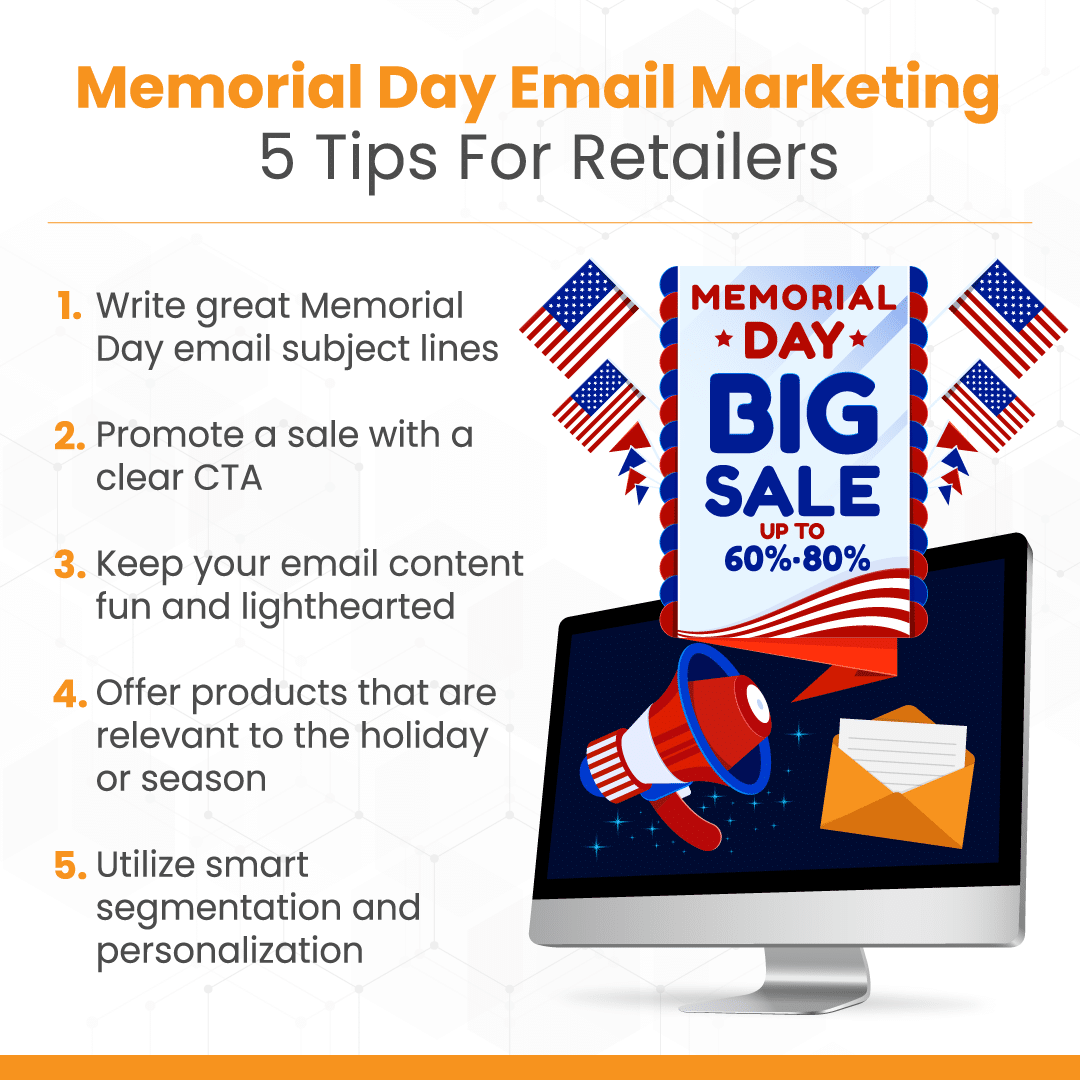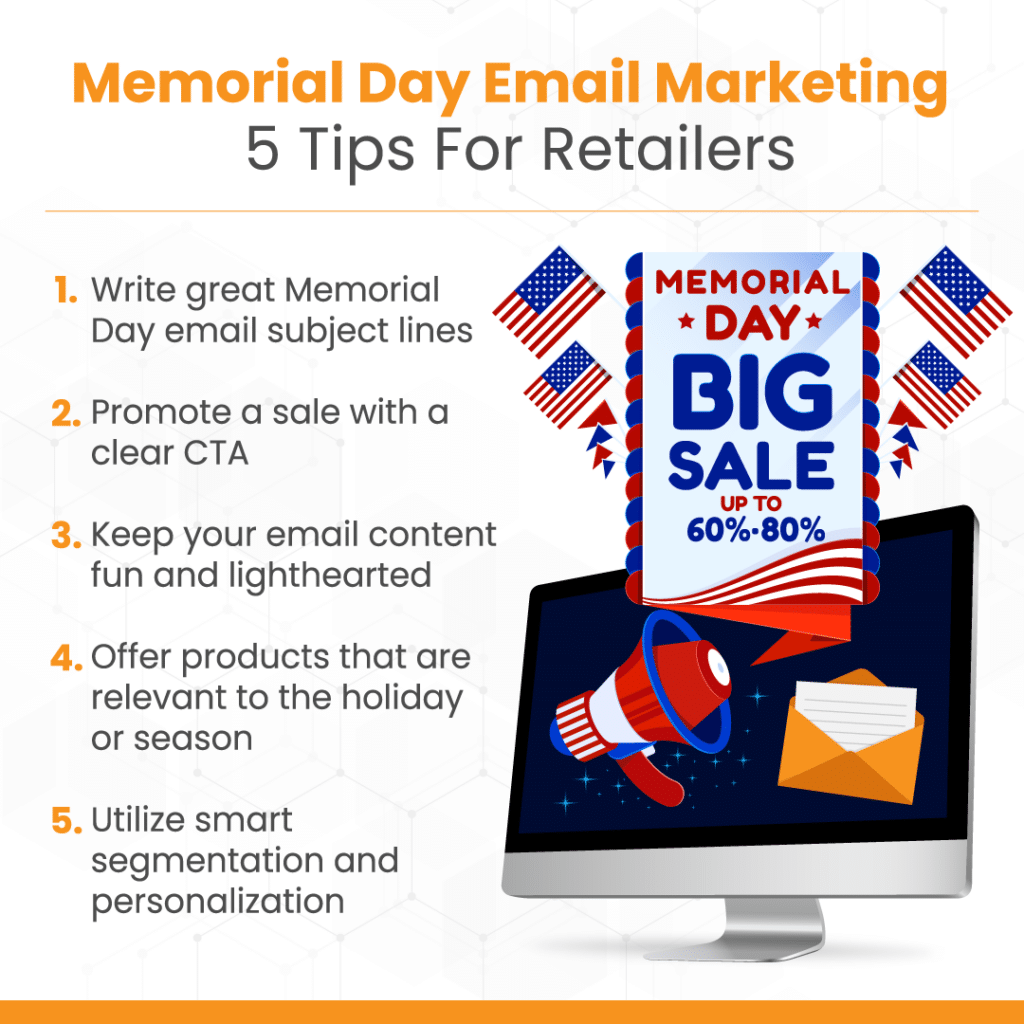 1. Use Relevant and Catchy Subject Lines
The first matter of business is getting the recipient to open your email. No matter the purpose of your marketing email, the subject lines must be catchy and descriptive.
Be Direct in Your Email Marketing
There are many ways to go about writing a compelling subject line. Many retailers will opt for a clear and direct "Memorial Day Deals You Can't Miss!" message. This will work great for people looking for enticing sales and discounts.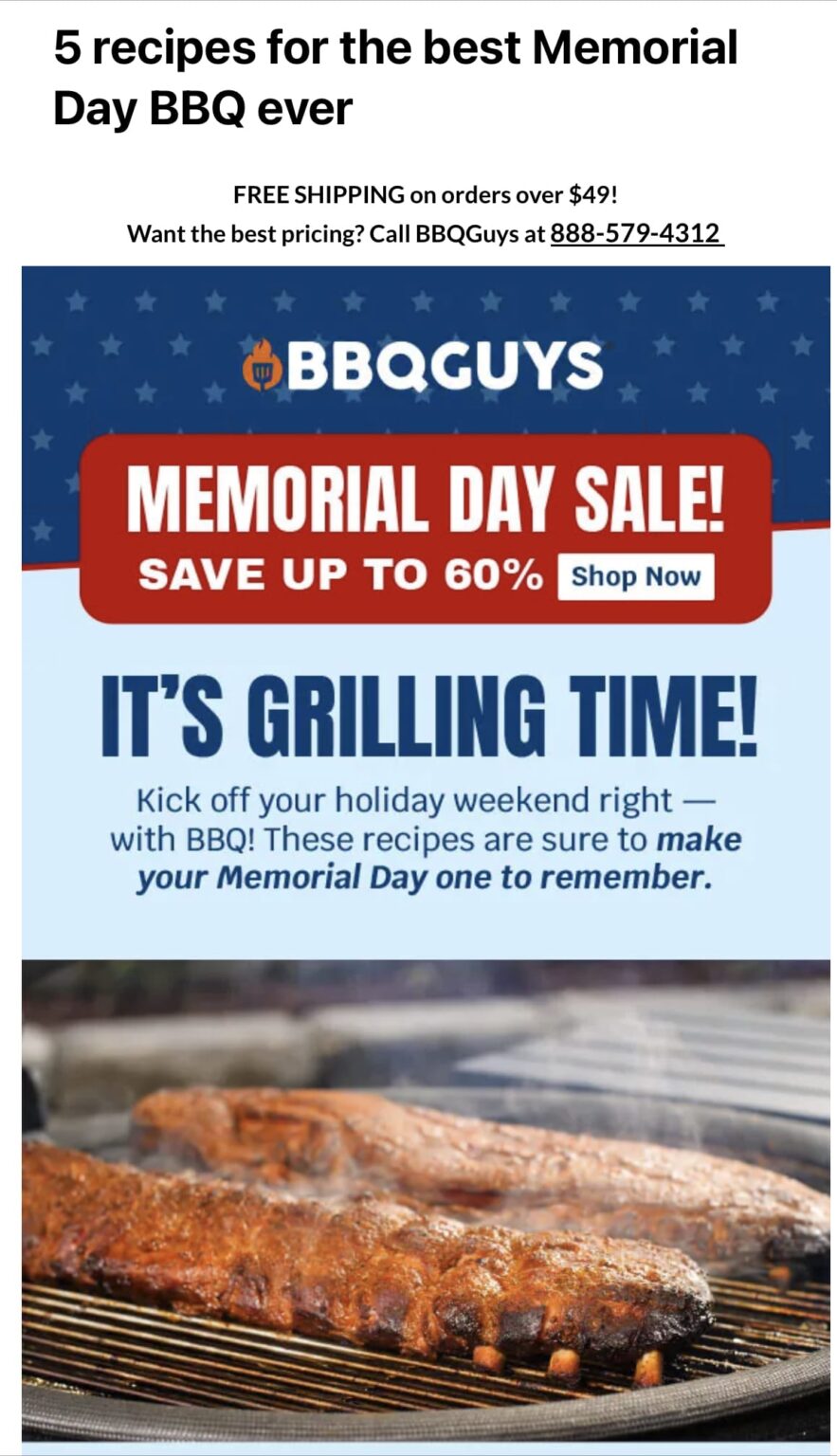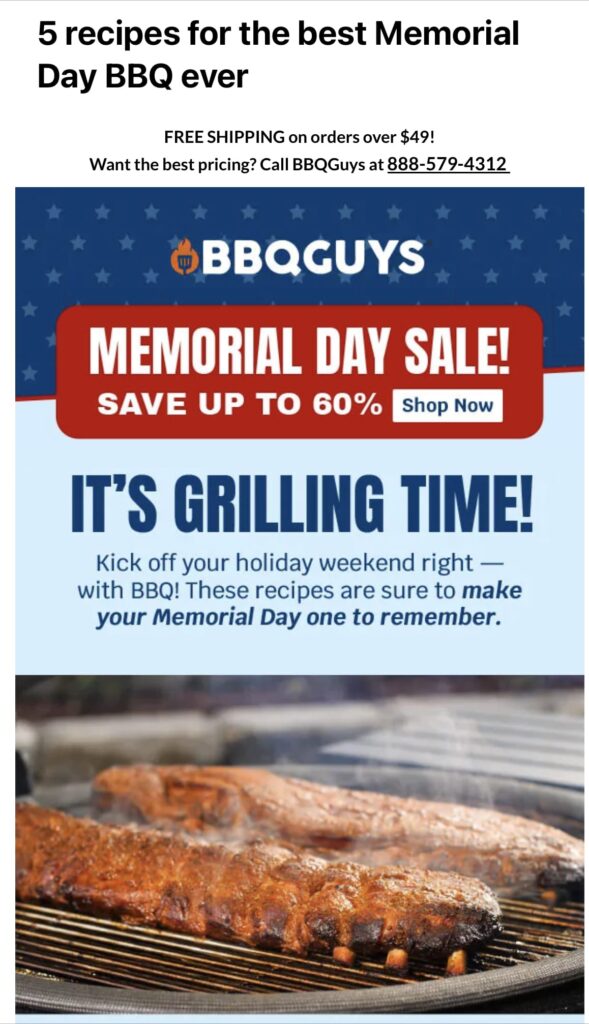 Content-Based Emails
Another option is to offer helpful information to intrigue your recipients. For example, BBQ Guys use the subject line "5 recipes for the best Memorial Day BBQ ever." Then they promote sales up to 60% before you get to the recipes.
The relevant content gets the recipient to open the email and look over it, allowing for more opportunities for engagement. Ideally, these recipients will also click through to the site.
Make Your Emails Captivating and Fun
Others will try to appeal to humor. Emojis in subject lines have become much more popular amongst brands that appeal to younger audiences. Images of palm trees, daiquiris, and beach umbrellas all make sense.
As long as you keep your subject lines relevant and avoid spam folders, you have a lot of flexibility. Try to align your marketing copy with your brand image. Finally, make sure to emphasize the holiday weekend.
2. Promote A Sale With A Clear CTA
Your Memorial Day marketing email should have a clear purpose and intent. What is the intent of your email?
Having the recipient open your email is excellent. However, the point is to get them to your website or store to make a purchase. Hence, you must include a bold CTA clearly explaining what your offer is.
Avoid including too much information. Many consumers will be overwhelmed by extensive copy or images in an email. Plus, images increase the likelihood that your campaigns will be flagged by various email service providers. Instead, write something clear and defined, such as "Click Here For 25% of All Local Beer This Memorial Day Weekend."
Make a strong and concise offer. Promotions like free shipping, sales on top of sales, and limited-time offers are all great ways to increase your conversions.
3. Make It Fun And Lighthearted
Remember, Memorial Day is a holiday! And it's a holiday for families to enjoy together.
Your Memorial Day email marketing message should reflect the energy of the holiday. Leave out themes that are too serious.
A large part of Memorial Day is the anticipation of summer. People want to see topics related to swimming, grilling, parties, and family fun. Images involving beaches, sand barbecuing, cold beverages, and fruit salads are all great to include.
Build your copy around these themes, and you will surely have a more interested and engaged audience.
4. Write A Memorial Day Sales Email With Holiday Relevant Products
Retail merchandising is very important, so build your emails strategically. Offer items that make sense at the beginning of the summer. As previously mentioned, these can include glaringly obvious products, like grilling equipment, or other general summer apparel, such as swim trunks or lighter workout gear.
Expand The Scope of Memorial Day Products
Nonetheless, there are less apparent products that are great to promote in Memorial Day email marketing outreach. For example, people spend their holidays doing all kinds of different activities. Often these activities involve travel.
AAA predicts that 42 million Americans will travel on Memorial Day weekend in 2023. Thus, something like a sale on weekend luggage would be a great fit.
Another good example is from the bed sheet brand Brooklinen. They send Memorial Day emails offering discounts on lightweight summer sheets. As long as brands think creatively, many products relate to the season, weather, and holiday.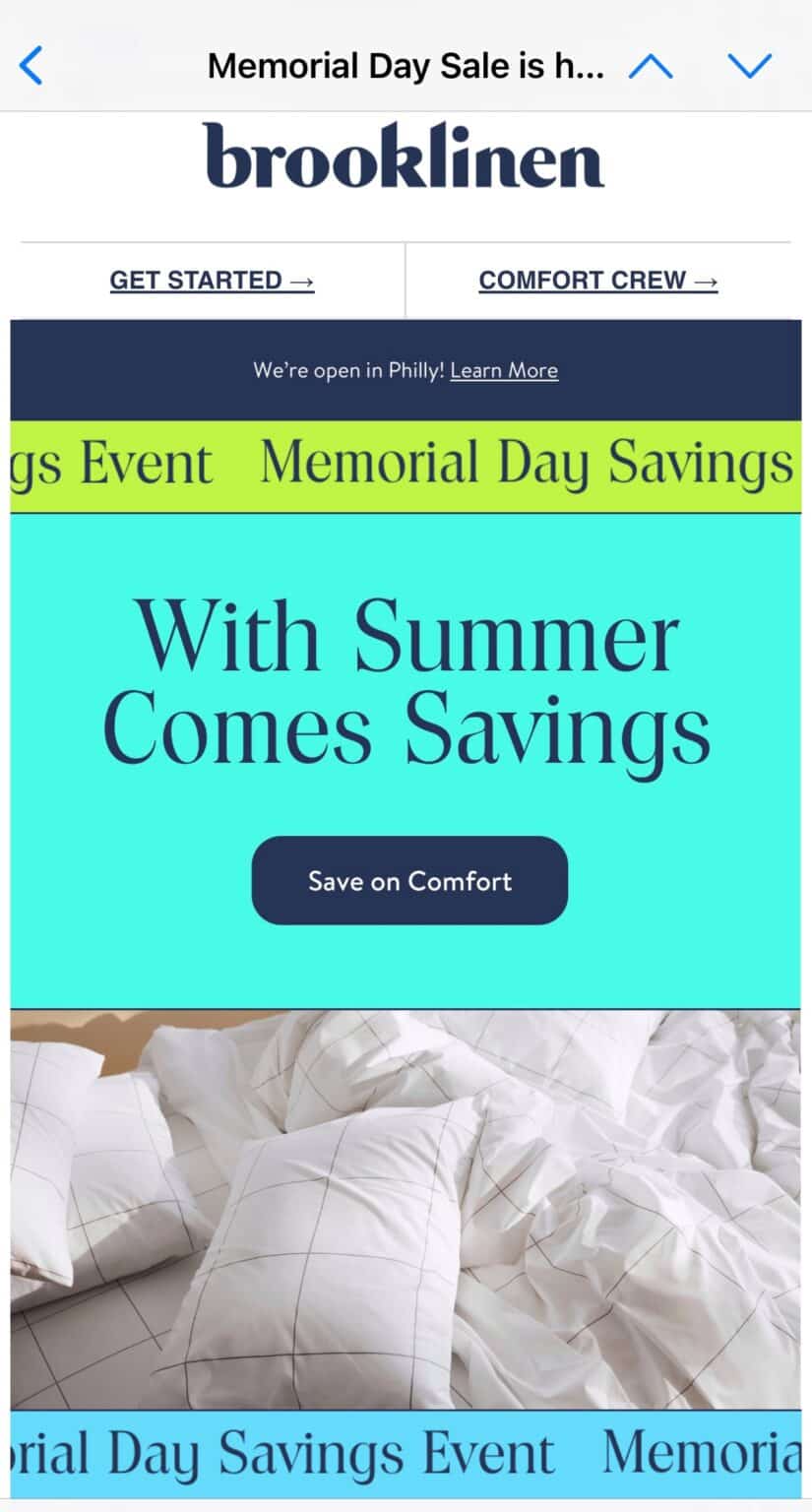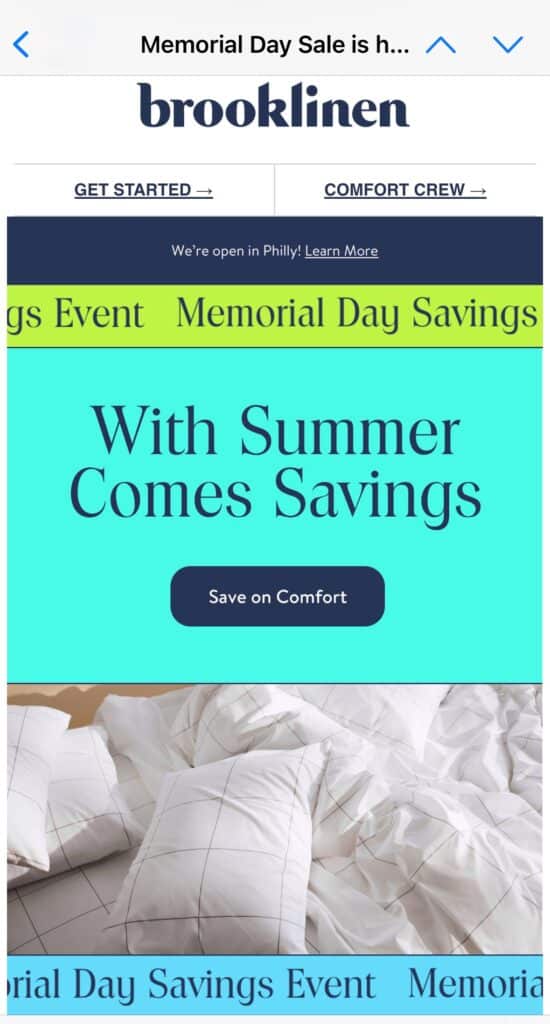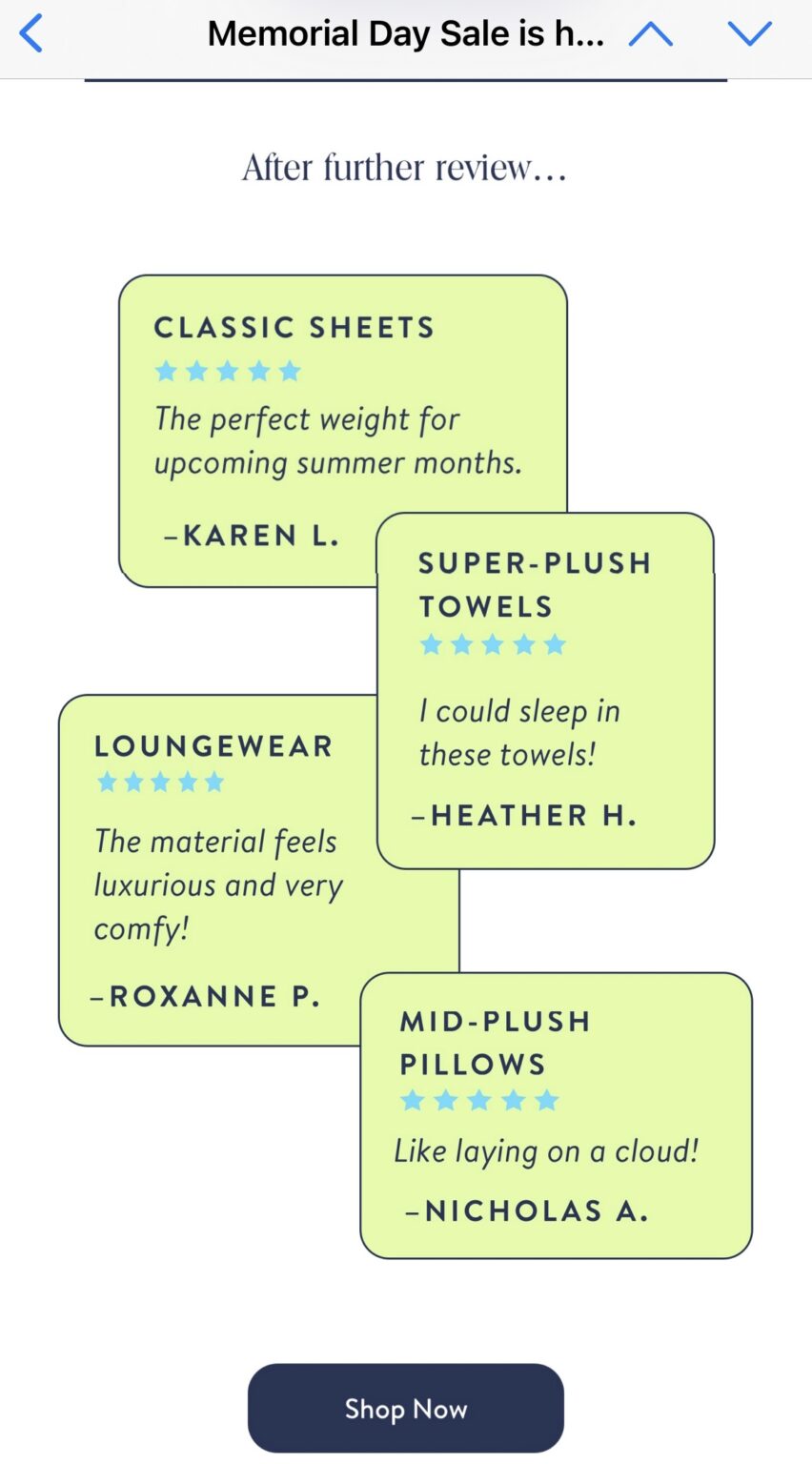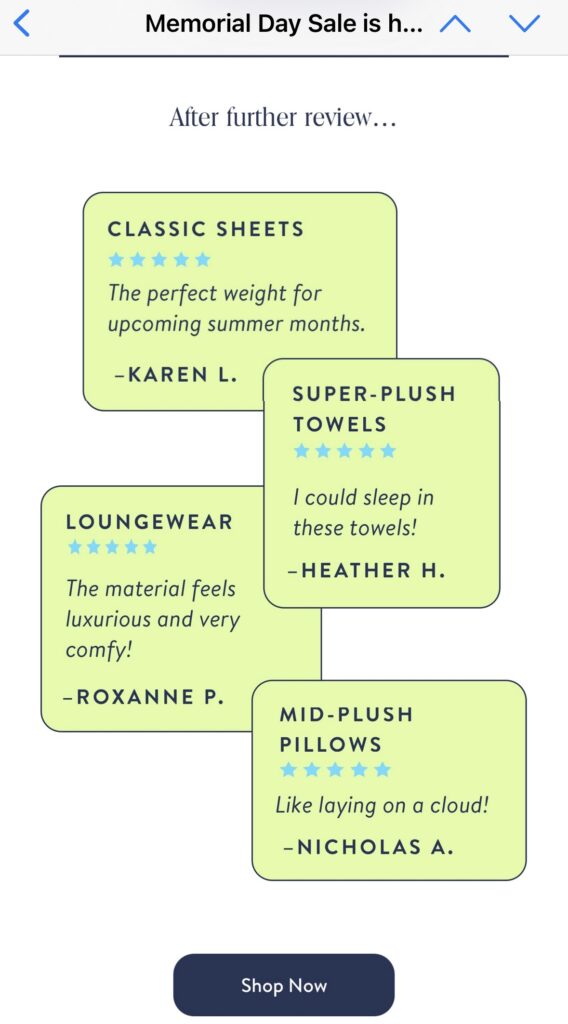 5. Employ Memorial Day Marketing With Smart Segmentation And Personalization
Building up as many recipients on your email marketing list as possible is always a plus. However, sending targeted emails versus mass email blasts can be much more advantageous.
Modern customers expect personalization and segmentation. And sending irrelevant promotional emails to customers can annoy and frustrate them.
Tailor Your Emails
Take, for instance, a customer who lives in Miami and receives a Memorial Day marketing email. The email celebrates the arrival of warm weather and offers a discount on swim shorts. This particular message is irrelevant to the customer; since they live in Florida, they've likely already made their swim gear purchases months prior.
That's where segmentation can be helpful. Utilizing broken-down sales data and customer history from your point of sale helps power personalized marketing emails.
For example, let's say you own a liquor store and want to send out a Memorial Day email marketing campaign. By looking at customer purchase history, you can send individually tailored messages.
Offer your wine-drinking customers a deal on summery rosé. If you have clientele that enjoy tequila, email them the best margarita recipes for the holiday weekend.
Customers appreciate this personalization, whether you're touching on their geographical location or individual preferences. Plus, why waste your time and effort on sending irrelevant emails?
Conclusion: Great POS Powers Great Email Marketing
Writing targeted marketing emails is much more effective when you use sales data and customer purchase history. With a powerful and robust point of sale system, all these broken-down analytics will be at your fingertips.
KORONA POS offers the best reporting in the industry. Get actionable insights and dynamic CRM to power email marketing campaigns that actually work. We integrate seamlessly with industry-leading loyalty programs such as bLoyal, and Springbig. No matter your vertical, we have rewards program solutions to keep your customers coming back and spending more.
Our software also delivers comprehensive inventory management, employee management, and more. Plus, each user can enjoy our in-house customer support team with 24/7 assistance. Give us a call today to schedule a demo!
FAQs: Memorial Day Email Marketing
1. What do you say in an email for Memorial Day?
A Memorial Day email should say what you are trying to promote precisely. Offer discounts or sales on products that are relevant to the holiday. Any theme or product that relates to the beginning of summer, barbecuing, or a travel weekend would be great.

2. How can I promote my Memorial Day?
You can promote your Memorial Day by sending marketing emails, posting on social media, or hosting a barbecue. All three of these strategies get the word out about your business in different ways. Try a combination to see what works best for you, and then tweak your plan next year.

3. Should I run a Memorial Day sale?
Running a Memorial Day sale is a great idea. In fact, the majority of Memorial Day shoppers will be looking for discounted items specifically. Try to promote items that are related to the holiday in one way or another.