There are so many resources for digital marketers to worry about. Social media, blogging, referral sites, partnerships, Google Ads, Bing Ads, Google My Business, email marketing, push notifications, desktop notifications. The list can go on for a long time. As always, we try to break down each of these platforms for our readers and customers to help you all succeed in this ever-evolving landscape.
For retailers with brick and mortar shops who are trying to target local consumers, Google Maps marketing is one of the most important, but often overlooked, channels. Think about how far Maps has come. It was only a few years ago that a query for "liquor store near me" sent you across the country, to a closed shop, into a lake (just ask Michael Scott), or to a store that sold anything but liquor. These days, location-based searches have become unbelievably accurate and reliable.
It's with that in mind that businesses need to remember to take advantage of marketing on Google Maps. So let's get into some of the ways SMBs can get started and make the most of their presence on Google.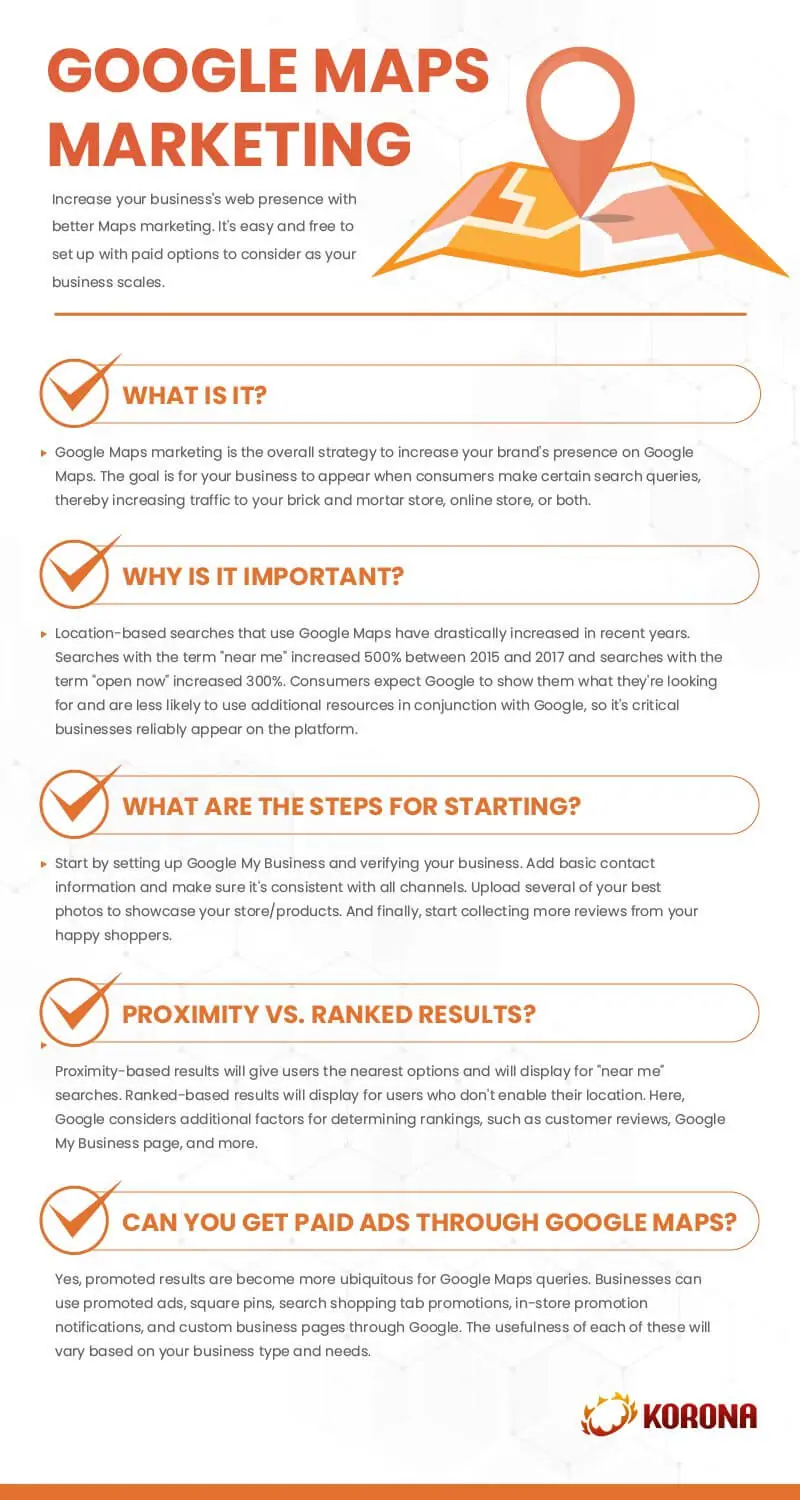 What Is Google Maps Marketing?
Though the ins and outs are a bit more nuanced the basic premise of Google Maps marketing is improving your presence on the platform to increase visibility among consumers.
This presence will be critical for search results when shoppers enter a location-based query. And this will be especially critical for small businesses that don't have name recognition. Higher ranking for searches like "convenience store near me," or "liquor shop," or "where can I buy smoothies" will bring in precious foot traffic and help you compete with big box, big name retailers.
Why Is Marketing on Google Maps So Important for Small Businesses?
Consumers are making more and more location-based searches from mobile devices each year. Google has gotten amazingly good at providing relevant and accurate results for these searches and users are taking advantage of the tools it provides.
The Google 3-pack (the top three location-based results as seen below) shows up in 93% of local searches
A third of all mobile searches are location-based queries
Location-based searches are growing faster than searches overall
Searches with the term "near me" increased 500% between 2015 and 2017
How Do You Get Started with Google Maps Marketing?
The most important place to begin is by setting up your Google My Business page. If you haven't already, go to your page to claim your listing.
Verify Your Google My Business
Verifying your listing will take a few days. Google sends you a physical postcard to the mailing address associated with your business. The postcard contains a PIN that you then must enter at the address of the accompanying link.
Make Sure Basic Info Is Accurate and Consistent
Enter all relevant information on your profile. And triple check to ensure accuracy.
Make sure all information associated with your business is consistent across your entire web presence. Google analyzes all of your other listings across the internet ("citations") to make sure they're uniform. Inconsistencies across these citations was determined to be the number one culprit of lack of visibility on Google Maps. This was far ahead of other common SEO problems like on-site optimization or poor backlinks.
Additionally, keep all ways of notating your contact information consistent. For instance, don't write your phone as (833)-200-0213 on one site and 833.200.0213 on another. And for your address, make sure you include the suite or unit number in the same way throughout.
Use More Photos
Add photos to your profile, too. Users are more likely to click through to your page if they see appealing photos associated with your store. Add some yourself and encourage guests to do the same.
Encourage More Product Reviews
Finally, get more reviews. Positive product and services reviews will immediately improve consumers' trust in your brand and convert more sales. Unfortunately, without reminders and incentives, it's much more likely that an unhappy customer will post a review than a happy one. Encourage satisfied customers to leave a review, and always address unhappy shoppers to help improve the situation before they decide to post a negative review. And if a poor review does happen to be left, take the time to respond to it.
Remember, Google wants to see that a business is constantly updating its information because it tells them that it's more likely to be accurate.
What Are Proximity-Based Results?
One type of Google Maps results are based on the location of your brick and mortar store. This has become much more popular with the rise of mobile searches from people on the go.
Proximity based results can also include ad spots for whichever search engine is being used. Organic rankings, however, are much more valuable since featured ads for most proximity-based searches will cost a pretty penny.
Typically, Google Maps will try to give the user the closest relevant option that fits their needs. Google encourages this sort of query by suggesting "near me" at the end of common searches.
What Are Ranked Results?
While proximity-based results are common on Google, they are not the only type of result in which you should appear. Some users don't enable location sharing. Plus, Google doesn't necessarily strictly filter results by location.
And though Google does want to provide users with relevant location-based results, you'll notice that the top result isn't always the closest.
Google takes many other factors into account, like overall customer reviews or Google My Business optimization.
Are There Google Maps Ads?
As you might expect, Google has started to offer promoted searches for Maps queries, much it does on any typical SERP. It's hard to blame Google – Maps now has over 1 billion users who are searching for businesses at incredible rates (see the stats above).
Businesses can now buy ads through their Google Ads account and even conduct a Maps campaign in conjunction with search or display ads. But there are some differences and distinct features with ads on Google Maps.
Promoted Ads
Google has gone through a few variations of how they promote several options in a search result. Ads appear at the top of search results with a simple "Ad" tag.
Square Pins
In order to feature certain amenities that restaurants or retailers provide, particularly during COVID, Google implemented square pins. Called Smart campaigns allows businesses to specify if they offer takeout and delivery only, curbside pickup, or limited capacity.
Search Shopping Tab
If you want your products listed directly on Google's shopping tab, you can now add their availability, location, and ways to fulfillment.
In-Store Promotions
Maps can now feature specific in-store promotions in addition to the basic listing. This adds more details to entice shoppers with discounts.
Custom Business Pages
Businesses can create their own business page within Google. Remember, the platform is always trying to satisfy user queries while managing to keep users on Google. Your business page is where you can stand out.
And since Google is primarily concerned with creating a great user experience, the highest bidder doesn't necessarily get the top spot. Ad quality is vital and the Google algorithm arguably even prioritizes this over PPC.
Keep Improving Your Small Business Marketing
For more information on running a business, check out the rest of our blog and YouTube channel. And for a few similar digital marketing guides, click one of the links below. Lastly, if you're interested in learning how a POS system can help your business succeed and grow, set up a free trial with KORONA.
Get Started with KORONA POS today!
Tell us a little bit about your business and explore all features that KORONA POS has to offer. And there's no commitment or credit card required.