Last Updated: February 28, 2022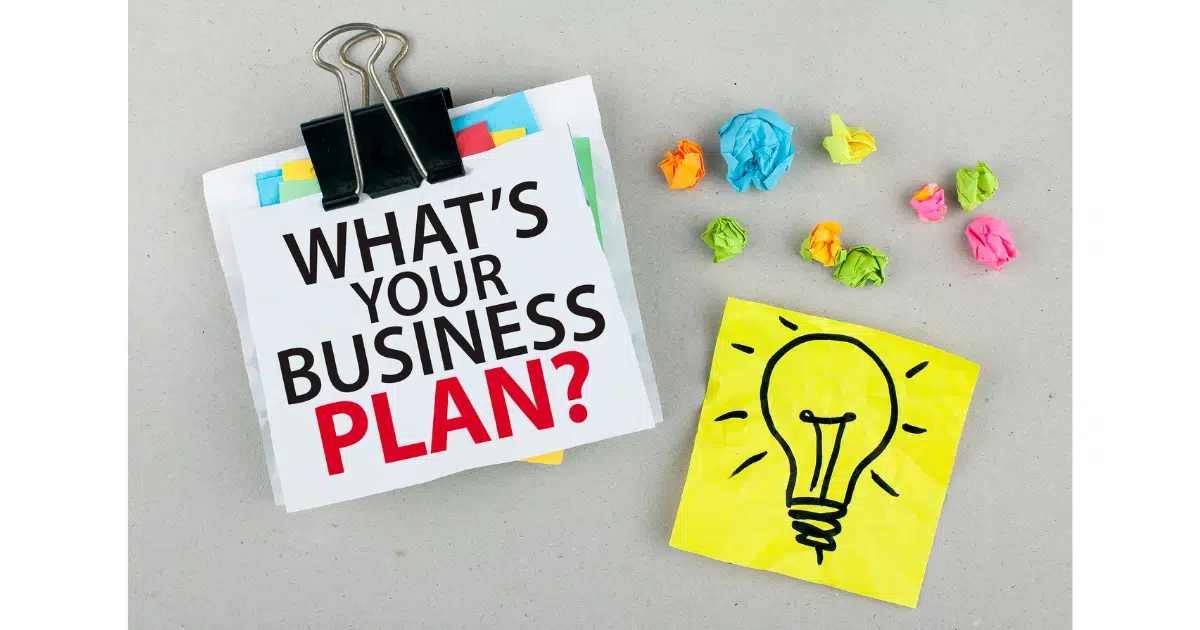 Retailers need to do significant financial planning to either start or grow their business. Close monitoring of profits, sales, loans, and expenditures is paramount for a successful business. Comparing your previous budget estimates to the actual expenses and profits will give you a clear picture of your business's financial health. There are various ways that a small company can write a business plan for a retail store.
A small business can choose to come up with a quarterly, monthly or yearly budget. This helps simplify the data necessary for formulating an elaborate business plan. A business that has been in existence for a while has the benefit of using previous financial reports to come up with new estimates for the future.
Financial planning for retail businesses entails constant review and adjustments. It's advisable to come up with a budget to cater to the various key areas on which your business focuses. Accounting software integration with your POS system can help you do this quickly and effectively. Try to reduce your costs as much as possible and create avenues to attract more profits. Although you will have to keep changing your financial plan with time, trial and error will help you find a balance that's right for your business.
Your budgeting has to be in tandem with your business objectives and goals. It's too easy to focus on simply making more money so that you move away from the core objectives of your business. Always focus on long-term goals to keep motivated and moving ahead despite the challenges that businesses face every day.
3 Things to Keep in Mind When Drafting a Business Plan for a Retail Store: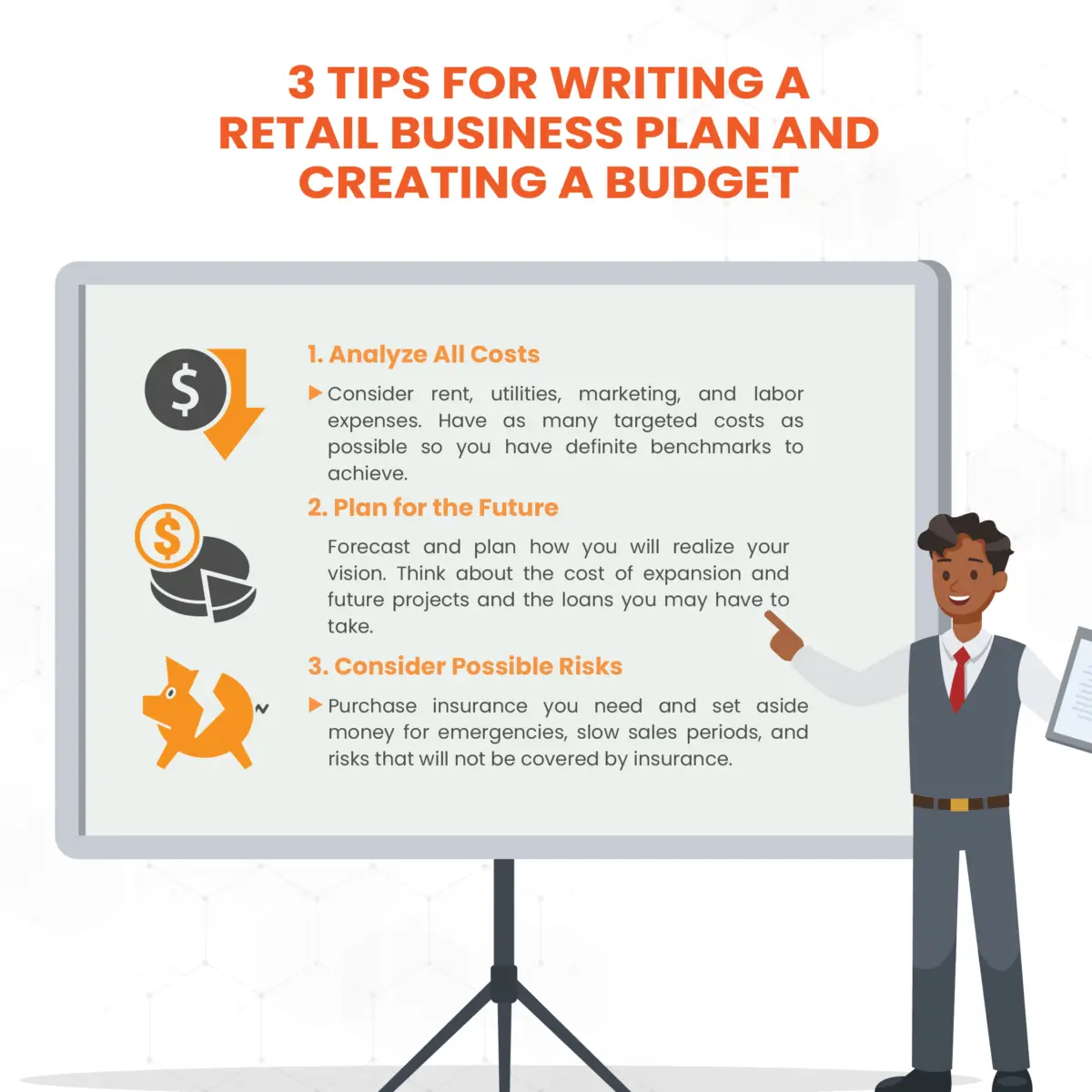 1. Analyze All Costs
A financial plan must contain an elaborate projection of the costs that your business will incur in the next financial term. Retail businesses undergo basic costs like utility bills and rental fees. But be sure to consider that these can vary widely throughout the year. For constant expenditures like utility bills, you can use past financial records to come up with an elaborate estimate to include in your budget.
You will also need to set aside money for advertising and marketing. Advertising is a crucial component of any business and one that can widely vary in cost. There are so many avenues to take with an advertising budget.
Also, consider staff salaries and benefits. Budgeting your labor expenses is another important aspect of a small business plan. It's best to have as many targeted costs as possible, so you have definite benchmarks to achieve. Eventually, you can get a more standard idea of a percentage to spend in each department, depending on what makes sense for your business.
2. Plan for the Future
For your retail business to grow, you must forecast and develop a plan on how to realize your vision. Financial success rarely happens by chance. You must make deliberate efforts to make your business get to the next level. Even if you have done proper budgeting, you must always look ahead to the next step for your business.
For instance, you may want to open a second business location or expand your retail store to allow room for more inventory, and in so doing increase your sales and profits. Expanding your store and refurbishing it will cost you money. You need to plan for such a project in advance. Forecasting helps you to put aside part of the profits to help you carry out such projects.
Expanding your business may require applying for small business loans. You need to come up with an elaborate plan for the best kind of loan that will work for your business. Choose a loan that will not strain your business. Putting such factors into consideration when drawing a financial plan will help you prevent most unforeseen challenges and costs.
3. Consider Possible Risks
A proper financial plan will also consider potential risks. There are many risks that every business faces and which must be acknowledged and addressed in the financial plan. Insurance must be purchased in whichever arena your small business requires.
Just like it's advised that people do with personal budgets, set aside some money for unforeseen risks. Learn how to manage small business emergency expenses and get in the habit of building your emergency funds. In the case that, they do not spend this money in a given financial term, it can always be moved forward to the next. That money will cater to risks that your insurance does not cover. It can also help to boost your financial health during slower times of business.
Your Retail Business Plan
With time and effort, you can have excellent financial planning for your business to grow bigger. Evaluate your retail point of sale reports and data regularly to help guide your decisions. Plan weekly, monthly and quarterly reports for different sets of data. Always refer back to your budget when making important financial decisions regarding your retail business.
Start your business with the latest and most affordable POS software on the market.
Get Started with KORONA POS today!
Tell us a little bit about your business and explore all features that KORONA POS has to offer. And there's no commitment or credit card required.
FAQs: Writing A Business Plan for a Retail Store
What makes a business plan successful?
A successful business plan is always going to be extremely specific and detailed. The more well-thought-out a business plan is, the better chance a business will succeed. It will contain all the factors and commitments you need to effectively execute the start-up of your business.
Who writes a business plan?
The person who is most involved and is making executive decisions should write a business plan. You can also hire a business consultant to help you write or come up with a business plan.
What are the mistakes in writing a business plan?
A business plan and business start-up are more likely to fail if it is missing any sections. Additionally, being vague, not long, or detailed enough are mistakes in writing a business plan.