Last Updated: November 21, 2022
Retail sales every November and December can account for a huge percentage of annual retail sales. 2022 is shaping up to be no different. Forecasts predict that Black Friday and Cyber Monday shoppers will reach a record of 166.3 million people. For many years, holiday sales and promotions were mainly run by big box retail chains. But small businesses have found new ways to compete with these retail giants. With these Cyber Monday and Black Friday tips for retailers, your small business can make this winter retail season the best you've had.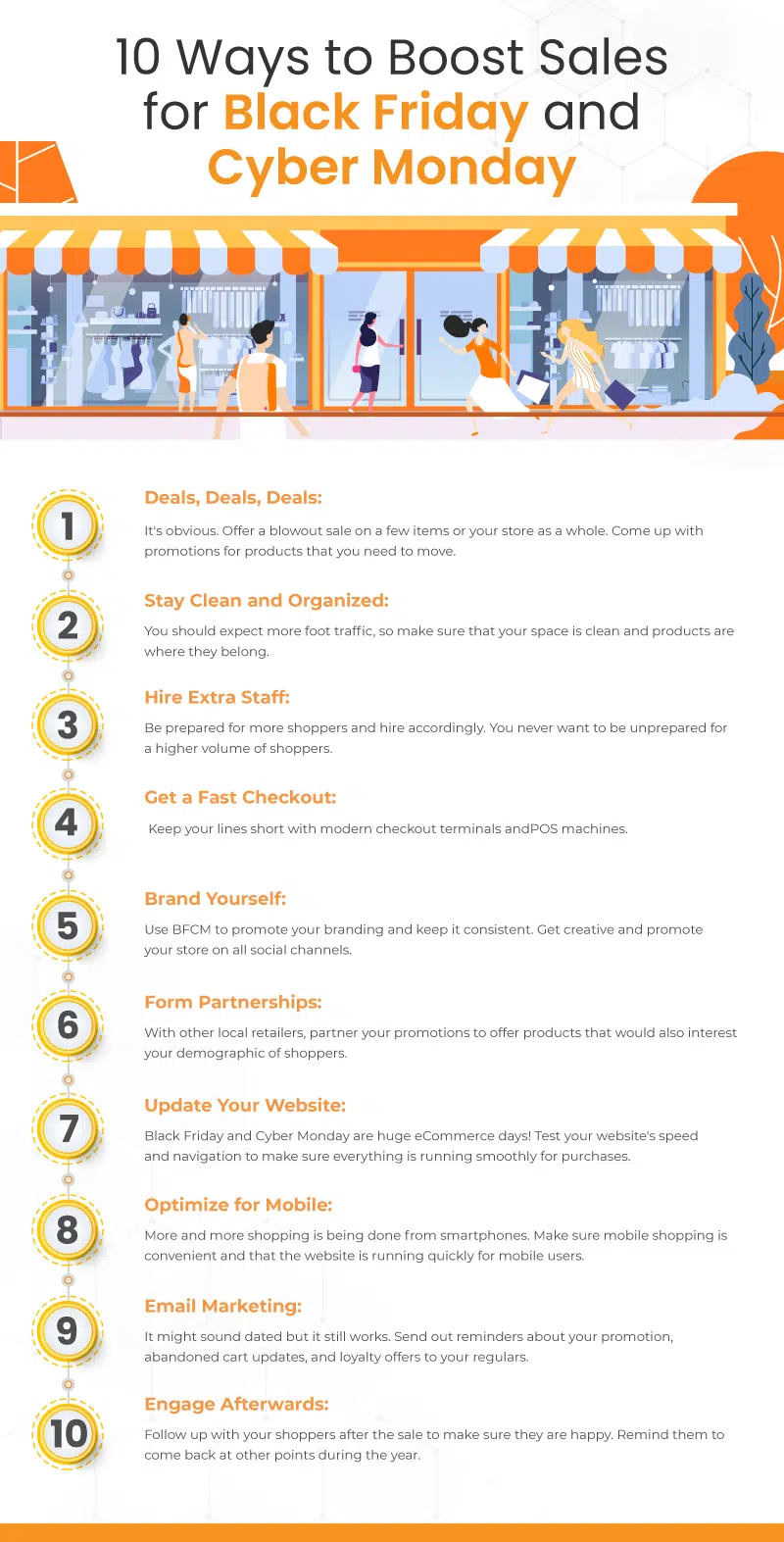 1. Focus on Deals
This may sound a bit trite, but it's worth remembering. While you may not be able to slash prices storewide by 60%, you still need to offer at least a few legitimate steals. Most shoppers coming out on these days are bargain hunters, and you must appeal to them. Even if some of the products come at a loss, you may be able to gain loyal new customers.
These deals can be as simple as one special table or display. Categorize your merchandise to determine what products are best suited for this section. Identify these four:
Orphans – the last vestiges of a product line that must be sold to make room for a new line.
Returns – returned items that have been opened are an easy item to offer at a heavy discount.
Misfits – these products may have been slightly damaged or come with a manufacturer error and can be easily be sold with a great discount.
Dogs – misorders or misjudgments on what the market demands, any products deemed dogs need to be out of your store as soon as possible.
Finding frugal ways to still run generous sales allows you to compete with the bigger retailers and draw in the average Black Friday consumer. Treat it as an opportunity to move through unwanted product, while also attracting potential new customers.
2. Organize and Clean Your Retail Space
This is important at all times of the year, but especially during the holidays. Even if your store isn't running a destination sale, you're guaranteed to see more foot traffic and it's important to make a good impression.
Focus on your window displays and areas of the store that get a lot of traffic. Show off your best selling products and any new merchandise, especially if it is specific for the holidays. Run more minor sales and highlight items you want to upsell or cross-sell.
3. Hire Seasonally and Train Well
The holidays require extra help for many retailers. And there are plenty of people looking for some extra work around the holidays. Make sure you are fully staffed for this crazy time of the year. It's always better to be overstaffed than under. Just take your time with the retail hiring process and employ the best people.
With a lot of new hires, you must focus on training each team member well. They should be comfortable in any main role within the store, from the stockroom to the POS terminal. Take the time early to offer plenty of time to become acclimated to your store, and spend at least several shifts on the floor prior to the big retail days.
4. Fast Checkout
Long lines can be a big reason that customers will avoid. There are plenty of destinations for Black Friday and consumers want to be in and out of stores as quickly as possible.
One way to combat this is, of course, more staffing. But there are several other steps that will help keep your lines moving quickly:
Add more point of sale terminals.

Train each staff member to navigate and troubleshoot the POS software.

Add mobile terminals by using tablets so staff members can check out customers from various spots on the retail floor.

Offer to buy online with in-store pickup. This cuts back on the craziest delivery season of the year and allows people to be in and out.
5. Raise a Positive Brand Awareness
Like most of these tips, this is essential all year round, but it's especially crucial during for Black Friday. Start this early with your social media campaigns. It's not necessary to budget a huge amount for paid advertising. Building a following and branding yourself well on Instagram can make a huge difference.
You can also take a unique angle on the Black Friday promotion. Again, it doesn't have to a storewide massive sale. Get creative with a different take on the whole idea. Take REI, for example, they simply close on Black Friday and encourage staff members to spend the day outdoors. While this is an extreme example, it gets people talking about the retailer every year.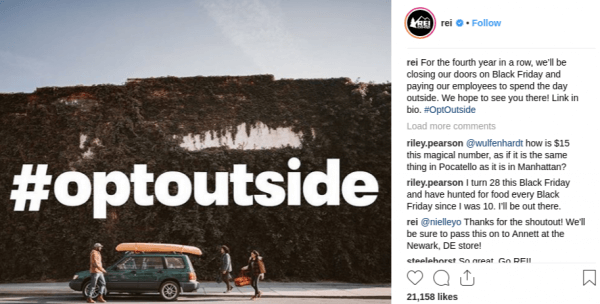 Many retailers also use this as an opportunity to build its charitable side of things. In another extreme example, Patagonia donated 100% of Black Friday proceeds to charity one year. They are in a unique position to be able to afford the loss, but they've quickly become a destination for the growing number of shoppers who are concerned with corporate social responsibility.
6. Partner with Neighboring Retailers
Small businesses uniting is occurring more and more often. It's an easier way to challenge the big box stores. And while consumers are still very much concerned about price, more and more are thinking about shopping locally and supporting small businesses.
Portland, OR hosts Little Boxes each year, a local movement of small businesses coming together on Black Friday and Small Business Saturday. It's citywide and has the support of most residents. It's a great way of raising awareness for smaller brands and make shopping a greater community event.
7. Update and Test Your Website
Online sales are actually greater on Black Friday than they are on Cyber Monday, but both days are huge eCommerce days. And this will only continue to increase.
Test your website to make sure it is running perfectly. Speed and navigation are of the utmost importance. A one-second delay averages in an 11% decline in sales made. And just like a brick and mortar store, your website must be easy to shop. Make any sales clear with banners, pop-ups, or added items in the main toolbar.
The holiday shopping season also encouraged impulse buys. Make your checkout as fast and easy as possible so people don't have time to second-guess themselves. A bothersome checkout means more abandoned carts for your online store.
Make sure your eCommerce platform is also running smoothly. Whichever platform you use, such as WooCommerce or Shopify, must be integrated with your retail POS system. This ensures that inventory is accounted for and any purchase can be delivered.
8. Optimize Your Store for Mobile
More and more commerce is being conducted through mobile phones. It's important that your website and eCommerce platform are suited and optimized for mobile devices. Too often, we still run into retailers who have impossible websites to navigate from a phone. This is an easy way to lose guaranteed sales.
Mobile shopping saw the largest growth of any avenue during last year's post-Thanksgiving sales. Up 54%, expect a similar jump this year.
9. Focus on Your Email Marketing and Segmentation
The month leading up to Black Friday is a great excuse to beef up your email marketing campaign. It has the biggest average return on investment of any marketing purchase and is a great way to target ads.
Segmenting your campaign adds another layer of productivity to the endeavor. And it will increase your conversion rates. Find ways to raise open and click-through rates by catering to different offers and discounts to different audiences. Here are a few categories of shoppers to consider:
Seasonal Shoppers
Recent Orders
VIP/Loyal Customers
Abandoned Carts
Gift Shoppers
There are plenty of others, so come up with categories that make sense for your store.
10. Engage After the Sale
As we always say, continue the conversation! Building your email marketing list is a great way of facilitating this, but there are other ways, too:
Use QR code discounts to get people back in quickly for another purchase.

Offer double loyalty reward points for the holiday.

Advertise your Green Monday or Giving Tuesday sales later in the season.

Offer incentives for social media engagement or positive reviews.

Highlight January deals to help improve the post-holiday lull and move your stagnant inventory
Final Tips on Black Friday and Cyber Monday for Retailers
However you approach the big retail days this year, make sure you take a holistic approach. Remember that retail must be an omnichannel experience. And each part needs to be organized and curated perfectly. Black Friday and Cyber Monday should be events that you prepare for well in advance each year. Your POS is an integral part of a successful holiday retail season. Click below to find out more about how KORONA POS can help make this season your best yet.
Don't forget to check out our other seasonal/holiday marketing guides below:
Get Started with KORONA POS today!
Tell us a little bit about your business and explore all features that KORONA POS has to offer. And there's no commitment or credit card required.