Last Updated: July 31, 2023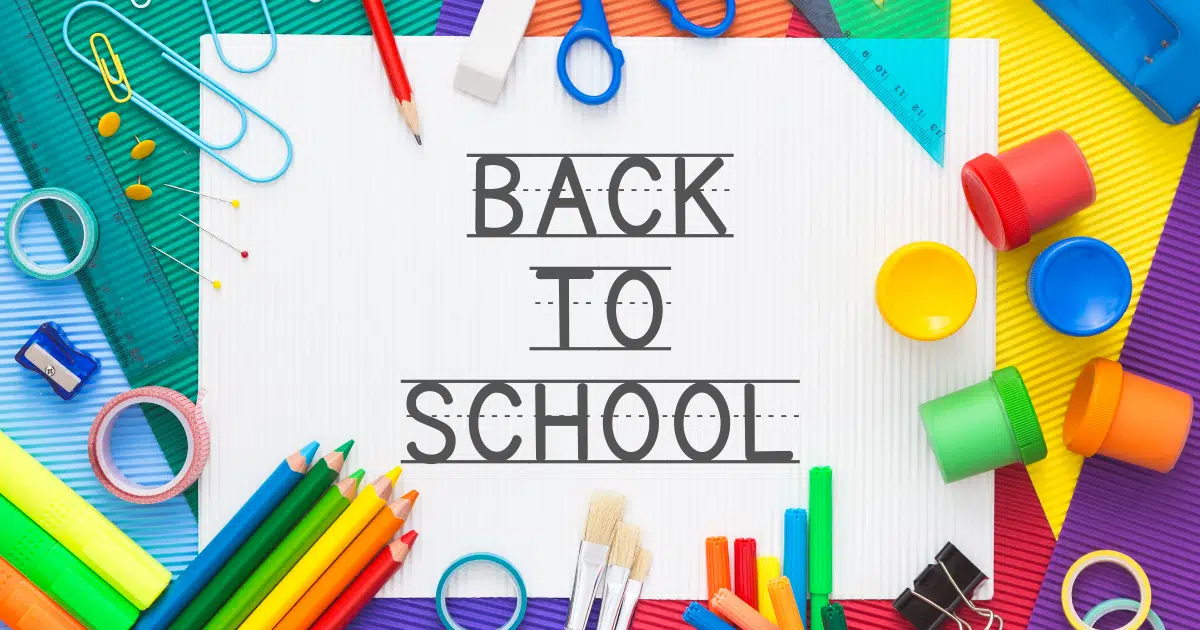 Millions of children, teenagers, and even adults head back to school every fall. It's probably not everyone's favorite moment of the summer, but it's inevitable and necessary. And we spend a lot of money doing it.
Back to school and back to college spending projections in 2023 are around $136 billion. As a retailer, how can you get a slice of this big ole pie? You can start with a great back to school marketing campaign.
These days, back to school shopping includes clothing, accessories, electronics, furniture, books, stationery, athletic gear, and more. So let's talk about a few ways your retail store can join the frenzy and make kids and parents love your store.
5 Back to School Marketing Ideas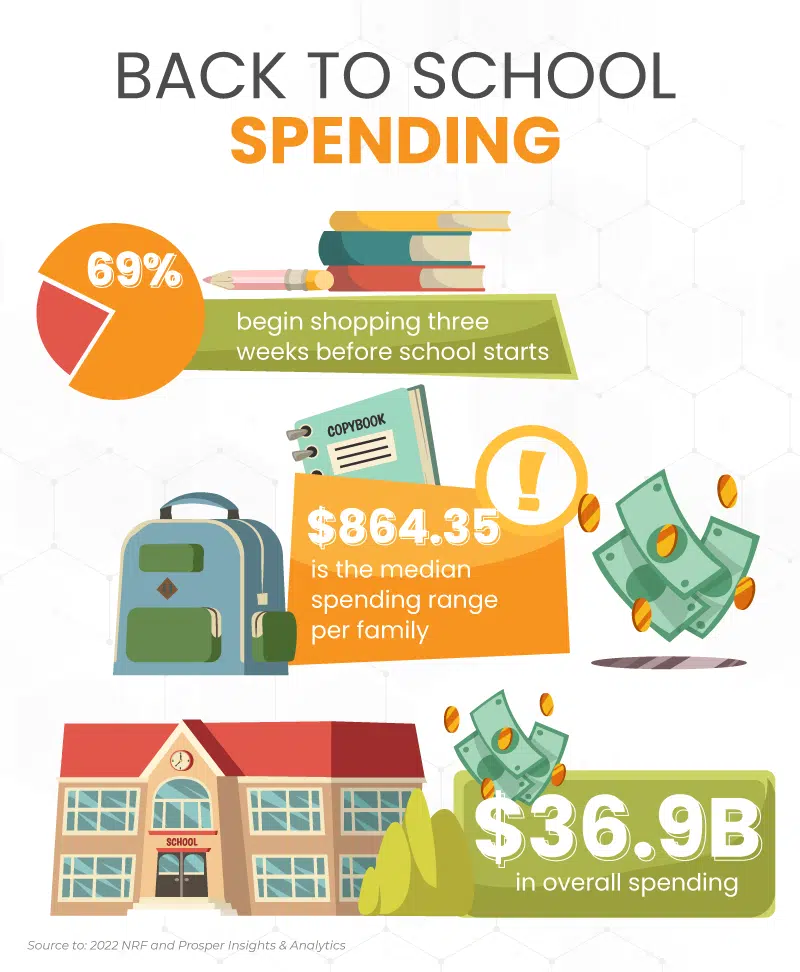 1. Embrace Digital Marketing and eCommerce
Digital advertising for short-term promotions, such as back-to-school sales, can greatly increase your foot traffic and sales. A well-curated Instagram grabs attention, especially from younger people. Online shopping now accounts for about 11% of retail sales and that number is rising fast. Your customers will be ecstatic to order their favorite back-to-school products right from the beach rather than dragging the whole family at the last minute.
2. Follow Back-To-School Trends
Keeping up with current back-to-school trends can easily get overwhelming. But even embracing a few will benefit your back to school promotions. Students and their interests are more diverse than ever. Whatever trends you promote in your store will surely resonate with some people.
The easiest way to follow current trends is through TikTok. Create content that aligns with popular challenges and hashtags related to the back-to-school season. This could include showcasing trendy back-to-school outfits, must-have school supplies, or dorm room decor. Engaging in viral challenges or creating your own challenges centered around back-to-school themes can increase visibility and user participation.
In addition, encouraging user-generated content, such as haul videos or product reviews, allows customers to share their back-to-school shopping experiences. This type of content fosters a sense of community and authenticity.
By closely monitoring trending content and consumer preferences, retailers can effectively promote back-to-school shopping and connect with a younger and broader audience.
See also: How to Use Social Media in Retail: 5 Social Media Networks to Consider
3. Giveaways, Contests, and Charities
Every retailer should consider this effective promotional tactic. A giveaway can generate the viral publicity that every retailer dreams of. It's not an easy tactic because it takes a strategic analysis of your inventory and costs. You must be sure that any potential losses would not be catastrophic for business. Partnering a giveaway with influential brands or making it into a contest are good ways of increasing interest and revenue. Plus, kids love contests.
Genuine charity is also a great promotional tool. Back to school shopping can get expensive. And it's an unavoidable cost for every parent. If you can help some local families with a few essentials, you'll be giving back and attracting positive attention.
4. Create a Better Store Experience with Your Marketing Campaign
See related: 5 Simple Ways to Improve Your Customer's In-Store Experience
Focus on the kids! Sure, it's great to market to teachers, parents, and college students, but most money comes from what children want. A great way to attract their attention is by incorporating a more engaging store experience. It doesn't have to be too difficult to organize or set up.
Set up coloring stations with different crayons, markers, and notebooks. Host an event that will bring in groups of kids and parents alike. It's an excuse for everyone to get together and a great way to make the experience more enjoyable.
5. Be a Helpful Source of Information
Consumers don't always know what they want. And if that's the case, they would appreciate help from retailers who know their products. This is especially the case for parents shopping for their kids. They want to spend their money on the best products at the best value. Help each customer decide on their back-to-school gear; plenty of happy families will leave your store with their school essentials.
Don't forget to check out our other seasonal/holiday marketing guides below:
Every retail owner should look for their niche in the back-to-school frenzy. Find a spot that works for you and your store. And check out KORONA's POS solution. It can help you set up loyalty programs, plan promotions, run inventory analyses, and much more. Click below to try out the software!
FAQs: Back To School Marketing
1. How can I promote back to school?
A fun way to get families involved is by starting a back to school event with giveaways or contests. Parents and their children will want to join the fun while getting school supplies for the year. In addition, a charity will is a notable way to get people involved to consider those families and children in need.
2. When should you start promoting back to school?
The best time to start back-to-school promotions is in late June and early July. Start when the school summer season is nearing its end. Yet give enough time for those families who like to get a head start before the rush right before school starts.
3. How do you start a back to school campaign?
Begin by researching what is trending for this school year. Stay up-to-date with what students' current interests are and take advantage of using social media marketing.