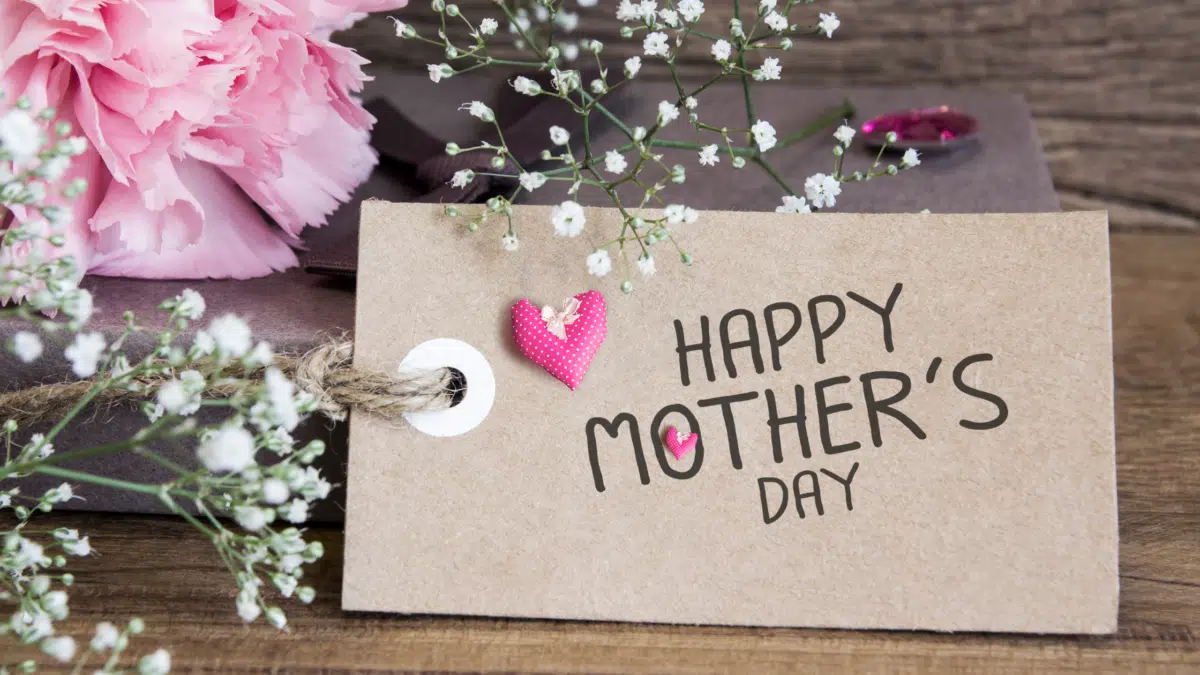 If you're reading this it's likely that Mother's Day is right around the corner. As one of retail's biggest days of the year, it's important that business owners prepare early. 
This means deciding on your promotions, planning your ordering and inventory, and finding ways to stand out from the competition. Easier said than done.
But with a focus on both customer service and on how to celebrate all the moms out there, small businesses can develop some great Mother's Day marketing ideas. Once you have a strategy for your Mother's Day promotions, implementing them is fast and easy.
Some Mother's Day Retail Statistics
First, let's go over some of the eye-opening Mother's Day spending statistics. Getting a bigger picture of consumer behavior should help motivate businesses to make the most of the holiday.
$28.1 billion – Total expected spending on Mother's Day 2021

83% – Percent of U.S. adults planning to celebrate Mother's Day

$220.48 – Average of expected total per person spend on Mother's Day 2021

$179.77 – Average spend per person for Mother's Day 2018

72% – Percent of adults who plan to buy a Mother's Day card

68% – Percent of adults who plan to buy flowers for Mother's Day

49% – Percent of adults who will plan a special Mother's Day outing
To offer some additional perspective, despite being in the heart of a pandemic, Mother's Day spending in 2020 surpassed $200 billion internationally.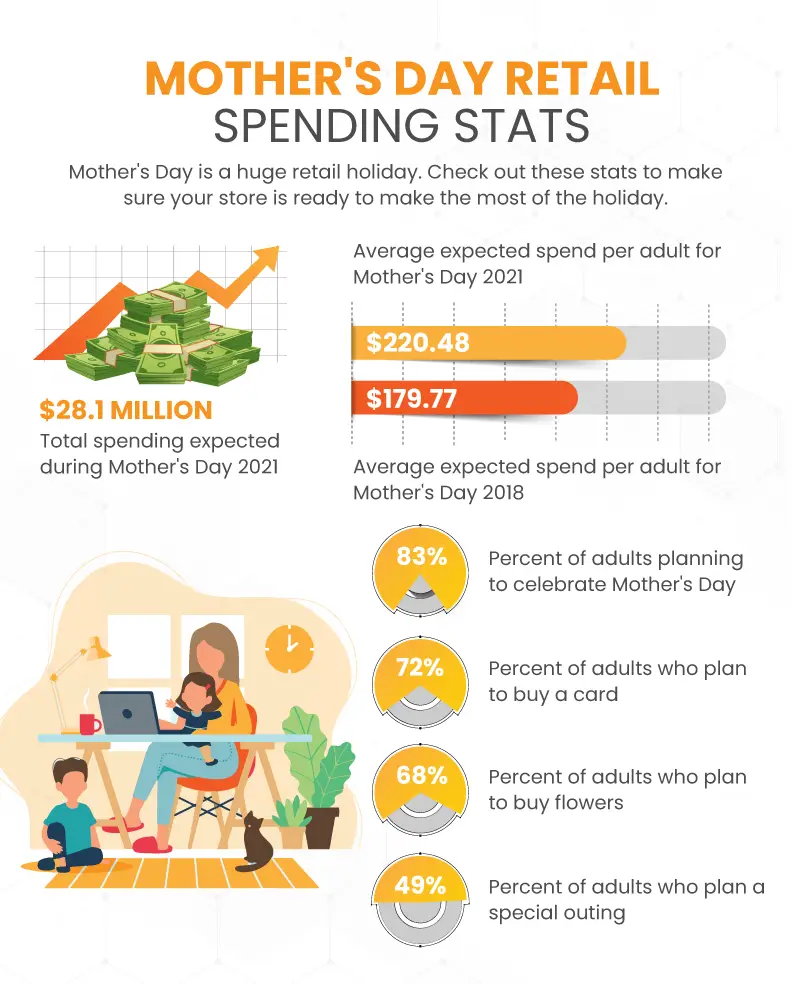 1. Understand Your Audience
Before you start anything else, you need to make sure you have a good understanding of your audience. Of course, with this holiday, you're targeting Mother's Day shoppers. But think more specifically about those shoppers.
What are they looking for? Are they shopping for their moms? Their wives? Mother-in-law? Friends? Think about who your target audience is and what type of Mother's Day gifts they may be looking for.
Narrowing in on this will help you map out your overall Mother's Day marketing strategy and better serve your customers.
You May Also Like To Read: Back-To-School Campaign Ideas For Retailers
2. Reach Out to Past Shoppers by Text and Email
No Mother's Day marketing campaign can be successful without making sure a whole lot of people hear about it. You need to get the word out there to bring back past shoppers and market to new ones.
But start with your past shoppers. It's far easier to convert a sale with an existing customer than it is with a new one.
Take advantage of new digital outreach tools, particularly email and SMS marketing. Both are remarkably cost-effective to run and allow businesses to reach a vast audience quickly. There are a lot of possible strategies to take within each campaign:
Highlight your most popular products

Run a sale for loyal customers

Add a sense of urgency with a deadline

Include "order by" dates for eCommerce purchases

Give shoppers new ideas
3. Make the Shopping Experience Convenient
Consumers are more concerned than ever about the customer experience. And it's never more important than when planning for your Mother's Day shoppers.
One great way to enhance the experience is through personalization. People are drawn towards gifts that show their loved ones that they care. Adding customization options for your products will catch more eyes and help inspire your shoppers with new gift ideas.
Additionally, add different retail channels to give your shoppers various buying options. Make it easy to make a purchase, join a loyalty program, or redeem a promotion. Managing it all through your point of sale makes it simple.
4. Help Give Your Customer Gift Ideas
Gift guides have become increasingly popular among consumers. People often don't know what to get as gifts, especially if they're buying for someone who they don't know well.
Gift guides can break down options in a number of ways. You can give them ideas for different types of moms, help shoppers stay within a budget, or break things down by category.
And there are numerous ways to share the information, too. Write a blog post, run an ad campaign, add a pop-up on your website, blast it out through email or text marketing, or hand out flyers to shoppers in your store.
5. Partner with Businesses That Cater to Mother's Day
There are plenty of retailers that might not have a product line that's filled with traditional Mother's Day gifts. But there are certainly neighboring businesses that you can partner with to still attract holiday shoppers.
Find a local flower shop, jeweler, restaurant, or wine shop to run cross-promotions. Done well and it will improve the customer experience, bring your partner store increased sales, and help you gain more Mother's Day shoppers.
One common way to do this is to offer a gift card to another establishment if a customer spends a certain amount. No matter which side of that coin you're on, you'll expand your reach and grow your customer base.
6. Run Paid Digital Ads for Mother's Day
Digital advertising is a tough game, but retailers can get in some practice by running short ad campaigns around specific holidays.
For Mother's Day you might try running an ad on Google or Bing. But social media advertising is probably the better fit. A lot of consumers look to social media for inspiration, giving businesses an opportunity to get their brand out there.
Running ads on Pinterest and Instagram will likely convert the most shoppers. Just make sure you advertise something that will add significant value and make your product stand out.
7. Encourage Social Media Engagement
In addition to ads on social media, retailers should also take efforts to drive more engagement among their followers. Social media engagement around a holiday becomes a bit easier.
Mother's Day, in particular, is a day that almost everyone celebrates and wants to share with others:
Start a contest for best story or photo

Ask for childhood photos

Tell your own story and ask others to share theirs

Add a hashtag to it

Give a small gift card for resharing or posting
8. Improve Your Website for Mother's Day Marketing
There are a few ways that businesses can use a holiday as an excuse to spruce up their website.
In the immediate, retailers can set up specific landing pages for their Mother's Day campaigns. Try out different formats and copy to home in on the right combination to maximize conversions.

Add pop-ups to your website to highlight new products or promotions. Make them time-based so that they trigger before a user leaves your site.

Use banners to showcase your Mother's Day deals and discounts and make any promo codes readily apparent.

For longer-term improvements, consider updating your product pages. Add better photos and optimize your listings for

better SEO

.
9. Put Together Great Displays and Bundled Packages
Finally, take the time to improve your in-store layout and promotional displays.
Add sidewalk signs and window displays to attract more foot traffic.

Create eye-catching displays throughout your store that feature Mother's Day promos.

Put together bundled gift packages to help give your shoppers gift ideas.

Make your return policy friendly and clear with signage and receipt notifications.

And, of course, make sure you have a retail POS that can handle the increased volume of sales, running promotions, managing your loyalty program, and more.

Continue reading: 7 Best Mother's Day Advertising: How To Make The Most of Mother's Day During And After The Event?