Despite persistent inflation and supply chain issues, there are significant bright spots in the retail industry. Total nationwide retail continues to rise each year, with 2022 reaching upwards of almost $5 trillion. Brick and mortar retail has shown impressive resilience over the past year. With in-person shopping having become much safer than mid-pandemic, most consumers have made their way back to physical stores.
Still there are plenty of developments and challenges along the road ahead. Customer preferences shift, technologies advance, and shopping patterns evolve. Unsurprisingly, eCommerce has proliferated, gaining higher market share value each year. Read on for more details regarding these noteworthy retail trends for 2023.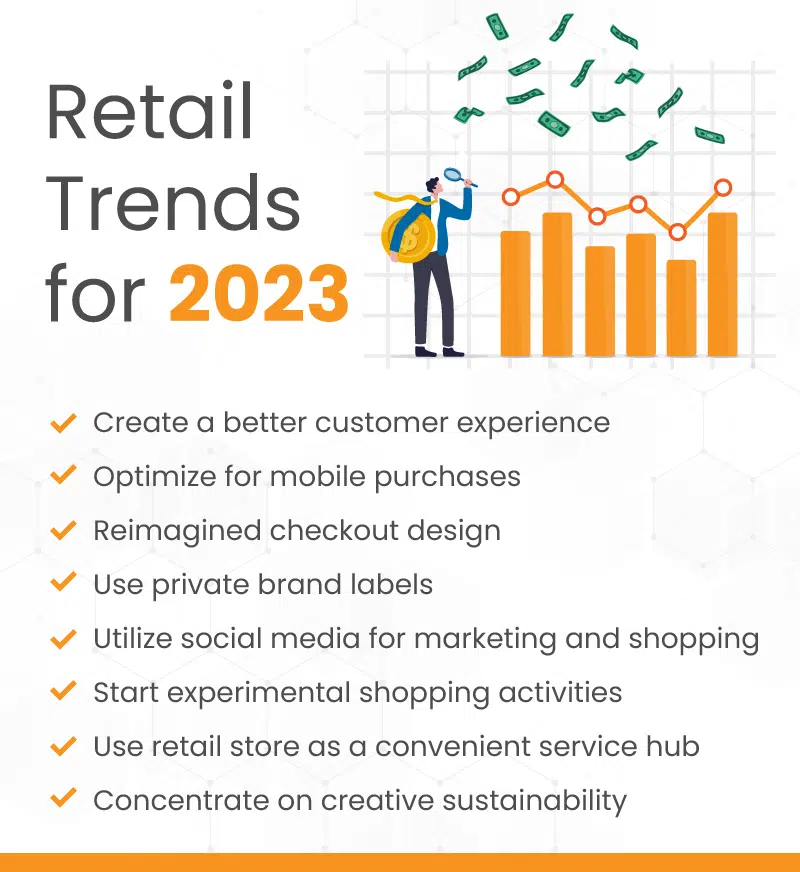 Table of Contents
Key Trends In Retail Industry: Extend And Expand The Experience
Leaving a great impression on customers is a timeless way to bolster your business's reputation. Generating word of mouth marketing and establishing repeat customers have been goals of retailers for decades. However, in the contemporary setting, technology is the main driver that connects stores with their customers.
Of course, sales reps and retail cashiers are extremely important. But following up with texts and emails is a must. This year, we'll see even more strategies from businesses trying to continue the conversation with shoppers. Incentivizing the creation of customer profiles will continue to be crucial in solidifying relationships.
Even stores that traditionally shy away from segmentation and personalization, like convenience stores, are moving towards implementing loyalty programs. The point is to engage your customers beyond the scope of the brick-and-mortar space and into an omnichannel experience. 
Latest Retail Trend: Optimize For Mobile Purchases 
Every year, more and more shoppers purchase straight from their cell phones. As such, 2023 will see even more retailers focusing on optimizing for mobile purchases. At this point, it doesn't matter how big or how small your business is.  Open up your sales to a much wider range of potential customers with mobile access to your inventory.
Ideally, retail companies should make an app for their clientele. From there, users can browse new items, receive promotional notifications, accumulate rewards, monitor shipping, save items to wishlists, and contact customer support. But even if you choose not to build your own app, check that your eCommerce store runs smoothly and quickly on mobile devices. Finally, if you are a local brick-and-mortar business, like a liquor shop or cannabis dispensary, consider integrating with a menu and delivery app.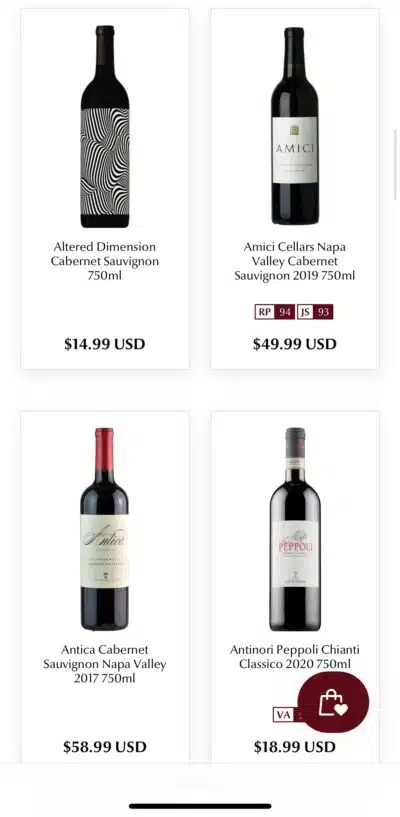 Re-Imagined Checkout Design
Faster and more accurate brick-and-mortar checkout design is constantly on the minds of retail technology innovators. Naturally, being able to process transactions more quickly while avoiding theft and error appeals to all retailers.
Over the past decade, many businesses have added mPOS readers to their checkout repertoire. These are the tablets that cashiers and salespeople use to scan items remotely without having to bring items to a counter or desktop computer. While these cloud-based readers will continue to evolve and gain popularity, RFID is the newest addition to retail checkout.
RFID, or radio frequency identification, communicates with electromagnetic waves without requiring a direct barcode scan. They are remarkably useful in inventory counting, often eliminating the need to move boxes in the warehouse. Because of their accuracy, they are also used in highly regulated industries such as legal cannabis.
In addition, emerging RFID technology will allow guests to simply drop their shopping basket into a reader that automatically identifies all items for purchase. Uniqlo has rolled this out at their self-checkout kiosks at over 3000 stores. Expect to see more and more RFID tech incorporated into checkout counters and kiosks in all kinds of retail environments.
Retail Trends 2023: Private Labels Are More Popular Than Ever
The popularity of launching private-label products has proven to be beneficial to many retailers. Trader Joe's is one of the undisputed leaders in this domain, with almost 60% of their sales coming from their own brand. Other big companies with famous private labels are Costco's Kirkland Signature and AmazonBasics, to name a few. 
The benefits of private-label brands are abundant. First, they are generally less expensive for both the retailer and the consumer than brands with bigger names. Skipping the middlemen and avoiding increased marketing costs brings down the overall COGs significantly for these private label items. In the current economic climate with increased inflation and cost of living, more consumers are looking to try these private labels, often sticking with them if they deem them to be of legitimate value.
Remember, you don't have to be Amazon or Trader Joe's to create a private label. Philadelphia based Italian specialty market Di Bruno Bro's is a great example of a medium-sized food retailer that sells their own private label items. By creating an affordable line of great quality tomato sauces and olive oils, Di Bruno's is making a higher profit margin on these items while enhancing their own brand story and customer loyalty.
Utilize Social Media in Your Way
Shopping through social media platforms like Instagram has become increasingly popular for certain types of vendors. For example, a specialized embroidery apparel design line can easily ship their designed clothing across the country by advertising to targeted niches on Instagram. Social media shopping opens up eCommerce retailers to a faster, more direct type of reaching their customers.
On the other hand, smaller, more localized businesses with a focus on brick-and-mortar can still take full advantage of social media marketing. Let's say you own a butcher shop. Staff or owners could post tutorials about cuts of meat and how to best prepare and cook them, or an image of the sandwich of the day . Friends send other local friends your page. If you're posting appealing food and recipes, people will want to follow and share your profile. All of this will increase the presence and exposure of your brand.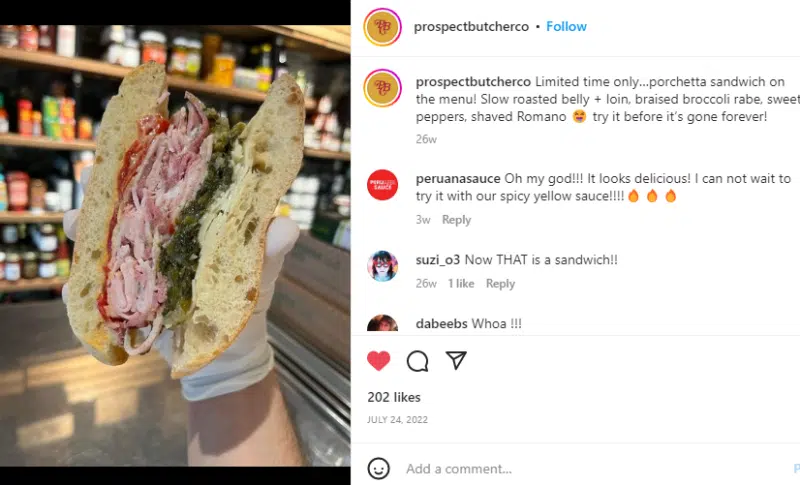 Experiential Shopping
The "experience economy" idea has become more popular and influential every year. And in the post-pandemic environment, it's likely to gain even more traction. As such, your in-store user experience will be crucial to maintaining a successful brick-and-mortar retail operation. There isn't just one blueprint for how to make your shop more enjoyable, but striving to add unique and memorable dimensions constantly is a must.
To be sure, not every retailer can be like Nike or Lululemon with augmented reality, in-house yoga studios, and Metaverse collaborations. But that doesn't mean you can't design interesting, captivating, and original in-store experiences for your customers. Think cheese tastings for wineries, bookstore author readings, and even craft-making tutorials for gift shops. If planned and executed correctly, these activities will help create memorable experiences that connect with your client community.
Using Retail Store As A Fulfillment Hub
It's no great secret that a ton of shopping is now done through eCommerce channels. Many legacy brick-and-mortar stores have made moves to adapt to this shifting retail landscape. For example, the high-end apparel store Nordstrom launched their "Nordstrom Local" concept in 2017 as a "convenient service hub for online order pickup and returns, express alterations, and more."
While most SMBs won't have the finances nor the necessity to open fulfillment-only hubs, they can learn from this idea of turning their retail stores into pickup zones, shipping centers, and return processors. Buy online pick-up in-store (BOPIS) continues to gain popularity. And rightly so, as it's a win-win setup for both retailers and shoppers.
49 million Americans had at least one package stolen last year. Consequently, providing a place for a safe handoff can help a lot of shoppers in your community. Plus, you'll get the shopper in your store, face-to-face with your staff, and exposed to all of the other products you offer.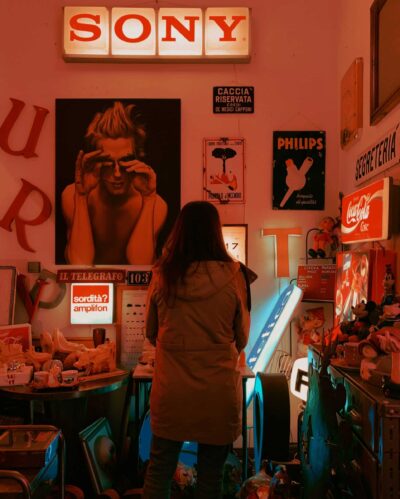 2023 Retail Outlook: Creative Sustainability
Continuing to comprehend and re-imagine sustainability will be a major business concentration. Consumer focus on environmental impact is more important than ever. How will your brand or business embody a socially responsible identity? 
Reducing waste and reusing materials can benefit the retailer and the customer. Thrift store shopping is thriving. And many other stores have added previously-owned items to their inventory, from furniture to luxury watches and even jeans. Shoppers are attracted to the lower prices of these goods and the fact that they are secondhand, upcycled, or vintage. 
Focusing on sustainability and affordability means that the demand for high-quality secondhand items will continue to increase in popularity. The number of sellers on Facebook Marketplace posting all types of previously owned items is very revealing. How retailers incorporate this trend into their merchandising and branding will be interesting to monitor in the near future.
Smart Point Of Sale Remains Paramount
No matter how you respond to retail trends in 2023, investing in the right point of sale is vital. Optimize your daily operations with KORONA POS's industry-leading inventory management system. Our customizable sales and reporting analytics deliver actionable insights to help you make decisions on merchandising, promotions, and more.
Best of all, KORONA POS is payment processor agnostic, which means you can shop around for the lowest fees and rates on the market. Give us a call today to learn more about our retail point of sale system and how it can help your business grow. 
FAQs: Retail Trends 2023
1. What are the trends in retail industry in 2023?
In 2023, retailers focus on enhancing customer experience through technology and personalized interactions. Additionally, there is a rising trend of optimizing mobile purchases, utilizing social media for marketing, and incorporating sustainability practices. Retailers are also turning their physical stores into fulfillment hubs to cater to the increasing popularity of online shopping and offer a convenient pickup location for customers.
2. What are consumers buying in 2023?
The most popular retail items in 2023 are clothing, shoes, food, and beverages. These categories are followed by bags, accessories, body care, and pet products. Furniture and household items have seen a decline in consumer buying this year as a focus away from home improvement follows the end of lockdowns.