Workplace training and development has a long, complex history. The Industrial Revolution, which began in the early 1900s, was the catalyst for the creation of many of the fundamental tenets of on-the-job training—an approach that we still use today in the retail sector.
Later in the 1940s, the post-war boom clarified the need for US-based factories to operate more efficiently in order to meet soaring demand. By the late 1960s, the American Civil Rights movement had shifted the public's focus toward personal development and professional leadership. A few decades later in the 80s, the IT revolution brought personal computers into our offices and stores, giving rise to the global economy and yet another economic upswing.
The age of the internet presented another driving force for major development in the training industry. The World Wide Web allowed businesses from every corner of the globe to collaborate, interact, and thrive. The mobile technology boom of the 2010s only served to enhance this international reach. As technology advances and the world changes, we're constantly adapting along with it.
Of course, today is no different, though the reasons for doing so might well be. In the midst of the COVID-19 pandemic, the question on everyone's minds is how this will impact business in the long term. What changes will be here for good? How will we prepare for a future pandemic? Will businesses still operate as they did in the past? Keep your staff up to date with the latest laws, guidelines, policies, and safety precautions.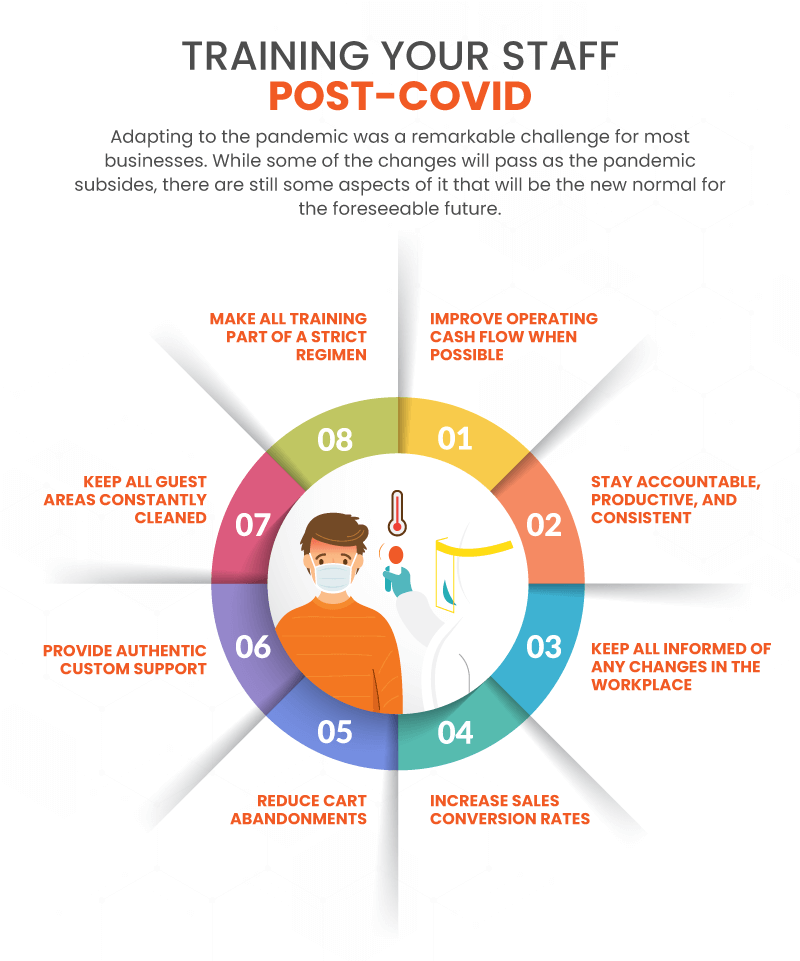 How will COVID-19 Affect Retail Training and Development in the Future?
Some retailers are thriving during these troubled times, while others have had to cut costs and are now facing mounting financial crises and training challenges alike. Much of it was luck of the draw. Retailers that thrived on a great in-person experience suffered much more during the pandemic than did those who already had an established online sales channel.
But, going forward, the difference between successful retailers and struggling ones in our post-COVID world boils down to having the right strategy, the right people to implement it, and effective processes to act out this approach.
Smart retailers need to focus on adapting their category management, shop layouts, sales tactics, stock position plans, cash flow management, and boosting sales margins if they want to stay afloat.
These factors aside, they also need to re-think their staff training and development tactics to equip their employees with the skills they need to meet these monumental objectives.
When Social Distancing and Training Meet
Until vaccination, social distancing becomes a necessity in most countries. The protocol aims to keep people safe and minimize the risk of COVID infection. While it is highly effective, it's significantly changed the way companies operate and train their employees.
The U.S. Occupational Safety and Health Administration (OSHA) has instructed businesses and organizations to draw up their own infectious disease response plans. These plans should lay out clear social distancing rules, stagger work shifts, reduce operations, and ensure remote service delivery where possible. Plus, they must reduce exposure by any other means necessary. OSHA also urged American companies to minimize contact between workers, customers, and clients by holding remote meetings and work sessions instead of in-person gatherings.
The design of virtual training and development efforts should meet these ideals. They need to be direct, concise, and engaging enough to hold employees' attention while they work and learn from potentially distracting home environments. Plus, you should equip your staff with vital retail skills:
The ability to improve operating cash flow
Fostering accountability, productivity, and consistency at work
Aligning changes in behavior with company culture
Converting as many customers as possible into sales
Reducing eCommerce abandonment rates and boosting conversions
Providing authentic, helpful, and consistent customer support both online and in-store using appropriate social distancing protocols.
How to Adapt to the 'New Normal'
Organizations need to re-imagine the way they design and deliver training and interact with their staff. Instructor-led training (ILT) was based on pre-pandemic conditions. Now, it's important to train the trainers so they can make the most of the remote training and meeting platforms they use.
Online training sessions need to include as many interactive modules and media as possible. Q&A sessions, videos, polls, and surveys, visual aids, and breakout sessions all help to keep your employees engaged. The training staff needs to provide learners with frequent breaks and to be understanding and flexible when technical issues arise. They should be aware of apologizing too much for their unfamiliarity with new platforms. Learners could start watching them for errors and miss the key highlights of the session altogether.
If you can implement ILT, you can consider offering extra training sessions. This will keep your classes small and in line with social distancing laws. Your retail learners may also need to sit further away from each other in your training room. You won't be able to speak with the audience in close physical proximity, so you'll need to make an effort to be as engaging and entertaining as possible to compensate.
It's also vital to consult with, collaborate with, and involve your team members. This will keep their productivity and engagement levels high during a time of stress and high adaptive demand.
Evolving Tech for a New Era
The training industry has always been adept at embracing helpful new forms of technology. In the post-COVID workplace, it will be essential for businesses to adopt new training tech platforms and tools.
Your organization needs to find the right collaboration tools, learn content management systems, and assess platforms to adequately meet the needs of your staff in training. You must be able to use technology to reach and engage remote learners and receive meaningful feedback from them regularly.
You need to bear in mind the quality of your content. Is it interactive, engaging, and informative? Does it meet the learning objectives set out by your training and development curriculum? Is it concise and comprehensive, or does it go into too much detail and come across as excessive and confusing?
Ultimately, your training courses need to be informative and immersive while staying brief, to-the-point, and easy for your retail staff to understand. Cloud-based retail training is an ideal solution that allows team members to access modules any time from their desktop and mobile devices, all while practicing social distancing. Cloud training programs enable you to track your staff's progress and offer targeted support through smart systems and your own learning platforms as well.
Wrapping Up
The training and development industry has seen dozens of evolutions in its time. Now, the post-pandemic area could bring about a major shift in the retail training space. The post-COVID landscape could make remote and virtual training technologies mainstays in the industry, refreshing the retail world's focus on technological literacy.
One thing is for sure: the training field is facing monumental changes and challenges.
Your best approach to tackle these changes head-on as a retail organization is to adapt innovatively while giving your staff the skills they need to keep business running smoothly.
It's the organizations and retail trainers that focus on what they can achieve and adopt creative and brave new approaches that will grow and thrive.
Be prepared to think outside the box, embrace new approaches and technological tools, and push the limits of the old training industry. Your tenacity may well be rewarded with significant organizational advancement, better bottom lines, and more skilled, capable employees.