In addition to the omnichannel retail experience that all retailers must provide, it's also necessary to implement a content marketing strategy (just like this one!) that makes sense for your small business. Often times, this means a blog, social media presence and maybe some online advertising.
A retail content marketing strategy of this caliber is not easy work, but it's inexpensive and doable. So let's clarify a few things and then take a look at the steps every SMB retailer needs to take to get there.
What Is Retail Content Marketing Anyway?
The most common misconception is that your content marketing is meant to make sales directly. Instead, this strategy is meant to provide value to both existing and potential customers. It should foster a relationship by providing value to the reader. Filler content will get you nowhere. Instead, spend time writing content that is relevant to your customers and target audience. And do it in a way that builds your brand.
What's cool about content marketing is how it differs from traditional marketing avenues. Rather than just focusing solely on making a sale, content marketing allows the sale to be made more indirectly. You can show off your brand and products without being self-promotional or salesy.
With regard to the content itself, this is where you can get creative. Blogs and email marketing campaigns are the most common. But anything that will help focus your brand identity and resonate with your customers can count as "content." This can mean events, videos, podcasts, partnerships, and much more.
Once you brainstorm a bit on all of that, start the process of building out your content with these steps.
See Related: SEO for Retailers: A 7-Step Guide to Your Retail Website Strategy
1. Get to Know Your Audience: Research and Target
Without knowing who your audience is, you won't what type of content is worth producing, or where you should market it.
A good place to start is by analyzing any data you have on current customers. Hopefully, you've been using a customer resource management (CRM) system. These allow you to compile basic profiles and shopping histories of each customer. Do they fit a certain demographic? Do they live in a particular locale? Is there any engagement on one social media platform more than others? Use this data to paint a picture of your average customer.
It's important to also define any limits that you have as a business. The most basic example is a limitation on shipping. If you're a retailer who ships throughout the United States, but not internationally, then you want to be regionally specific about who you are trying to reach. Your content reaching people who are unable to buy your product is a waste of time and can frustrate shoppers. The price might also be a limiting factor. A luxury goods SMB would best market to those who would be able to afford the product. Of course, you will inevitably reach some people who are not interested in your brand. And that's fine. What's important is defining and targeting the audience so that your time and money are used as efficiently as possible and your conversions increase.
Once you identify your audience and start your content marketing, continuously monitor the data on each item that you publish. Perhaps you'll discover that one segment of your audience isn't interested in the content you post on Instagram, while another segment responded much better but not on Pinterest. This will help you retarget future content. Always stay open to making adjustments.
2. How Much Can You Spend on Content Marketing? Determine Your Budget
Once you know who your audience is and what types of content you'll use to reach them, you can more easily devise a retail content marketing budget. The average percentage of most businesses' marketing budget allocated to content marketing continues to rise each year. For most SMBs, the safe range seems to be 20-25% of the total marketing budget. If you currently have no content marketing, you may want to start a bit smaller and work up this range.
Once you have a budget, consider the various average returns on investments for different content marketing avenues. Email marketing, for instance, is widely regarded as having the greatest ROI of any advertising tool.
Most SMBs don't have a marketing team to take care of these tasks. If you are the entrepreneurial type, you might be able to do this alone. Most likely, you won't have the time to crank out large amounts of content, but producing one or two things a week and tracking their success is still helpful.
It's also possible to outsource your content marketing. Like anything, you get what you pay for. But there is a wide range of options out there.
3. Finalize Your Plans for Executing Your Strategy
This step focuses on what forms of content are best and how you'll disseminate your content.
The types of content will be decided in your research into your target audience, and by what makes the most sense for your brand.
Using social media as an example, if your audience uses a lot of Facebook, you'll want quick, eye-catching videos. Instagram generally requires more aesthetically pleasing, creating images. Twitter only gives you 140 characters, so it's important to get your brand across in a sentence or two. Think about other social media channels as well. Reddit, Pinterest, and Tumblr all have a huge number of users but are less frequently used by businesses. Take advantage of this free form of content marketing. And if multiple channels are overwhelming, invest in an inexpensive content management system for scheduling posts and analyzing their performance.
Just remember not to waste your time producing content that won't be viewed!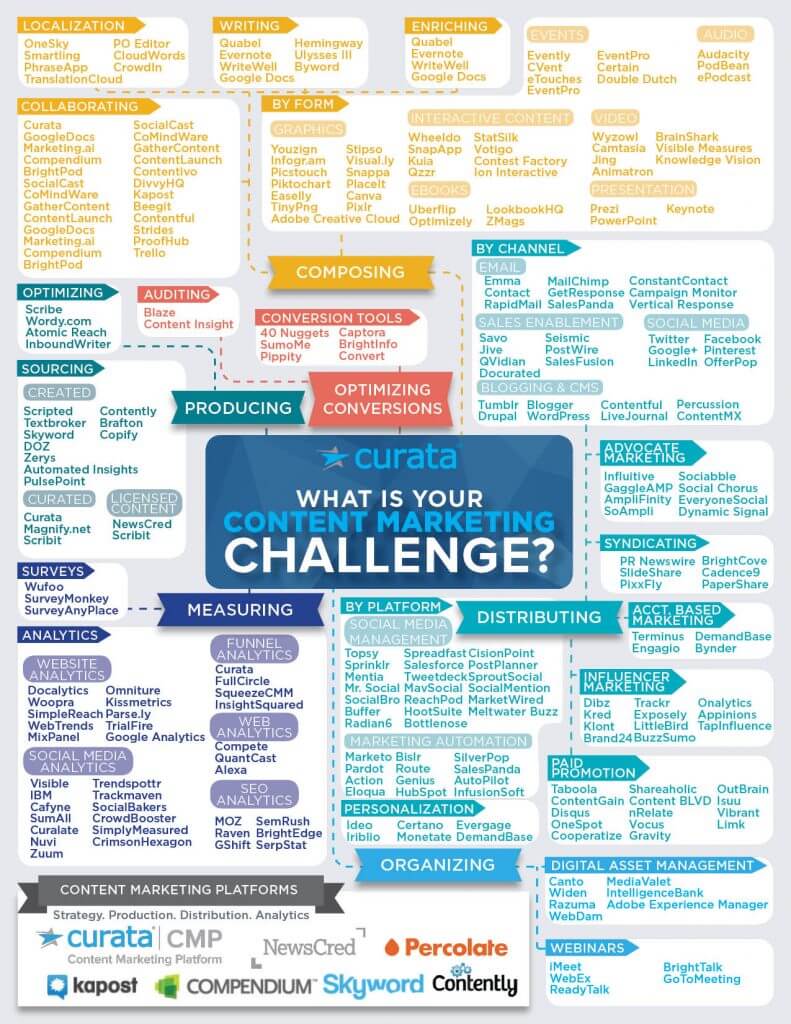 4. Choose the Management and Analysis Tools That Will You Need
There are a TON of tools available for producing and analyzing content (Just see the infographic above from Curata!). Surveys, email marketing, social media management, SEO trends, content management systems, and paid promotions are just a few services available.
Few businesses will need to pay for all of the content marketing related services that are offered, but most businesses could benefit from buying a handful. Plus, there are many content marketing tools that can perform various functions. Break down which would save you the most time and have the greatest impact on business to determine which are best to invest in.
Improve Your Retail Content Marketing Strategies Today
Whether you have a full marketing department or haven't even set up your social media pages, focus on making a plan and improving your content marketing immediately. As we near 2019, content marketing is essential for any business, and great content marketing can mean some big improvement in your business next year. Use the New Year as an excuse to make this a big part of your advertising as a whole.
Get Started with KORONA POS today!
Tell us a little bit about your business and explore all features that KORONA POS has to offer. And there's no commitment or credit card required.