As most retailers know, it's never really too early to start planning for the holiday season. This season often accounts for a disproportionate amount of annual sales, meaning that it can make or break the year.
A big part of your preparation should be done with your POS reporting and metrics. In order to make the proper decisions for your business. But what data is worth tracking and how to best do it? Take a look at these ways to prepare your retail store for the holiday season. And learn how your retail point of sale can help make this a lot easier.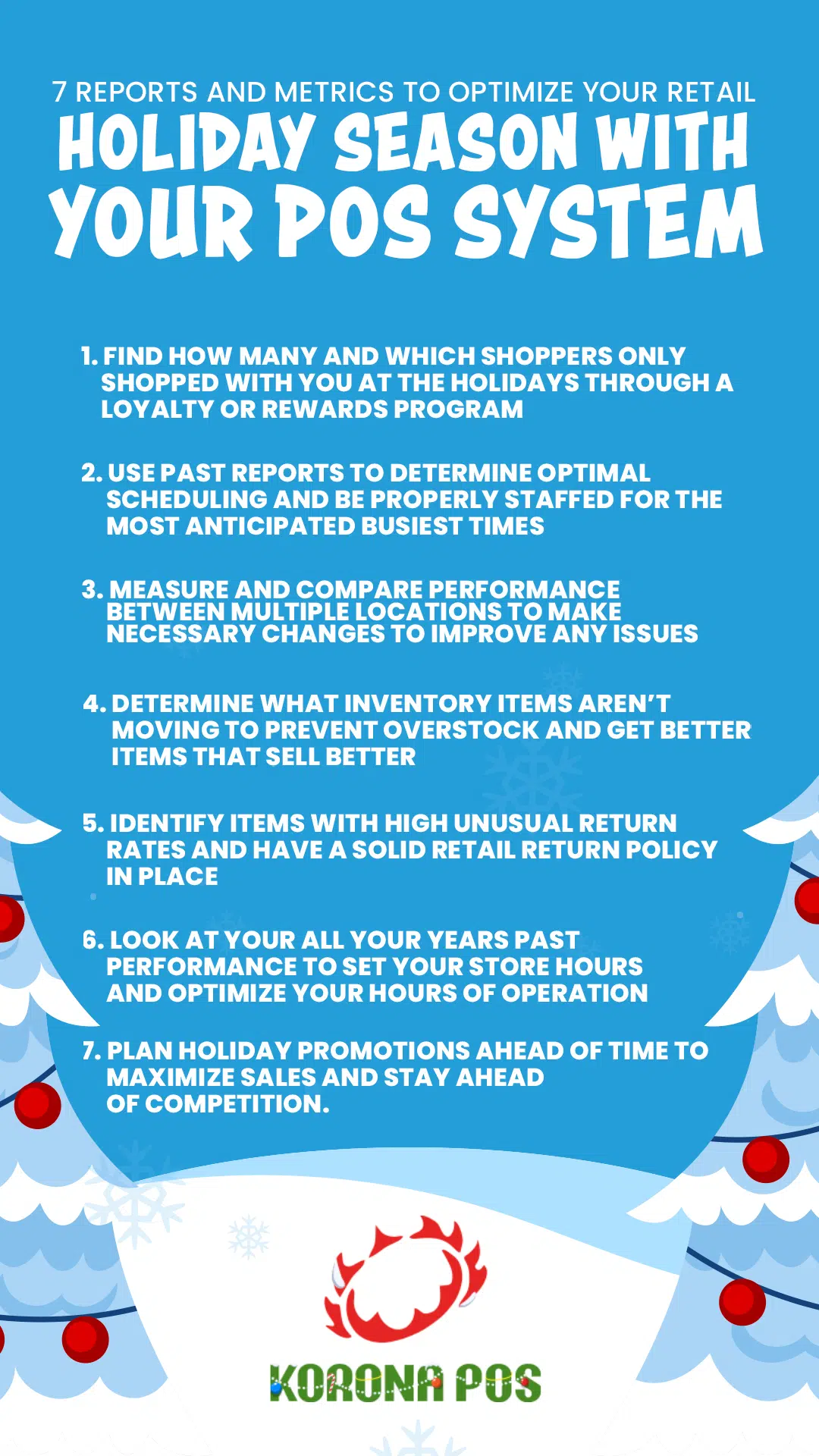 1. Find how many shoppers only shopped with you during the holidays.
Many shoppers only come to certain stores over the holiday season. It's important for you to identify who these customers are so that you can remind them to return each year.
How Your POS Can Help: But how can you identify these shoppers? A customer relationship management tool in your POS system allows you to create customer profiles. New customers can enter basic contact information and then track all purposes.
The tracking can be used for a loyalty or rewards program, but they can also be used for future marketing endeavors. A great CRM system makes it easy to reconnect with past shoppers. Check out who hasn't been around in a while and send out an email campaign or mailing to get them back through your doors.
2. Use past reports to determine optimal scheduling.
Great customer service is critical for long-term success. And great customer service depends on being properly staffed. Shoppers have more options than ever and will gladly shop elsewhere if you don't provide a great in-store experience.
How Your POS Can Help: Point of sale reports that show your foot traffic make the busiest times of the day clear. This helps you figure out how to staff correctly.
You can also look at your in-store traffic historically to pick up on trends and anticipate your business's busiest times. You can add various start and end dates to compare your traffic by the day, week, month, or year.
These reports are helpful throughout the year as well since you can compare your store's performance over time.
3. Measure performance between stores.
If you have multiple locations for your stores, it's important to compare the performance at each. During the busiest times of the year, this is especially important.
How Your POS Can Help: In your retail point of sale, comparing locations or franchises is easy. It's as easy to compare data as it is to look at a single store.
Again, you can compare by location over different time periods or over past holiday seasons. If you notice one store lacking in performance compared to the others, it's important to make necessary changes to fix the problem.
4. Determine what inventory items aren't moving.
The holidays are a great time for running promotions to get more people in your doors. But implementing the right promotion or deal is not an easy job. It's important to be smart about what items you decide to promote and how to price them.
Slow-moving stock items are a great place to start. Dead inventory is costly for any retail store. It lessens your cash flow, preventing you from buying new stock that would sell better. It also takes up precious warehouse and shelf space. What better time to rid yourself of this stock than your busiest period.
How Your POS Can Help: Powerful inventory management makes it easy to identify these items. And with retail KPIs like profit margins and year-over-year sales, you can measure how successful a marketing campaign is and optimize your prices.
5. Get your return policy figured out early.
It's important for any store to have a solid retail return policy in place from day one. Consumers expect convenience, especially around the holiday season. In fact, over 10% of holiday gift purchases will be returned. While you always want to minimize product returns, some are inevitable. So you want to make sure you're ready to process them efficiently and effectively.
How Your POS Can Help: Your point of sale can help identify problem areas. With powerful inventory management and product reports, your POS can help you find items that have higher than usual return rates. Sales reporting will break down how much returns cost your store and how often they occur. This allows business owners to find ways to fix the problem and decrease their rate of return.
6. Look at years past to set your store hours.
Optimizing your hours of operation is crucial. You want to be open during hours that are convenient to your average customer, but you don't want to open during hours with few sales. You'll still have to pay for labor and other operations costs, of course, so your margins will decrease during these times.
How Your POS Can Help: It's important to not operate on hunches and find out exactly how profitable certain hours of the day are. Your retail point of sale software again makes this easy. Sales reports and foot traffic can be broken down by hour, day, week, month, and year, allowing you to see exactly how your store was doing.
Compare holiday hourly sales of years past to better anticipate this year. Look especially at the biggest shopping days, like Thanksgiving weekend and the few days leading up to Christmas.
7. Plan promotions ahead of time.
The holiday shopping season has quickly become defined by retail promotions and sales. Many retailers use the season to run their biggest promotional campaign of the year.
But promotions are tricky and, run improperly, lead to large losses. Even a slight pricing error can ruin a promotion if your margins are thin. So it's critical that you prepare for any holiday promotions extra early.
How Your POS Can Help: Set up pricing in your point of sale and use the various KPIs to determine exactly how much margins will be at different prices. Run a test campaign with several smaller promotions leading up to the season so that you get even more insight.
Get Started with KORONA POS today!
Tell us a little bit about your business and explore all features that KORONA POS has to offer. And there's no commitment or credit card required.