Last Updated: December 3, 2020
The payment industry is evolving faster than ever. It really wasn't even that long ago that most of us didn't even have a credit or debit card. But with modern payment methods come new methods for fraud and theft. In response, payment companies are forced to adapt, progressing the technology ever more quickly.
Today, we have digital payments and banking, EMV-chipped cards, and mobile and contactless payments. And more and more is being integrated, improving the user experience and leading to more users.
The new Apple credit card is the latest big unveiling. They partnered with MasterCard and Goldman Sachs in an effort to expand their ecosystem within retail. Offering substantial rewards and, in typical Apple fashion, remarkable ease of use, the card is bound to be popular. So, if you haven't made the switch already, get your retail store up to speed and make sure you have both the hardware and software to accept mobile payments, including Apple Pay. The card will be released to the public over the summer of 2019, so you still have time to get ready! Find out more below about the card and why every business needs to accept it.
1. The Rewards of the New Apple Credit Card
Apple has decided to heavily incentivize the card with some of the highest cash-back rewards on the market. Shoppers will get 3% back for all Apple Store, apple.com, iTunes, or App Store purchases, 2% on any purchase using Apple Pay, and 1% for purchases using the physical card.
The Apple Card also pays out these cash rewards every day. There is no minimum number of points needed to redeem rewards, nor are there limits to the way the rewards are redeemed. The money is directly deposited into your Daily Cash wallet which can be used to purchase something with Apple Pay, make a payment on the Apple Card balance, or send money to others in your network.
The rewards are straightforward and substantial. And they are sure to draw in more and more consumers. Retailers must respond quickly and accept Apple Pay as soon as possible.
2. It Comes with Zero Fees
While its rewards are the more apparent incentive, the lack of fees is equally beneficial. There are no annual membership fees, no cash advance fees, and no international fees. Amazingly, there are also no overdraft or over-limit fees. There is interest, of course, but no late fees, or increased interest rates for missed payments.
In short, it's an unusually great combination for a credit card: high reward and low risk.
3. The Other Benefits of the Card
Aside from great rewards and non-existent fees, the Apple Card also offers other attractive features that are sure to revolutionize the payment industry.
It breaks down what you spend into categories, like shopping, dining, travel, bills, etc.

The card produces daily, weekly, and monthly summaries of the shopper's spending, allowing users to identify spending trends and habits.

With each charge, there is a map with a pin attached to the location in which the purchase was made. You'll never have to decipher statement codes or try to piece together a late Saturday night.

Payments, balances, and interest are all broken down with simple graphics and explanations. You can see exactly what you owe, how much interest will be charged over a given time, and how much money you can save by paying it faster.

They've finally instituted credit card payment dates that make sense! Make your payment on the last day of each month, which is far easier to remember than random, mid-month due dates. Plus, Apple sends reminders.

Each purchase comes with an instant notification, so you know immediately if there is any fraudulent activity.

Customer service is conducted through texting, 24/7.

It uses Face ID and Touch ID combined with dynamic card data to provide further security. Plus, there isn't a single number on the front or back of the card.
4. Retailers Need to Accept the Apple Card and Apple Pay
Many are skeptical about this attempt to enter the world of consumer credit, but if the past serves as any evidence, this new credit card will be widely used very quickly. It's safe, convenient, simple, rewarding, and cool (the physical card will be numberless and plain silver titanium). Time and again, they've silenced skeptics and changed the way we go about our daily life.
So assuming it's at least marginally popular, retailers should be prepared to accept it as a form of payment. Of course, 99% of businesses can already accept the physical, EMV card, but with shoppers receiving more benefits for paying through Apple Pay, it's important to accept this near-field communication (NFC) payment as well. As of the end of 2018, there are about 100 million iPhones in the U.S. with about 30 million Apple Pay users among those.
Update!: An estimated 49% of iPhone users in the world are Apple Pay users as of September 2019. This is an increase from 33% of worldwide users recorded in 2018.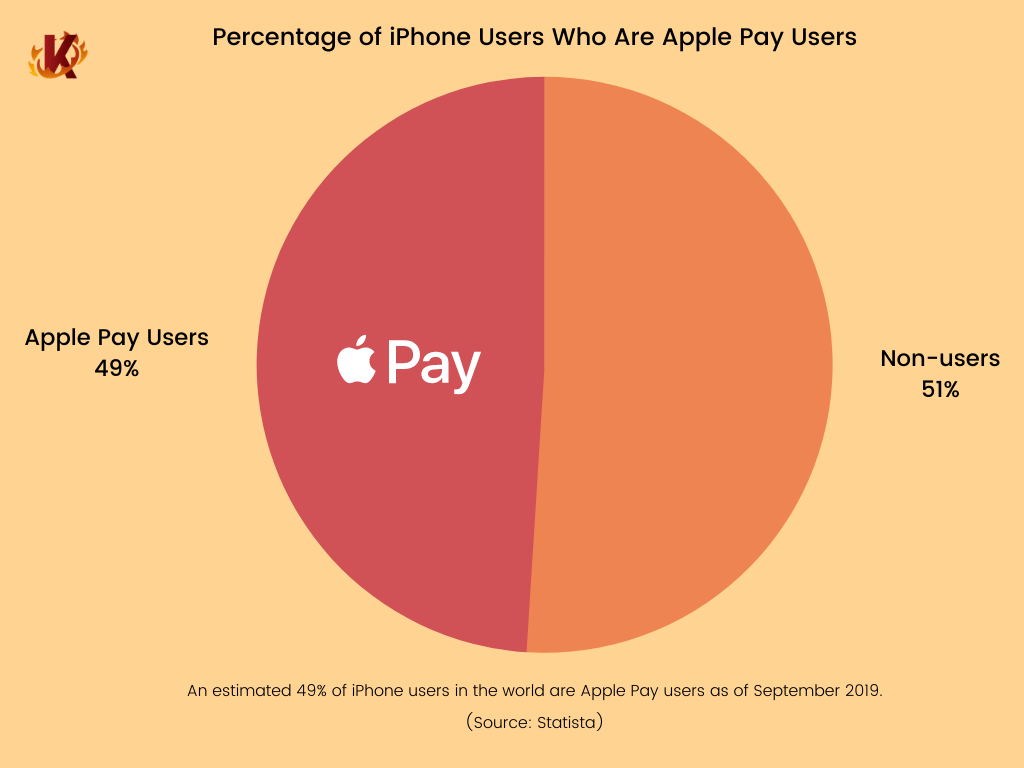 Contactless payments are fast and secure, making the process more convenient for you as well as the customer. A failure to accept the payment may alienate certain customers and will give others an impression of mismanagement and disorganization. The customer base using contactless payments is already rapidly growing, so make sure your business can accommodate any of the main players.
Additionally, Apple's payment processing is no more expensive than the average merchant service rate. Retailers will continue to pay about a 2.5% interchange fee on any Apple Card transaction.
5. Ways for Your Business to Prepare
In short, you really don't need to do that much. You simply need to make sure you have the right hardware and that your software is integrated to accept the payment.
If you already accept contactless payments, chances are that that includes Apple Pay. Most contactless payment hardware can accept Apple. Just double-check if you have existing NFC hardware.
Your POS software must also integrate with Apple Pay. This doesn't mean that you need an entirely new point of sale system. Just talk with your current solution to see if they integrate. And if you're looking for a new solution, click the button at the bottom of the page to set up a free trial and demo of KORONA's software.
With close to 70 million consumers estimated to be using mobile payments in 2020, it's time that every retailer adapts. Yet, only 70% currently accept contactless payments. For small businesses in the U.S., it's even lower with only 42% accepting mobile payments. The Apple Card won't spark the surge in new users in this realm because that surge has already started. Keep your business ahead and get yourself fully integrated with modern payment methods.
See Related: Apple Pay Fees for Merchants – What Will the Apple Card Cost Your SMB?
Get Started with KORONA POS today!
Tell us a little bit about your business and explore all features that KORONA POS has to offer. And there's no commitment or credit card required.