Many people are wary of starting an online business because of the costs and fulfillment hassles involved. If you're one of them, there might be an easy way you can run a business without the need to deal with inventory and various fulfillment operations. Dropshipping is a low-maintenance business model that allows you to sell products without the need to carry out extensive inventory processes or vendor relations.
With drop shipping, you can run your dream business from anywhere. The manufacturer packages, develops, and ships the items to your customers white-labeled under your online business name. If you're new to dropshipping, check out some of the tips below to learn more.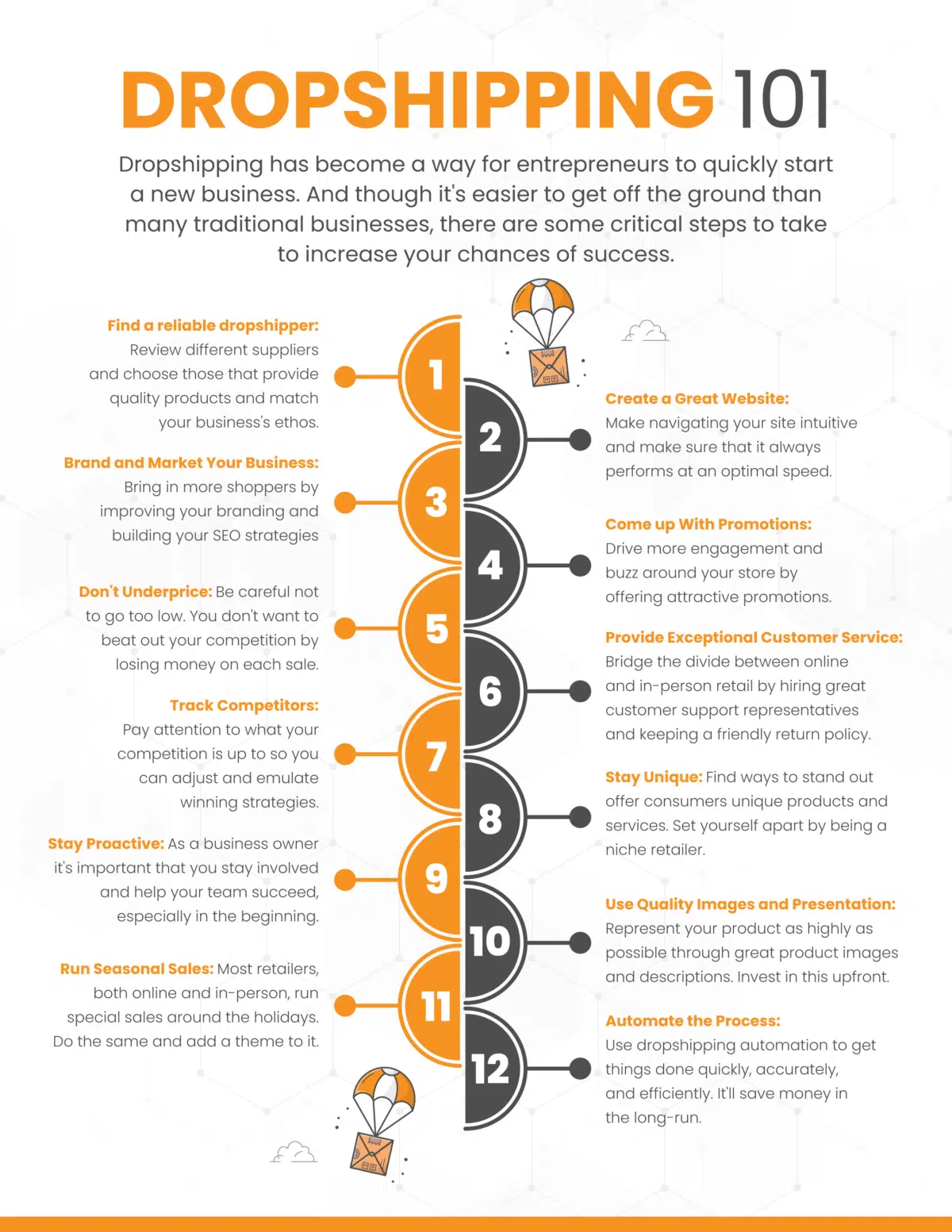 1. Look For A Reliable Drop Ship Supplier
Due to the popularity of drop shipping, there are countless suppliers you can work with, but not all of them may be worth your investment. Therefore, it's important to review various suppliers to determine which of them is the best fit for your business.
You can use several review websites to compare various dropshipping suppliers on the market. These websites are helpful since they have a list of the most reliable suppliers and provide honest opinions regarding the suppliers' products and services.
When looking for a reliable dropship supplier for your e-commerce business, pick one with a good reputation and one that's been in the industry for years. The best suppliers usually offer free shipping and warehousing services.
2. Establish A User-Friendly Website
Another thing you should consider when getting started with drop shipping is the importance of creating a user-friendly website for your online business. Your website serves as your online storefront. It's where potential customers will browse and purchase your products, so it's crucial to give your customers a great experience.
To create a user-friendly website, avoid a confusing site design and complicated checkout process. Be sure to create a simple but eye-catching website with appealing product pages. It's also necessary to have pages dedicated to your company's information and shipping policies. Just ensure they're easily visible to your customers and easy to understand.
3. Focus On Marketing And Branding
As a dropshipping store owner, marketing is, of course, the key to bringing in new shoppers to your store. Aside from designing your logos and tweaking your website, make sure to spend more time learning about ads and driving more traffic to your site.
Ads and search engine optimization (SEO) greatly help in driving traffic to your website. Online stores usually have a conversion rate of 1% to 2%, which means you need a whole lot of traffic to make a substantial number of sales.
If you focus on SEO and ads, you can quickly drive traffic to your store. Gaining more organic traffic, in particular, will greatly improve your ROI and pay off in the long run. But remember, it's a slow process and one that requires patience.
4. Make Attractive Offers and Promotions
As more aspiring entrepreneurs try drop shipping, the competition has gotten tougher. Running great promotions will help set your business above the fold and bring in more consumers. Depending on your preferences, you can offer discounts, BOGO deals, freebies, or free shipping.
If you have visitors who frequently browse your store, you can send discount codes to encourage them to purchase from you.
5. Never Underprice Your Products
Although selling affordable products is a good way to attract more customers, it doesn't mean you should price anything too low. You have to still turn a profit after all. It might seem tempting to beat your competitors by offering lower prices, but this is a dangerous strategy and one that can shut you down quickly.
When calculating your pricing make sure to consider other costs you need to cover, such as operating costs or ads.
6. Provide Exceptional Customer Service
Like any business, it's critical to offer outstanding customer service. Set up your support system to make your customers feel valued. Your customers may forget what you say, but they won't forget what you do.
To offer excellent customer service, you can use a live chat tool or offer phone support. Although it may add an additional expense, it will benefit your business over time.
7. Track Your Competition
You also need to keep an eye on your competition. Compile links to all your competitors' social media accounts and websites; subscribe to their email list; purchase some of their products to better understand their processes. In the end, try to emulate your competitors' pros and learn from their cons.
This type of competition monitoring will not only help you get more insights into your competitors' business operations, but it will also help you know their marketing strategies. Let it teach you valuable lessons and incorporate them into your business to help improve your own operations.
8. Be A Niche Store
Especially in the early stages, it's probably best to focus on a more narrow niche. Operating as a bigger, broader operation puts you at more risk of failing early on. Plus, it makes your website design and marketing a whole lot more complicated.
Just be sure to select your niche wisely by researching the products that are in demand. Avoid selling things based merely on what you're passionate about. With dropshipping, it's always best to offer products that are relevant to consumers, for better or for worse.
9. Be Hands-On
Of course, you need to stay active, too. And as all entrepreneurs know, you won't achieve success overnight. Although there are no required minimum or maximum hours for operating your business, you have to be hands-on if you want it to grow.
As a business owner, you'll likely have to process the orders, respond to your customers' queries, and ensure everything runs properly. Staying proactive and leading by example can make a difference in reaching your goals and getting results.
10. Prioritize Your Product's Quality Presentation
One of the most critical dropshipping tips for beginners is remembering that presentation matters a lot. This is especially true if you're promoting products that many other online businesses are offering. If you want to set your brand or business apart, you need to work on your products' presentation.
Formulate product descriptions using keywords that will help your website rank for important keywords. Your product description must state the benefits your items offer and how they can address your consumers' needs. If you think you can't write compelling product descriptions, you can always hire a writer to do the job for you.
Other than product descriptions, you must also focus on the quality of your product images. High-quality product images help you catch your readers' attention and improve their perception of your products.
11. Consider Seasonal Sales
Holidays like New Year's Day, Christmas, Black Friday, and Halloween are the best days to make more sales. Take advantage of these seasons by offering your customers discounts or deals they can't resist.
Almost all businesses give out seasonal offers during holidays, and most of them get amazing results when done right. Just remember to plan ahead and measure all profit margins with any adjusted promotional pricing.
12. Select The Best Automated Drop Shipping Solution
More often than not, a drop shipping provider works with several manufacturers the same way as drop shipping retailers often deal with suppliers. It's ideal to have a stable portal to handle your data-sharing processes. Luckily, there are plenty of automated drop shipping solutions you can consider. Depending on your supplier, it's also possible to drop ship custom products.
However, not all available automated dropshipping solutions are the same. Choose one that offers you a range of features to assist with your ordering, pricing, sales, and metrics. And if you have a brick-and-mortar store and are trying to move online, give us a call at KORONA POS. We can easily integrate your retail point of sale with your eCommerce business.